Names of May 2017 Graduates Announced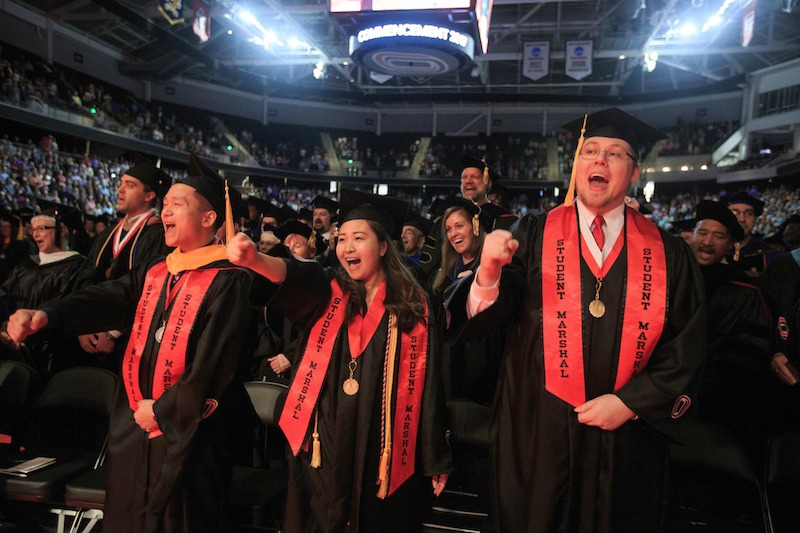 OMAHA - A celebration of more than 1,600 students was held Friday, May 5, at Baxter Arena as hundreds of friends, family, and teachers participated in the University of Nebraska at Omaha's (UNO) May 2017 Commencement ceremonies.
Students from across the country and around the world were celebrated for earning their bachelor's, master's, doctoral, or certificate degree programs and becoming alumni.
Friday's ceremony includes students earning their degrees from each of UNO's six colleges as well as the College of Engineering at the University of Nebraska-Lincoln.
A list of the students who applied for graduation in May is included in the link below. Names are sortable by last name, first name, city, state, degree, and honors received.

List of Graduates

Photos from the ceremonies
* Please note that because final grades are not submitted at the time of commencement, there is the possibility that a name included on the list may not actually meet the requirements to receive their degree *
Additionally, students who received academic honors are so indicated. For quick reference:
Cum Laude = GPA of 3.51 –3.62
Magna Cum Laude = GPA of 3.63 – 3.86
Summa Cum Laude = GPA 3.87 and above

Extra muros distinctions are so indicated for those students with transfer credits have not completed the required 60 semester hours of credit within the University of Nebraska system required for cum laude, magna cum laude or summa cum laude honors.
For any questions, please contact Charley Reed, UNO Associate Director of Media Relations, at unonews@unomaha.edu or 402.554.2129.
Contact Us
If you have a story idea, news tip, or other question, please email the UNO News team at unonews@unomaha.edu.