John Christensen named UNO Chancellor Emeritus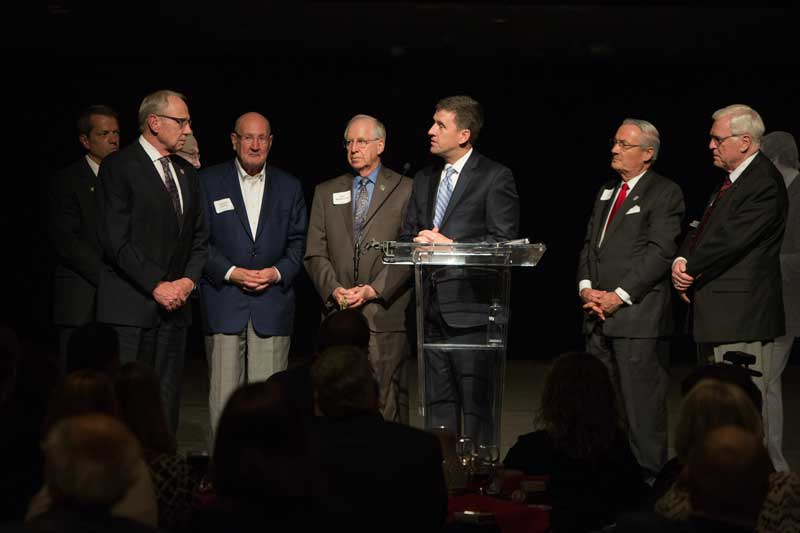 "This is a fitting honor for a Chancellor who led his campus through a remarkable period of momentum and opportunity – all with an extraordinary focus on students," Bounds said. "Under John Christensen's leadership, UNO achieved great success in expanding opportunities for students, engaging with the community it serves and building its reputation in areas that matter to Nebraska and the nation. Omaha, our state and the University of Nebraska are better because of John's service."
According to Board of Regents policies, emeritus status is given in recognition of substantial service to the university. Administrators who receive emeritus status must have a record of service to academic programs that has contributed to the educational work of the university.
Christensen, who announced his retirement in September 2016, recently stepped down from the role he had held at UNO for a decade. However, his career at UNO goes back nearly 40 years, to the start of his tenure as faculty member in the College of Education in 1978.
"This is a fitting honor for a Chancellor who led his campus through a remarkable period of momentum and opportunity – all with an extraordinary focus on students."
- President Bounds
"Having been named Chancellor Emeritus is a lifetime honor for me personally," Christensen said. "This recognition; however, is a reflection of the Mavericks Family commitment to servicing kids and community which has transitioned UNO for the future."
Christensen was named Interim Chancellor of UNO on Sept. 12, 2006 and formally named Chancellor on May 8, 2007. He is the first and only UNO alumnus to serve as Chancellor, earning his Master of Science in Special Education/Speech Pathology from UNO in 1974.

During his time as Chancellor, UNO has experienced unprecedented growth and recognition as a premier institute of higher learning. Just some of these accomplishments include:
Becoming classified as a Carnegie Doctoral/Research University
Enrollment increases of more than 12 percent from 2006 to 2016
Welcoming the largest and most diverse incoming Freshmen class in back-to-back years (2015, 2016)
Opening of first-of-their-kind facilities like the Barbara Weitz Community Engagement Center, Biomechanics Research Building, and Baxter Arena
Being named the No. 1 four-year school in the nation for military and veteran students in back to back years (2014, 2015) by Military Times
Growth in on-campus housing by more than 1,000 beds with the creation of Maverick Village, Scott Court and the soon-to-open Scott Crossing

With the honor, Christensen joins former Chancellor Del Weber and former Omaha University Presidents Milo Bail, Rowland Haynes and Daniel Jenkins as recipients of emeritus status throughout the university's 108-year history.
Contact Us
If you have a story idea, news tip, or other question, please email the UNO News team at unonews@unomaha.edu.