Community Engagement Spotlight | Nduulwa Kowa
Nduulwa Kowa was the first UNO student recipient of the Marian Ivers Internship.
contact: UNO Campus Commitment to Community Engagement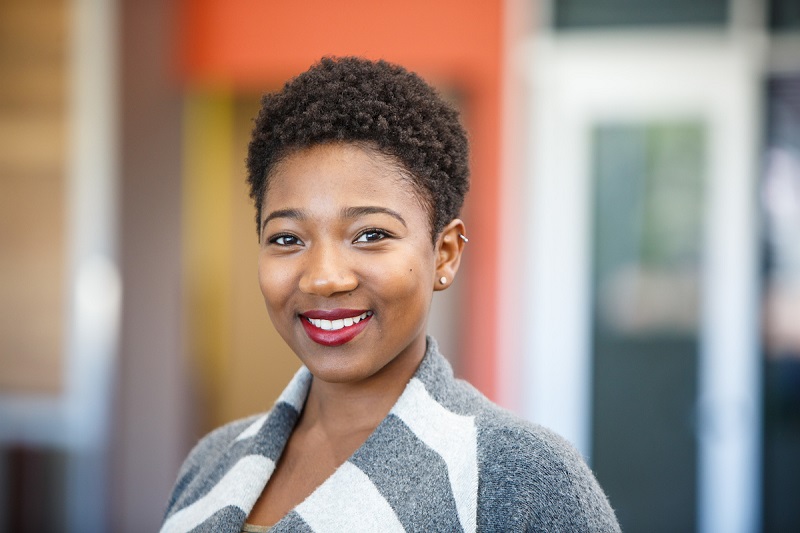 The Marian Ivers Internship is awarded to UNO students who demonstrate an exemplary record of community service and leadership affecting women or girls while attending UNO.
As a UNO student, Nduulwa Kowa is majoring in International Studies, with concentrations in Global Strategic Studies and International Management and Leadership, with a Business Minor. Nduulwa's ultimate goal is to work with businesses, international non-profit organizations, and non-governmental organizations to combat economic and political issues affecting women around the world.
Through the internship, Nduulwa has the opportunity to intern with the Women's Fund of Omaha, a nonprofit committed to creating positive change for the women and girls of the Omaha area.
Before her internship, Nduulwa got the chance to attend the Women's Fund of Omaha conference in 2013, and was very inspired by their work within the community. Once she saw that they were looking for an intern, she immediately applied. "I was so excited, I started writing my cover letter in the middle of the night!" Her passion for the welfare of women is apparent.
Nduulwa grew up in Zambia, in southern Africa, until the age of 10. She is all too aware of how difficult it is for many women to find opportunity in Zambia. She hopes to start her own organization, bringing her knowledge and experiences to initiatives to help strengthen young women and improve standards in impoverished areas.
At the Women's Fund of Omaha, Nduulwa works with Jennifer Pavkov, the Marketing and Public Relations Manager. She assists with the overall marketing plan, writes programming, updates their blog, and helped create the Women's Fund of Omaha's weekly woman crush spotlights. With how enriching this experience has been, she hopes to work with the United Nations or a partner organization to help improve societies in similar ways.
She values gaining relevant experience and believes that her internship can help her find a job in the nonprofit sector, and hopes to start a Master of Public Administration or Master of Business Administration program soon.
Nduulwa stresses the importance of being involved, saying how it has added value to her life and her UNO experience. She is also involved with the Pan African Organization, as president after reestablishing the group with her friend Zainab Oyebola. She says they are in the process of re-evaluating their goals to have a bigger impact on UNO's campus. She is proud of how much UNO is involved in the community and that she can be a part of it.
Contact Us
If you have a story idea, news tip, or other question, please email the UNO News team at unonews@unomaha.edu.