Community Engagement Spotlight | James Van Ormer
contact: UNO Campus Commitment to Community Engagement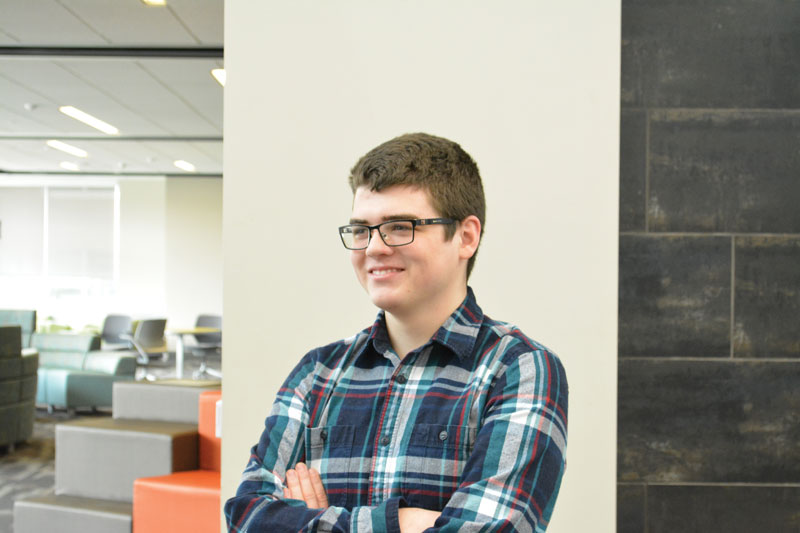 Before coming to UNO, James Van Ormer thought of himself as kind of quiet, and as a follower. But he was eager to do something that could help people. He got his feet wet in the Office of Civic and Social Responsibility, Student Leadership Collaborative (The Collaborative) the summer before his freshman year. He heard about the organization through his older brother Matt Van Ormer, who worked there.
He started getting involved, helping with a list of nonprofit projects in different areas. Van Ormer says. "I like the idea of helping the community and being more impactful, actually causing greater change."
Not only did Van Ormer, a computer science major, serve others - he also became more open and social, and uncovered a self-confidence that he never knew he had. Proving himself a natural leader, he was put in charge of "A Palette of Possibility," a presentation adapted from a play, bringing a world of color to early childhood and special needs audiences in 2016.
Volunteering with Weitz CEC community building partner organization, WhyArts?, Van Ormer has worked directly with several middle schools by aiding artists hosting workshops for developmentally delayed middle-school children, designed and implemented summer projects, and become an integral part of the WhyArts? Team.
"I've definitely met a lot of cool people that I wouldn't have otherwise. My personality is somewhat introverted and this has helped me be more outgoing with people, to talk about things a lot more. It's educated me on ways to be helpful to the community."
The experiences also have influenced how he's thinking about the future. He's considering combining his love of technology and education into the nonprofit realm.
"Working with underserved communities has become more in the forefront of my mind," he says.
Contact Us
If you have a story idea, news tip, or other question, please email the UNO News team at unonews@unomaha.edu.