USSTRATCOM Leadership Fellows Graduate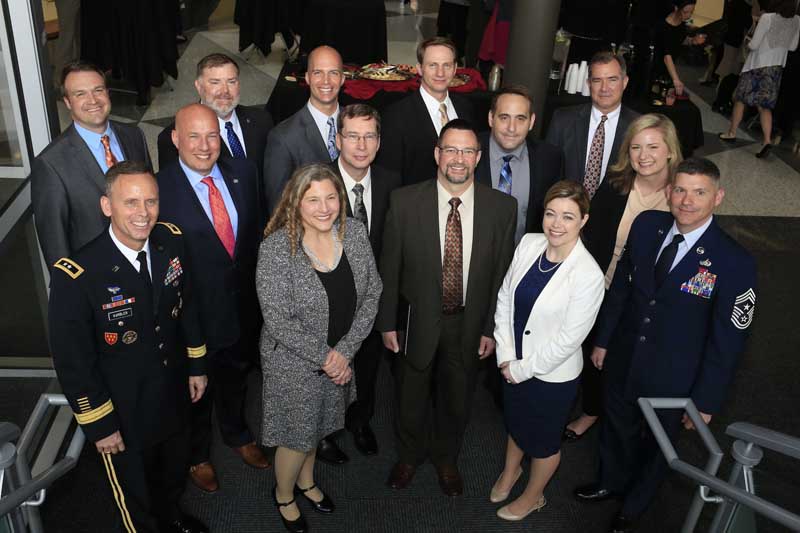 OMAHA, Neb. – Ten U.S. Strategic Command (USSTRATCOM) civilian employees graduated from the fourth iteration of the Strategic Leadership Fellows Program during a ceremony at the University of Nebraska at Omaha (UNO) Peter Kiewit Institute, April 21, 2017.
The 13-week graduate-level program professionally develops government civilians by enhancing management skills and technical expertise.
The graduates invited Craig Jacobs, director of human resources at Omaha's Henry Doorly Zoo and Aquarium, to give the keynote speech at the ceremony, where he spoke about leading from within an organization.
"While the trials and demands of this program are at an end, your work is just beginning," Jacobs said. "Now the challenge is to return [to work] and do what you have done a thousand times, but you're going to do it better, you're going to do it differently, bringing more experience to that job each and every day. You are leaders regardless of your position or title."
Jacobs said that during the program the fellows were challenged to view issues from different perspectives, work effectively outside of their comfort zones, and to collaborate and think differently.
"The accomplishments in this program indicate that the fellows have not only gained new knowledge, but they have been transformed," said Jacobs. "You've been transformed into better, more capable leaders and this success should be celebrated and applauded."
Dr. Hesham Ali, UNO's dean of the College of Information Science and Technology, added that the fellows program is essential because it helps connect government and industry experts with academicians.
"In order for this to work we need to build bridges between the two communities," Ali said. "Fellows, you are the bridge; you speak both languages, you have a responsibility to facilitate collaboration between the academic world."
Kory Khoury, joint exercises analyst in the USSTRATCOM joint mission training division and fellows graduate agreed. "One of the things I found is that there's this need for a bridge between academia and the rest of the world," he said. "Everyone looks at academia as this island that nobody can interpret or understand, but when you take what the academics have studied and make it relevant to your job or organization, it actually does matter."
Khoury added that the fellows program is an opportunity that can't be missed.
"We all have aspirations, but the bottom line is how you can do the job better," Khoury said. "The fellows program is one of the tools that people should strive to put in their tool kit and apply to the program."
Heather Kearney, strategic plans analyst in the USSTRATCOM plans and policy directorate and prior fellow, said the program gave her the opportunity to build continued partnerships that enhanced her career goals.
"I've been able to build some relationships outside of the command with other academics, particularly at Stanford University," said Kearney. "For the last two years, I had a really strong relationship with some of the academics there that have actually been able to contribute to my work directly. I just don't know, had I not had this experience, if I would have been able to build those relationships."
The 2017 USSTRATCOM Strategic Leadership Fellows Program graduates are:
- Mr. Kevin Boyce, senior logistics planner for the Sustainment Division
- Mr. Donald Duralia, deputy chief of the Command Workforce Development Division
- Mr. Stephen Erickson, program strategist for the Information and Technology Enterprise Resources and Plans Division
- Mrs. Katherine Geeser, program analyst for the Command, Control, Communications and Computer Systems Operations Division
- Mr. Kory Khoury, joint exercises analyst for the Joint Mission Training Division
- Mr. Gregory Klumper, deputy branch chief for the Future Plans Branch in the Intelligence Plans and Readiness Division
- Mr. Kevin Rooney, operations researcher, Metrics and Assessments Division of Joint Functional Component Command for Global Strike
- Dr. Mary Saunders, Secretariat of the Information and Technology Governance Board of the Command, Control, Communications and Computer Systems Directorate
- Mr. Mark Sisson, deputy chief of Planning Tools, Concepts and Exercise Branch in the Plans and Policy Directorate
- Mr. Alvin Tarrell, operations research and systems analyst for the Decision Analysis Division
The National Strategic Research Institute, UNO and USSTRATCOM launched the inaugural fellows program in 2014. Each year, 10 USSTRATCOM employees are hand-selected as Strategic Leadership Fellows for the spring academic semester. Fellows are charged with scholarly research and writing aimed at addressing the nation's most urgent challenges.
For more information, contact the USSTRATCOM Public Affairs Office at 402.294.4130 or USSTRATCOMPA@mail.mil or visit www.stratcom.mil.
Contact Us
If you have a story idea, news tip, or other question, please email the UNO News team at unonews@unomaha.edu.