Meeting Nebraska's Need for Science Teachers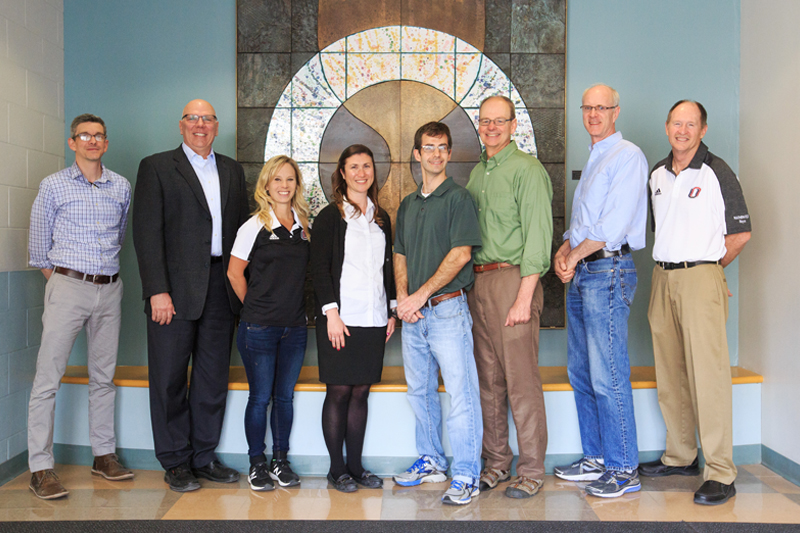 OMAHA – Nebraska has a pressing need for more science teachers who are trained in specific fields.
Thanks to a new $1.2 million grant from the National Science Foundation's (NSF) Robert Noyce Teacher Scholarship Program, the University of Nebraska at Omaha (UNO) will be able to do more than ever to help meet that need.
Over the next five years, the grant will provide scholarships, research opportunities, and internship programs to UNO students planning to become high school science teachers.
During that five-year timeframe, the grant's leadership team expects to train at least 27 high school science teachers with expertise in specific fields, such as biology, chemistry, physics, geography and geology.
All of the students supported by the Noyce program will earn a dual Bachelor of Science in Education and in their selected science discipline. It's part of an innovative collaboration between UNO's College of Arts and Sciences and College of Education.
Students will benefit from pre-professional training opportunities through UNO and community partnerships, including NE STEM 4U, Aim for the Stars, Nebraska Robotics Expo and EUREKA! After graduation, they will be able to continue professional development through the Teacher-Researcher Partnership Program as well as assessment and evaluation training.
"These opportunities will ultimately serve youth in Nebraska," said Christine Cutucache, the Haddix Community Chair of Science in the UNO College of Arts and Sciences. "As we've established through past initiatives and continue to do so with this one, we are committed to serving Nebraska in science education."
The grant will be used in three key areas:

- Providing structured internships in teaching and research for first- and second-year undergraduates, referred to as "Noyce Interns."

- Establishing financial, academic and professional development for third- and fourth-year undergraduates, referred to as "Noyce Scholars."

- Continuing professional development in support of former Noyce Scholars that have gone on to become Noyce Teachers (in-service teachers) for four years after graduating from the program.

"This effort is really going to help us strengthen our secondary science teacher preparation program, creating a foundation that will continue well beyond the timeline set by the grant," said Neal Grandgenett, the Dr. George and Sally Haddix Community Chair of STEM Education in the UNO College of Education. "We want to be a model program for the education of culturally responsive science teachers who can succeed in the schools that need effective science education and leadership the most."
The grant's leadership team includes Christine Cutucache (Haddix Community Chair of Science; Biology), J.J. Conrad (Chemistry), Neal Grandgenett (Haddix Community Chair of STEM Education; Teacher Education), Renat Sabirianov (Physics) and William Tapprich (Biology).
Senior personnel participants include Joshua Darr (Chemistry), Angie Hodge (Haddix Community Chair of Mathematics), Rich Lomneth (Chemistry), Michael Matthews (Mathematics) and Robert Shuster (Geography/Geology).
UNO previously received a NSF Noyce Award in 2014 to support training of more math teachers. This new grant now extends the teacher preparation innovation into science.
For media inquiries, please contact Charley Reed, UNO associate director of media relations, at 402.554.2129 or by email at unonews@unomaha.edu.
About the University of Nebraska at Omaha
Located in one of America's best cities to live, work and learn, the University of Nebraska at Omaha (UNO) is Nebraska's premier metropolitan university. With more than 15,000 students enrolled in 200-plus programs of study, UNO is recognized nationally for its online education, graduate education, military friendliness and community engagement efforts. Founded in 1908, UNO has served learners of all backgrounds for more than 100 years and is dedicated to another century of excellence both in the classroom and in the community.
Become a fan of UNO on Facebook and follow UNO's Twitter updates.
Contact Us
If you have a story idea, news tip, or other question, please email the UNO News team at unonews@unomaha.edu.