UNO Names Matt Galardi Employee of the Month | March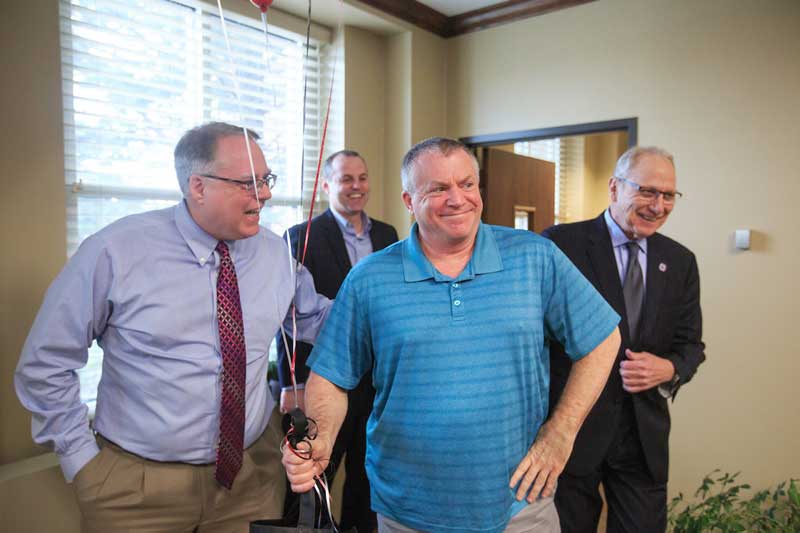 Matt Galardi (center) was surprised by the Celebration Committee Feb. 28.
Matt Galardi, senior security analyst, Information Technology Services, recently was named UNO's Employee of the Month for March.
The Celebration Committee surprised Matt with the news on Tuesday, February 28, 2017.
Matt was nominated by his peers for his adaptability, interpersonal skills, and knowledge of the job.
They said, "Matt has excellent interpersonal skills while working with all levels of employees, including senior leadership. He is an expert in his job, always staying current with the latest technology."

They continued, "Matt's ability to communicate is fantastic, and his customer service is always at a level of deep respect for the person being served. He exemplifies a 'service first' attitude, and contributes to the success of campus over and above what is required of his duties. Matt is a true Maverick, through and through!"

As Employee of the Month, Matt will receive a certificate, lapel pin, hot/cold tumbler, portrait, monetary award, two tickets to a UNO sporting event, and use of a designated parking space. Please contact Human Resources (402.554.2321) for additional information.
About UNO's Employee of the Month Program
Human Resources administers the program in conjunction with the Office of the Chancellor and Staff Advisory Council. They welcome nominations from faculty, staff, students, vendors, and visitors. Nominate someone today.
THANK YOU, MATT!