Arbor Day Coffee Sale | 20 Percent Off All Week Long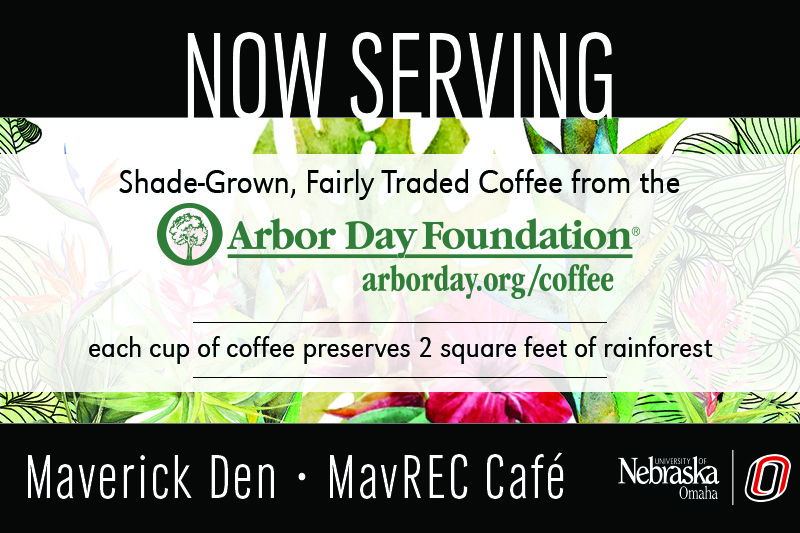 Celebrate with us and try our new award-winning coffee from Arbor Day Foundation! During the week of February 20 , all Arbor Day coffee beverages in Maverick Den will be 20 percent off!
The Arbor Day Foundation, a local non-profit established in 1972, offers award-winning coffee that is organically grown under the canopy of the rain forest in Latin America. This shade-grown, sustainable coffee provides a better quality cup than its sun-grown counterparts. Every cup of coffee purchased helps to preserve two square feet of rain forest and provides growers with a fair wage, increased access to healthcare and education, and improved local infrastructure.
Arbor Day Foundation's responsible, shade-grown farming practices:
Maintain soil fertility

Help prevent landslides and flash flooding

Provide additional habitat for rain forest animals

Eliminate the need for pesticides and fertilizers

Protect local water supplies from contamination

Provide a higher quality of coffee
In effort to help our campus meet our sustainability goals, we are proud to work with the environmentally and socially responsible Arbor Day Foundation.
Arbor Day Foundation coffee and espresso is served at Maverick Den and MavREC Café. For more information about Arbor Day Foundation coffee and espresso, please visit their website.
Contact Us
If you have a story idea, news tip, or other question, please email the UNO News team at unonews@unomaha.edu.