A Legislative and Budget Update from President Bounds
contact: Hank Bounds - The Office of the President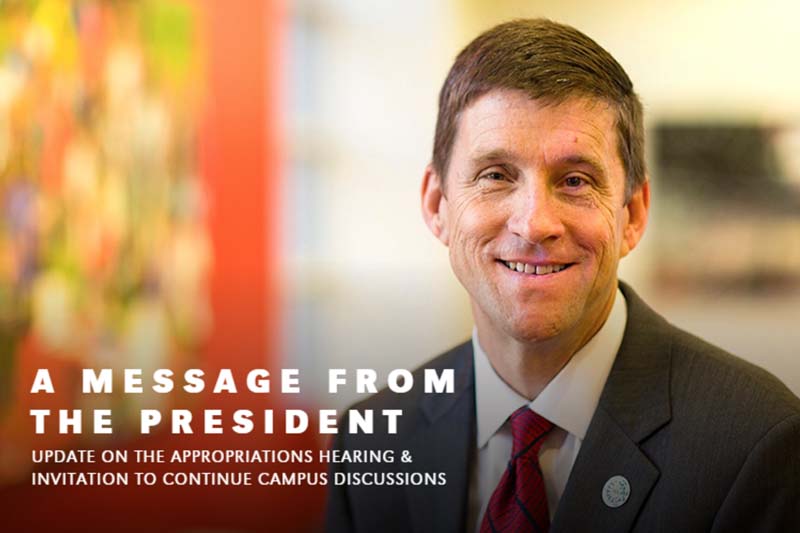 February 28, 2017

Dear Colleagues:
As you may know, the Legislature's Appropriations Committee held its hearing on the University of Nebraska budget yesterday. I testified on behalf of the University, along with Regent Bob Whitehouse and our UNK Student Regent, Rachel Flaugh.
We asked the Committee to support their university at a level at which we can continue to provide affordable, high-quality education that serves students and grows Nebraska's economy.
APPROPRIATIONS TESTIMONY OVERVIEW
The State of Nebraska, its economy and its people depend on an accessible, excellent public university. Thanks to the hard work of faculty and staff across the university, I was able to share many examples of accomplishments and contributions to our state—examples that we should all be proud of.
Here are some of the high-level points from my testimony:
- The University of Nebraska represents the single most important economic development engine in the state.
- When you invest in the university, you get a long-term return unlike that yielded by any other entity.
- When you invest in the university, you're investing in an institution that's building a world-class cancer center that will change lives and save lives.
- When you invest in the university, you're supporting research that is driving agricultural and other innovation here and around the world.
- When you invest in the university, you're helping us remain affordable so Nebraska's young people can enroll and earn a degree.
- When you invest in the university, you create a ripple effect in all 93 Nebraska counties, given our presence across the state.
- When you invest in the University of Nebraska, you invest in the future of our state.
I believe those messages were well-received and appreciated; still, our lawmakers are faced with the difficult task of reducing overall state appropriations due to less incoming state revenue.
The appropriations committee will hear from other state agencies, review information from the hearings, and release a final biennial budget proposal for consideration by the Legislature in late April. The budget bill will be debated on the floor from late April to early May. When passed, the bill will be sent to the Governor for approval in mid-May.
CONTINUING OUR CAMPUS DISCUSSIONS
This is a challenging year, given the current fiscal constraints. Although we are asking for reasonable state support for the university, we will be a good partner in managing the economic downturn. As I have shared with you before, the chancellors and I have put together a thoughtful plan for finding permanent dollar reductions in university operations.
That process is now underway, with 10 budget-reduction task forces developing recommendations for final consideration by me and the chancellors later this spring.
I started a conversation with you during the campus forums held in late January and early February, where each chancellor joined me to hold in-person discussions about University of Nebraska budget planning. I am in daily conversations with the chancellors as we plan for the budget together, and I would like to continue my conversations with you as well.
To this end, I encourage University of Nebraska faculty and staff to share ideas and suggestions that create cost savings or process improvement. You can do so here.
I will review your suggestions and share them with the appropriate teams. And, if you have questions or concerns, don't hesitate to contact me at president@nebraska.edu.
Thank you for your hard work—I appreciate all you do for the University of Nebraska.

Sincerely,
Hank M. Bounds, Ph.D.
President, University of Nebraska
http://nebraska.edu/president
@hankbounds
Contact Us
If you have a story idea, news tip, or other question, please email the UNO News team at unonews@unomaha.edu.