With Help from UNO, Exhibit Celebrates Nebraska's 150th Anniversary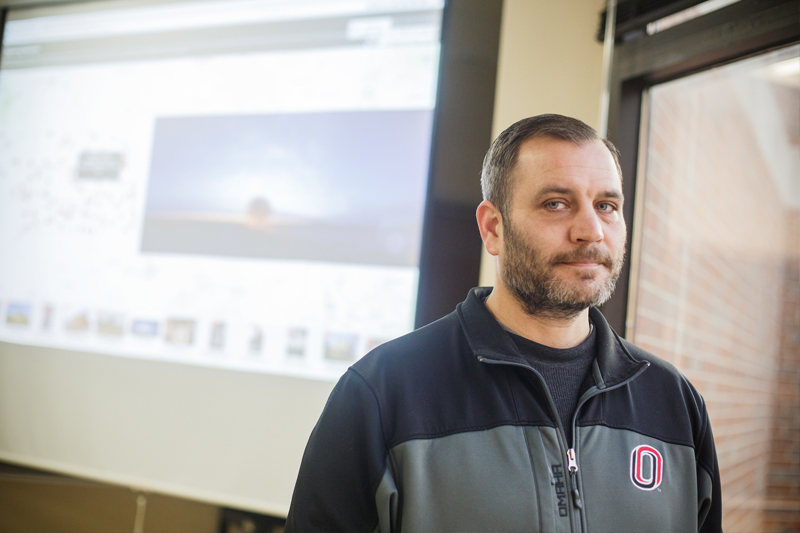 OMAHA – Nebraska is celebrating a big anniversary this year: 150 years of statehood.
The University of Nebraska at Omaha (UNO) is proud to be a sponsor of one of the signature projects of the celebration.
Over the last year, the "Bridges: Sharing our Past to Enrich the Future" traveling photo exhibit has traveled to Lincoln, Seward, North Platte, Norfolk and Alliance.
Featuring 93 photographs, one from each county in the state, the exhibit will end its tour at Omaha's Durham Museum. The photographs will be on display from Nov. 24 - Jan. 7.
Nebraska students didn't have to make a road trip to see the photos and learn about the state's rich history. All of the images are online, hosted in an educational, interactive story map, thanks to UNO Geography/Geology Coordinator Paul Hunt.
Hunt says a contact at the Nebraska Department of Education put him in touch with the Hildegard Center for the Arts team, which organized the exhibit with the Nebraska Tourism Commission and Nebraska State Historical Society. The team had an idea for the map, but needed help turning their vision into reality.
"They described what they were thinking, and I told them I have an idea that I think could make it all come together," Hunt said.
The Hildegard Center provided latitudes, longitudes, photos, and educational material. Hunt set up the map using free geographic information systems (GIS) software.
The result is an interactive map with photos and historical information in each county, linking to teaching resources. Organizers hope teachers take advantage of the map, particularly those who are teaching students about Nebraska as part of the state's fourth-grade social studies standards.
Hunt says the real value of the tool is helping students relate the images to where the photos were taken.
"You can show somebody a photograph and say this is up in Cherry County, right? A kid in fourth grade might not actually be able to orient themselves to where Cherry County is."
More than that, Hunt believes the project could spark a lasting interest in geography in some students, something he experienced as a kid while looking at globes and maps.
"Geospatial science is a rapidly growing field, and all the data that's out there, all the technology that's out there, it's used more and more, and I don't think we see it all the time," Hunt said. "As a field, it's good we're getting kids exposed to the technology in these ways."
And if it turns out to be something they have a passion for years down the road, they can continue their education right here in Omaha, by studying geography at UNO.
Contact Us
If you have a story idea, news tip, or other question, please email the UNO News team at unonews@unomaha.edu.