TEDxUNO 2017 | Get Tickets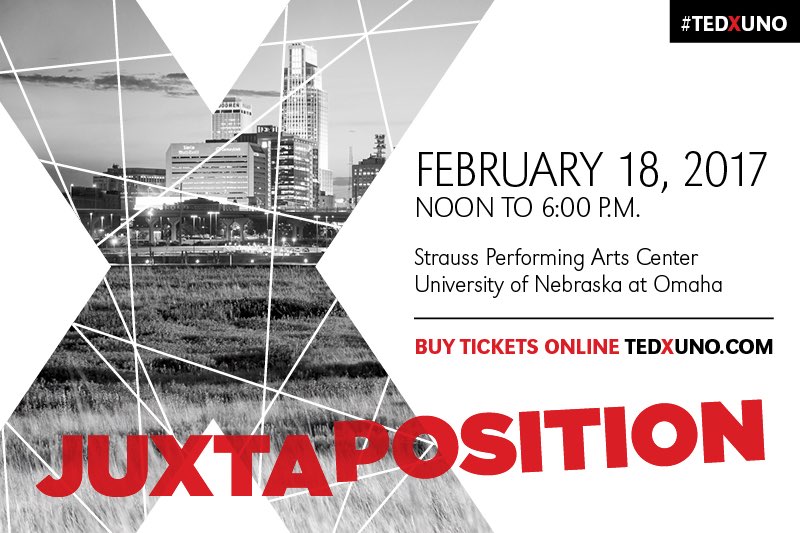 OMAHA – Tickets are on sale for TEDxUNO 2017, which will take place on the University of Nebraska at Omaha (UNO) campus Saturday, Feb. 18 from noon - 6 p.m. 
The theme of this year's event, "Juxtaposition," brings together presenters covering a wide range of topics, whether it be terrorism, disease, marriage, communication, activism, or music, from seemingly contradictory or different aspects, but in a way that tells a cohesive and interesting story.
Tickets, which can be purchased at tedxuno.com, are $10 for students and $25 for the general public. 
Thirteen speakers, including scientists, musicians, journalists and researchers, will headline the event:
Jeff French
Tom Becka
Jeff Koterba
Josh Planos
QueenTara Pimentel
Madalyn McFarland
Maggie Bartlett
Steven Windisch
Sam Church
Susie Louis
Sumeet Jain
Virginia Gallner
Julia Noulin-Merat
For more information on the speakers please visit the TEDxUNO website. 
Now in its third year, TEDxUNO has sold out each of its two consecutive years.
TEDxUNO 2017 will take place in the Strauss Performing Arts Center, located on UNO's Dodge Campus. Parking is free and will be available for attendees. 
TED, which stands for Technology, Entertainment, Design, was launched in 1984 and over the past three decades has spread across the world as one of the leaders in open discussion and dialogue.
TEDx events are independent and community-driven; there have been more than 15,000 TEDx events in 163 different countries.
If there are any questions, please contact:
Charley Reed, UNO Associate Director of Media Relations
402.554.2129 | unonews@unomaha.edu
About TEDx, x = independently organized event
In the spirit of ideas worth spreading, TEDx is a program of local, self-organized events that bring people together to share a TED-like experience. At a TEDx event, TED Talks video and live speakers combine to spark deep discussion and connection. These local, self-organized events are branded TEDx, where x = independently organized TED event. The TED Conference provides general guidance for the TEDx program, but individual TEDx events are self-organized. (Subject to certain rules and regulations.)
About TED
TED is a nonprofit organization devoted to Ideas Worth Spreading. Started as a four-day conference in California 30 years ago, TED has grown to support its mission with multiple initiatives. The two annual TED Conferences invite the world's leading thinkers and doers to speak for 18 minutes or less. Many of these talks are then made available, free, at TED.com. TED speakers have included Bill Gates, Jane Goodall, Elizabeth Gilbert, Sir Richard Branson, Nandan Nilekani, Philippe Starck, Ngozi Okonjo-Iweala, Sal Khan and Daniel Kahneman.
The annual TED Conference takes place each spring in Vancouver, British Columbia, along with the TEDActive simulcast event in nearby Whistler. The annual TEDGlobal conference will be held this October in Rio de Janeiro, Brazil. TED's media initiatives include TED.com, where new TED Talks are posted daily; the Open Translation Project, which provides subtitles and interactive transcripts as well as translations from volunteers worldwide; the educational initiative TED-Ed. TED has established the annual TED Prize, where exceptional individuals with a wish to change the world get help translating their wishes into action; TEDx, which supports individuals or groups in hosting local, self- organized TED-style events around the world, and the TED Fellows program, helping innovators from around the globe to amplify the impact of their remarkable projects and activities.
Follow TED on Twitter at http://twitter.com/TEDTalks, or on Facebook at http://www.facebook.com/TED.
About the University of Nebraska at Omaha 
Located in one of America's best cities to live, work and learn, the University of Nebraska at Omaha (UNO) is Nebraska's premier metropolitan university. With more than 15,000 students enrolled in 200-plus programs of study, UNO is recognized nationally for its online education, graduate education, military friendliness and community engagement efforts. Founded in 1908, UNO has served learners of all backgrounds for more than 100 years and is dedicated to another century of excellence both in the classroom and in the community.
Become a fan of UNO on Facebook: www.facebook.com/unomaha and follow UNO's Twitter updates at http://twitter.com/unomaha.
Contact Us
If you have a story idea, news tip, or other question, please email the UNO News team at unonews@unomaha.edu.