UNO Names Aaron Bomar Employee of the Month for October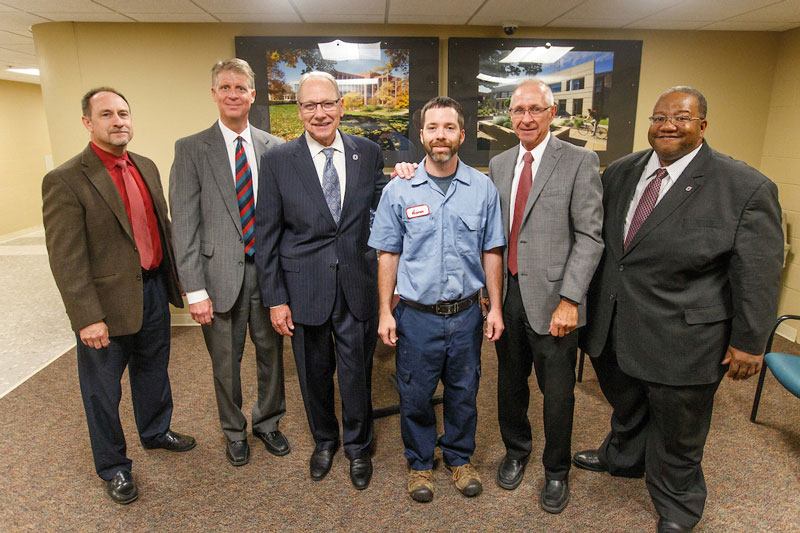 Aaron Bomar, Facilities Operator, Maintenance & Utilities Services, recently was named UNO's Employee of the Month for October.
The "Prize Patrol" team surprised Aaron with the news on Tuesday, Oct. 4, 2016.
Aaron was nominated by his peers for his adaptability, interpersonal skills, and knowledge of the job.
They said, "Aaron is a tireless worker, who continually puts out 100% effort, and all of his jobs are completed with professional results. Aaron has a wide range of technical knowledge and occupational skills. He performs all of the preventative maintenance, mechanical repairs, and carpentry jobs in the buildings he is responsible for. There are numerous jobs that need to be done during off hours and Aaron is always willing to help out or complete them."
His peers continued, "Aaron is always courteous, polite, and listens to all of his customers' needs. He helped with the remodel of the TV Studio in CPACS by removing and cleaning several large panes of glass. Gary Repair, a senior producer, was so pleased he took before and after pictures of the viewing windows and displayed them at the open house."
No task is too big or too small for Aaron and his willingness to help. From the time Aaron crawled approximately 200 feet through an underground steam pipe, to the repair of a noisy door, Aaron goes above and beyond the call of duty. 
As Employee of the Month, Aaron will receive a certificate, lapel pin, hot/cold tumbler, portrait, monetary award, two tickets to a UNO sporting event, and use of a designated parking space. Please contact the Office of University Communications (4-2358) for additional details.
About UNO's Employee of the Month Program
Human Resources administers the program in conjunction with the Office of the Chancellor and Staff Advisory Council. They welcome nominations from faculty, staff, students, vendors, and visitors. Nominate someone today.
THANK YOU, Aaron!
Contact Us
If you have a story idea, news tip, or other question, please email the UNO News team at unonews@unomaha.edu.