Studying the Force
This summer UNO will offer a course (seats are still available!) on how one of the greatest entertainment franchises in the world is rooted in religious teachings from across the world. In honor of Star Wars Day, course instructor Julien Fielding helped answer six key questions regarding the franchise, the force, and the future of popular culture in the classroom.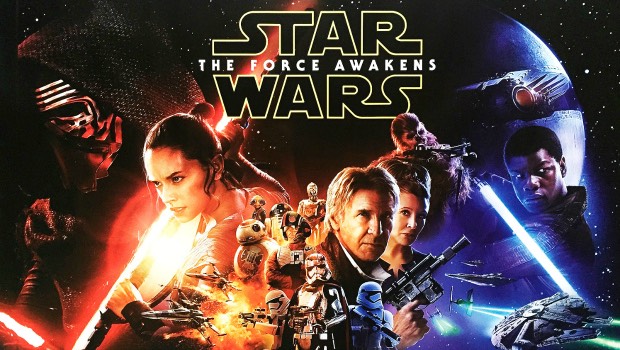 Why is it important for people to understand and study the religious themes in films like Star Wars?
I think that sometimes religious concepts are difficult to understand; they seem to be too abstract for people to comprehend; by using film or TV, we can bring those concepts alive in a very accessible, and often entertaining way. Star Wars is a cultural phenomenon. It is one of those franchises that is known, and beloved, by people from all over the world.
Personally, I think that Star Wars teaches us some valuable lessons, particularly the destructive, and dangerous, path of anger and hate. It seems that anyone in that universe, who leaves behind humility and compassion, are destined to become "dark." We can all benefit from that reminder.

What are some examples of the ways religion influenced the Jedi and the Force as concepts in the films?
Star Wars is really a product of America, and by that I mean, a country of diverse religious beliefs and influences.
George Lucas was raised Christian, so many have pointed out that the Jedi are essentially monks, such as those found in the Middle Ages, or knights; and that the Force is "god." But Lucas was also influenced by Japanese film, specifically Akira Kurosawa, and Japanese culture. I think you can also see the Jedi as samurai or even as Zen monks; and the Force as the Dao, which is essentially that which "surrounds us, binds us, and holds everything together."
People have commented on Yoda, and his Yoda speak, saying that he's everything from a Zen master to a Jewish sage, such as Maimonides and Hillel the Elder.

What role does religion play into Star Wars' lasting impact as a worldwide popular culture phenomenon?
If you look at several of the highest grossing franchises, specifically Lord of the Rings, Harry Potter, and Star Wars, you will find that they impart important lessons to their audience about how we should treat each other. They all enforce the value of friendship, loyalty, compassion, and general goodness. Although those films aren't overtly "religious," they champion and teach ideas found in most, if not all, world religions. On the plus side, religions challenge us to leave behind selfishness, and embrace community; they encourage us to be better versions of ourselves, and I think these films also do that.
There's something edifying about that, and those who are fans of these franchises, really connect with these messages, even on a subconscious level. You don't tend to find "lukewarm" fans of these franchises. These films really inspire people. For instance, there is a religious group, primarily in the United Kingdom, called The Temple of the Jedi Order, which has about 200,000 followers online. It is based on the "tenets" found in the films; however, the founder of that group has since expanded the teachings. What began as a "joke" has since become a "valid" religion for a number of people.

What are your thoughts on how the first film of the new trilogy compares to the original series, and the prequels, in its use of religious themes/imagery?
I think that if you watch Star Wars, and you are looking for "religious" ideas, you will be a bit disappointed. It wasn't until "The Empire Strikes Back," specifically during Luke's training on Dagobah, that you get a bit more "meat" as it were. The "prequels" also have more about Jedi training; however, I will confess they are so bad, it's difficult to wade through them to find much that's useful.
One of the many reasons that I really enjoyed and loved "Star Wars: The Force Awakens" is that it returns to form; it FEELS like the originals. I think this has a lot to do with the contributions of screenwriter, Lawrence Kasdan, who was a writer on The Empire Strikes Back, and the fact that director J.J. Abrams is very much, himself, a rabid fan of the franchise. Once again, the film sets up the potential for another "training the Jedi" moment with Luke Skywalker and Rey. It's very exciting.

While a majority of the course will be about Eastern religion influences, what are some influences in Star Wars that tie into Western religions like Christianity and Judaism?
Like I said, there is a lot already out there about the "Christian roots" of Star Wars. As that's been the primary focus of academia, I don't have a lot of interest in it. I feel like I'm reinventing the wheel. As far as Judaism is concerned, a fair number of articles have come out with the release of The Force Awakens that have talked about Yoda as a Jewish sage. One of the most interesting is "From Jediism to Judaism."
The class will include discussion of Judaism, as this seems to be a new focus, as well as its Eastern roots, specifically Daoism, Buddhism, Confucianism, and Shinto. We will also look at a few films of Akira Kurosawa, specifically The Hidden Fortress, which is said to have been the inspiration for Star Wars, and talk about the director.

What will happen in Episode VIII?
I think that we will see Rey's training by Luke Skywalker, definitely learn more about Rey's origins, and, no doubt, more about Kylo Ren, who is really the most interesting character in my opinion. Finn also will probably develop his Jedi skills.
I hope they are able to balance the political discussion with the "religious" aspects. George Lucas went a bit overboard with the former in the prequels, and I think that caused some people to find the films tedious. If they focus more on the training, and, by natural extension the Jedi code, I think these films can have as profound an impact on future generations as did the original films. After I saw originally saw the Star Wars films, especially the "Empire Strikes Back," I would go outside and try to get rocks to move with my mind. I really hope that this new generation can be as profoundly affected. Movies are powerful stuff.
Read More
If you enjoyed reading this feature, you may also like these stories:

---
Pop Culture at UNO
Star Wars isn't the only unique topic being discussed in classes at UNO. Here are just some of the unique offerings for students this Summer and Fall:
Summer 2016
Department of English
J.K. Rowling's Harry Potter
University Honors Program
Baby Boomers and the 21st Century

School of the Arts
Exploring Global Comics

Fall 2016
Department of English
Utopia / Dystopia
Religious Studies
Religion and Comics
Religion and Film
Theatre
Improv Comedy
Shakespeare on Film
Department of History
Apocalypticism
Writer's Workshop
Writing for Television
Writing the Video Game Narrative

Interested in any of these classes? Be sure to register by following the instructions from the the Registrar. Not a UNO student? Apply now through our Admissions page.

Is there a unique class not listed that you want featured here? Send submissions to unonews@unomaha.edu.
Contact Us
If you have a story idea, news tip, or other question, please email the UNO News team at unonews@unomaha.edu.