Fulbright Program Sends Mavericks Across the Globe
Meet six Mavericks benefiting from the Fulbright Program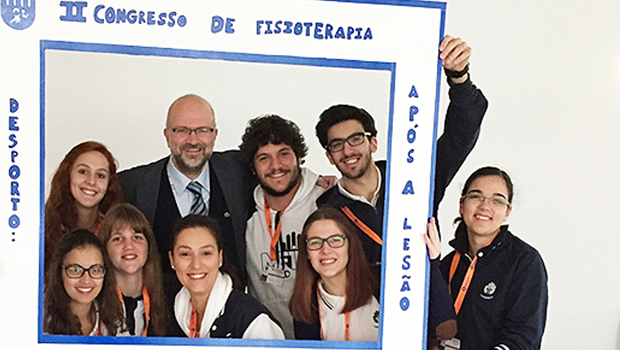 OMAHA – As Spring semester comes to a close, some University of Nebraska at Omaha (UNO) students are looking forward to continuing their education with an international adventure. Others are currently studying abroad, right here in Omaha.
For years, the Fulbright program has been a key resource in sending Mavericks across the globe and bringing new students to our campus, allowing students and professors to explore different cultures, exchange ideas and establish valuable academic partnerships.
This year is no different.
The following stories highlight a wide range of Mavericks who made it through the competitive process to join the distinguished ranks of Fulbright scholars.
Back to Turkey
Considering the Variables
Home Away from Home
Teaching Sign Language in Nicaragua
Follow Your Passion
From Kabul to Omaha
Back to Turkey
After graduating this spring, Zarmina Niazie already has plans for the next academic year: she's traveling to Turkey on a Fulbright English Teaching Assistant (ETA) Award.
The town and university are still up in the air. She'll learn the exact location and dates in the next few months.
"The uncertainty is killing me, but I'm excited for any new adventure," Niazie said.
This will be Niazie's second time traveling to the country. In the summer of 2015, she visited two cities in Turkey on a study abroad trip through a political science course taught by Ramazan Kilinc, PhD.
"The structure of the trip was so well-organized, so educational, so enthralling," she said. "Dr. Kilinc worked hard to make the experience meaningful for everyone."
After meeting another Maverick who had just finished her Fulbright ETA, Niazie decided she wanted to come back to the country through the same program.
"The people and landscape were just so compelling. The country genuinely spoke to me."
Applying for the ETA wasn't easy; Niazie called it brutal.
"You painstakingly list every single activity you have ever done in your life, every trip you have ever taken, every project you have ever completed," she said.
Applying for this award requires two essays, one page each. Sound easy? Think again. Applicants have to use that limited space to convince both the U.S. Fulbright committee and the host country committee that they're the right applicant for the award.
Niazie's advice: Start early and know "the waiting is the most difficult."  

Considering the Variables
The Chair of UNO's Biomechanics Department, Nick Stergiou, PhD, is currently in Portugal through mid-May.
His research in human movement variability has taken him to countries in four different continents, but this is his first Fulbright experience.
Stergiou has wanted to apply to the program for years, but struggled with the idea of leaving his laboratory for an entire year. Then he learned that the Fulbright program offers funding for shorter experiences, lasting a few weeks to a month.
At colleagues' encouragement, Stergiou applied. Not long after, he was selected for a Fulbright Specialist grant in Public/Global Health at Polytechnic Institute of Castelo Branco, Portugal.
"I'm hoping that we will actually be able to develop collaborations, get more people to become more knowledgeable about what we are about," Stergiou said.
UNO's work on human movement variability has a wide-ranging impact, with connections in various fields of research. Stergiou is visiting several universities while in Portugal, to discuss his research.
He believes international travel is valuable for any scholar, and something all scientists should consider.
"It's always very important to communicate our ideas," he said. "Because when you communicate ideas, you place yourself under criticism. And when you place yourself under criticism […] you become better."
Home Away From Home
Yves Ketemwabi Shamavu's hometown is Bukavu, in the Democratic Republic of the Congo. But for the last year, UNO has been his home away from home.
The graduate student, who is studying Management Information Systems, says he applied for a Fulbright award so that he could be fully immersed in a different culture.
"My ultimate goal is to be able to share the exposure I will get in the United States with my fellow citizens back home, and not only through words, but through entrepreneurial actions that can help my local community, if not my country, develop," Shamavu said.
The application process took him about one year. Just like the U.S., it's very competitive in his country – with applicants' academic records, professional experience and leadership skills all considered.
Shamavu's hard work paid off. He says studying abroad is the best thing that ever happened to him.
"People in Omaha are so hospitable and very approachable," he said. "The education system is very different to the one I was used to, but I am adapting quite well, and I really like the approach of lecturing, as it puts the student at the center of the system, as opposed to my country where the lecturer is king, both figuratively and literally, in many instances."
In Shamavu's opinion, there's no better learning experience than studying abroad.
"It paves the way to a global understanding."  
Teaching Sign Language in Nicaragua
Recent graduate Olajide Cooper leaves for Nicaragua in August. She'll be teaching parents of deaf children Nicaraguan sign language and creating a home curriculum for them. 
"If you have a chance, do not hesitate. Just apply for it."
- UNO graduate student Amartuvshin Orgodol
Cooper will draw on lessons she learned while earning her Elementary Education undergraduate degree and Teaching English to Speakers of other Languages (TESOL) certificate.
She has been laying the groundwork for this trip for quite some time.
"I always wanted to live and teach abroad and knew the Fulbright funded those endeavors," Cooper said.
A UNO FUSE grant (Fund for Undergraduate Scholarly Experiences) allowed her to visit León, Nicaragua and complete preliminary research.
"I used the FUSE grant to springboard my way to the Fulbright, practicing research methodology, grant writing and whatnot until I got to a good place with it," she said. 
Even with that background, the application process was still difficult and tedious.
"The grant and personal statement writing took the most time," Cooper said. "Fine combing for things like flow, passive sentence structure and ease of reading took forever. You have to have a tough skin because your 'masterpiece' will be red penned over and over."
Cooper has a few words of advice for anyone interested in applying: "Don't get discouraged, just try it," and "prepare ahead of time."
Follow Your Passion
Growing up in Mongolia, Amartuvshin Orgodol loved computers. He learned whatever he could about networks and software.
After entering the workforce, he initially took a different path with his career, before deciding his heart was in technology.
"Passion is such a strong thing," Orgodol said.
He left his job with a youth organization and joined friends at an IT company. After a mix of experiential learning and participating in IT programs in the country, he decided he was ready for the next step.
"I applied for this prestigious scholarship to pursue my dream to become an IT professional."
Applying was a lengthy process. After clearing the first round, Orgodol went through a panel interview, fielding questions from a 10-person panel consisting of industry experts, government officials and a current Fulbrighter.
Orgodol applied to four universities and did his homework, studying the universities, their cities and reaching out to alumni.
"I met three UNO alumni and they really loved their program and highly recommended it," he said. 
Orgodol has loved his experience at UNO, pointing specifically to his classes, volunteer opportunities and networking with local IT professionals.
He also has some advice for other students considering the Fulbright program: start early and follow your passion.
"If you have a chance, do not hesitate. Just apply for it."
From Kabul to Omaha
When graduate student Mohammad Farhad Afzali applied for the Fulbright program, he listed UNO as his first choice.
He wanted to study Management Information Systems and only a few universities were offering the program, but there's more to it than that.
"UNO has a printing press in my hometown, Kabul, and it is a known name in our universities," Afzali said.
The experience has lived up to his expectations, allowing him to explore U.S. culture in ways he couldn't have at home.
"I have liked my academic as well as social life a lot and learned many things. It is a lifetime experience and achievement."
The application process was rigorous, requiring several written pieces; proof of academic record and work experience; and an English mastery test (iTOEFL) and GRE (Graduate Record Examination).
Afzali says the work is worth it.
"I believe that studying in a different culture is the best idea. Besides completing your education, it helps you learn a lot about others. [It] opens people's minds and creates cross-country and cross-continent understanding among people."

Related Links:
Learn about the Various Fulbright Awards
Information for International Students Interested in Attending UNO
Information for Students Interested in Studying Abroad
Contact Us
If you have a story idea, news tip, or other question, please email the UNO News team at unonews@unomaha.edu.