Students Intern with MLB Teams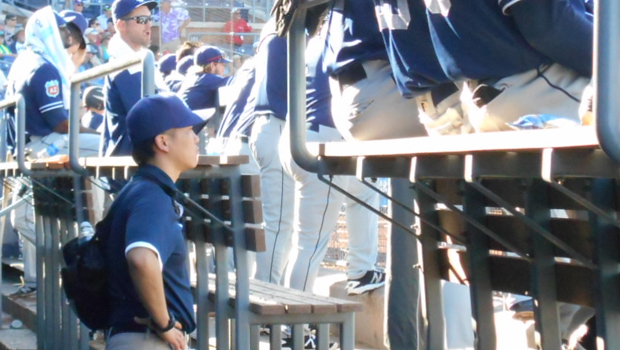 OMAHA – The crack of a bat, loaded nachos balanced on your knee, "Take Me Out to the Ballgame" playing over the speakers: baseball season is here.
Watching this season's Major League Baseball games will come with an extra thrill for three University of Nebraska at Omaha (UNO) students. They recently spent two weeks interning with the athletic training staffs on three different MLB teams.
This was the first year that UNO students have been awarded the prestigious and competitive internship opportunity, offered by the Japan Baseball Athletic Trainers Society in conjunction with the Professional Baseball Athletic Trainers Society.
All three students are first-year, international graduate students studying Athletic Training.
Takeaki Ando
Takeaki Ando spent the first two weeks of March with the San Diego Padres. His favorite part of the experience was watching a game from the dugout.
"It was exciting. I've never watched a major league game so closely," Ando said.
He fielded valuable advice from the team's professional athletic trainers, pointing specifically to their treatment of athletes' shoulders and elbows.
"I thought they used therapeutic modalities (like ice or electrical stimulation) a lot for treatment, but they mostly treated them by manual therapy."
Ando joked the trainers must have strong hands doing therapy all day.
When he graduates, Ando hopes to stay in the States and work as an athletic trainer for a professional sports team.
Shohei Hosokawa
Shohei Hosokawa met all of the Kansas City Royals players, including a few of his favorite athletes, but he said the best part of his internship was learning from the experts.
"The high level of professionalism impressed me a lot," Hosokawa said.
No surprise, the athletic trainers and physical therapists who supported the 2015 World Series Champions know what they're doing.
Hosokawa practiced what he learned, covering most of the Royals' home and away games during his internship.
He noticed a strong relationship between the players and the athletic training staff.
"Professional baseball players are really smart about their bodies. They know what they need to do and not to do," Hosokawa said.
After graduating, he'd like to work for a professional sports team.
Yamato Nonaka
Before his internship, Yamato Nonaka only knew the names of a few MLB players and followed one in particular: Japanese pitcher Yu Darvish.
This March, Nonaka had the chance to learn from the athletic training staff for Darvish's team, the Texas Rangers. The internship was a home run.
Nonaka says the team's athletic trainers were very friendly and led by example.
"They not only taught us their skills but [I noticed they] also tried to learn [something] new every day," Nonaka said. "I learned that we have to continue learning every day to give athletes the best treatment."
He learned techniques for shoulder, elbow and hip joint stretches, experience that will come in useful as he continues his studies.  
 "Even though I skipped classes for two weeks and had to do some assignments during that time, this internship gave me a great experience on a professional level and motivated me to study athletic training more from now on," Nonaka said.
After graduating, he hopes to work for a professional baseball team.
Opportunities for Every Student
This particular internship opportunity was only for Japanese students, but there are similar opportunities for all Athletic Training graduate students. In fact, participating in an internship is a graduate program requirement.
Other students have interned with the Chicago Cubs, the Omaha Storm Chasers and USA Volleyball.
Think this major might be the right fit for you?
Here's more information on the:
Contact Us
If you have a story idea, news tip, or other question, please email the UNO News team at unonews@unomaha.edu.