UNO Grad Student Receives Award for Outstanding Master's Thesis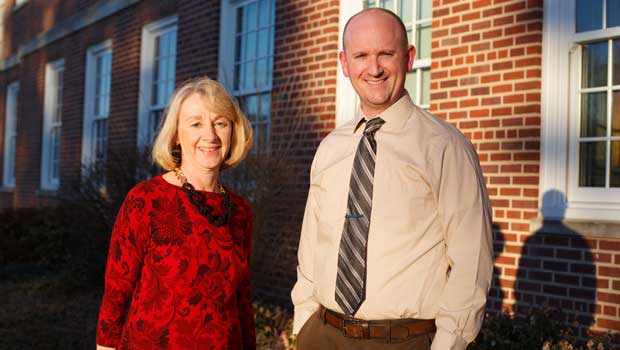 From left: Barbara Pickering, Communications Professor, and Scott Wike, Graduate Student
UNO Graduate Student Scott Wike recently made UNO history, becoming the first Maverick to receive the Award for Outstanding Master's Thesis (Qualitative-Rhetorical Methodology) from the Master's Education Division of the National Communication Association.
Wike's thesis, titled "Hofstadter Revisited: A Modernized Paranoid Style in Dinesh D'Souza's 2016 Obama's America," was one of seven proposals from across the U.S. to be nominated for this prestigious honor.
In his thesis, Wike argued that the film "2016: Obama's America" represents a new variation of conspiracy rhetoric, emblematic of a new age in American politics in which the Internet and professional political punditry each have their own rhetorical power.
The reviewers complimented Wike's work, writing "Wike's thesis is, in the context of this background, one of the best I have had the privilege to read. His analysis of D'Souza's film evinces a well-grounded understanding of the nature and role of documentary film as a beginning point for the analysis. The critical review of the film itself is a very well-crafted application of the criterial frames. Wike's critical acumen is far more advanced than one might expect at this academic level; he operates with a critical sophistication that not all reach, even at the doctoral level."
They continued, "Well-written and using a strong line of logical arguments, this piece imports and advances a new rhetorical method for analyzing conspiratorial rhetoric."
In addition to receiving this top honor, Wike's thesis was selected as the UNO School of Communication's Outstanding Thesis for the 2014-2015 academic year.