Five Earn Certification from UNO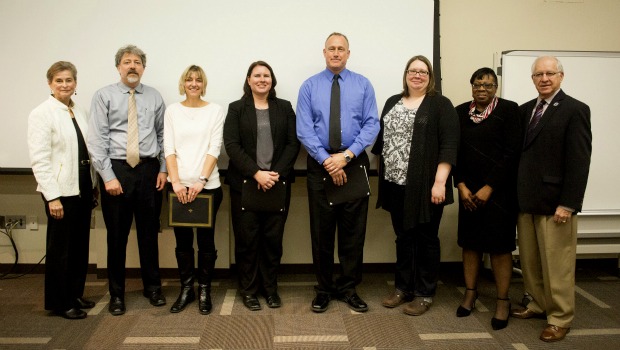 OMAHA
- On Friday, Dec. 4, five graduates received certification from UNO's Nebraska Certified Public Manager (CPM) program, completing its eighth year as the state's only certification program for supervisors and managers employed in public service or non-profits.
The Nebraska Certified Public Manager Program enhances performance by teaching supervisors and managers to apply recognized management theories and best practices to the challenges they face.  

Participants not only attend on-campus sessions or post on-line, but during the period between sessions they also work on assignments and a significant capstone project that is of benefit to the participant's organization.
This year's candidates and final projects include:
Bob Denton - Chief Probation Officer – District 6 State Probation
Denton has over 25 years in the probation field and currently serves as the Chief Probation Officer for District 6, where he is responsible for seven counties, three offices, 40 staff and 1,500 probationers. Project Title: Preparing Future Leaders.
Carrie Rodriguez - Chief Deputy Probation Officer –  District 5 State Probation
Rodriguez has four years in the probation field and is currently Chief Deputy Officer, where she is responsible for 11 counties. She has responsibility for HR and training; quality assurance; policies and procedures and budget. Before probation Carrie worked in the retail field for nine years. Project Title: Identifying Future Leaders in Probation.
Nicole Gallardo - Office Associate – UNMC School of Pharmacy
Nicole is an office Associate at the UNMC School of Pharmacy and a student in the College of Continuing Studies at UNO. In her role at UNMC she is responsible for providing high quality administrative support to the Director and Coordinator of Experiential Programs. Project Title: Impact of Social Media on Recruiting and Admissions at UNMC Pharmacy School. 
David Lathrop - Environmental Engineer III - Department of Environmental Quality.
David has been with the Nebraska Department of Environmental Quality for a year. He is responsible for Professional engineering work concerned with municipal wastewater collection, treatment, disposal, on-site wastewater treatment systems, industrial treatment systems and storm water sewer systems. Coordinates work with other Department programs. Before that he was with the Nebraska Department of Roads.  Project Title: Key Performance Measures and Best Practices of Water and Waste Management.
Andrea Riley - Supervisory Archives Specialist – National Archives and Records Administration (NARA)
Andrea has been with NARA for 11 years. In her role with NARA she is the Supervisor of the General Records Schedule. Along with her team she write records dispositions schedules  for records throughout the Federal Government. The team is virtual, with members throughout the US. Her project is entitled: A Proposal for Revising NARA's Appraisal Policy to meet Present Needs and Future Expectations. 
Also in attendance were University of Nebraska Regent Bob Whitehouse, UNO School of Public Administration Director Ethel Williams, CPM Director Ellen Wakefield, CPM Director Emeritus Mary Hamilton and CPM faculty, as well as program alumni and family and friends of this year's graduates.

To apply to the 2016 Nebraska CPM program, please visit http://www.formstack.com/forms/?1245819-wA9MmLI3Ov. 

More information and a full list of CPM alumni can be found at http://www.unomaha.edu/college-of-public-affairs-and-community-service/public-administration/professional-development/index.php. 
For questions or media requests, please contact:
Sam Petto, UNO Media Relations Coordinator
unonews@unomaha.edu
402.554.2704

or

Charley Reed, UNO Associate Director of Media Relations
unonews@unomaha.edu
402.554.2129

Related Links
UNO School of Public Administration
American Academy of Certified Public Managers


About the University of Nebraska at Omaha
Located in one of America's best cities to live, work and learn, the University of Nebraska at Omaha (UNO) is Nebraska's premier metropolitan university. With more than 15,000 students enrolled in 200-plus programs of study, UNO is recognized nationally for its online education, graduate education, military friendliness and community engagement efforts. Founded in 1908, UNO has served learners of all backgrounds for more than 100 years and is dedicated to another century of excellence both in the classroom and in the community.
Become a fan of UNO on Facebook: facebook.com/unomaha and follow UNO's Twitter updates at twitter.com/unomaha.
Contact Us
If you have a story idea, news tip, or other question, please email the UNO News team at unonews@unomaha.edu.