Best of 2015: Baxter Arena
Over the past year, UNO has continued making history. Whether it be in the classroom, on the field, right here in Omaha, or across the world - the students, faculty, and staff of UNO have set the bar for what it means to be a successful and engaged metropolitan university. 

In what is one of the biggest changes to the UNO campus in history, 2015 was a year all about the addition of Baxter Arena. As the new home for Omaha Maverick Athletics and a new home for area concerts, commencements, and ice skating, Baxter is a shining example of the UNO metropolitan mission.

Included below are several stories about Baxter Arena from throughout the year. This is just one of 15 feature articles that will be published through the month of December to highlight the "Best of 2015" at UNO. 
 
---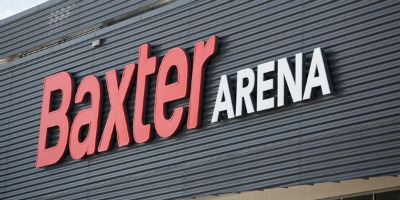 In June of 2015, the City of Omaha was invited to celebrate the dedication of their newest arena. Up until that point, the arena had simply been known as the "UNO/Community Arena" but following an agreement between UNO and Baxter Auto Group, the new arena finally had a name to call its own: Baxter.
The announcement was made at a ceremony at Baxter Arena featuring remarks from Baxter Auto President Mickey Anderson as well as University of Nebraska Board of Regents member Howard Hawks, UNO Chancellor John Christensen and UNO Vice Chancellor for Athletics Trev Alberts.
---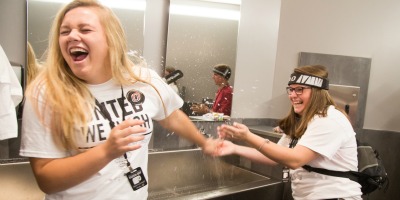 Before any puck could go between the pipes, the pipes inside the walls of Baxter Arena needed to get their own kind of workout. 

In September, students, faculty, staff and alumni were invited into Baxter Arena for a special "Flush Off" where every faucet, fountain, and toilet would be put to the test by turning them on and flushing at the same time. 

All participants received a free t-shirt and had a chance to sample Baxter Arena concessions. Five lucky students also won a year supply of toilet paper and a Maverick swag bag from Student Involvement.
---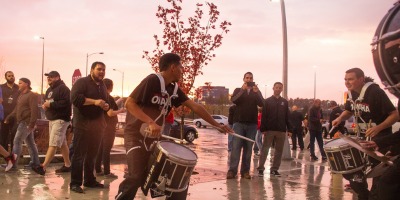 On October 23, the evening everybody was waiting for arrived as the Omaha Maverick Hockey Team, ranked No. 1 in the nation, took to the ice at Baxter Arena for the first time. 

The entirity of Aksarben Village was awash in Crimson and Black as fans of all ages came out to celebrate. 

In an evening full of exciting moments, including the raising of the team's Frozen Four banner from last season, the Mavs also downed Air Force with a confident sweep to keep their unbeaten record.
Contact Us
If you have a story idea, news tip, or other question, please email the UNO News team at unonews@unomaha.edu.