UNO: Still Best for Vets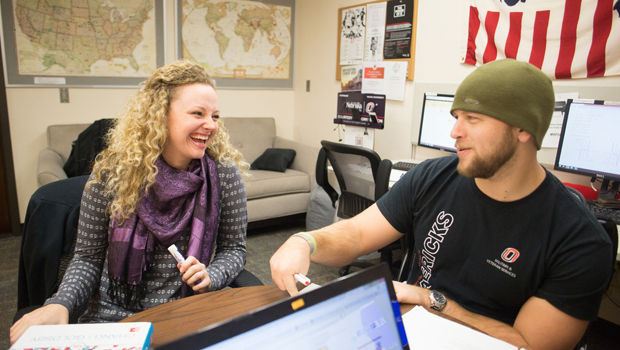 UNO leads the nation in support for veteran and military students
OMAHA – For the second year in a row, the University of Nebraska at Omaha (UNO) has been named the best four-year school in the nation for military friendliness by Military Times magazine.

The rankings judge schools based on a wide variety of criteria including retention rates, accreditation, post-graduation salary earnings and student support. This is the sixth year that Military Times has ranked schools based on their military friendliness.

"It is so wonderful to once again be recognized as the nation's top four-year institution for military and veteran students," said UNO Chancellor John Christensen. "This recognition continues our long history of service to those who have served our country. Our military and veterans have fought for our country and we will continue to fight for them and their dependents."

In this year's rankings, UNO received four-star rankings in key areas including the implementation of the Yellow Ribbon program, staff support, academic support and extracurricular opportunities.

Additionally, the average salary made by military and veteran students after graduating from UNO was the highest of the 125 ranked schools; more than double the No. 2-ranked school and at least $10,000 higher than the next highest figure. In total, 175 universities were ranked across three categories: four-year institutions, two-year institutions and online/nontraditional schools.

A full list of ranked four-year universities can be found here: http://projects.militarytimes.com/jobs/best-for-vets/2016/colleges/4-year.

"This ranking not only recognizes the amount of support we can provide our service men and women while they are in school, but also the value of a UNO education after they graduate," explained Mike Connolly, director of UNO's Office of Military and Veteran Services.

The ranking represents what students like Sgt. 1st Class Tim Cannon, a senior and member of the U.S. Army Reserves, say makes UNO the best choice for any active duty member or veteran wanting to complete their education.
"From my first day here, I've noticed staff and faculty are incredibly supportive of military students like myself," he said. "The services the Office of Military and Veteran Services offers make it much easier to be a student. Instead of worrying about my benefits or all the paperwork, I can focus on my education."
UNO's history with military and veteran students dates back to World War II, when UNO was one of the nation's first universities to institute the Bootstrapper Program, which provided access to higher education institutions for those returning from the war.

One of the beneficiaries of the Bootstrapper Program was former Secretary of Defense and former U.S. Senator Chuck Hagel, who graduated from UNO in 1971. Other prominent military figures to graduate from UNO include Four-Star General James P. Mullins, Four-Star General Johnnie E. Wilson, and Four-Star General Bryce Poe II.
UNO is also the alma mater of four Medal of Honor winners: Merlyn Dethlefsen (1965), Roger Donlon (1967), Jack Treadwell (1963) and Leo Thorsness (1964).

"There is no question that our history of serving military and veteran students is long and proud," Connolly said. "But this is just the beginning of what we hope to accomplish as the nation's leader for supporting those students."

For more information or media inquiries, please contact:
Sam Petto, UNO Media Relations Coordinator
unonews@unomaha.edu
402.554.2704

or

Charley Reed, UNO Associate Director of Media Relations
unonews@unomaha.edu
402.554.2129
About the University of Nebraska at Omaha

Located in one of America's best cities to live, work and learn, the University of Nebraska at Omaha (UNO) is Nebraska's premier metropolitan university. With more than 15,000 students enrolled in 200-plus programs of study, UNO is recognized nationally for its online education, graduate education, military friendliness and community engagement efforts. Founded in 1908, UNO has served learners of all backgrounds for more than 100 years and is dedicated to another century of excellence both in the classroom and in the community.
Become a fan of UNO on Facebook: facebook.com/unomaha and follow UNO's Twitter updates at twitter.com/unomaha.