Throwback Thursday: Milo Bail Crowned

---
  
October 25, 1955
UNO President Milo Bail Named Ak-sar-ben King
Omaha University (later the University of Nebraska Omaha) President Milo Bail became the first educator to rule mythical realm of Quivera when crowned King Ak-Sar-Ben LXI on October 25, 1955.
The Aksarben Monarchs have been a powerful force since the Knights of AKSARBEN Foundation originated. The King represents the past and is a business and civic leader who has contributed immeasurably to the Heartland throughout his life and career. The Queen represents the future and hope for continued prosperity throughout the Heartland.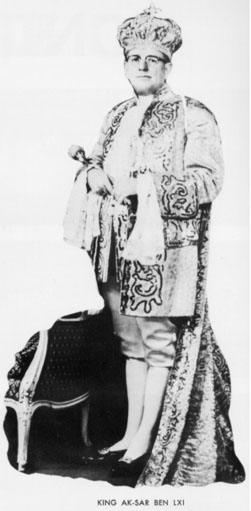 Victory Bell for Bail Goes Missing
From the UNO Alumni Assocation:
In 1955, graduating seniors presented Omaha University President Milo Bail with a "Victory Bell" to be used for games, victory celebrations, parades and other school activities. The Class of 1955 purchased the bell from Union Pacific Railroad for $150. The bell was used throughout the late 1950s and into the 1960s. In 1957 it was "stolen" then returned by Tau Kappa Epsilon. A similar stunt was repeated in 1961 by Pi Kappa Alpha, which welded its initials onto the bell.
After that, the bell is seen in various yearbook photos. Its last definite appearance was in the 1966 Tomahawk yearbook, though it likely also appears in the background of a photo in the 1970 yearbook. No one knows its whereabouts today, though. UNO Archivist Les Valentine, and former alumni association President Jim Leslie were unaware of the bell's existence. A plea to UNO faculty and staff turned up no leads.
The History of Aksarben
From the Aksarben Village website: 
Aksarben ("Nebraska" spelled backwards, and once known as "Ak-sar-ben") was one of Omaha's most popular destinations throughout the 20th century. Famous for its horseracing track, Aksarben also featured a grandstand, coliseum and other facilities that hosted a variety of entertainment, including concerts, public ice-skating, minor league sports games, world championship rodeos and road shows.
Contact Us
If you have a story idea, news tip, or other question, please email the UNO News team at unonews@unomaha.edu.