Alumni Association to Host Night of Honor

OMAHA – The University of Nebraska at Omaha (UNO) Alumni Association will host its second annual UNO Alumni Night of Honor Wednesday, Nov. 4, at the Thompson Alumni Center. Sponsored by First Data, the celebration highlights achievements by members of the worldwide UNO alumni network, now numbering more than 105,000 living graduates.
Honorees will include 2015 UNO Athletics Hall of Fame inductees Dr. J.D. Naig (wrestling), Pinar Saka (track & field) and Jenni Upenieks (softball). Young Alumni Achievement Awards will be presented to Leslie Fischer and Kenny McMorris. Outstanding Service Awards will be issued to Thomas Gouttierre and Dr. Andrew Rikli.
Other alumni honored by the Alumni Association and UNO colleges or departments in 2014-15 also will be recognized. Information on award recipients follows.
UNO ATHLETICS HALL OF FAME
---
Established in 1975, the Hall of Fame honors former athletes, coaches, administrators and others who have made lasting contributions to Maverick Athletics. With the 2015 class, membership in the UNO Athletics Hall of Fame grows to 111 individuals.
---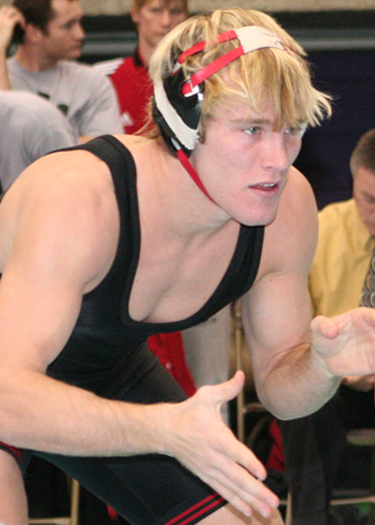 J.D. Naig — Wrestling
J.D. Naig was a three-time national champion and finished his career at UNO in 2007 with a 140-26 career record, the sixth-most wins in school history. Wrestling at 165 and 174 pounds during his career, the native of Emmetsburg, Iowa, won national titles in 2005, 2006 and 2007. He had finished third as a freshman, making him one of just 11 Mavericks ever to be named a four-time All-American. Naig's 43 career falls are tied for seventh in school history, and he also was a two-time Academic All-American. In 2007, Naig was named Outstanding Wrestler of the NCAA Division II National Tournament with a final record of 42-7.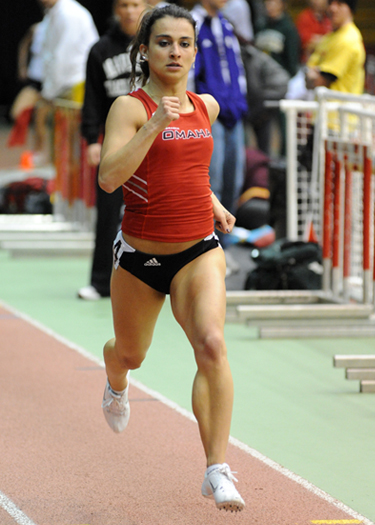 Pinar Saka — Track & Field
Pinar Saka was an eight-time All-American and twice a national champion while competing for the UNO track & field team from 2006 to 2010. The native of Istanbul, Turkey, won the 400 meters and was a member of the winning 4 x 400 meter relay at the 2009 NCAA Indoor Championship. That same year she helped UNO win the MIAA Indoor Championship and was MVP. She was the South Central Region Track Athlete of the Year and USTFCCCA Division II Track Athlete of the Year. In all, Saka was a six-time conference champion. She owns four individual school records and was part of four school-record relay teams. She later became the first Turkish woman to compete in the Olympics in the 400 meters, competing in London.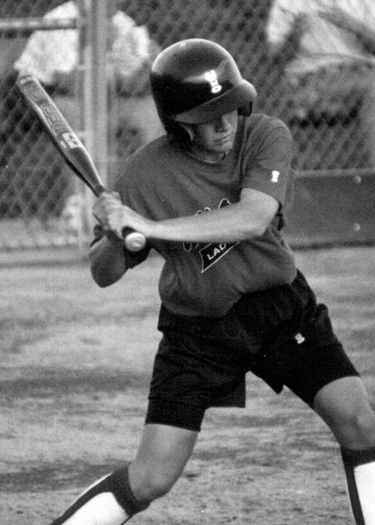 Jenni Upenieks — Softball
Jenni Upenieks played for the UNO softball team from 1994 to 1997, finishing high on several career batting charts. She was a four-time all-North Central Conference player as a center fielder and was a second-team All-American in 1996 and a first-team pick in 1997. 
The native of Urbandale, Iowa, stands fifth in career RBI with 143 and third in runs scored with 182. Upenieks led the Mavericks to four straight national tournament appearances and 194 victories during her career. UNO finished third twice, fifth and second during that period.
YOUNG ALUMNI ACHIEVEMENT AWARD
---
Established in 2014, Young Alumni Achievement Awards recognize outstanding career achievement, active community involvement or exceptional service to the university by graduates 40 or younger.
---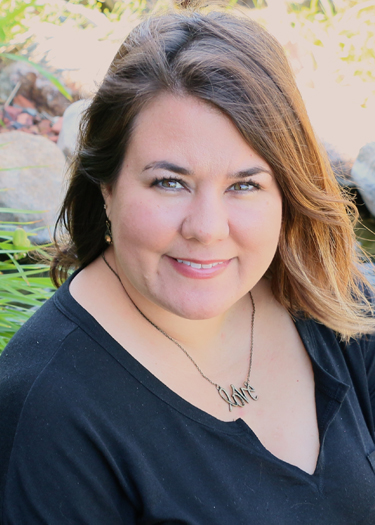 Leslie Fischer
Leslie Fischer is co-founder of TAGG (Together A Greater Good), a social good app that allows anyone with a smart phone to give back to their favorite cause through purchases at local businesses. Participating businesses provide a percentage of purchases to a charity selected by the user. Fischer's mission with TAGG is to "create the next generation of givers and give everyone the easiest way to do good in the community." 
Fischer previously was vice president of marketing and management services at EAD and has worked for GiftCertificates.com and Nexterna. She also is co-founder of Ladies Who Launch Omaha, a women's entrepreneur group, and is on the board of Saving Grace Perishable Food Rescue and B4B Society. She earned her degree in business administration with a minor in marketing from UNO in 1999.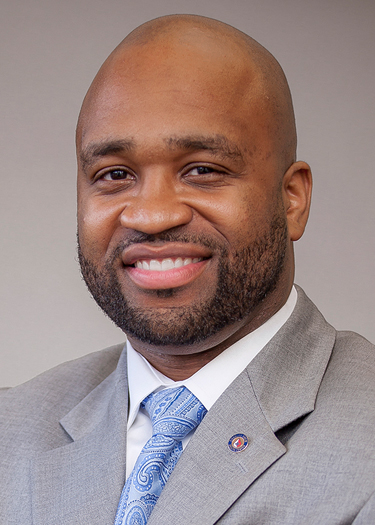 Kenny McMorris
Kenny McMorris is CEO of Charles Drew Health Center, which includes 130 employees, 10,000 patients and 40,000 outpatient visits. Under his leadership the center has expanded service locations from four to 12 sites with primary care, dental and behavioral health services.
McMorris previously was executive director of 100 Black Men of Omaha and was director of marketing and development for the Urban League of Nebraska. He is a Fellow of the American College of Health Care Executives and Community Health Centers Executives. He also is on the board of directors of Heartland 2050, Omaha Health Kids Alliance, March of Dimes, Midlands Mentoring Partnership, UNMC Chancellor's Board of Councilors, UNMC College of Public Health Advisory Counsel and Empowerment Network Leadership Team. He earned a BGS from UNO in 2004 and an MPA in 2010.
OUTSTANDING SERVICE AWARD
---
Established in 1974, the Outstanding Service Award honors faculty, staff, alumni or friends who have shown long, outstanding service to the Alumni Association and/or university.
---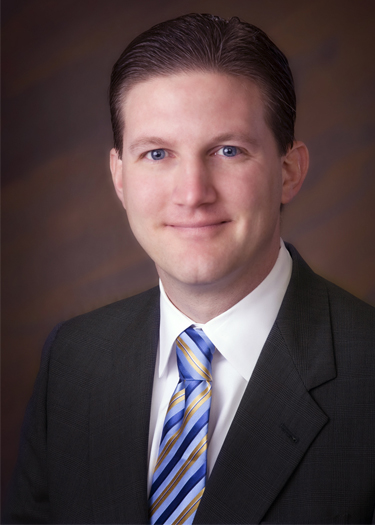 Andy Rikli
Andy Rikli was the 90th graduate to chair the UNO Alumni Association Board of Directors, doing so from 2013-14. He joined the board in 2010 and concludes his service in May 2016. During his term as chairman the UNO Alumni Association celebrated its 100th anniversary and commissioned the creation of Maverick Monument now on UNO's Dodge campus and a replica at Baxter Arena.
Rikli in 2013 became superintendent of Papillion-LaVista Community Schools. He previously worked for Westside Community Schools for 10 years. He is a member of several professional organizations, including the Urban School Superintendents Association of America, a select group of 60 public school superintendents. Rikli earned his doctorate in educational administration from UNO in 2007. A fourth-generation Nebraskan, he also earned a bachelor's and master's degree from UNL.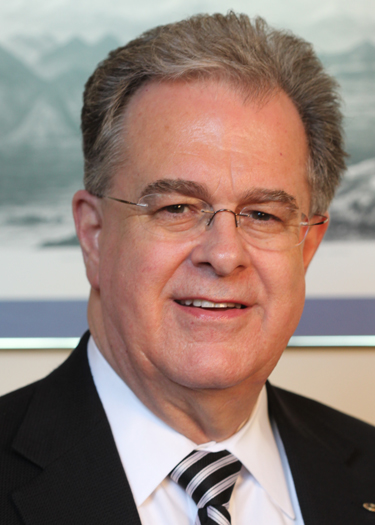 Thomas Gouttierre
Tom Gouttierre served as the senior officer for Global Engagement, dean of International Studies & Programs and director of the Center for Afghanistan Studies at UNO from 1974 to 2015. He also served as dean of IS&P at UNMC from 1987-2010. Between 1965 and 1974, Gouttierre was a Peace Corps volunteer, Fulbright Fellow and executive director of the Fulbright Foundation in Afghanistan.
In 1996-97, Gouttierre served as senior political affairs officer on the United Nations Peacekeeping Mission to Afghanistan. He has testified on various topics related to Afghanistan, U.S.-Pakistani relations, international terrorism and human rights before the U.S. Senate Foreign Relations Committee and U.S. House of Representatives Committee on International Relations, the British Parliament, the French National Assembly, and other international bodies. He regularly makes presentations to world affairs and foreign relations organizations, university campuses, service clubs and others. He has been a popular speaker at Golden Circle Lunch Bunches for many years.
Wednesday's event is not open to the public.
For more information on the UNO Alumni Night of Honor, please contact:
Anthony Flott, at aflott@unoalumni.org or 402.554.2989.
For more information on the UNO Athletics Hall of Fame, please contact:
Dave Ahlers, Assistant Athletic Director, Communications, at dahlers@unomaha.edu or 402.554.3387.
Contact Us
If you have a story idea, news tip, or other question, please email the UNO News team at unonews@unomaha.edu.