Throwback Thursday: NU System Merger

We'll share a vintage University of Nebraska Omaha (UNO) photo each Thursday on our homepage as part of the popular "Throwback Thursday."
Check back each week for a photo celebrating UNO's history, and to learn more about what's happening on campus and in our community, and future plans for the university.
---
Bill to Merge
On January 30, 1967, a bill was introduced to the Nebraska Legislature for the merger of the Municipal University of Omaha (previously known as Omaha University) and the University of Nebraska system. Nearly 11 months later, in December 1967, Omahans voted 4-1 to merge the universities.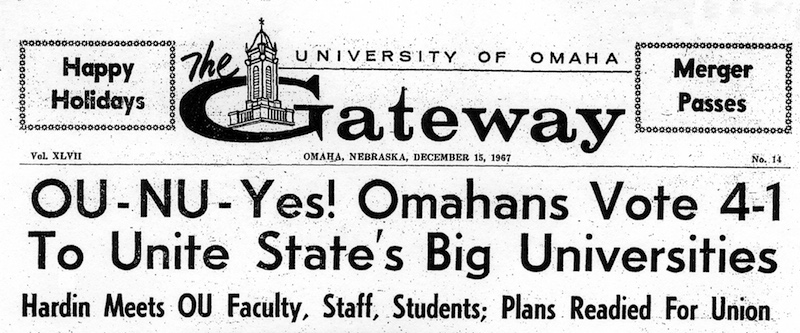 July 1, 1968
On July 1, 1968, the Municipal University of Omaha became the University of Nebraska at Omaha (UNO) and officially joined the University of Nebraska (NU) system.  A merger ceremony and celebration was held the following month.
One result of the  OU merger with NU was a sizeable increase in enrollment at UNO--it increased more than 23 percent from the fall of 1967 to the fall of 1968 with a total of 11,000 students. UNO also gained access to state funding. Fourty-seven years later, UNO's enrollment has grown to more than 15,000 students, become classified as a Carnegie Doctoral/Research university, and moved to Division I athletics.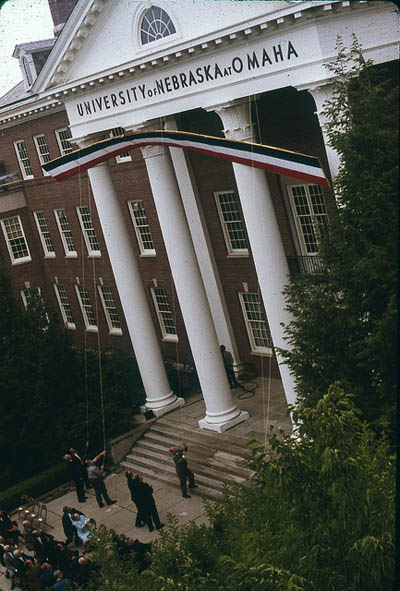 There's no better time to be a Maverick!
Contact Us
If you have a story idea, news tip, or other question, please email the UNO News team at unonews@unomaha.edu.