Mavericks Season Preview
contact: Dave Ahlers, Bonnie Ryan, and Shad Beam - Omaha Athletics

---
Bits of the Bull
Like children in a long car ride, the UNO Mavericks have been wearing out the phrase, "Are we there yet?"
Finally, they are.
After a four-year wait, the Mavericks at long last have arrived at full Division I status, eligible to compete for all Summit League and NCAA championships after playing through the reclassification process mandated by the NCAA.
In August, UNO's fall teams will be the first to usher in this new era in UNO Athletics, competing in men's and women's soccer, cross country, men's and women's golf, and volleyball.
None are strangers to Division I competition, having played such teams regularly since 2011. Now, however, they play for crowns.
Following is a preview of what's to come:

Men's Soccer
Women's Soccer
Volleyball
Cross Country
Men's Golf
Women's Golf
Men's Soccer
The 2014 season was a year of firsts for the UNO men's soccer team. The Mavericks set the program record for most wins (10) and clinched a share of their first Summit League title.
Entering 2015, Coach Jason Mims has the bar set even higher. He is looking to secure the first Summit League tournament berth in program history and a shot at the NCAA tournament.
"Last year was a great season," Mims says. "We have set standards for our program to have double-digit wins, winning the conference and playing a challenging schedule. The goal is to make the program stronger as a whole and the only way to do that is to put ourselves in a position to make a run at a conference championship every year."
UNO returns eight players who started at least nine games last season, including All-Summit League First-Team midfielder Mark Moulton and a pair of second-team performers in Felipe da Silva and Emir Alihodzic. Goalkeeper Joseph Ghitis and defender Michael Jaime earned spots on the Summit League All-Newcomer team. Logan Mendez, the program's all-time assists leader, had a goal and six assists as a junior last year.
The Mavericks return both goalies from a year ago in Ghitis and Josh Christiansen. Ghitis started all nine games he saw action in and surrendered 10 goals while turning away 28 shots. Christensen started eight games and totaled 29 saves while giving up four goals.
UNO must replace three starters from last season's squad, including the program's all-time leading goal scorer, Vance Rookwood. Rookwood scored 19 goals and had 45 points in his four-year career with the Mavericks. Moulton, who ranked fifth nationally with 10 assists, will be asked to replace some of those goals. Mims also has added a potential scoring threat in transfer Kevin Correa from New Mexico. Correa, a 6-foot-1 forward, was an NSCAA Third Team All-American after scoring 13 goals and adding six assists while playing for Saint Francis (N.Y.) in 2013.
Besides the always-challenging Summit League slate, the Mavericks also will have contests against several quality non-conference opponents. The 2015 season gets going Friday, Aug. 22, with an exhibition against PAC-12 member Washington. Last season, the
Huskies advanced to the third round of the NCAA Tournament.
Opening weekend features matches against Kansas City (Aug. 28) and Pacific (Aug. 30). Another NCAA tournament qualifier, Cal State Irvine, visits Omaha Sept. 6. UNO's home Summit League schedule this season includes Fort Wayne (Oct. 3), Western Illinois (Oct. 10) and Oral Roberts (Oct. 28).
---
Women's Soccer
Head Coach Don Klosterman and an experienced UNO women's soccer team will look to improve  on a 2014 season that saw the Mavericks go 5-12-2 overall, including a 3-3-2 mark in the Summit League.
The Mavericks return 11 starters from last season. Leading the cast of returnees is Summit League Defensive Player of the Year Hannah Wampler and Summit League First-Team selection Chelsi Rohloff, both seniors. Wampler led a UNO defense that had a 1.65 goals-against average last season while scoring four goals to boost the UNO attack. Rohloff led the Summit League in scoring a season ago with 10 goals. She assisted on four others for 24 points.
"We are moving into a new phase for our program now that we are eligible for postseason play," Klosterman says. "For our seniors, it's their last chance to make an impact on the program by competing for the first championship now that the transition is complete. We have put in a lot of work over the past two years to get to here."
Juniors Ava Doetsch, Lauren Lawler and Morgan Westenburg join Wampler to give the Mavericks stability on the back line. UNO also returns three goalkeepers who saw action last season. Junior Haley Shelton, a converted defender, set a program record last season with 101 saves after being pressed into service due to injuries to both Katlyn Schochenmaier and Meaghan Clark.
The Mavericks will look to find another goal scorer to complement Rohloff. Juniors Kyla Booker, and Courtney Neville each had a goal and three assists last season while fellow junior Layla Ashouri had a goal. Sophomore Lydia Holtmann earned Summit League All-Freshman honors with a goal and three assists a year ago. Center midfielder Marquette Pick returns for her senior season. Pick played more minutes than any other Maverick midfielder and had six shots on goal.
UNO opens the 2015 season with a road game against Iowa on Aug. 23 then opens the home schedule on Aug. 28 against Northern Iowa. Other notable non-conference home matches are against Drake (Sept. 11), Colorado State (Sept. 18) and Missouri State (Sept. 22). The Mavericks open Summit League play at North Dakota State Oct. 2. Omaha hosts Summit League foes IUPUI (Oct. 9), Western Illinois (Oct. 16) and South Dakota (Oct. 18).
---
Volleyball
The name of the game for the UNO volleyball team is veteran leadership in 2015. The Mavericks are prepared like never before, as five of its six seniors bring starting experience to the lineup: middle blockers Megan Schmale and Diane Banderas, outside hitter Kelley Wollak, rightside hitter Michaela Schimmer and libero Kimberly Bailey. Omaha also returns a pair of starters in sophomore setter Sydney O'Shaughnessy and sophomore outside hitter Mackenzie Horkey, both of whom were named to the 2014 Summit League All-Freshman Team.
"Having all our starters back allows us to build on the experience, drive and competitiveness that we established last season," says Head Coach Rose Shires. "We've made great strides as a program, and having a senior-laden team couldn't have come at a better time. Everyone has court experience and knows what to expect in the Summit League, and now we're ready to make that push to win a conference tournament.
"Blocking will be a strength again for us, but there's also been big development in our passing. Our middle hitters will be more involved in our offense now, and our offensive output has improved. We're just as solid a blocking team as we've ever been, but now we're coupling that with our ability to score."
The Mavericks proved to be on the upswing in 2014, doubling their win total from the previous season. They picked up one of the most significant road victories in school history at the Iowa State Challenge, defeating an SEC foe with a 3-0 sweep of Tennessee.
"There were a lot of points in 2014 that propelled us to the next level," Shires says. "We played some thrilling five-set matches against tough opponents. The Tennessee match in particular was meaningful with the opportunity to play an SEC team. We played to our strengths against their weaknesses and were able to out-block, out-hit and out-play them that night. To beat Tennessee in three was huge for our team, but it was also a confidence booster that helped us succeed the rest of the year."
The 2015 season will see Omaha have two homes as it closes the Sapp Fieldhouse era and moves to Baxter Arena — all with a new $70,000 TeraFlex court identical to the one the U.S. Olympic Team trains on. Shires sees it as a marker of how the university has evolved and grown in her storied, 26-year coaching career at UNO, which has included more than 450 victories and the 1996 Division II national championship.
"We have this beautiful, new 8,000-seat facility to look forward to as we finish the season," Shires says. "We've won many championships over the years at Sapp Fieldhouse, but the genuine excitement of moving into an amazing new home facility is so special. It's building enthusiasm for our volleyball program, our athletic department and our campus, and that's really exciting to see."
UNO opens the 2015 campaign Aug. 28-29, facing Seton Hall, UNLV and Central Arkansas at the UNLV Tournament in Las Vegas.
---
Cross Country
The Mavericks have several runners who will be thrust into more prominent roles when the season begins in September. Gone are graduated seniors Ashley Kildow, who led the Mavericks in all seven events last season and was a second-team All-Summit selection, Kristin Rogers, Katarina Zarudnaya and MiKayla Peck.
"It will definitely be a building process," says Head Coach Chris Richardson. "Luckily those four have led by example and have helped our young runners grow quickly. I am excited to see who will step up and take on leadership roles."
The Mavericks return a group of runners who all scored last season and some of whom will be their core for the next couple of years. Senior Perla Gutierrez and juniors Kristen Carmichael, Catherine Davison and Karo Garcia all should play prominent roles. Sophomore Alyssa Averhoff and Kayla Sabotin also should benefit from a full year competing in both cross country and track & field to help the Mavericks' pack times this fall.
In addition, UNO has three incoming freshmen committed and three more who could come to campus in the fall.
The Mavericks will compete in meets at Nebraska and South Dakota State among others before the Summit League Championship in Brookings, S.D. in November. NCAA regionals are scheduled for Madison, Wis., later that month.
---
Men's Golf
The Mavericks enter the 2015-16 season without three cornerstones of their four-year transition to Division I. Original team members Karl Krieser, Alex Holtan and Taylor Sidzyik all graduated in the spring, making the Mavericks a relatively young bunch.
"It was a fun ride with (last year's) seniors," says Seth Porter, men's golf head coach. "A player like Karl is virtually impossible to replace, but with his work ethic, he set the example and the other guys picked up on that. I expect the guys who are coming back to continue from where last year's seniors left off."
The Mavericks will benefit from the return of junior Mitch Ryan, who sat out as a redshirt last year. As a sophomore, he was UNO's third-leading scorer and could start the new season as its No. 1 golfer. Sophomore Phillip Baumberger was UNO's fourth-leading scorer in 2014-15 and also could challenge for the top spot.
Sophomore Caleb Haight came on strong at the end of last season and, along with Baumberger, played in the Summit League Championship.
"It was huge for us to have two freshmen playing in the conference tournament last spring," Porter says. "That will pay big dividends for us down the road."
Porter also is upbeat about the five incoming freshmen who will join the team this fall.
"They'll all get a chance to compete," he says. "They are guys with the drive and determination, but the numbers will determine who plays.
"It will be exciting to have the ability to play beyond the conference tournament now that our transition is over. And we will be competitive. We might not win, because there are some very good teams in the Summit League, but we'll be in the hunt."
The Mavericks open the season with their own tournament, the UNO Invitational, Sept. 14-15 at ArborLinks in Nebraska City. They'll also play in tournaments at South Dakota, SIUE and Drake before finishing the fall season at Old Dominion.
---
Women's Golf
The UNO women's golf team lost just one player from last season. Graduated senior Sophie Peters was the Mavericks' top scorer in the 2015 Summit League Championship, where they finished sixth.
"Overall, we finished where we should have," says 13-year head coach Tim Nelson, whose team had been picked to finish last among nine teams in the Summit League pre-season coaches poll. "With the new players we have coming in, I think we could climb up two or three spots."
Key returners for the Mavericks include senior Katie Kesti and sophomore Megan Vetrovsky. Kesti was UNO's leading scorer as a sophomore and was just behind Peters in scoring last season. She posted three top-five finishes. Vetrovsky was third in team scoring as a freshman and, along with Peters and Kesti, was one of three Mavericks with a scoring average under 80.
"I'm expecting a competitive team," Nelson says. "With three good players coming in, we've got a chance to move closer to the top teams in our league, like Denver, Oral Roberts and South Dakota State."
The Mavericks will play fall tournaments at Nebraska, South Dakota, Denver and Oral Roberts. They'll also play in Creighton's home tournament at Oak Hills Country Club where they too practice.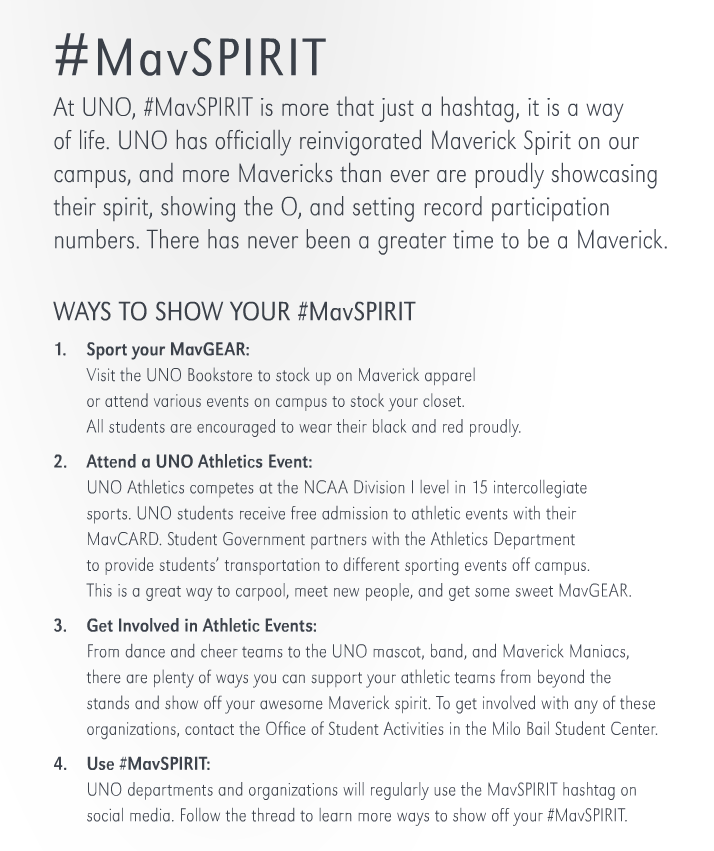 Contact Us
If you have a story idea, news tip, or other question, please email the UNO News team at unonews@unomaha.edu.