Experiments, Imagination Take Flight in Omaha

"What if this was a giant water balloon?" asks one student.
The group breaks into giggles. On a hot day, that sounds good.
They're watching a balloon swell on the grounds of the NorthStar Foundation, waiting for their experiments, which are attached, to be launched into near space.
The balloon will travel into the atmosphere, potentially as high as 100,000 feet, popping, sending the kids' projects, and footage from a GoPro camera, back to Earth.
This is Project HALON's second year, and the first year it has come to the NorthStar Foundation, the only all-boys after-school program in Omaha.
HALON stands for High Altitude Learning Over Nebraska. James Taylor, Research Coordinator at the University of Nebraska's Peter Kiewit Instute, created the initiative in 2014, working with local high school students.
"It shows them that you can do high-tech things right here in Nebraska," Taylor said. 
This year, Taylor collaborated with engineering education instructor Derrick Nero, of the University of Nebraska at Omaha's (UNO) College of Education, to bring the project to underrepresented community groups, including the NorthStar Foundation.
"This is what it's all about," Nero said. "We're engaging these kids in STEM by giving them opportunities every kid in this city should have."
More than two weeks of science, technology, engineering and math programming came before the launch. Kids learned about what would happen to the balloon, then developed scientific questions like "Will this candy bar taste different if it's launched into near space?" or "Will this grasshopper survive the trip?"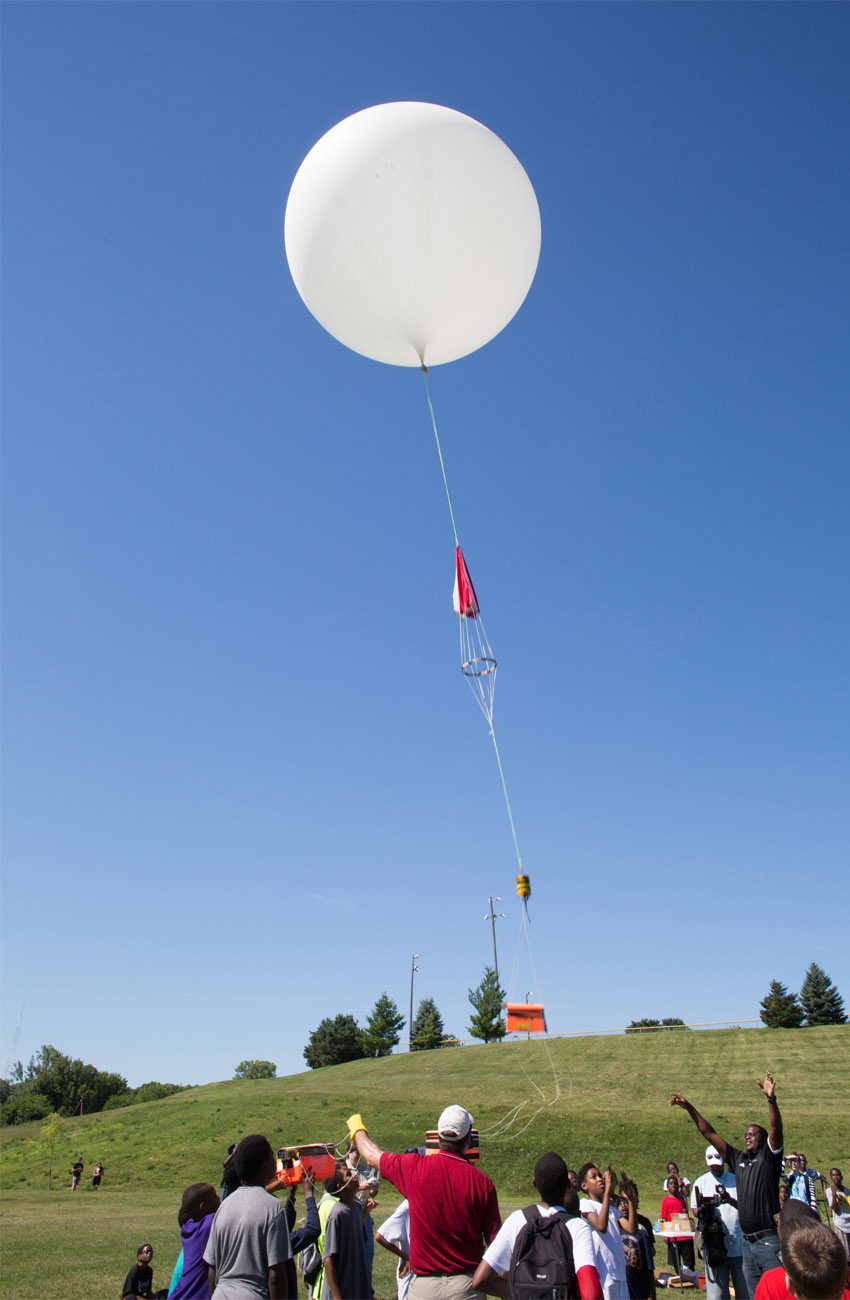 It all built up to a 10 second countdown, then the moment the kids were waiting for. The balloon took off, speed quickly building to 40 miles per hour. Once it hit the jetstream, organizers expected that speed to double.
A roadtrip follows every launch. Balloons usually land about two hours away.
"It seems like it's always a cornfield in Iowa," Nero said. "And the corn is tall right now."
"We're hoping for soybeans," Taylor said.
Even though the kids should be reunited with their candy bars and insects, organizers say the real reward will be seeing video from the balloon, and also from a drone which recorded the launch.
"We want them to say 'Wow, I was a part of that,'" Taylor said.
The launch was a collaboration between the Peter Kiewit Institute, UNO's College of Education, the Nebraska Space Grant and the NorthStar Foundation.
Related Links:
Kiewit Teacher Day Seeks to Improve STEM Education
Spotlight: STEM Education at UNO
Nebraska to Receive $2 Million From NASA, UNO
About the University of Nebraska at Omaha

Located in one of America's best cities to live, work and learn, the University of Nebraska at Omaha (UNO) is Nebraska's premier metropolitan university. With more than 15,000 students enrolled in 200-plus programs of study, UNO is recognized nationally for its online education, graduate education, military friendliness and community engagement efforts. Founded in 1908, UNO has served learners of all backgrounds for more than 100 years and is dedicated to another century of excellence both in the classroom and in the community.
Become a fan of UNO on Facebook: www.facebook.com/unomaha and follow UNO's Twitter updates at http://twitter.com/unomaha.
Contact Us
If you have a story idea, news tip, or other question, please email the UNO News team at unonews@unomaha.edu.