UNO Professor Wins Best Book Award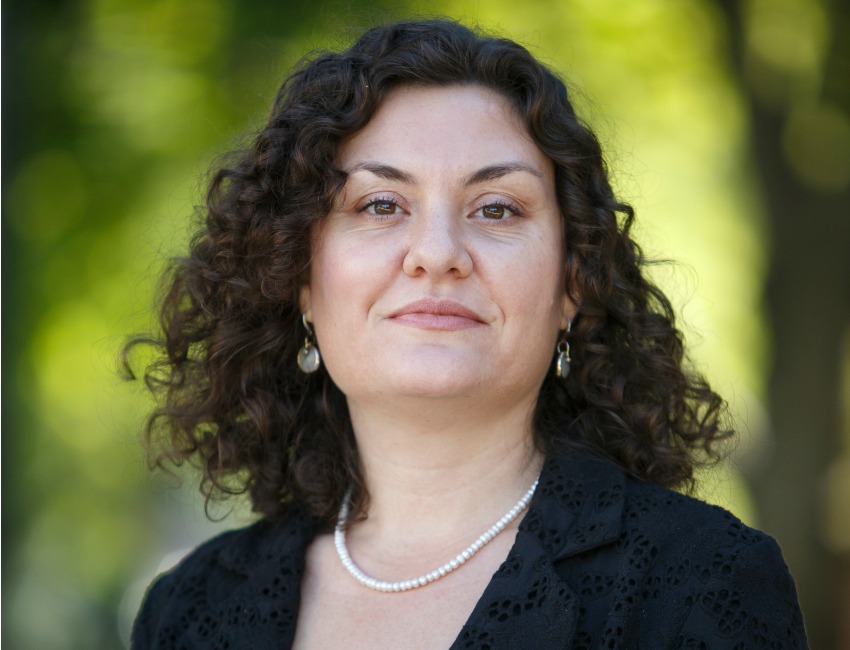 Omaha – Lana Obradovic, Ph.D., has a unique perspective when it comes to global issues. She grew up in Bosnia and Herzegovina when the country was in a state of war. She was on a Manhattan rooftop when the World Trade Center fell on Sept. 11, 2001. These first-hand experiences have led her down a path to bring awareness to subjects that are often overlooked by the American public.
Obradovic's Gender Integration in NATO Military Forces was recently recognized as this year's best book by the European Research Group on Military and Society (ERGOMAS). Founded in 1986, ERGOMAS is an association of social scientists who study the relationship between the military and society.
The book analyzes military information gathered from 24 NATO countries. It is a comprehensive look into state involvement in gender integration in the military. Obradovic said she felt compelled to research this subject for many reasons, both personal and professional.
At 17, Obradovic came to the United States as a war refugee. Many of the women she knew back home were active military members during a very violent conflict. "Their stories often go untold," she said. "There has been an academic silence on this subject."
There has been a shift toward integrating women in the military in recent years, but Obradovic asserts more should be done.
"I argue for a bigger opening to all of those who are capable," she said.
It is not simply a matter of equality, she says. It is also about global economics, increasing the talent pool, and the military understanding its place in the workforce.
"The biggest take should be that militaries do not have the resources to only rely on males in their workforce. It is important to understand that the military is competing with private sector. Why should an educated person go into the military instead of taking a corporate job?"
The first of its kind, this book could be used as a reference for countries that are considering changes to policies regarding gender and security. "It could be useful for those that are looking to expand to see what other countries have done. Countries do not share this type of information very easily, and I struggled with that for over a year."
Before coming to UNO, Obradovic taught at St. John's University in New York City, and Yonsei University in South Korea, just to name a few. "I am here not only because I like UNO and Omaha, but this place allows me to study exactly what I am interested in," she said.  "Something that really interested me was being able to work with students who are either active duty or veterans. Over 50 percent of the students in our graduate program are either active duty or veterans. It adds a whole new dimension to understanding the dynamics of the military by hearing their responses to the war and government polices."
One of Obradovic's upcoming projects will be done in collaboration with the U.S. Strategic Command (STRATCOM) at Offutt AFB in Bellevue. Obradovic said that STRATCOM approached her and said they were interested in establishing a research partnership. UNO students will provide in-depth answers to questions that are posed by STRATCOM. "They have a lot of questions, but they do not have the manpower to answer them," she said.
Obradovic is also leading an initiative with the Holocaust and Genocide Studies program on campus.
"We are working on engaging with communities in Omaha that have suffered from genocide and ethnic cleansing," she said. "We are hoping to create some programs that would offer a way for our students to get involved by helping these children learn English, or help with homework, or take them to campus for a day. Just something that shows them that there are opportunities here. It is important for us to know what some of these people have gone through."
From gender and security, to foreign policy, international relations, and genocide studies, Obradovic brings a wide array of knowledge to the classroom. At the end of the day, if the awards and upcoming initiatives are removed, she is a teacher.
"In my classroom, my aim is not just to make a student become more aware, but to make them become a better global citizen," she said. "Be aware, but critically engage with the world. It's not enough just to read the newspaper. Scratch below the surface. What exactly are you going to do about it?"
"I try to convey my passion for these issues. Whether you are pro-war or anti-war, pro-military or anti-military, it is important that you know about these issues."
Contact Us
If you have a story idea, news tip, or other question, please email the UNO News team at unonews@unomaha.edu.