First Set of Approved Partners Named for New Engagement Center at UNO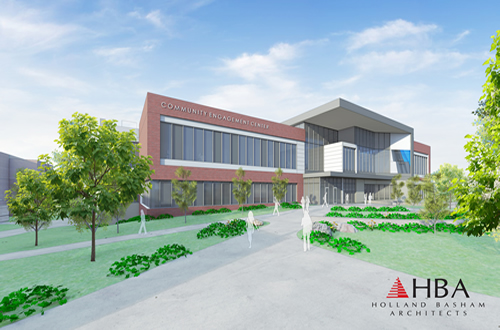 Omaha – The University of Nebraska at Omaha (UNO) is proud to announce the results of its first round of applications for space at the new UNO Community Engagement Center and open up the next round of applications for interested organizations or groups.

As of today, 15 organizations have space in the new Community Engagement Center, which will officially open in spring of 2014. Space for additional organizations is open with applications needing to be submitted by Monday, Dec. 2.

UNO's Community Engagement Center will house both external community organizations and internal UNO organizations with the goal to increase collaboration between university faculty, students and area non-profits. As partners in the Center, the organizations will have access to UNO resources such as the nationally-recognized Service Learning Academy, UNO's Office of Civic and Social Responsibility and other students leadership programs.

Organizations seeking one of the still-open community partner spaces will need to complete a two-phased application process. First, a written application will be required followed by an interview between the applicant organization's leadership and the CEC partner selection subcommittee in January of 2014.
Community organizations (non-profit organizations, community collaborations, government initiatives, etc.) should complete the "external application" and university-based organizations (e.g., UNO colleges, departments, or student organizations) should complete the "internal application." Applications should be submitted to unocec@unomaha.edu by 5 p.m. on the due date.
The first group of successful applicants was made aware of their selection earlier this month. The choices were by UNO senior leadership after formal recommendations from a selection committee made up of representatives from UNO and the greater Omaha community.

The organizations chosen for space in the Center are:
A Time to Heal:
A nonprofit organization dedicated to holistic wellness and recovery for cancer survivors and their caregivers.
Inclusive Communities:
A human relations organization confronting prejudice, bigotry and discrimination through education programs which raise awareness, foster leadership and encourage advocacy for a just and inclusive society.
MaverickPR:
A UNO student-run public relations firm devoted to serving clients by offering innovative and creative solutions to help them achieve their public relations goals.
Metro Area Continuum of Care for the Homeless (MACCH):
A nonprofit organization committed to end homelessness in the Douglas and Sarpy Counties in Nebraska and Pottawattamie County in Iowa.
Nebraska Shakespeare Festival:
A nonprofit organization utilizing Shakespeare's life-affirming works to broadening the cultural and educational environments of the community.
Nebraska Watershed Network:
A UNO organization acting as a focal point for research, teaching and community outreach regarding surface water quality in eastern Nebraska and throughout the state and region. It will collaborate with the Daugherty Water for Food Institute and the UNMC College of Public Health, as well as the Omaha Public Schools, the local Natural Resource Districts, and other community organizations.
Office of Latino/Latin American Studies (OLLAS):
A UNO organization aimed to advance the understanding of Chicano/Latino/Latin American peoples and the critical issues affecting these populations.
Omaha by Design:
A nonprofit urban design and environmental nonprofit devoted to improving the way Omaha looks, functions and feels.
The Omaha Community Foundation (OCF):
One of the country's largest community foundations, OCF connects people who care about the community with the people and nonprofits who are doing the most good here. In addition to supporting Omaha's philanthropic community, OCF works to determine the Omaha community's greatest needs; to build up its nonprofits; and to find new ways for people to come together to give.
Queer Nebraska Youth Networks:
A peer-led group of LGBTQ (lesbian, gay, bisexual, transgender and queer) Nebraskan youth age 15-24, committed to combating isolation by building healthy, supportive, and intentional communities that promote intracommunity friendships and cultivate hope.
Sigma Phi Epsilon:
UNO's second largest fraternity aiming to work towards the ideal of the "Balanced Man" by challenging their members to get involved in other organizations, leadership roles and in the community.
Support and Training for the Evaluation of Programs (STEPs):
A UNO organization aimed to provide participatory, utilization-focused program evaluation to programs organizations serving children, youth, and families in poverty.
Sustainability Organizations:
A group of UNO organizations promoting and integrating sustainability by engaging in dialogue, identifying sustainability opportunities and developing recommended action plans.
Volunteer Program Assessment – University of Nebraska at Omaha:
A UNO organization devoted to providing quantitative and qualitative data and feedback to non-profit organizations from the perspective of their volunteers with the goal of improving volunteer and organizational outcomes.
Wellness Council of the Midlands (WELCOM):
A nonprofit organization dedicated to assisting organizations of all sizes and industry to develop a workplace culture that supports their employees' efforts in maintaining a healthy lifestyle both at work and at home
"We are thrilled to have such a great variety of organizations represented in our first round of partners" said Sara Woods, Assistant to the Senior Vice Chancellor for Community Engagement at UNO. "Each organization brings unique perspectives on community issues, expertise, and commitment to our shared values. We can't wait to have all of these partners in our combined space."
Decisions for the next round of partners will be announced in late January 2014. After this initial application process, there will be a rolling deadline for applications throughout the year.
For further inquiries, please contact Sara Woods at swoods@unomaha.edu or 402-554-3914 or go to the UNO CEC website: http://www.unomaha.edu/community-engagement-center.

For media inquiries, contact Charley Reed, UNO media relations coordinator, at unonews@unomaha.edu or by phone at 402.554.2129.