Scholars Academy: Alexandra Hiscock
The College of Business Administration Scholars Academy will welcome 20 more students this fall. Meet a member of the 2018 cohort.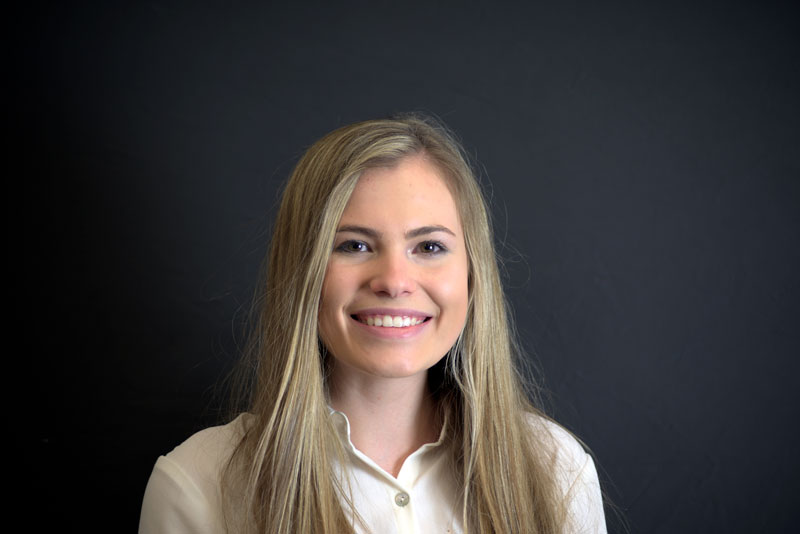 The UNO College of Business Administration Scholars Academy is a close-knit community of ambitious, high-achieving business students who want to challenge themselves while pursuing a bachelor's degree.
During this four-year program, Scholars are mentored by Omaha-area business professionals, take special business courses taught by award-winning faculty, and gain real-world experience through community engagement and international travel. They also receive generous scholarships.
Scholars are selected the spring of their senior year in high school after a rigorous and competitive application process.
Meet new member Alexandra Hiscock of Bennington, Nebraska

---
Why did you choose UNO?
I've lived near Omaha for my entire life and consider the city my home. I love the campus and its location. I also was very impressed with Mammal Hall and the business program. When I was accepted into the Scholars Academy I knew UNO would be an excellent outlet for me to succeed in the business world.
Why did you choose business as a major?
I come from a family of STEM majors, so I initially focused on math and science classes the first two years of high school. I quickly realized that science was not the subject for me and decided to take advantage of upperclassman liberties and enroll in business classes. It didn't take long for me to decide I enjoyed what I was learning and wanted to learn more.
What business concentration are you planning to pursue? Why?
I am currently undecided but I did enjoy my introduction to accounting. I am also interested in marketing and possibly entrepreneurship. I don't think I will really be able to decide what concentration I prefer until I have more informative classes and hands-on experience with internships.
What aspect of the Scholars Academy are you most looking forward to?
I am very excited to meet a group of people my age who are interested the business world and want to take it seriously. I also look forward to all the doors it will open. The Scholars Academy seems like a great way to get your foot in the door as a student already looking towards future employment.
What do you like to do in your free time?
I like to read books, usually the latest young adult dystopian novel. I also enjoy working out. I've never been a fan of playing sports so I found that going to the gym is a great alternative. I also enjoy playing the piano.
What is one thing we would be surprised to know about you?
I am the shortest person in my extended family. I'm 5'10 but my brother, my six cousins, and all my aunts and uncles have me beat. To make up for it, I wear heels as often as I can.
Contact Us
If you have a story idea, news tip or inquiry, please contact:
Lindsey Hasenjager, Director of Social Media and Promotions, College of Business Administration
lhasenjager@unomaha.edu • 402.554.3852