ISSUED: (Tuesday, February 19, 2019 14:00 PM)
SEVERE WEATHER ANNOUNCEMENTS
All evening classes for Feb. 19 (5 P.M. and after) have been canceled. All on-campus classes and activities for Feb. 20 have been canceled.
More Information
CLOSE

X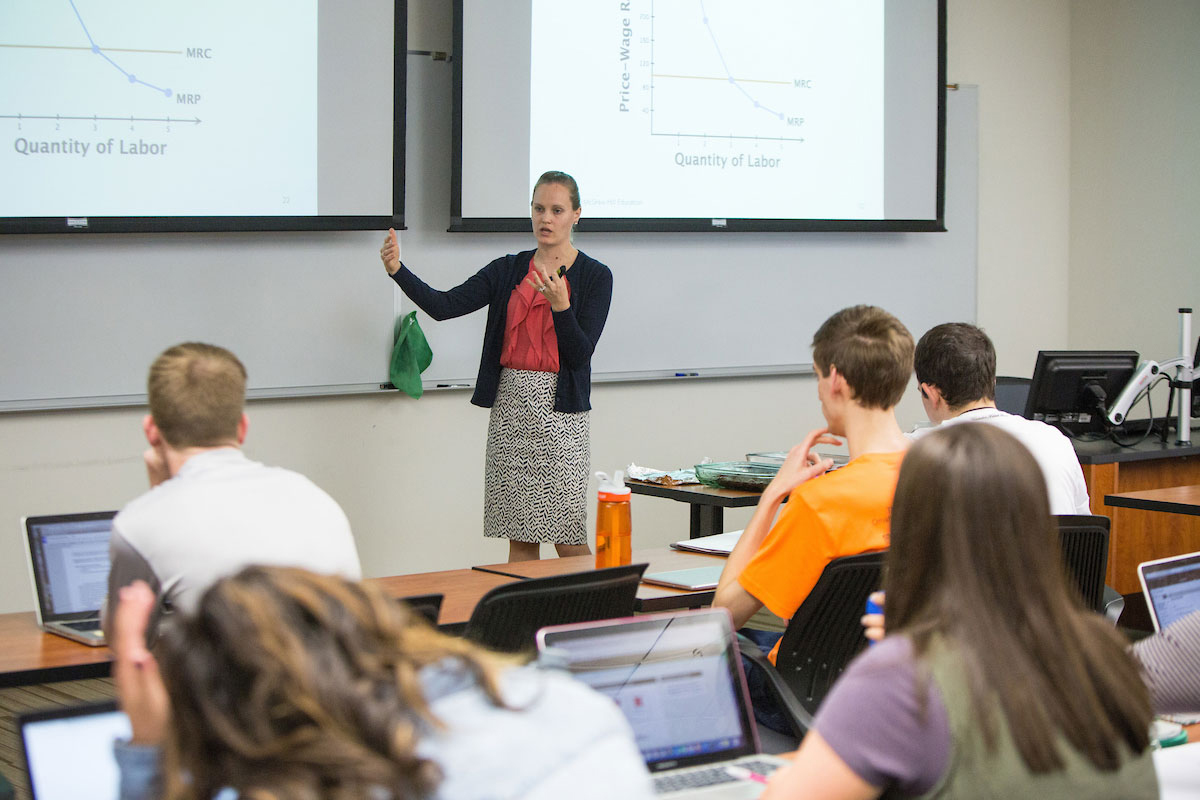 Undergraduate and graduate students studying economics at UNO will benefit from the following new program updates, which allow a faster path toward earning an advanced degree and additional opportunities for international students to gain work experience.
M.S. and M.A. in Economics receive STEM designation
In recognition of the quantitative nature of UNO's economics graduate programs, the degree programs have received STEM designation effective fall 2018.
Under current rules, international students with science, technology, engineering and math degrees are eligible for an additional 24 months of optional practical training (OPT) beyond the standard 12 months of OPT.
UNO's Master of Science and Master of Arts in Economics programs provide a solid background in economic theory, econometric and quantitative methods, and other applied skills.
Students choose from several concentrations to tailor their degree:
Business Economics
Econometrics and Data Analytics
Growth and Innovation Economics
International Economics
Monetary and Financial Economics
Ph.D. Preparatory
Public Policy Economics
Trade and Global Value Chains
Economists' unique blend of understanding human behavior and strong empirical skills allows them to solve many societal or organizational problems.
For more information about UNO's economics graduate programs, visit cba.economics.edu/economics.
Economics Department adds accelerated 4+1 degree track
The new 4+1 economics program provides the opportunity for eligible undergraduate UNO students to earn a Master of Science in Economics degree in one additional year of study beyond completion of their bachelor's degree.
Eligible students can obtain a joint Bachelor of Science in Business Administration (with an economics concentration), Bachelor of Science in Economics, or Bachelor of Arts in Economics, and a Master of Science in Economics within a five-year period.
Students in this program complete 12 hours of dual-level economics courses as a graduate student. Students apply during their junior year (at least 58 credit hours earned, preferably after completing ECON 3200, ECON 3220, and BSAD 2130 or its equivalent).
The minimum GPA necessary for admission to the 4+1 economics program is 3.50 (both overall GPA and economics GPA). If grades for ECON 3200, ECON 3220, or BSAD 2130 are not available when an application is made, an admission decision is postponed to the end of the semester once grades for these courses are officially available.   
For more information, contact the economics graduate program chair and advisor, Dr. Catherine Y. Co, at cco@unomaha.edu.
Contact Us
If you have a story idea, news tip or inquiry, please contact:
Lindsey Hasenjager, Director of Social Media and Promotions, College of Business Administration
lhasenjager@unomaha.edu • 402.554.3852
Our Campus. Otherwise Known as Omaha.
The University of Nebraska does not discriminate based on race, color, ethnicity, national origin, sex, pregnancy, sexual orientation, gender identity, religion, disability, age, genetic information, veteran status, marital status, and/or political affiliation in its programs, activities, or employment. Learn more about Equity, Access and Diversity.
scroll to top of page