Student Entrepreneur: Chris Winchester
UNO junior Chris Winchester is building a new business fueled by his drive to help others.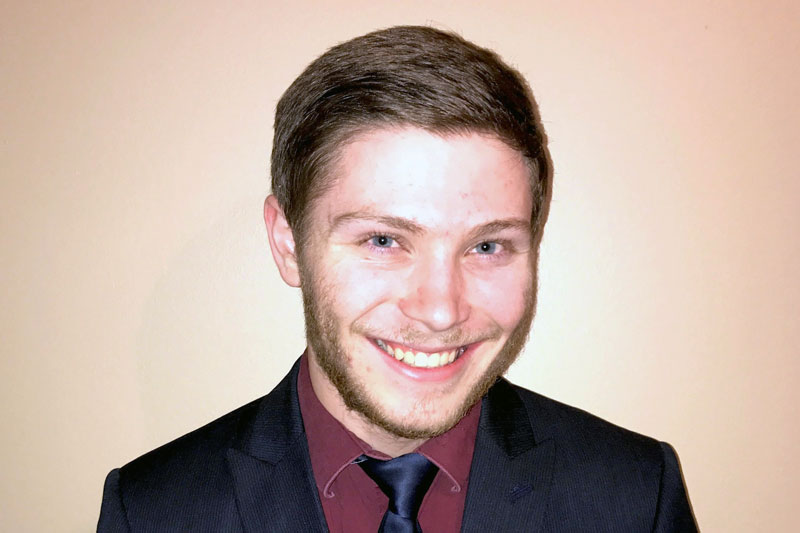 One of Chris Winchester's first college classes, Entrepreneurial Foundations, changed the course of his career.
"It exposed me to a world of innovation and entrepreneurial opportunities," said Winchester, a University of Nebraska at Omaha junior studying entrepreneurship, management and marketing.
Once a wedding planner and floral designer, he has moved on to a new challenge: building a healing and spiritual guidance business with his partner, Kevin Smith.
Winchester, 20, was earning a floral design certification through Metropolitan Community College when he met Smith. Soon after, Winchester jumped on board as CEO of Absolute Journey, driven by his desire to help as many people as possible.
"Passion and a drive to help others is what it really boils down to," he said.
An Omaha native and member of the CBA Scholars Academy, Winchester shares more about his new venture.
What is Absolute Journey?
Absolute Journey is a metaphysical healing and spiritual guidance business. We offer services such as intuitive readings and guidance as well as physical goods such as our upcoming books. The business is aimed at helping heal someone in a metaphysical and spiritual sense. The basic principle is "finding oneself" to let go of the past and find potential for a better future.
Absolute Journey is inclusive because we tailor or guidance to people of all backgrounds. We are also unique in that we do not fit the typical startup framework. Finally, Absolute Journey is trustworthy. This is one of our primary value propositions in that customers come back to us because they know we are honest and provide the best we can do.
How did you get the idea for Absolute Journey?
My partner was doing intuitive readings and counseling on the side of his regular job when I first met him. After about three months we went full-steam ahead on what Absolute Journey is today in an actual viable business. We put more and more time into the business each day, and I am excited to see where we go next.
What has been your biggest success?
The increase in our customer base has been the biggest success thus far. Our base has spread rapidly throughout the country and is even tipping into international waters a bit now too. It is not just a local business; and interacting with all of these different people has been a blast.
What about your biggest challenge?
Being able to put all of my effort and time into the business is extremely difficult when I have school and a myriad of extracurricular activities. Many of my weekends are consumed by this startup, but that is the opportunity cost I have to consider in doing this.
How has the UNO College of Business helped you?
UNO has been profound in its help. Most of it has been indirect in the forms of inspiration, education and opportunities. I happened to take Entrepreneurial Foundations with Dr. Eesley and this kicked-started everything. It was my first class in college, and in a way, the most meaningful thus far. It exposed me to a world filled with innovation and entrepreneurial opportunities. Over time, this transpired in me adding entrepreneurship as a minor and becoming president of UNO's Collegiate Entrepreneurs' Organization.
What's your advice for someone who wants to start a business?
For anyone, especially college students, just go out and do it. You can analyze the feasibility of ideas all you want, but you never know if you have a good idea until you go out and test the marketplace. Even if you do not know what your company is going to fully become, still go out and try. You would be surprised at what you can do in today's marketplace.
Contact Us
If you have a story idea, news tip or inquiry, please contact:
Lindsey Hasenjager, Director of Social Media and Promotions, College of Business Administration
lhasenjager@unomaha.edu • 402.554.3852