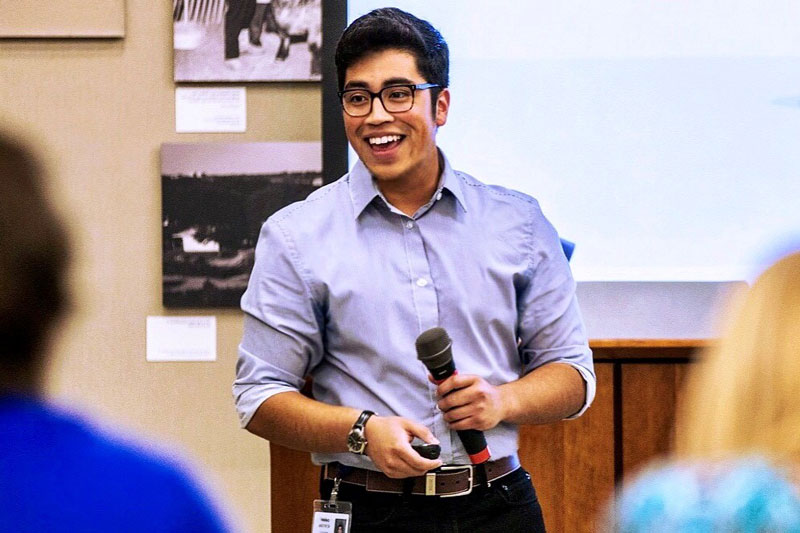 Like many soon-to-be-grads, Danny Ventura attended the spring career fair at Mammel Hall.
Unlike many students, Ventura was working at the fair. Instead of handing out his resume, he was behind the booth as a representative of First National Bank.
The 23-year-old graduates in May, earning a B.S. in Business Administration with concentrations in marketing and international business.
He starts soon after as a new member of the bank's management trainee program, which is designed to develop the future leaders of First National.
"CBA gave me the opportunity to know where I'm going in June," Ventura says of the University of Nebraska at Omaha College of Business Administration. He will be the first in his family to earn a college degree.
Ventura, who has spent most of his life in Dodge and Fremont, Nebraska, always planned on going to college.
CBA has been a place for me to meet everybody, a place to get to work, a place to find internships.
- Danny Ventura
When the time came to choose a school, "UNO was it," he says. "It was a no-brainer for me."
What attracted him? Omaha, especially its downtown skyline, he says. "I've always liked cities and big buildings — maybe because I was born in L.A."
The summer before starting at UNO, Ventura worked at Fremont Beef Co. as a packaging specialist, showing up every day at 6 a.m. That place, and the people, made an impression on him.
"I heard stories of adults working there for $10 an hour," he says. "When I'm at the university and I get to study, there's no room to complain."
Ventura carried the same hustle-hard mentality with him throughout his years at UNO, often working seven days a week between classes, study sessions and various internships.
Before college, Ventura didn't know what an internship was. Fast forward a few years, his resume boasts marketing and sales internships at Enterprise Rent-A-Car, Do Space and Blue Cross Blue Shield of Nebraska.
"CBA has been a place for me to meet everybody, a place to get to work, a place to find internships," he says.
When he heard about First National Bank's management trainee program last fall, he packed his semester with 24 credits so he could graduate early and be eligible to interview for the program.
His risk paid off. After an intensive interview process, he was one of only a few candidates selected.
Ventura credits others — coworkers, his mother, the university — for giving him the confidence to go after his dreams.
"I will always be grateful to this university," says Ventura, who plans to come back for his master's degree.
Now his goal is to bring others up with him. "I want to help those who are in my shoes," he says.
Those people include his sister, also a student at UNO, other first-generation students, and even his future grandchildren.
"I want my grandkids to say, this kid was doing something so they can prosper," he says.
Ventura will soon claim his own space inside Omaha's tallest building, and the generations that follow will surely have someone to look up to.
Contact Us
If you have a story idea, news tip or inquiry, please contact:
Lindsey Hasenjager, Director of Social Media and Promotions, College of Business Administration
lhasenjager@unomaha.edu • 402.554.3852