Student Entrepreneur: Chloe Tran
A UNO junior and new business owner shares her journey, gives advice for aspiring entrepreneurs.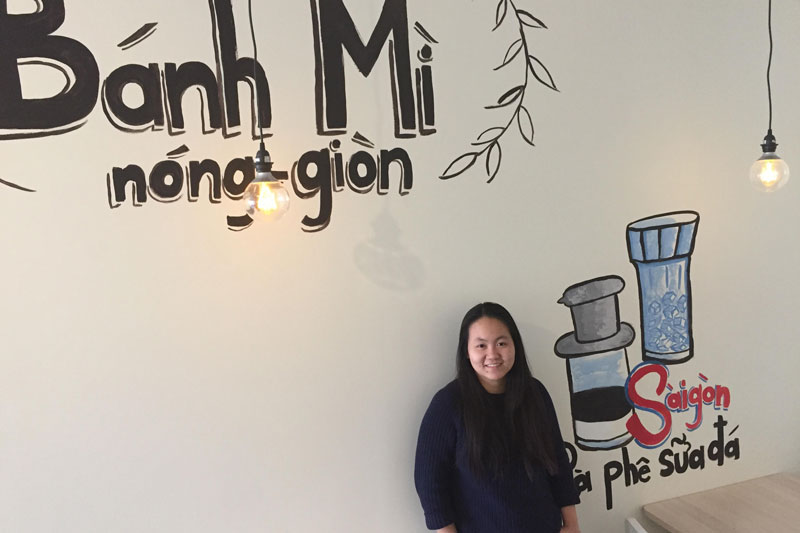 University of Nebraska at Omaha junior Chloe Tran opened a Vietnamese restaurant, The Bánh Mì Shop in November 2017.
Tran, 22, is studying business management with a minor in entrepreneurship. Since opening her shop, which she describes as "healthy, cozy and delicious," she has been busy juggling the demands that come with being a student and business owner.
"Although the process of building the restaurant is hard," she says, "I am extremely happy with how it turned out and how we get to serve our community every day."
Born in Saigon, Vietnam, Tran moved to Nebraska in 2012 and is excited to share more about her entrepreneurial journey.
What kind of food does The Bánh Mì Shop serve?
We specialize in Vietnamese style sandwiches – bánh mì, Taiwanese style bubble teas, and Vietnamese inspired drinks.
How did you get the idea to open your restaurant?
I grew up eating bánh mì, and it is the most popular sandwich in Vietnam. Moving to Nebraska, I could not find any authentic bánh mì in town. I wanted to open a bánh mì shop to bring authentic Vietnamese sandwiches to the community and to introduce my culture to the Bellevue/Omaha food scene.
What has been your biggest challenge with business ownership so far?
Managing a new business with little experience is the biggest challenge for me. There is so much to learn and so little time in a day.
How do people find out about The Bánh Mì Shop?
We mainly use social media and word of mouth to reach out to people. This has been working great for us. Also community pages have been very supportive of our business, and with their help we have reached more customers.
How has UNO College of Business Administration helped you?
UNO CBA offers classes that teach me how to handle different aspects of my business, such as finance, accounting, communication, and more. I also learn to think with a better mindset to optimize the growth of my business.
Who else has helped you reach your goals?
My family and friends have been by my side throughout the whole process. I could never do this without their help. My customers' support is also what keeps us going every day.
What's your advice for anyone looking to start a business?
I would tell them to hang in there, be humble, and enjoy the ride. Business might be a bumpy road, but what an entrepreneur can give is beyond monetary value.
Learn more about Tran's business by visiting
http://thebanhmis.com/
.
Contact Us
If you have a story idea, news tip or inquiry, please contact:
Lindsey Hasenjager, Director of Social Media and Promotions, College of Business Administration
lhasenjager@unomaha.edu • 402.554.3852
Our Campus. Otherwise Known as Omaha.
The University of Nebraska does not discriminate based on race, color, ethnicity, national origin, sex, pregnancy, sexual orientation, gender identity, religion, disability, age, genetic information, veteran status, marital status, and/or political affiliation in its programs, activities, or employment. Learn more about Equity, Access and Diversity.
scroll to top of page