Students can view books as well as purchase all required textbooks and materials for their enrolled courses in MavLINK.
Before You Purchase Books
Please consider:
By buying from The Campus Store, you get the right book, instant pick-up, and easy returns.
For your convenience, online prices include estimated shipping costs.
The Campus Store is providing this information as a service to our customers. However, we cannot and will not be held responsible for any customer service, return, or refund issues related to any online merchant other than ourselves. Please be extra aware of who you are purchasing your textbooks from.
---
Buying Textbooks Online via MavLINK
Students can view books as well as purchase all required textbooks and materials for their enrolled courses in MavLINK.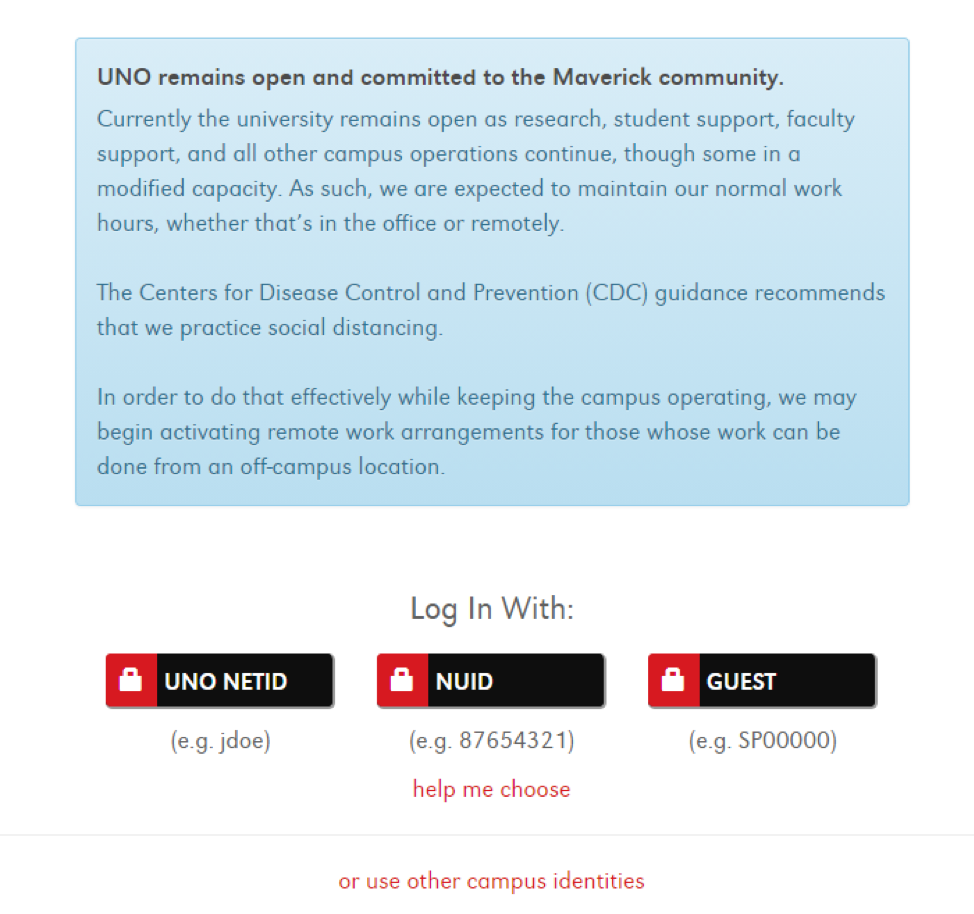 To view your textbooks, log into MavLINK, and under "My Classes," select "View All Books."
---
Using the Price Comparison Tool for Books
The price comparison tool will show your current course list once you have selected 'View All Books', but if it does not you can select the term, department, course, and section manually to begin price comparison.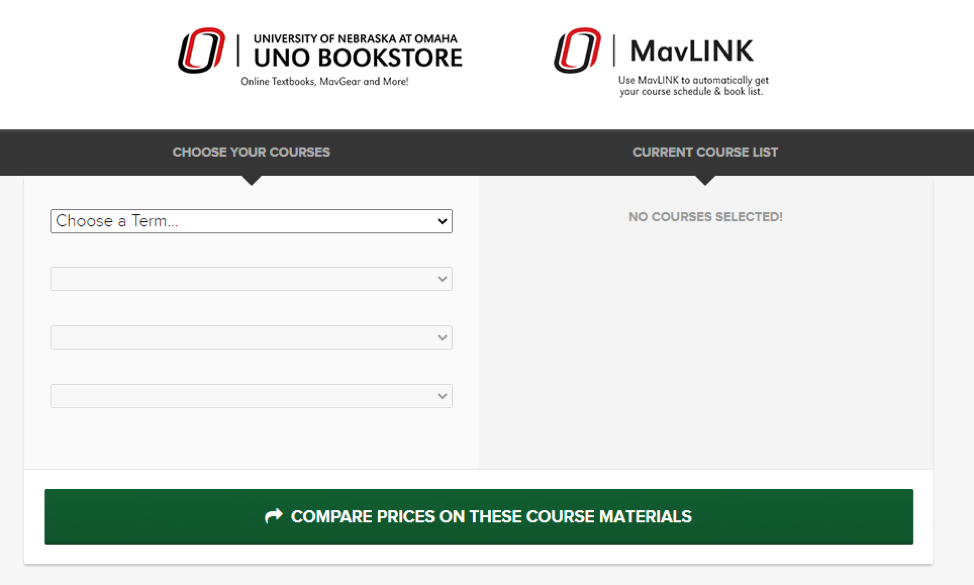 ---
Textbooks Arranged by Authors
In an effort to improve your book-buying experience, the UNO Bookstore has updated its system and arranged books alphabetically by author. As part of this process, you will need to print a book list instead of your class schedule. This list can be printed ahead of time or in the Bookstore.
The UNO Bookstore website offers online price comparisons so you can find the best value for your course materials.
As a reminder, the UNO Bookstore added a feature that allows enrolled students to charge up to $2,000 in books and supplies to their UNO Student Account. NUID is Required. Payment will be due according to the university's billing cycle.
In order to comply with Department of Education guidelines, beginning August 1, 2017, you may only charge books and supplies to your UNO Student Account. Other bookstore items, such as apparel and spirit items, can no longer be charged to your student account.
---
Textbooks FAQ
Where is the Bookstore located?
We are on the first floor of the Milo Bail Student Center.
Where are the textbooks?
Textbooks are located downstairs in the Bookstore. Textbooks are now organized alphabetically by author for your convenience.
What is the difference between a refund and book-buy-back?
Refund is giving you the full purchase price for an item you have purchased, within a specified time limit if it is in the same condition as when purchased.
Buy-back is when the Bookstore pays you cash for current edition textbooks that you have finished using.
Example: if you drop a class, return your books for a refund within the first two (2) weeks of class or the first week of the summer session.
When is the best time to sell back books?
During "Book Buy Back Week," when we have compiled a list of books being used the next semester, we offer up to 50% of the new list price.
Can I still sell my books if I miss finals week?
Yes, we offer "wholesale prices" anytime during the year.
What are "Wholesale Prices?"
Wholesale prices are set by private companies that buy books no longer used on this campus for resale to other bookstores.
How does the Bookstore determine what books are being used?
We send textbook requisition forms to faculty for each course being offered, asking them to list books that they will require or have as optional for the next semester.

What is "required?"
If a book is required by the instructor you must have it for that class.
What does "optional" mean?
Optional means it is recommended. You do not have to purchase the book but it may be helpful in the class.
Why does the Bookstore have textbooks that are out-of-stock?
There are several reasons why we may run out of a book:
Enrollment may be larger than estimated
Books may not be available from the publisher
Textbook selection information has not been received from the instructor