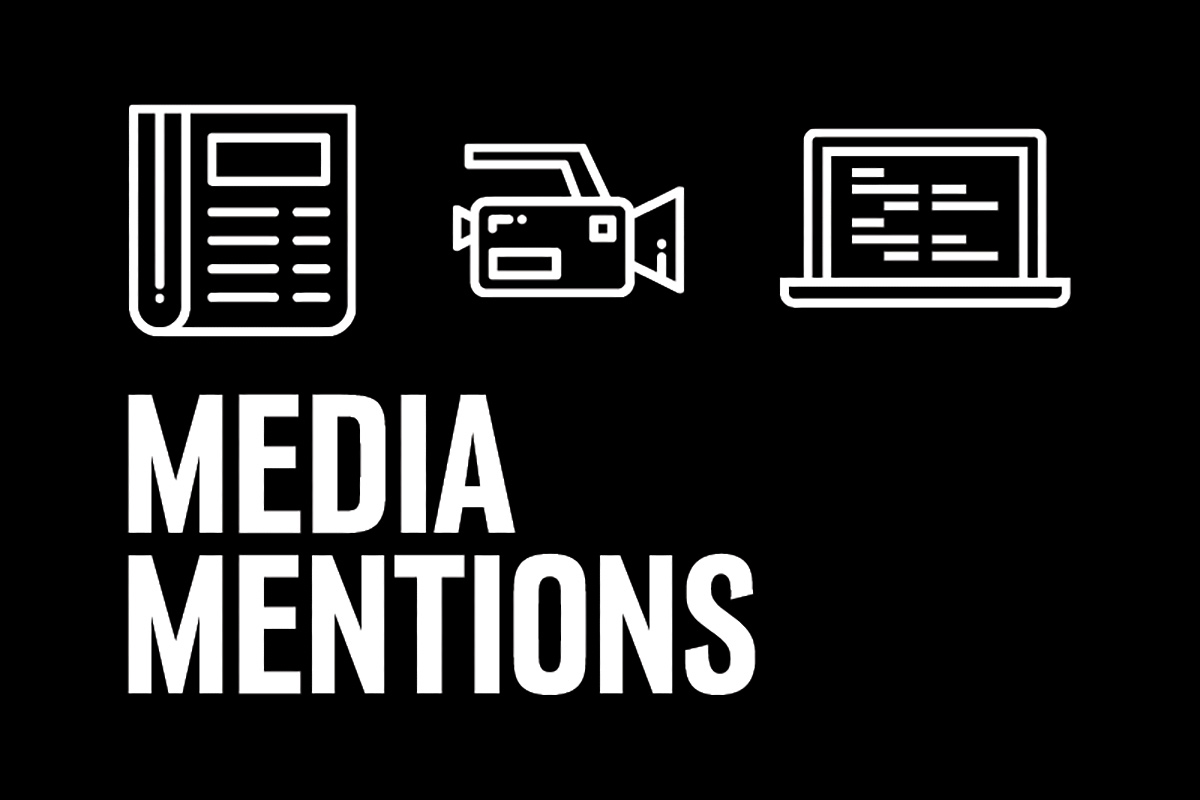 Mavericks are making headlines. Each weekday, University Communications will update this page with the latest batch of UNO media mentions.
Friday, September 24
KMTV reported on a UNO study that is seeking to answer what economic immigrants bring to Nebraska. Christopher Decker, a professor of economics at UNO, and Cristián Doña-Reveco, director of the Office of Latino and Latin American Studies, were both interviewed about the report and how immigrants from Latin America and the Caribbean contribute significantly to the economy through their spending and where they find employment. The video from the story was republished by Yahoo News.
The New Orleans Advocate published an article on the Jefferson Parish Sheriff's Office where there are no body cams or use-of-force probes. Samuel Walker, an emeritus professor of criminal justice at UNO, says the absence of internal investigations into police misconduct is inconceivable and doesn't occur anywhere else. The article was republished on WWNO-FM
KMTV reported on community leaders Viv and John Ewing becoming the "165th Face on the Barroom Floor" at the Omaha Press Club. The article mentions that the couple originally met at UNO.
The Gateway published an article announcing Casey Roehl was officially named the new play-by-play voice of the Mavericks Thursday afternoon.
The Cleveland Monsters, the AHL affiliate for the NHL's Columbus Blue Jackets, announced that they signed former UNO hockey forward Zach Jordan to a contract for the 2021-22 season.
Thursday, September 23
The Omaha World-Herald reported on how companies are getting creative in filling jobs amid a labor shortage. The article references research by Chris Decker, Ph.D., economics professor at UNO, and graduate student Jorden Hansen, which found that part of the labor shortage can be attributed to availability of certain jobs.
The Berkshire Eagle (Pittsfield, MA) reports that former UNO instructor Sean Scanlon, Ph.D., has joined the faculty at the Massachussetts College of Liberal Arts as a visiting assistant professor history.
Wednesday, September 22
KMTV spoke with Josie Schafer, Ph.D., Director of UNO's Center for Public Affairs Research, on procedures behind redistricting at both state and local levels.
The Gateway reported on face mask requirements for home sporting events at UNO's Baxter Arena. The article mentions that the arena's policies mirror the university's policies.
Memento Mori (print only) published a piece authored by Julie Masters, Ph.D., Terry Haney Chair of Gerontology at UNO, on thinking about end-of-life planning.
The Gazette published an article announcing there are four final candidates vying for the position of Marion city manager. Albert Roder, one of the four final candidates, received his master's degree in public administration from UNO.
The North Platte Telegraph promoted an upcoming Elder Justice Training program. The livestreamed event will feature opening remarks by Julie Masters, Ph.D., Terry Haney Chair of Gerontology at UNO, as well as updates from Ann Fruhling, Ph.D., of UNO's College of Information Science & Technology.
Catholic Voice Omaha reported on differences between public and catholic institutions of higher education. The article mentions a family who found a good mix of the two where their son attends UNO but lives at the St. John Paul II Newman Center.
Tuesday, September 21
The Omaha World-Herald published an op-ed underscoring the importance of attracting first-generation students to NU campuses. The article mentions several UNO initiatives including the Career Currency program, the Metropolitan Advantage Program, and resources for first-generation students. The proje
The Omaha Star (print only) reported on an effort to document the experiences of the East Coast-Midwest Connection, which brought Black student athletes to Omaha to compete at UNO in the late 1950s through early 1970s.
KCUR (NPR Kansas City) reported on a new "law enforcement bill of rights" that critics say pose major roadblocks to police accountability. Samuel Walker, professor emeritus of criminal justice at UNO, discussed the impact of a new policy that would provide an officer accused of misconduct with 24 hour notice of potential interviews or interrogation tied to an allegation.
WOWT reported on Sarpy County Commissioner Kevin Klug, a two-time UNO alumnus, seeking re-election in 2022.
The Omaha World-Herald reports that UNO alumnus and Deputy Omaha Police Chief Greg Gonzalez has announced his candidacy for Douglas County Sheriff.
KREM (Spokane, WA) reports that Gonzaga University will require all attendees at athletics events to provide proof of vaccination or a recent negative COVID-19 test for admission. The article mentions that this policy will first be enforced at a women's soccer match hosting UNO.
Monday, September 20
An analysis by PBS Frontline found that police in Utah disproportionately fire their weapons at racial and ethnic minorities. Justin Nix, Ph.D., distinguished associate professor of criminology at UNO, is mentioned in the article saying that the clearest explanation for this is because they're disproportionally stopped by police, too.
An Omaha World-Herald analysis found that voters would have still given Joe Biden a win in District 2 under the proposed redistricting plans recently proposed by the State Legislature. The article includes an interview with Paul Landow, Ph.D., a retired University of Nebraska at Omaha political science professor. Landow said under the current redistricting plans in Nebraska overall differences will be small, and return for Republicans will mostly be in the prospect for future gains.
WOWT reported on a redistricting rally held by the League of Women Voters on UNO's Dodge Campus this past weekend.
KCCI (Des Moines, IA) reported on two UNO students who successfully visited all 939 towns in Iowa over the past year. Students Seth Varner and Austin Schneider are working on a new book to be released later this year. The article was republished by KETV.
The Omaha World-Herald published an article looking back at the life and impact of Janine Brooks, a UNO employee, alumna, and autism activist who recently passed away.
An op-ed in the Omaha World-Herald describes the experiences of self-proclaimed "Nebraska Expats," or young adults in their 20s who grew up in Nebraska but left. The article mentions statistics on brain drain in Nebraska provided by David Drozd, research coordinator within UNO's Center for Public Affairs Research, who mentioned that Nebraska has lost 2,000 young Nebraskans per year over the past decade.
Missouri News interviewed Samuel Walker, a professor of Criminology at UNO, who said the 24-hour waiting period in policing is an invitation to undermining discipline.
The Gateway published an article for NCHC Media Day, which was not held last season due to the pandemic. The article focuses on Mike Gabinet, who attended the meeting this year as the UNO Mavericks' head coach.
Gabinet also spoke with the Omaha World-Herald on his excitement for the Mavs to play in front of a big crowd at UNO's Baxter Arena.
The Omaha World-Herald reports that Creighton Prep's Luke Jungers has committed to play basketball for the Mavs.
KOLN (Lincoln, NE) covered the Girl Scouts Spirit of Nebraska announcing that UNO alumna Sarah Waldman will become the council's new chief executive officer.
Contact Us
If you have a story idea, news tip, or other question, please email the UNO News team at unonews@unomaha.edu.