UNO Media Mentions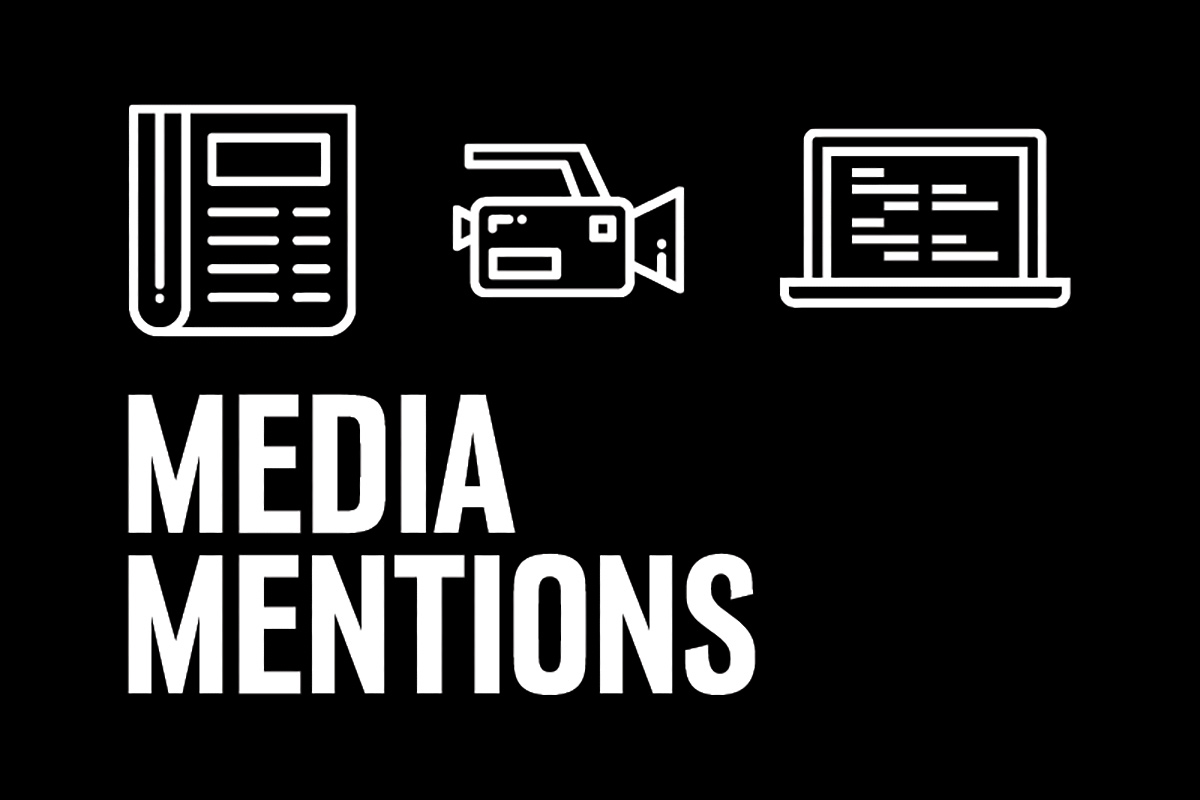 Mavericks are making headlines. Each weekday, UNO's Office of Strategic Marketing and Communications will update this page with the latest batch of UNO media mentions.
Friday, March 24
Omaha Magazine published a profile on Rebecca Atkins, Ph.D., director of UNO's CBA Prep Academy, and how the idea for the academy first came about three years ago.
The World published an update (audio only) on detainments of people suspected of crossing borders into Chile illegally. Cristian Doña-Reveco, Ph.D., associate professor of sociology and director of OLLAS at UNO was interviewed for the piece
WalletHub spoke with Sona Klucarova, Ph.D., assistant professor of marketing & entrepreneurship at UNO, on the advantages and disadvantages of metal credit cards – in terms of the cards themselves, but also their exclusivity and impact on one's status.
E-Flux promoted an upcoming presentation by Adrian Duran, Ph.D., associate professor of art history at UNO, on images and indexes of labor in post WWII Italy. The presentation will be held April 16 at Magazzino Italian Art in Cold Spring, NY.
West Point News reported on how local students from Northeast Community College performed at the recent HOSA Future Health Professionals State Leadership Conference held at UNO last week.
From Baking Business: UNO alumna Emily Muth was named director of sustainability-supply chain for Conagra Brands.
Thursday, March 23
KMTV, WOWT, and KPTM reported on a new Boeing 737 flight simulator coming to UNO's Aviation Institute thanks to a gift by the Ethel S. Abbott Foundation to the University of Nebraska Foundation. The story was republished by KOLN (Lincoln, on-air and online).
The Conversation published an article co-authored by Jeffery Bredthauer, Ph.D., associate professor of finance, banking, and real estate at UNO, providing analysis on the Federal Reserve's most recent interest rate hike and what it indicates about the bank's confidence in the banking sector. The article was republished nationwide by Yahoo! News, the San Francisco Gate, and dozens of other outlets.
KETV spoke with Jeremy Lipschultz, Ph.D., distinguished professor of communication at UNO with the UNO Social Media Lab, about TikTok and the upcoming hearings on privacy and data concerns tied to the China-based company.
The Gateway published articles on the UNO Student Government's election processes and changes to a debate which was pushed back to be held on April 3.
KETV shared the story of an Iowa woman raising money to purchase a new custom-fit wheelchair so she can get back on the court playing wheelchair basketball. The article mentions she previously played for the Nebraska Red Dawgs at UNO. The story has been widely shared on affiliated stations nationwide.
USA Hockey announced that former UNO assistant hockey coach David Quinn was named head coach of the 2023 U.S. Men's National Team that will compete in the upcoming IIHF Men's World Championship in May.
The Daily Nebraskan published an opinion piece calling for UNL to add a higher tier to its semester Dean's List publications, noting that UNO already publishes a Chancellor's List for the highest achieving students.
Wednesday, March 22
USA Today named Nicky Clark, a UNO alumna, as one of its women of the year. The program honors women who have made a significant impact on their communities and across the country. Clark is the executive director of Elevate Omaha, a nonprofit that focuses on shifting power to young people to help them become better leaders and advocates. (Editor's note: The article doesn't mention this, but Elevate Omaha posted on social media that she received her master's in social work from UNO).
KPTM reported on the Undesign the Redline exhibit being hosted at UNO's Barbara Weitz Community Engagement Center. Terri Crawford, community fellow with UNO's Service Learning Academy, was interviewed for the story and shared an overview of the exhibit.
Rádio Regina Východ (Kosice, Slovakia) interviewed Sona Klucarova, Ph.D., assistant professor of marketing and entrepreneurship at UNO, about her life abroad, comparisons between the U.S. and Slovakian higher education system, and her research. (Editor's ntoe: The interview begins at the 4:21 mark and at the 14:14 mark)
Crete News (print only) reported on Doane University appointing three new members to its Board of Trustees, including UNO alumna Betsy Tonniges.
Tuesday, March 21 (include's Monday's list)
The Omaha World-Herald reported on staffing issues plaguing the Omaha Police Department. OPD currently has 798 officers out of the 906 authorized in the city budget – the largest such gap in at least two decades. Justin Nix, Ph.D., associate professor in criminology and criminal justice, spoke about his study which found that large metropolitan police departments nationwide saw excess loss following the 2020 protests of the police murder of George Floyd in Minneapolis.
Flying Magazine reported on Becky Lutte, Ph.D., professor of aviation at UNO, testifying to a Senate committee last week on barriers to entry facing future aviation professionals. (Editor's note: See our recap article here)
The Charlotte Observer reported on how extremists nationwide weaponize general unease nationwide. NCITE researcher Jon Lewis, a research fellow with the Program on Extremism at George Washington University, mentioned that organized hate groups are a symptom of a broader disease: the level to which their messaging is accepted and spread by people with greater power or influence regardless of group membership. The article was republished by Governing and a few other outlets nationwide.
The Gateway republished a UNO release on the upcoming Chuck Hagel Forum in Global Leadership featuring Gerald Seib, former Washington Executive Editor for the Wall Street Journal.
The Nebraska Examiner reported on how two voter ID bills being considered could negatively impact rural areas. For one proposal requiring notarization, notaries are hard to come by in certain parts of the state. The other would end voting by mail for most Nebraskans, having the hardest impact on 11 counties that vote entirely by mail. Randy Adkins, Ph.D., professor of political science at UNO, spoke to the political implications of these proposed bills.
KMALand (Shenandoah, IA) interviewed Lori Schwartz, exhibit curator and technical services archivist for UNO Libraries Archives and Special Collections, on the Criss Library's new exhibit looking back at the U.S. invasion of Iraq through the lens of UNO alumnus and former Secretary of Defense Chuck Hagel.
The Omaha Daily Record (print only) republished a UNO news release announcing that UNO's College of Business Administration was named a National Science Foundation Innovation Corps site.
General Aviation News reports that Bill Shea, the founding director of UNO's Aviation Institute, was recently honored with the 2022 Wesley L. McDonald Distinguished Statesman of Aviation award by the National Aeronautic Association (NAA).
The Omaha World-Herald recapped the 2023 UNO hockey season as the Mavs not only met, but exceeded preseason expectations. Coach Gabinet spoke to the ups and downs of the season and the progress made by the young Mavs squad.
KETV reported on the regional spelling bee hosted by the Omaha Sports Commission on Saturday at UNO's Strauss Performing Arts Center. The article was republished by KCCI (Des Moines).
From the Lincoln Southern Nebraska Register (print only): A poem authored by Makayla Klinefelter, a fifth-grade student in Plattsmouth, will be set to music and performed by an Operate Omaha artist and students from UNO's School of Music.
The Blair Pilot Tribune (print only) reports that UNO alumna Adrienne Cavill has been hired as the new executive director for Gateway Development Corporation in Washington County.
The Jackson Hole News & Guide reported on the Teton County, Idaho, School District 401 unanimously voting to hire UNO alumna Megan Christiansen as its new district superintendent. She is the first woman to lead the Teton County public school system.
MarketScreener published a release from 5E Advanced Materials, Inc., a boron and lithium company, which named Susan Seilheimer Brennan as its new CEO effective April 24, 2023. Brennan is a UNO alumna.
Friday, March 17 (includes Thursday's list)
The Washington Post published an article co-authored by Laura Alexander, Ph.D., associate professor of religious studies at UNO, on the introduction of the Welcome Corps initiative which enables private citizens to sponsor refugees. The article goes into the history of similar initaitives often sponsored by religious groups.
The Midlands Business Journal (print only) published a feature on Shonna Dorsey, the new executive director for the Nebraska Tech Collaborative. The article mentions that she is a UNO alumna.
The Tama-Toledo (IA) News Chronicle reports that the South Tama Middle School vocal department will perform at the Midwest Children's Choir Festival on March 31. Derrick Fox, DMA, director of choral activities at UNO, will be a featured guest conductor.
Wednesday, March 15
The Nebraska Examiner published an article authored by Erin Grace, director of strategic communications and external relations for NCITE at UNO, recapping an event NCITE recently held with counterterrorism experts discussing how extremists use online memes to spread ideologies.
The Lincoln Journal Star and Nebraska Examiner reports that UNO alumnus Brian Maher is one of four finalists to be the next commissioner of education for the state of Nebraska.
The Wahoo Newspaper/Waverly News reported on Jorge Zuniga, Ph.D., assistant professor of biomechanics at UNO, taking over as head coach for the Waverly Boys Soccer program. Zuniga talked about being able to balance responsibilities between work at UNO and coaching soccer.