UNO Media Mentions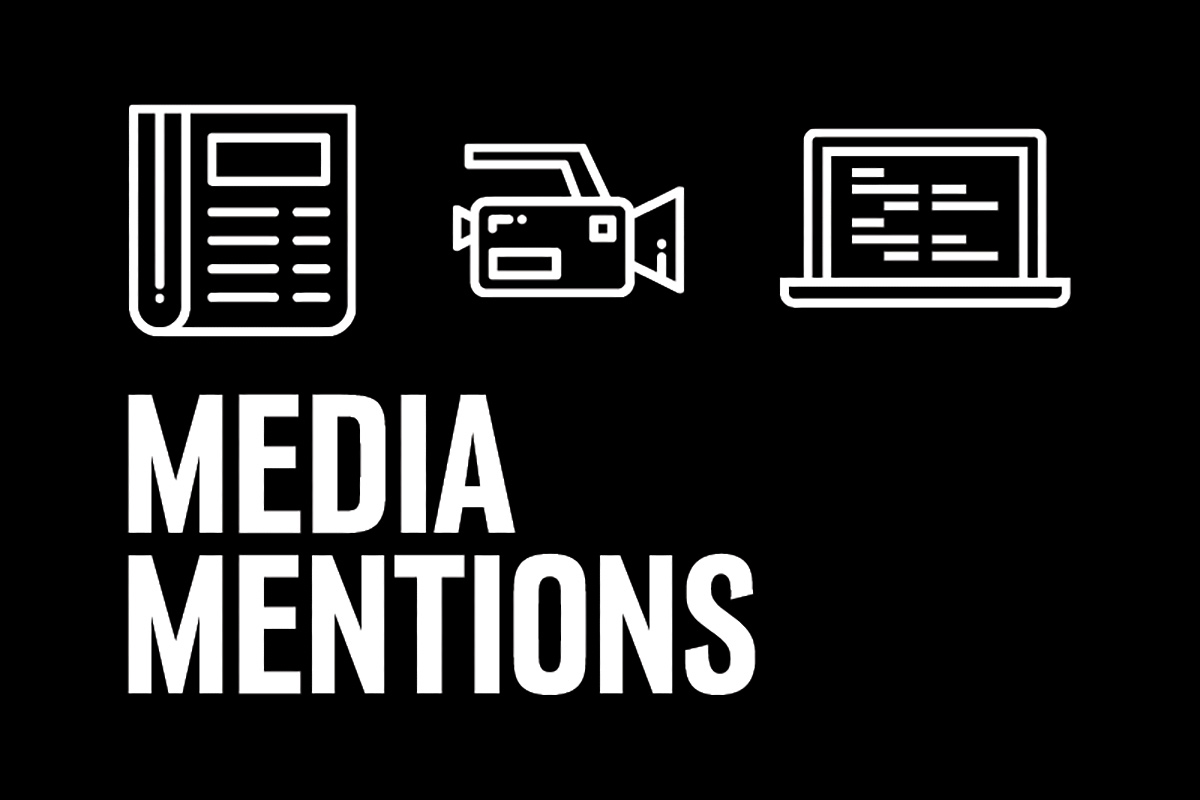 Mavericks are making headlines. Each weekday, UNO's Office of Strategic Marketing and Communications will update this page with the latest batch of UNO media mentions.
Thursday, September 28
The U.S. Embassy and Consulate in Vietnam released an announcement outlining The YSEALI Academic Fellowship on Civic Engagement that is being conducted and hosted by UNO. The Fellowship will define civic engagement, examine its development in the United States, and explore topics such as active citizenship, community building, economic development, grassroots activism, and volunteerism.
KETV (on-air only) reported on UNO's "Code Crush" program that brings 8th and 9th grade students to campus for a three-day immersive STEM experience. The program aims to inspire the next generation of coders and close the gender gap in information technology.
Monday, September 25
The Nebraska Examiner featured an article highlighting UNO's Nebraska Development Center (NBDC). The NBDC, established in 1977, is helping to open doors and create new jobs in the Omaha metro area by offering business support to community members. In 2022 alone, the NBDC's clients secured nearly $133 million in government contracts, invested $42 million in their operations, and created or saved around 250 jobs. The NBDC's direct and indirect economic impact on the state reached $343 million last year. The center, with a roughly $3 million annual budget, plays a crucial role in assisting businesses with access to resources and financing opportunities.
Jet Linx published an article detailing their partnership with the University of Nebraska at Omaha's Aviation Institute, offering free training to its Flight Coordinators to earn FAA dispatch licenses. This initiative, funded by grants, aims to enhance team members' skills in coordinating flights and regulatory compliance. The Airline Dispatch Operations course covers various aviation topics and opens career opportunities
The Scientific American spoke with Yanssel Garcia Ph.D., an assistant professor of Philosophy at UNO, regarding qualities and aspects of life that one resides within a person's consciousness. Garcia argues that physical facts alone cannot convey the experience of color to someone who sees only in shades of gray. He believes that the concept of panpsychism offers the best solution to understanding such experiences.
Thursday, September 21
The Association of Public and Land Grant Universities (APLU) announced that UNO, along with seven other universities, has joined the APLU led Aspire Alliance, which is an institutional change effort meant to attract, retain, and support faculty as they advance their universities' education, research, and engagement missions.
Flat Water Free Press received expert opinion from Josie Gratti Schafer, the director of UNO's Center for Public Affairs Research, regarding the increase in remote work since the COVID-19 pandemic, and how this is affecting workers in Nebraska. Small towns like Valentine are experiencing a boost in business and civic engagement after the city has improved its broadband infrastructure and partnered with an internet company to provide fiber internet access to the entire city to attract more remote workers.
Wednesday, September 20
The Conversation published an article authored by Sher Jan Ahmadzai, director of the Center for Afghanistan Studies, on the evolving situation in Afghanistan following the withdrawal of American troops in 2021 and its implication for foreign policy. The article was republished by Yahoo News and New York Folk.
WalletHub spoke with Sona Klucarova Ph.D., assistant professor of marketing and entrepreneurism at UNO's College of Business Administration, regarding "cool" credit cards. Klucarova provided expert opinion on the benefits of certain credit cards.
KETV reported on UNO's Volunteer and Civic Engagement Program partnership with League of Women Voters to host an on-campus voter registration event. The event was held in an effort to encourage students and faculty to register to vote, as well as share information regarding new voter identification laws.
Tuesday, September 19
EurekAlert reported on research conducted by Aarhus University and Aarhus Hospital that is making advancements in a cure for HIV. UNO was cited as a research partner in the study.
91.5 KIOS (on-air only) announced that they will be hosting a book club at UNO's Barbra Weitz Community Engagement Center. A panel of professors from UNO will be present to aid in the discussion of relevant topics and themes.
Monday, September 18
The Omaha World Herald reported on a new initiative in Nebraska with hopes that the effort will combat the issue of chronic absenteeism in the Omaha metro area. The two-year initiative is being launched this month by the Metropolitan Omaha Educational Consortium (MOEC). It includes 12 Omaha-area school districts including Council Bluffs, educational service units, community colleges and the University of Nebraska at Omaha.

The Omaha World Herald covered the POW/MIA Recognition Day that was held at Memorial Park. The ceremony was opened by a UNO Air Force ROTC color guard.

The Albert Lea Tribune reported that Richard Duggan, the scholar who founded UNO's Writer Workshop and a BFA degree program in creative writing, will have his novel "Boys in Exile" showcased at this year's Frankfurt Book Fair. Several other publications also released the story.
Friday, September 15
WOWT reported on a UNO Service-Learning opportunity in an article discussing child poverty and food insecurity in the Metro area. Exploratory Studies students, led by UNO instructor Isabelle Beulaygue, Ph.D., visited Together Omaha to plant new crops for the fall season and cover others to add nutrients back into the soil. This effort gave students the opportunity to become well acquainted with different career paths within a nonprofit, as well as offered support to the community.
KRVN 880 announced that in honor of Constitution Day, the Nebraska State Court of appeals will host a special session of court on UNO's campus. This feature, which also included details pertaining to the event, was also mentioned on air.

Newswise released an article discussing the correlation between mental health and the purchase of firearms during the Covid-19 pandemic, as found through research by the University of Michigan. Researchers from UNO offered expert opinions on the subject matter.
Thursday, September 14
The Omaha World-Herald reported that UNO's Air Force ROTC cadets will present the colors at a local POW/MIA Remembrance ceremony that is being held by veterans in the community. The event is being held on Friday at 11:00 a.m. at Memorial Park.
WalletHub received expert opinion from Brian Payne, Ph.D., Associate Professor of Finance at UNO's College of Business Administration. Payne provided advice on savings accounts.
The Omaha World-Herald reported on preseason NCHC polls ahead of the 2023-24 hockey season. The Mavs were projected to finish sixth in the conference.
Wednesday, September 13
The Coalition of Urban and Metropolitan Universities (CUCM) announced the new members to the Metropolitan Universities journal (MUJ) editorial board, which included Julie Dierberger, Ph.D., from the UNO Service-Learning Academy.

KETV reported on UNO's National Counterterrorism Innovation, Technology and Education (NCITE) program's federal contract of $1.6 million to create a guideline to limit extremism across the United States. The outlet spoke with UNO's Erin Kearns, Ph.D., head of prevention and research for NCITE, who explained that the new funding will allow the program to create a handbook regarding managing and helping individuals who have been connected to violent extremism that are being reintegrated into society.

The Wall Street Journal spoke with Austin Doctor, Ph.D., assistant professor of political science and counterterrorism researcher at UNO, regarding the Ukraine military's use of drones. Doctor provided expert opinion on the use of drone attacks.
Tuesday, September 12
WCBS (New York) (on-air only) interviewed Gina Ligon, director of UNO's National Counterterrorism Innovation, Technology, and Education (NCITE) Center, about how terrorism and counterterrorism efforts have evolved since the attacks of Sept. 11, 2001.
The U.S. Army Corps of Engineers published an article about its Omaha District summer interns. The article mentions UNO alumnus Sam Blaser who formerly interned and moved into a full-time technology specialist for the Corps of Engineers.
The Council Bluffs Daily Nonpareil featured two local women reflecting on more than 70 years of serving as church organists. One of them is a UNO alumna.
News Channel Nebraska reported on the Best Universities' list of Most Affordable Online Aviation Degree Programs. UNO's Aviation Institute is listed among the top 15 nationwide. The article was published by a number of news outlets nationwide.
WOWT reported on a brief outage for the UNO Dept. of Public Safety's phone line on Monday.
GovCon Wire reported on Leidos naming UNO alumnus Chad Haferbier being named vice president and division manager.
Patch reported on Hyunjae Jeon, a UNO alumnus, being named an assistant professor of kinesiology at McDaniel College in Westminster, MD.
Friday, September 8
KMTV reported on the BOLD fellowship program at UNO welcoming 37 youth leaders from Bosnia, Herzegovina, Serbia, and Montenegro as part of an exchange program sponsored by embassies in their respective countries. Lana Obradovic, Ph.D., director of international studies and BOLD principal director, spoke about the program and the experiences it provides.
KETV reported on research by Bing Chen, Ph.D., and students at the UNL College of Engineering at UNO to create a sustainable small home that's carbon neutral.
Campus Rec Magazine published a feature on how universities nationwide are incorporating more inclusive spaces in campus recreation. The article includes an interview with Megan Choiniere of Guest Services and Facilities at UNO about UNO having three locker rooms with a universal design – one for men, one for women, and one for all genders – as a way to break down barriers to fitness and wellness.
Thursday, September 7
Editor's note: This list includes mentions dating back to Wednesday, August 30.
KRVN spoke with UNO Chancellor Joanne Li, Ph.D., CFA about the a transformative $25 million gift to UNO and NCTA pledged by Barbara and Wally Weitz as part of its Chat with the Chancellor series.
The Omaha World-Herald, KFAB/WHO, KETV (on-air) reported that UNO set a record high for graduate enrollment in the Fall 2023 semester as part of a story recapping enrollment across the University of Nebraska System.
KMTV reported on increased usage at UNO's Maverick Food Pantry and how it's helping students, faculty and staff at UNO, and students at UNMC and College of St. Mary, who may be facing food insecurity. Madeline St. Clair, manager of the Maverick Food Pantry, said they've seen a 130% increase in usage compared to last year.
PBS NewsHour interviewed Seamus Hughes of NCITE at UNO about the rise and prevalence of far-right extremism within U.S. law enforcement. Radio versions were also aired on PBS News affiliate radio stations nationwide.
The Conversation published an article authored by Chris Decker, Ph.D., professor of economics at UNO, on the state of the economy and a continuing slowdown based on higher jobs numbers and higher unemployment rates. The article was republished widely nationwide.
From the Omaha World-Herald: Volunteers organized by the Rotary Club of Omaha placed 2,977 flags in the lawn at Memorial Park to honor the victims of September 11th, 2001. Michelle Trawick, dean of UNO's College of Business Administration, was among the volunteers who participated.
The Omaha World-Herald spoke with Scott Vlasek, director of UNO's Aviation Institute, about Eppley Airfield passenger traffic topping pre-pandemic levels for the first time.
KIOS (on-air only) spoke with Jim Begley, director of the William Brennan Institute for Labor Studies at UNO, about the historic rise and decline of organized labor.
The Omaha World-Herald and some affiliated papers statewide published an op-ed authored by Jim Begley, director of UNO's William Brennan Institute for Labor Studies, on the recent rise of child labor and troubling efforts to roll back child labor restrictions.
The Lincoln Journal Star and affiliated papers statewide published an article about Christy Taylor, a UNO alumna, who runs a unique gift shop at a nursery in Eagle, NE.
The Volleyball Day in Nebraska event, featuring UNO volleyball in front of 92k fans at UNL's Memorial Stadium, received wide media coverage, appearing on outlets like ESPN, NBC's Today Show, Good Morning America, the Associated Press, Inside Higher Ed, Forbes, CBS News, the Smithsonian Magazine, and many more. See some examples of national coverage (too many to list!).
Locally, KETV covered a watch party hosted by the UNO Alumni Association at Aksarben Theatre for Volleyball Day in Nebraska.
KFAB (on-air only) interviewed Matt Buttermore, UNO head volleyball coach, after the team's historic match in Lincoln in front of 92k fans.
The Reader reported on the city of Omaha pursuing a new plan to curb and/or withstand the worst effects of climate change. David Corbin, professor emeritus of health education and public health, is quoted in the story. The article also mentions that UNO has a climate action plan.
The Reader reported on Omahans turning to native lawns, replacing grass with native pollinators, and calls to update the city's code to better embrace them. Julien Wulfgar, a part-time instructor in UNO's Religious Studies department, is mentioned in the article for her efforts to plant native plants and issues with the city code.
KESQ reports that former UNO hockey assistant captain and defenseman Ryan Jones will join the Coachella Valley Firebirds for the 2023-24 AHL season.
NHL reports that former UNO Mav Brandon Scanlin has signed a one-year contract with the NHL's New York Rangers.
From Intermountain Catholic (Salt Lake City, UT): Jean Synowicki, a UNO alumna, was named the new principal of St. Joseph Catholic Elementary School.
Colorado Rubber Hockey reports that UNO alumnus and hockey player Ryan Massa was named assistant coach for the University of Denver.
Tuesday, August 29
WOWT reported on new projects NCITE is researching as part of its fourth year. Gina Ligon, Ph.D., NCITE director spoke to the impact of an additional $14 million in federal funding and projects on conspiracy theories, attacks on communications, and more.
Chadron Radio reported on the "Faces of Transit in Nebraska" video series, made possible through a partnership between UNO's Center for Public Affairs Research and the Nebraska Department of Transportation, which aims to celebrate transit agencies statewide and the important role they play particularly in rural areas.