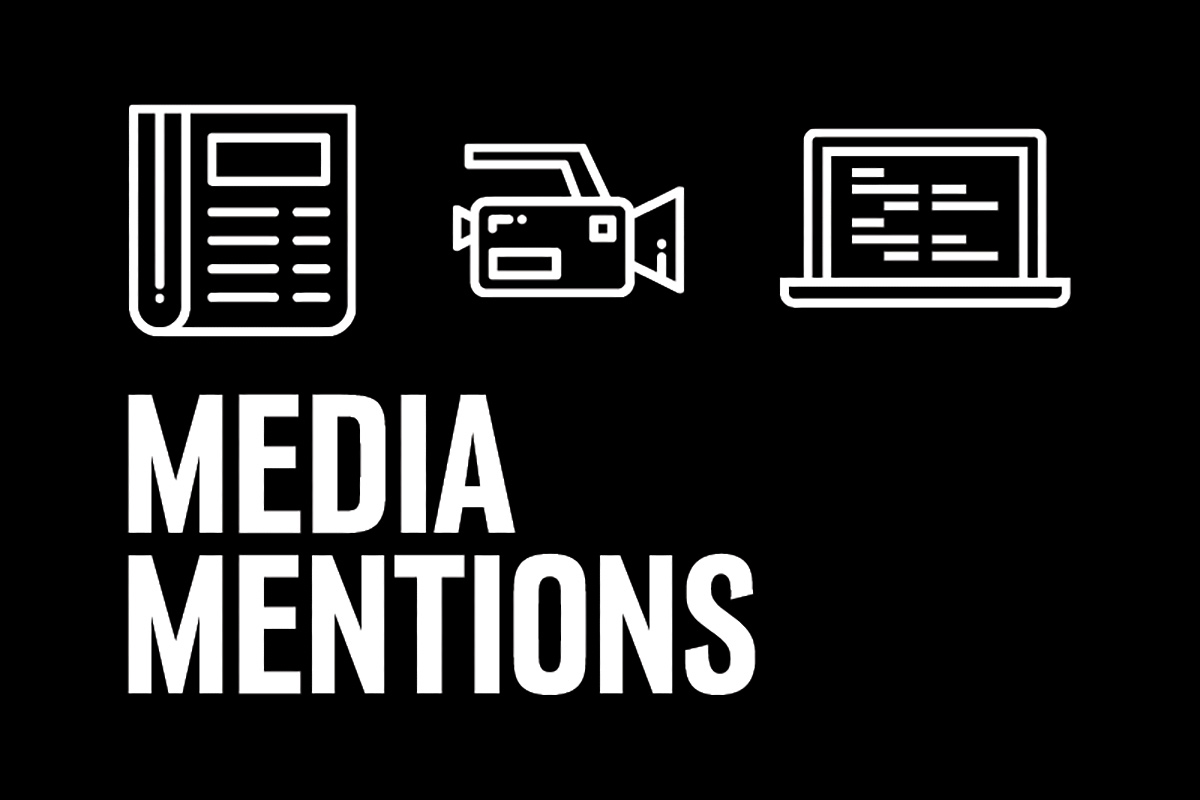 Mavericks are making headlines. Each weekday, University Communications will update this page with the latest batch of UNO media mentions.
Friday, April 9
KMTV interviewed UNO Chancellor Priority Candidate Joanne Li, Ph.D., on potentially becoming the first woman of color to lead UNO. 
Telemundo Nebraska reported on Dr. Li being named priority candidate to be the next chancellor at UNO.
KETV reported on a vaccine clinical trial being conducted by UNMC and Children's Hospital and Medical Center. UNO students have the opportunity to participate.
WOWT interviewed Randy Adkins, Ph.D., professor of political science at UNO, about voter turnout in Tuesday's city primary election and what can change between the primary and the general election.
97.7 KCRR published an article on Seth Varner and Austin Schneider, two UNO sophomores who decided to embark on a three-month journey to visit all 531 incorporated towns in Nebraska over the summer. 
The NCAA's management of the volleyball national championship tournament in Omaha has been highly criticized by coaches and players. Several news articles, including by KETV and the Omaha World-Herald, have mentioned comments by coaches suggesting the use of several arenas, including UNO's Baxter Arena, as tournament sites to better accommodate the tournament.
Thursday, April 8
The Lincoln Journal Star reported on plans by colleges and universities across Nebraska, including UNO, on whether or not they plan to require students to get the COVID-19 vaccine. Currently, no institutions in the state have such plans.
KMTV interviewed Doug Ewald, vice chancellor for Business, Finance, and Business Development, about the availability of funds for students through the Higher Education Emergency Relief Fund. The story also ran on affiliated stations statewide (KOLN in Lincoln, KGIN in Grand Island, KNPL in North Platte).
The Conversation published an article by Kristin Girten, Ph.D., assistant vice chancellor for Arts and Humanities and associate professor of English at UNO about the legacy of Beverly Cleary and how her novels challenged preexisting notions. The article has been republished by the Houston Chronicle, Yahoo! News, Idaho Press Tribune, and others.
The Daily Record reported on Dr. Joanne Li being named priority candidate as the next UNO Chancellor.
The Daily Nonpareil reported on an endowment fund established in memory of Cheri Nielsen, who taught math at Wilson Middle School in Council Bluffs for 38 years. The article mentions Nielsen also supervised student teachers from UNO.
The Daily Herald (Snohmish County, WA) published a feature on the new CEO of Economics Alliance Snohomish County, Garry Clark. The article mentions he is a UNO alumnus.
Patch.com (Naugatuck, CT) previewed the Warner Theatre's 9th Annual International Playwrights Festival featuring the production "Saul" which was written by UNO alumnus Colleen O'Doherty.
KTIC Radio (West Point, NE) reports that Pender, NE native Ashley Ostrand signed to run track for UNO.
Wednesday, April 7
KMTV interviewed Jane Meza, Ph.D., on vaccination efforts among UNO students and whether the university would require vaccination to attend classes in-person.
The Omaha World-Herald reported on Tuesday's listening sessions for UNO Chancellor Priority Candidate Joanne Li, Ph.D.
KPTM Fox 42, KFXL, and NTV (Kearney, NE) reported on the beginning of public listening sessions with UNO Chancellor Priority Candidate Joanne Li, Ph.D.
NTV (Kearney, NE) interviewed NU President Ted Carter on whether the University system would require vaccinations for students next fall and about how the system will approach operations in Fall 21. He mentions that each campus may also have to make slight modifications, but ultimately hopes to have operations back to near pre-pandemic form.
A news release by APIA Scholars, redistributed by Cision PRWeb, discusses a webinar series hosted in collaboration between Wells Fargo and the APIA Scholars. The release mentions that UNO's College of Business Administration has partnered with Wells Fargo on financial literacy webinars. Laura Beal, finance lecturer at UNO, is quoted in the piece.
Tuesday, April 6
WOWT reported on expanded access for COVID-19 vaccines as young people ages 16-18 could begin to sign up for appointments. WOWT interviewed a few UNO students on campus – all of whom said they plan to get the vaccine. The story mentions that UNO is not requiring students to get the vaccine, but doing so is strongly encouraged.
KPTM interviewed Greg Petrow, Ph.D., associate professor of political science at UNO, about momentum from national elections carrying over into local elections taking place this week in regard to voter turnout and early voting.
The Kearney Hub reported on an exhibit on display at UNK's Calvin T. Ryan Library memorializing those who died while crossing the U.S-Mexico border between 2000 and 2020. It mentions that UNO was a partner in compiling the exhibit and displayed it prior to it being displayed at UNK.
Monday, April 5
The Omaha World-Herald published an article that covers the race for Omaha's next mayor. Randy Adkins, Ph.D., political science professor at UNO, said that there is little doubt that Mayor Jean Stothert will advance to the general election and the same is true for incumbents on the City Council. 
An Associated Press article about how college athletes are starting to use their voice to influence social change. Dan Hawkins, Ph.D., professor of sociology at UNO, said that they don't have a players' union behind them and therefore their scholarships can be revoked at any time, however, he's sure they realize that risk. The article was widely republished nationwide.
Security Magazine announced that Diane Mack was named the new Director of Emergency Management at UNO and UNMC. She will oversee all emergency management planning, policies, and procedures for the UNMC and UNO campuses. Mack will also serve as the university representative for local, state, and national emergency meetings.
The Omaha World-Herald published an article regarding a new clinical trial hoping to answer the question of whether those who have gotten the shots can still get a COVID-19 infection and spread it to others. Dr. Jasmine Marcelin, an assistant professor at UNMC and an infectious disease physician with Nebraska Medicine, said, locally, the trial will be open to undergraduate students at UNO.
According to the Commercial Property Executive, the University of Nebraska at Omaha is one of the 2021 leading schools for real estate education. 
Lead Stories debunks an online theory claiming that archaeologists found an underground complex made by humans over one million years ago. Rami Arav, associate professor of Religious Studies at UNO, identified the site shown in the bogus article as a Hellenistic Roman period Columbarium.
An article in the Midlands Business Journal (print only) on challenges facing the local startup community includes insight from Justin Krug, member of the Maverick Venture Fund at UNO.
The Omaha World-Herald announced that Sarah Rowe, a UNO alumna, is one of three Omaha artists that received a $5000 support grant from Amplify Arts, a local advocacy group. 
The Daily Record covered the Business Ethics Alliance welcoming new board members to its Governing Board. Among these new members are UNO alumni Steve Koesters and Joel Falk. 
The Herald Journal (Logan, UT) reports that former UNO baseball outfielder Thomas DeBonville has signed a letter of intent to play for the Idaho Falls Chukars.  
Contact Us
If you have a story idea, news tip, or other question, please email the UNO News team at unonews@unomaha.edu.