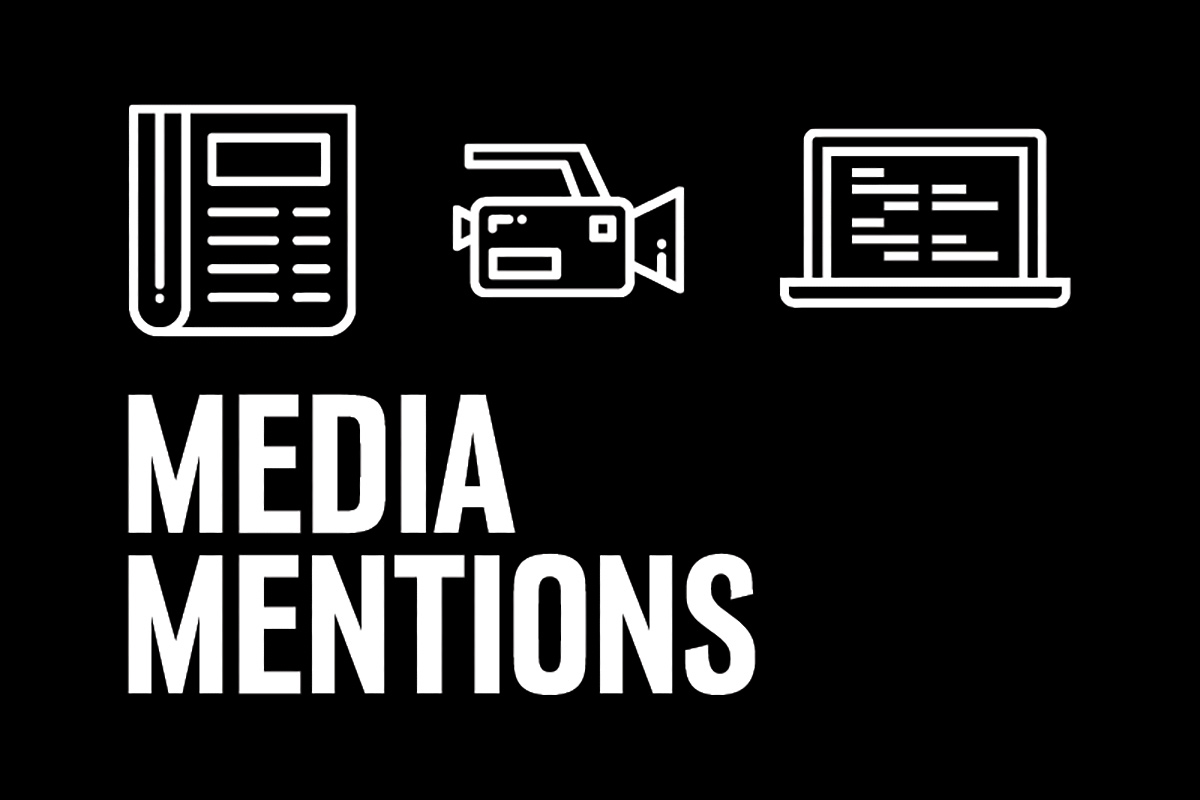 Mavericks are making headlines. Each weekday, University Communications will update this page with the latest batch of UNO media mentions.
Thursday, January 14
KFAB republished a release from NSRI reporting a grant awarded to UNO and NSRI to streamline database processes for USSTRATCOM. The project is being led by Dustin White, Ph.D., assistant professor of economics, Patricia Meglich, Ph.D., professor of management, and Benjamin Smith, Ph.D., associate professor of economics.
The Omaha World-Herald reports that Redstone Arsenal in Huntsville, AL was chosen as the preferred site for the future headquarters of U.S. Space Command. The article mentions the University of Nebraska's National Strategic Research Institute (the article incorrectly ties NSRI exclusively to UNO).
The Reader published an article discussing how theatre has adapted to the challenges of COVID-19. It mentions that UNO Theatre has been delivering virtual performances.
From The Daily Record: UNO alumnus Tom Wheeler has taken the place of recently resigned Douglas County Sheriff Tim Dunning. Wheeler will serve until the 2022 midterms.
The Gateway reported on how UNO hockey is beginning the new year following a strong showing in the NCHC pod.
The Brookings Register (Brookings, SD) reports that UNO men's basketball matchups against South Dakota State scheduled for Friday and Saturday have been canceled. The women's basketball matchups vs SDSU are still on as scheduled.
The Gateway reported on UNO men's basketball dropping its first two conference matchups to Oral Roberts.
SwimSwam reports that Des Moines, IA native Lydia Johnston has committed to swim for UNO.
Wednesday, January 13
From the Omaha World-Herald: K-12 schools and Nebraska colleges and universities are receiving federal funding for COVID relief. It mentions UNO stands to receive $17.9 million.
The North Platte Post republished a column written by Governor Pete Ricketts which mentions efforts by educational and business organizations to attract U.S. Space Command headquarters to Omaha. It includes mention of several University of Nebraska academic resources, including NCITE at UNO.
Silicon Prairie News reports on the role of UNeTech, a grant-funded partnership between UNO and UNMC, provides resources and structure for high-risk, high-reward technologies to be researched and brought to market.
From the Fremont Tribune: Joe Sajevic, formerly of UNO, reflected on his time serving as the executive director for the Fremont Public Schools Foundation.
The Daily Nonpareil reports that Iowa Western Community College's radio station KIWR "The River" continues to enjoy strong ratings. The article mentions the strength of its signal as an advantage, particularly compared to other school-owned stations in the area (including KVNO at UNO).
A feature article in the Redstone Rocket discusses the military career of Air Force Capt. John "Scotty" Scott, who attended UNO after leaving Vietnam.
From the Manhattan Institute: A column on enhancing police accountability includes insight from Samuel Walker, professor emeritus of criminal justice at UNO, on the role of police unions in investigations into alleged police misconduct.
Tuesday, January 12
KETV (on-air) interviewed UNO student and Marching Maverick Lydia Kirkland as 11 UNO students took part in a virtual halftime show for the college football national championship game on Monday.
The O&P Edge reported on a partnership between UNO's Department of Biomechanics and Innovative Prosthetics and Orthotics, which brought the company into UNO's Biomechanics Research Building. The on-site partnership will lead to additional research, development, and production of low-cost prosthetic and orthotic components as well as research and training opportunities for UNO students.
The Daily Record interviewed Randall Adkins, Ph.D., about the best terms to describe what took place at the U.S. Capitol last week.
The Gateway recapped a successful NCHC pod held at UNO's Baxter Arena – and how UNO hockey players were just thankful to be on the ice in December.
Monday, January 11
The Omaha World-Herald and KPTM covered an event on Saturday where UNO athletes delivered gifts to families in north Omaha.
An editorial in the Omaha World-Herald describes the many business and education partners who call Omaha home, including UNO, and make the area a top choice for the U.S. Space Command headquarters.
The Omaha World-Herald reported on the Nebraska Math Readiness Project, an effort to help struggling high school students better grasp math concepts before college. A team of evaluators at UNO, led by Neal Grandgenett, community chair of STEM education at UNO, found that the project's initial results dating back to 2018 have been encouraging.
WalletHub interviewed Debora Wisneski, Ph.D., as part of its rankings for 2021's best and worst states to raise a family. She spoke to important considerations regarding support systems and child development.
An article in the Journal of Accountancy speaks to how CPAs have adjusted to new work experiences in a remote setting. Nicole Cooper, CPA, assistant controller at UNO, was interviewed for the piece as she began her new role at UNO weeks before having to move to working remotely.
The Fremont Tribune published a list of area graduates who received their degrees from UNO in December 2020.
KNEB and the Norfolk Daily News promoted an upcoming event featuring Preston Love Jr., adjunct professor of Black Studies at UNO, in commemoration of Rev. Dr. Martin Luther King Jr.
The Lincoln Journal Star promoted an upcoming virtual concert featuring Bassoons Across Nebraska. Karen Sandene, an adjunct bassoon instructor at UNO, will be performing in the virtual concert on Jan. 21.
Inforum and the Omaha World-Herald recapped losses by UNO men's basketball and women's basketball's to North Dakota State.
The Omaha World-Herald reports that former UNO basketball standout Tra-Deon Hollins has put together a team to be the 35th member of The Basketball League, a second-tier minor league.
Contact Us
If you have a story idea, news tip, or other question, please email the UNO News team at unonews@unomaha.edu.