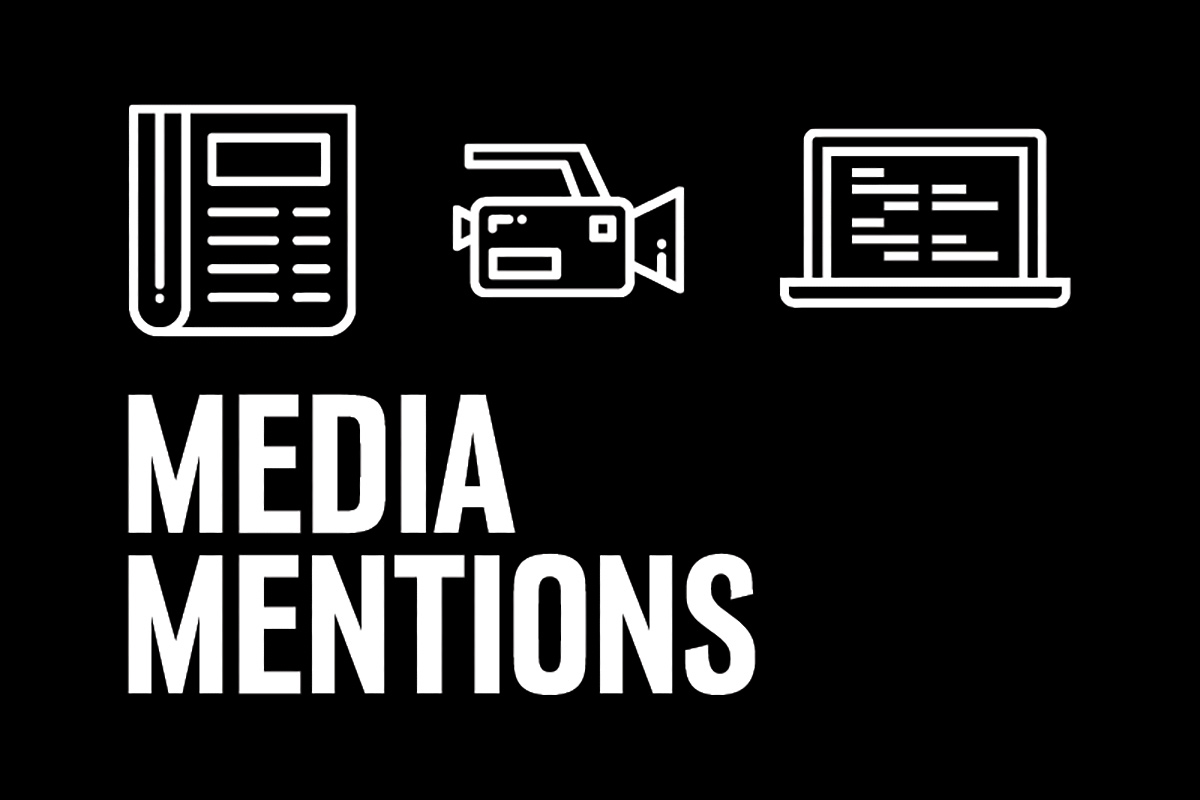 Mavericks are making headlines. Each weekday morning, University Communications will update this page with the latest batch of UNO media mentions.
Friday, December 13
The Philanthropy News Digest featured research by UNO doctoral candidate Elizabeth Gillespie on how women's foundations and funds define their impact and how they reach their goals.
---
Cold weather have you thinking about spring? In an article about the best native plants to consider for your garden next year, the Omaha World-Herald mentions that UNO's Steven Rodie received an educator award from the Nebraska Statewide Arboretum for his work on sustainability and landscape design, stormwater management, and other environmental topics.
---
KFMT (Fremont, NE) reports that UNO alumnus Garry Clark, Executive Director of the Greater Fremont Development Council, has been named to the Board of Directors of the Nebraska Greats Foundation, which provides life-saving emergency support to qualified former letter winners in need from any of 15 Nebraska-based colleges and universities.
---
From Yardbarker: UNO hockey goaltender Isaiah Saville will take part in the U-20 World Junior Championship in the Czech Republic as the collegiate hockey schedule slow for the holidays.
Thursday, December 12
KMTV highlighted events and resources provided to students to de-stress as the end of the semester draws near. Katherine Keiser of UNO's Counseling and Psychological Services spoke to lowering stress in the moment while studying or taking finals and battling the effects of seasonal depression.
---
NET News spoke with Samuel Walker, professor emeritus of criminology and criminal justice at UNO, on pretrial reform in Nebraska's most populous counties.
---
From The Gateway: UNO recently hosted Narges Bajoghli, Ph.D., of Johns Hopkins University to speak about relations between the U.S. and Iran.
---
The Ralston Recorder reports that UNO alumna Robin Richards was sworn in as the newest member of the RPS Board of Education.
---
Broadway World reports that UNO alumna Kendra Whitlock Ingram was named the next President and CEO of the Marcus Performing Arts Center in Milwaukee, WI.
---
TruthDig interviewed UNO's Bruce Johansen on arctic permafrost, amounts of carbon dioxide released by melting, and the effects on climate change.
---
UNO's Friends of Japan hosted a booth at the recent Durham Museum's Holiday Cultural Festival, according to the Fremont Tribune.
---
The Press and News (Coon Rapids, MN) reported on recent hockey results for a team that includes UNO hockey commit Zach Michaelis.
Wednesday, December 11
From NPR: A group of female pilots and flight attendants have filed suit against Frontier Airlines alleging discrimination against pregnant and nursing women. The article includes insight from Becky Lutte of UNO's Aviation Institute, who said the lawsuit reflects the issue of women being underrepresented in the aviation industry as a whole.
---
From UNMC's Newsroom: UNO alumnus Maj. Gen. (Ret.) Richard J. "Rick" Evans III was named deputy executive director of the University of Nebraska's National Strategic Research Institute.
---
The Gateway wrote about a recent Pizza and Politics event held on campus that welcomed in Nancy Thomas, Ph.D. from Tufts University. It mentions that UNO's student voting participation climbed significantly in past years.
---
Voice of America spoke with Sher Jan Ahmadzai, director of UNO's Center for Afghanistan Studies, about the Afghan war and the issue of sanctuaries in neighboring Pakistan.
---
ESPN's The Undefeated compared former UNO quarterback Marlin Briscoe to Baltimore Ravens quarterback Lamar Jackson and asked Briscoe for his thoughts on the style of play for quarterbacks in the NFL today.
---
A release by PR Newswire reports that Madison Smutz was awarded the 2019 Childhood Cancer Survivor and Sibling Scholarship from Northwestern Mutual which she will use at UNO.
---
A story in the Sandusky Register about a couple in Sandusky, OH celebrating their 70th wedding anniversary cites a statistic by UNO's Center for Public Affairs Research that shows less than one in every 10 couples make it to the same milestone.
---
SW News Media reports that UNO volleyball's Anna Blaschko was named to the Midwest Region First Team by the American Volleyball Coaches Association (AVCA).
---
The Arizona Daily Star previewed UNO men's basketball's Wednesday night matchup against nationally-ranked Arizona.
Tuesday, December 10
WOWT, the Lincoln Journal Star, and numerous other media outlets report that UNO alumna Loretta Wells has been named the new warden for the Nebraska Correctional Youth Facility in Omaha.
---
From The Daily Record: The ACLU of Nebraska has welcomed a new communications director in Sam Petto, formerly of UNO's Office of University Communications.
---
UNO alumna Casey Vaughan was named executive director of Keep Fremont Beautiful, reports the Fremont Tribune.
---
From The Reader: Artist and UNO alumnus Jeff Sedrel has opened a new exhibit at the Garden of the Zodiac Gallery.
---
Southeast Polk senior Matthew Schultz has signed to play wheelchair basketball at UNO, according to KCCI (Des Moines, IA).
---
KSOM reports that Kinsey Scheffler of AHSTW (Avoca, IA) has committed to join the track and field team at UNO.
---
UNO hockey goaltender Isaiah Saville was named to USA Hockey's Select Camp Roster, according to NHL.com and Sports News Bay.
Monday, December 9
The Omaha World-Herald published a piece in memoriam of longtime photographer Rudy Smith. The piece includes mention of his wide-ranging community impact. Smith has a number of ties to UNO including advocating for nearby landlords to rent housing to black students, being the first black graduate and later instructor of UNO's communications school, and helping launch UNO's black studies department. Coverage was also featured on KMTV and WOWT.
---
Rural Radio Network spoke with UNO and UNMC Chancellor Jeffrey P. Gold M.D. for the network's weekly "Chat with the Chancellor" segment. This latest chat touches on recent campus forums, UNO's high ranking for veteran students, and UNO and UNMC's involvement in the statewide "Commit to Complete" campaign.
---
The Daily Record reported on the upcoming second round of renovations set to begin at UNO's Strauss Performing Arts Center next summer.
---
From the Omaha World-Herald: The American Institute of Architects Nebraska chapter recognized HDR with an Architecture Honor Award in its Excellence in Design Competition for the company's work designing the newly renovated Strauss Performing Arts Center.
---
WOWT reported on community efforts to preserve the Yates Community Center, which is set to be sold by Omaha Public Schools. One of the organizers said that they would like to see other educational institutions, including UNO, step up to save the center.
---
The Lincoln Journal Star published a piece on economic and housing disparities between districts within the Omaha area. It includes perspective from Josie Schafer, director of UNO's Center for Public Affairs Research, on the impact of historical housing policies on segregation by race and income.
---
Stephanie Jesseau, Ph.D. of UNO's Department of Psychology joined KIOS's "Made in the Middle" to talk about the history of wrapping paper and the psychology behind the love of unwrapping gifts.
---
Time Magazine shared an Associated Press report originally published last week on the racial disparity in violent crime laws named after victims. The report includes perspective from Teresa Kulig, assistant professor of criminology at UNO, and also mentions research she co-authored on the topic.
---
From the Lincoln Journal Star: A study by Steven Shultz, professor of real estate and land use economics at UNO, examined home price appreciation in the Lincoln real estate market from 2000 through September 2019. The study found that home prices increased 44 percent – lower than the 63 percent gain in median prices.
---
The Gateway reported on growth within UNO's wheelchair basketball team since the team was formed in 2015.
---
UNO men's basketball's Zach Thornill is healthy and his hard work in the offseason is paying dividends, reports the Omaha World-Herald.
---
From NHL.com: Former NHL player Keith Primeau talked with NHL about his son Cayden's NHL debut. He mentions that his other son, Chayse, plays for UNO. Primeau said it easier to watch Chayse's games since he is a forward while Cayden's games are much more stressful since he is a goaltender.
---
The Omaha World-Herald's 2019 All-Nebraska volleyball team includes UNO signee McKenna Ruch of Millard North.
---
The Gateway provided coverage before and after UNO's series against Minnesota-Duluth over the weekend.
Contact Us
If you have a story idea, news tip, or other question, please email the UNO News team at unonews@unomaha.edu.