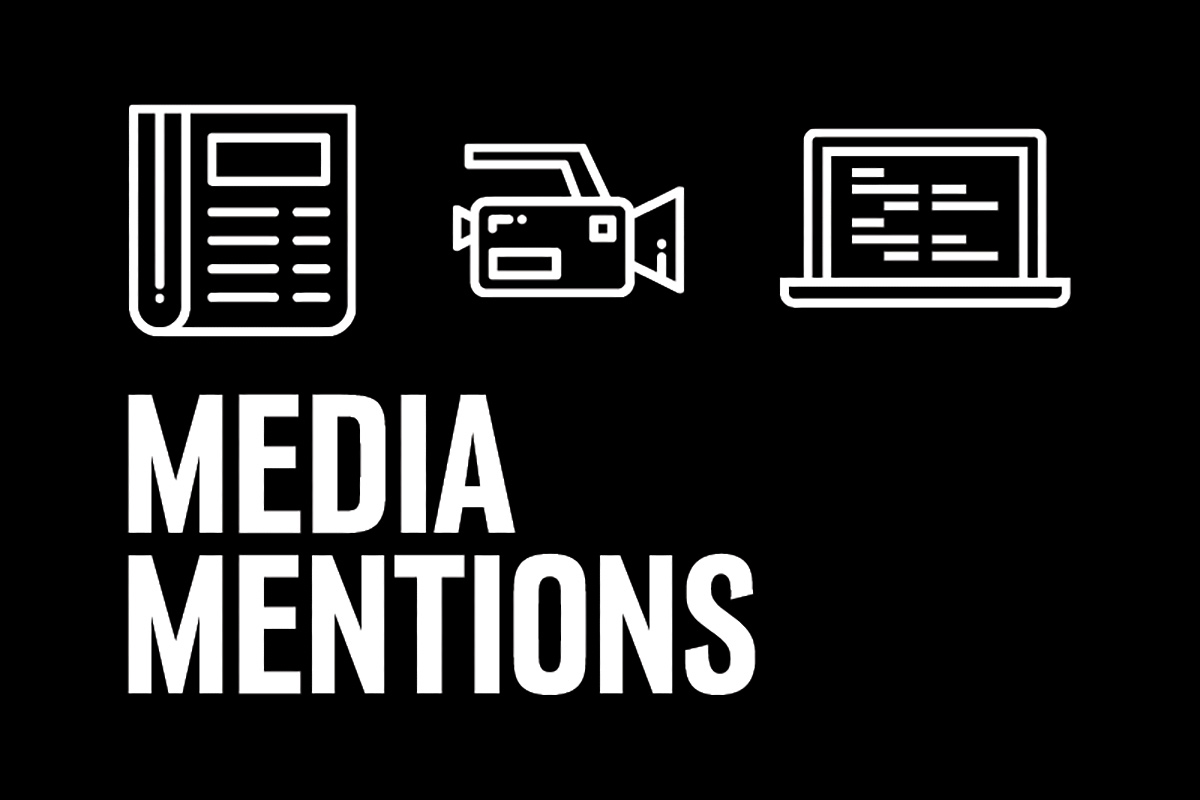 Mavericks are making headlines. Each weekday, University Communications will update this page with the latest batch of UNO media mentions.
Friday, January 14
USA Hockey announced its full roster for the U.S. Olympic hockey team that will compete in Beijing. Brian Cooper, a former UNO Maverick, is on the roster.
Forbes announced UNO alumna Amala Duggirala has joined USAA as executive vice president and enterprise chief information officer.
Patch.com (Omaha edition) published a news release that i3 Bank has named UNO alumnus Gregg Bailey as Senior Vice President of Mortgage Lending.
Thursday, January 13
The Omaha World-Herald published a roundup of events celebrating Martin Luther King Jr. Day weekend in Omaha. UNO's Service Learning Academy will be assisting in a renovation at Culxr House on Saturday and Nuri Heckler, Ph.D., assistant professor of public administration at UNO, will take part in Creighton University's Day of Racial Healing event taking place virtually on Tuesday.
The Omaha World-Herald continued its in-depth look at the impacts of gun laws in Nebraska on the state's prison populations. A 2009 law shifted hundreds of inmates from federal to state courts and prisons at the expense of Nebraska taxpayers. Former UNO criminologist Hank Robinson is quoted in the piece and was one of few opposing voices when the bill was passed in 2009.
The Omaha World-Herald and The Gateway report that UNO hockey will play Denver this weekend after its previously scheduled weekend series at North Dakota was postponed due to COVID-19 protocols within the UND program.
The Wire by OPPD published a feature on Michaela Valentin, a UNO alumna, and her spirit for serving others.
Tuesday, January 11
News Channel Nebraska reported on UNO launching a lifelong learning program for senior and adult learners, giving general information about the program, and quoting Chancellor Joanne Li, Ph.D.
The Omaha World-Herald published an op-ed by Preston Love Jr., community activist and adjunct instructor in UNO's Department of Black Studies, advocating for truth and against anything that threatens democracy – from racial inequities to misinformation to legislative voter restrictions.
The Daily Record published an article on UNO alumna Sheri Larsen, who was appointed as the new 4th Judicial District court administrator last month. It's the first time since 2004 that the position had a new court administrator.
Monday, January 10
The Omaha World-Herald and KPTM reported on UNO's updated COVID-19 protocols following Douglas County hitting a pandemic high for daily cases.
The Omaha World-Herald published an investigative piece looking at the impacts of a 2009 gun law that strengthened penalties for gun crimes, finding that the state's inmate count increased 16% between 2010 and 2020 despite prisoner numbers declining in almost every other state. Mark Foxall and Bob Houston, both community research associates within UNO's School of Criminology and Criminal Justice, discussed why lawmakers have been willing to stiffen penalties and house more inmates, yet not as willing to build a new large prison to accommodate them.
KETV interviewed Josie Schafer, Ph.D., director of the Center for Public Affairs Research at UNO, and she said labor shortages aren't attributed to people not working, it's that many people are shifting occupations after the pandemic leaving shortages in different workforces.
Fast Company republished an article authored by UNO faculty Joel S. Elston, Austin C. Doctor, and Sam Hunter. The article, originally published by The Conversation, talks about how the metaverse can become a breeding ground for terrorists to recruit, coordinate attacks and new "virtual" targets.
Yahoo! News and a number of local media outlets nationwide republished an article authored by Christopher Decker, Ph.D., for The Conversation providing analysis and takeaways from the latest BLS jobs report.
The Omaha World-Herald spoke with Gina Ligon, Ph.D., director of the National Counterterrorism Innovation, Technology, and Education (NCITE) Center at UNO, on analysis of the 700+ arrested in connection with the Jan. 6, 2021 attack on the capitol in Washington D.C. Ligon thought the attack was organized by a top-down militia, but she was surprised when data showed only 11% of those arrested were members of known extremists organizations and the vast majority were not affiliated with organized groups.
Yahoo News reported on the University of North Carolina at Pembroke's Leeanna Earp being selected as an assistant for the 40th annual Frogman's Print Workshop, an annual summer workshop hosted by UNO's School of Communication, Fine Arts, and Media.
The Grand Island Independent published an announcement congratulating Bethany Collins who graduated from UNO Summa Cum Laude.
Friday, January 7
Yahoo! News, the Houston Chronicle, MarketWatch, and dozens of outlets nationwide republished an article from The Conversation, published by UNO faculty Joel S. Elson, Austin C. Doctor, and Sam Hunter. The article talked about how terrorists could exploit the metaverse for recruitment, plotting, and attacks. The metaverse is described as an always-on network that is a combination of immersive virtual reality, a massively multiplayer online role-playing game, and the web.
The Breeze mentioned Dallas Cowboys (football) kicker Greg Zuerlein who played for two division II programs - UNO and Missouri Western - before he was drafted in the sixth round of the 2012 NFL draft by the St. Louis Rams.
The Chattanoogan (TN) reports that UNO alumna Kelly Schrader was named manager of the First Horizon banking center in East Ridge.
The Gateway reported on athletics updates including the UNO hockey series vs. Denver being postponed due to COVID-19 protocols and mask requirements at UNO's Baxter Arena.
The Gothenburg Leader (Gothenburg, NE) (print only) reported on students from Gothenburg High School joining statewide honor ensembles at universities statewide. The article mentions GHS students planning to attend UNO's Boch Festival set to take place on Jan. 28 and 29.
Thursday, January 6
Nebraska Public Media interviewed Josie Schafer, Ph.D., director of UNO's Center for Public Affairs Research, on a new report issued by CPAR and the Nebraska Business Development Center (NBDC) on the state of entrepreneurship and challenges facing it in Nebraska. KFOR (Lincoln) also published an article on the report.
The Lincoln Journal Star published a retrospective on Jan. 6, 2021 both regarding the attack on the capitol in Washington D.C. and protests in Lincoln here in Nebraska. The article includes a piece republished from last year where Gina Ligon, Ph.D., co-founder of NCITE at UNO, provided analysis on how extremist groups operate and how events built up to the insurrection in D.C.
KETV and the Omaha World-Herald mentioned UNO's Baxter Arena requiring masks when attending athletics events as part of stories largely focused on UNL's new COVID policies.
ESPN previewed the second half of the collegiate hockey season mentioning that UNO hockey's conference slate gets much tougher from here on out.
The Omaha World-Herald reported on UNO extending the contract of men's soccer coach Bob Warming.
USA Hockey announced that former UNO hockey associate head coach Mike Hastings has been named to the support staff for the 2022 U.S. Olympic Men's Ice Hockey team.
Business Wire published a release that was picked up nationally by the Associated Press announcing that UNO alumna Meghan K. McKernan was elected president and CEO of the firm Gilmore & Bell, P.C. in Kansas City, MO.
Wednesday, January 5
The Wall Street Journal reported on challenges facing the U.S. military in defending against swarms of cheap hobbyist drones. Austin Doctor, Ph.D., political scientist and NCITE researcher, was quoted in the article on how meeting the challenge will be a moving target.
The U.S. Department of Agriculture published a press release announcing UNO alumnus John Berge was appointed the Farm Service Agency State Executive Director for Nebraska.
The Omaha World-Herald published an op-ed authored by Brad Ashford, former congressman and state senator as well as visiting professor at UNO, who advocates for solving many various challenges facing Nebraska in 2022.
A Place for Mom published an article on which cell phones are best to help seniors stay connected with family and loved ones. Julie Masters, Ph.D., Terry Haney Chair and professor of gerontology at UNO, helped inform what features and characteristics to look for in a device to ensure it will be a good fit for a senior.
KFAB, WOWT, The Rink Live, and the Omaha World-Herald reported on UNO hockey's series with Denver being postponed due to COVID-19 protocols.
New Horizons (print only - published by Eastern Nebraska Office on Aging) promoted a survey being conducted by UNO's Department of Gerontology regarding the current and future needs of older Nebraskans.
WFRV (Green Bay, WI) promoted an upcoming concert featuring Thomas Kluge. The article mentions that Kluge, a local violist, has served on the faculty at UNO in the past.
Tuesday, January 4
The Independent (UK) reported on what is known about more than 700 people charged for their role in the Jan. 6, 2021 attack on the Capitol. The piece includes insights from Gina Ligon, Ph.D., director of NCITE and UNO, and Seamus Hughes, Ph.D., NCITE researcher and deputy director of George Washington University's Program on Extremism. Both spoke to how there is no one specific profile of those arrested.

The Omaha World-Herald reported on UNO hockey dropping one slot down to 15th on this week's USCHO national rankings after a loss to unranked St. Lawrence.
From the Omaha World-Herald: For the fifth time this season, UNO's Isaiah Saville was named NCHC Co-Goaltender of the Week.
Monday, January 3
The Omaha World-Herald published an op-ed by UNO Chancellor Joanne Li, Ph.D., CFA, about how UNO is in a strategic position to provide solutions to the most pressing needs of Nebraska and the United States as a whole.
The White House announced President Joe Biden appointed several individuals to serve in key regional leadership roles. UNO alumnus John Berge was announced as the United States Department of Agriculture State Director for Nebraska.
Strategic Finance published an op-ed that mentioned a report on key management accounting competencies and learning outcomes required for early career accountants. Roopa Venkatesh, Ph.D., accounting professor at UNO, was one of several co-authors on the report.
The Fremont Tribune and Grand Island Independent published lists of local students who graduated from UNO in December.
The Omaha World-Herald published an editorial on the future of the 1st Congressional District seat as U.S. Rep. Jeff Fortenberry faces indictments and a federal trial tied to an investigation into illegal political contributions form a Nigerian-born billionaire. Randy Adkins, Ph.D., professor of political science at UNO, is quoted in the article saying that a shift in support from a candidate's political party could be a bad sign for the incumbent.
KMTV reported on how Nebraska and Iowa have drastically different participation rates in the use of force reporting program. In Nebraska, 90% of law enforcement work for participating agencies while in Iowa that number is lower at 19% participation. Justin Nix, Ph.D., associate professor of criminology and criminal justice at UNO, said we're blind to the use of force incidents by police in many cases. Jessie Huff, assistant professor of criminology and criminal justice at UNO, said it's something police agencies should want to participate in for the benefit of understanding the use of force within your agency and geographic region.
The Omaha World-Herald republished a 2008 feature on World-Herald photographer Rudy Smith who, at the time, had retired after a 45-year career. The first full-time Black employee at the World-Herald, his career started as a copy messenger and then a darkroom technician, which put him through college at Omaha University, now UNO.
The Omaha Daily Record reported on UNO welcoming Sri Lankan Journalist and Activist Sharmila Seyyid where she will be working with the university's English department and Women and Gender Studies program while continuing her writing and international social justice work.
Yahoo News published an article from Florida Today on how homeless sex offenders in Brevard County, Florida are having a hard time finding resources and shelter. The article mentions UNO research that showed sex offenders in Nebraska showed a 1.7% sex crime recidivism rate in 2013.
The Omaha World-Herald interviewed Paul Landow, professor emeritus of political science at UNO, who spoke to the role hot-button issues will play in the next Nebraska Legislative session.
The Omaha World-Herald spoke with Bob Houston, senior community research associate at UNO, on the need for a new 600-bed prison included in a master plan he proposed in 2014 when he was prisons director.
The Omaha Daily Record published an article, written by UNO, which talks about racial disparities in nonfatal police shootings as researched by Justin Nix, Ph.D., associate professor of criminology and criminal justice at UNO, and John Shjarback, Ph.D., assistant professor at Rowan University.
The Missouri Review podcast interviewed Carolina Hotchandani, Ph.D., a Goodrich assistant professor of English at UNO, who said her class created something called the Common Memory Project which explores the incredibly diverse experiences that different people have had during the COVID-19 pandemic where we have all been isolated from one another.
Fox 2 (Detroit) and a number of other media outlets reported on the Powerball jackpot soaring to $500 Million for the 1st drawing of 2022. The article cites UNO mathematics professor Andrew Swift, who previously told the Associated Press the overall odds of winning the Powerball jackpot are 1 in 292.2 million or slightly worse odds than flipping a coin and getting heads 28 times in a row.
The Omaha World-Herald looked back on the biggest sports stories of the year. The article mentions all three Division I universities in the state hiring new athletic directors, including UNO's hire of Adrian Dowell. It also mentioned UNO hockey earning its first NCAA tourney bid since 2015.
The Gateway reported on UNO hockey's Jonny Tychonick returning to the ice following injury and COVID-19 earlier in the year.
Yardbarker published an article on Brandon Scanlin, a left-shot for the UNO Mavericks (Hockey), where they assess his potential. The article claims he's not part of one of the hockey hotbeds at UNO and says his team had struggled to crack the top-20 rankings.
India Education Diary reported on UNO alumna professor Sasmita Rani Samanta being appointed Vice Chancellor of the Kalinga Institute of Industrial Technology in Bhubaneswar, Odisha, India.

Strictly Business reported on UNO alumna Carol Ash being announced as Vice President of Marketing at Union Bank & Trust (UBT).
The Omaha World-Herald announced that ACCESSbank has appointed UNO alumnus Thomas Corrigan to the position of President and Chief Operating Officer.

ReJournals reported on UNO alumnus Noah Ludwick joining the Omaha-based Cushman & Wakefield/The Lund Company as an associate for the company's brokerage division.
Yahoo News published an article using an interview with Samuel Walker, an emeritus professor at UNO, by USA Today. Walker said he hasn't seen any organized national opposition to provisions in police union contracts that make it easier for officers to cover up misconduct. The article was republished by AOL.
The New Orleans Advocate also interviewed Walker, who said determining whether an officer falsely arrested someone through the use of cover charges can be difficult, but there are red flags. Republished by WWNO-FM.
KCBS Radio spoke with Tom Goutierre, Ph.D., former director of the Center for Afghanistan Studies at UNO, about the Taliban banning long-distance travel for Afghan women.
Contact Us
If you have a story idea, news tip, or other question, please email the UNO News team at unonews@unomaha.edu.