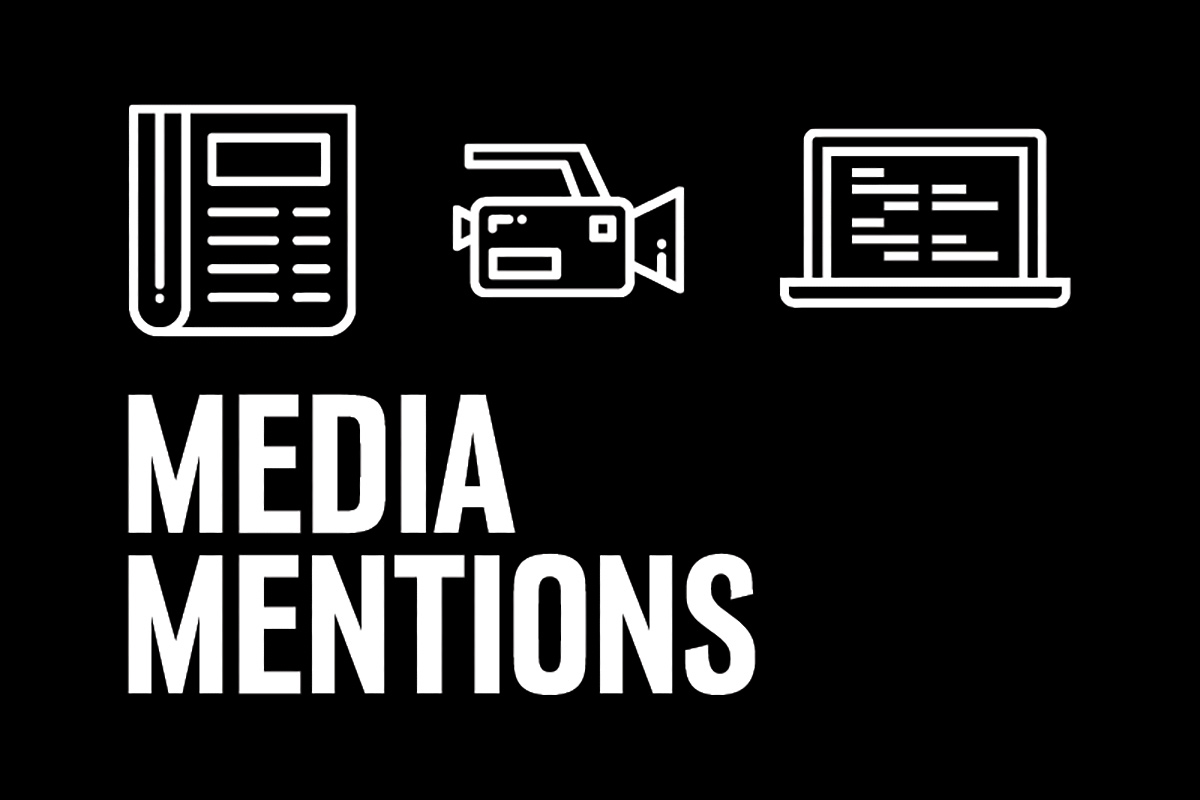 Mavericks are making headlines. Each weekday, University Communications will update this page with the latest batch of UNO media mentions.
Friday, July 1
The Omaha World-Herald and KETV reported on Omaha Athletics naming Donovan Dowling as its new men's soccer coach at a introductory news conference held Thursday at UNO's Baxter Arena. UNO Athletic Director Adrian Dowell praised Dowling's recruitment track record in his assistant and recruiting coordinator role at Louisville for the past four years.
KMTV reported on a new statewide public database that lists law enforcement personnel who have been decertified since January 2021. Justin Nix, Ph.D., associate professor of criminology and criminal justice at UNO, praised the transparency and acknowledged its role in helping out of state agencies hiring officers.
The Omaha World-Herald reported on area high school students taking the stage at the newly renovated Gene Leahy Mall for a production of Fame the Musical as part of UNO's Summer Musical Theatre Academy.
Iowa Farmer Today reported on the rise in cyberattacks in the ag industry. George Grispos, Ph.D., assistant professor of cybersecurity at UNO, spoke to specific threats that could give attackers access to agricultural systems despite cybersecurity protections.
The Omaha Daily Record republished an article by the Nebraska Examiner on the Omaha-based Heartland Workers Center naming former UNO undergraduate admissions lead Lina Traslaviña Stover as its executive director.
Strictly Business Omaha reports that the Child Saving Institute has expanded its therapy team, adding UNO alumna Itzeni Nayeli Lopez as a bilingual therapist providing therapy to the Spanish-speaking community.
Thursday, June 30
The Lincoln Journal Star reported on 50 years of the Pell Grant and its impact on students. The article mentions how many UNO students received Pell grant funding in the 2019-20 school year according to College Scorecard. The article was republished by affiliated newspapers statewide.
KMTV interviewed Randy Adkins, Ph.D., professor of political science at UNO, on the surprisingly small margin of defeat for Democrat Patty Pansing Brooks in Tuesday's special election for Nebraska's 1st Congressional District and what it means for future campaign spending.
KPTM spoke with Greg Petrow, Ph.D., associate professor of political science at UNO, on a spike in Democratic voter turnout in Sarpy County as part of Tuesday's special election.
KIOS and KMTV covered rehearsals taking place leading up to the UNO Theatre Department's production of FAME The Musical as part of the Summer Musical Theatre Academy.
The Omaha World-Herald, the Nebraska Examiner and KMA-Land (Shenandoah, IA) mentioned the Summer Musical Theatre Academy's production on Sunday evening as part of a rundown of events being hosted as part of the Gene Leahy Mall's grand reopening.
The Daily Nonpareil reported on events held by the Council Bluffs Public Library this summer, including an oral history workshop presented by Jade Rogers, adjunct history professor at UNO.
Wednesday, June 29
The Lincoln Journal Star published an op-ed authored by Martha Garcia-Murillo, Ph.D., Dean of UNO's College of Information Science & Technology, on how collaboration with institutions of higher education, including UNO, can help K-12 school districts meet the computer science teaching requirements laid out by the newly passed LB 1112 Computer Science and Technology Act.
NOISE Omaha reported on last week's Minority Small Business Summit. The Nebraska Business Development Center (NBDC) at UNO co-sponsored a pitch competition at the summit.
KMTV reported on a type of bird making a surprising appearance in Nebraska. Limpkins are typically more prevalent in the southeastern U.S. UNO biology professor John McCarty is quoted in the article pointing to an invasive species of snail in Nebraska as the reason for the surprise visitor.
Tuesday, June 28
Hundreds of media outlets nationwide reported on the passing of Marlin Briscoe, legendary quarterback at then-Omaha University and the first black starting quarterback in American professional football. All coverage mentions his time at UNO and his statue which stands outside Al F. Caniglia Field on UNO's Dodge Campus. Some prominent mentions include The Washington Post, The New York Times, NFL.com (Associated Press article), Sports Illustrated, and TMZ. Some local outlets included a joint statement issued by Chancellor Joanne Li, Ph.D., CFA and Vice Chancellor for Athletics Adrian Dowell, including KETV and KPTM. Other local coverage included WOWT, Omaha World-Herald, and others.
KMTV and News Channel Nebraska reported on a study by UNO's Center for Public Affairs Research which provided recommendations to bring more women into STEM-based occupations in Nebraska's workforce. Josie Schafer, director of CPAR at UNO, and Christine Cutucache, director of UNO's STEM TRAIL Center, were among the panelists who spoke at an event held Monday at UNO's Barbara Weitz Community Engagement Center.
The Omaha World-Herald reported on sentencing for former Congressman Jeff Fortenberry who faces two years of probation, 320 hours of community service, and a $25k fine after being convicted of lying to federal agents in an investigation into foreign donations to his campaign. Randall Adkins, Ph.D., professor of political science at UNO, spoke to Fortenberry's legacy and generally to public trust in elected officials. The article was republished by affiliated newspapers statewide.
The Fremont Tribune reported on the Miss Weeping Water ceremony held Saturday. Two of the four contestants, Lauren Harms and Brooklyn Rathe, both plan to attend UNO in the future.
Monday, June 27
ABC's Good Morning America reported on how the overturning of Roe v. Wade impacts patients who need in-vitro fertilization (IVF). Desynie Sewell, Ph.D., assistant professor at UNO, described her family's IVF journey and how the SCOTUS ruling could impact her family's future plans for another child. The article was widely republished nationwide including by Yahoo! News.
The Nebraska Examiner reported on how the overturning of Roe v. Wade could impact the special election to be held Tuesday to fill the U.S. House seat for the final six months of U.S. Rep. Jeff Fortenberry's term. Paul Landow, Ph.D., professor emeritus of political science at UNO, believes it could ultimately boost Democrats in the election. The piece was republished by the Norfolk Daily News, KMTV, and others.
The Journal of Blacks in Higher Education and the Chronicle of Higher Education both published a job posting for UNO's next Senior Vice Chancellor for Academic Affairs.
KPTM reported on events and performances scheduled for the grand opening of the Gene Leahy Mall, including UNO Theater's production of Fame The Musical featuring the Summer Musical Theatre Academy students.
The Norfolk Daily News published a list of area students who were named to UNO's dean's and chancellor's lists for the Spring 2022 semester.
General Aviation News reports that the International Aircraft Dealers Association (IADA) has opened up for applications for its business aviation scholarships. It mentions that the $1k-$5k scholarships apply to a short list of participating schools including UNO.
The Columbus Telegram reports that UNO alumna Brooke Hughes was honored as the Nebraska State Athletic Trainers' Association (NSATA) Athletic Trainer of the Year.
The Palm Beach Post (Palm Beach, FL) reports that the Loggerhead Marinelife Center in Juno Beach has named UNO alumnus Andy Dehart as its new CEO.
From the Lincoln Journal Star: The Kiwanis Club of Lincoln-Capital City and the Capital City Kiwanis Club Foundation awarded their 2022 scholarships to six deserving students, including Brianna Wemhoff who plans to attend UNO to study physical therapy next fall.
OurSportsCentral reports that former UNO hockey defenseman Ryan Jones signed an AHL contract with the Syracuse Crunch.
Contact Us
If you have a story idea, news tip, or other question, please email the UNO News team at unonews@unomaha.edu.