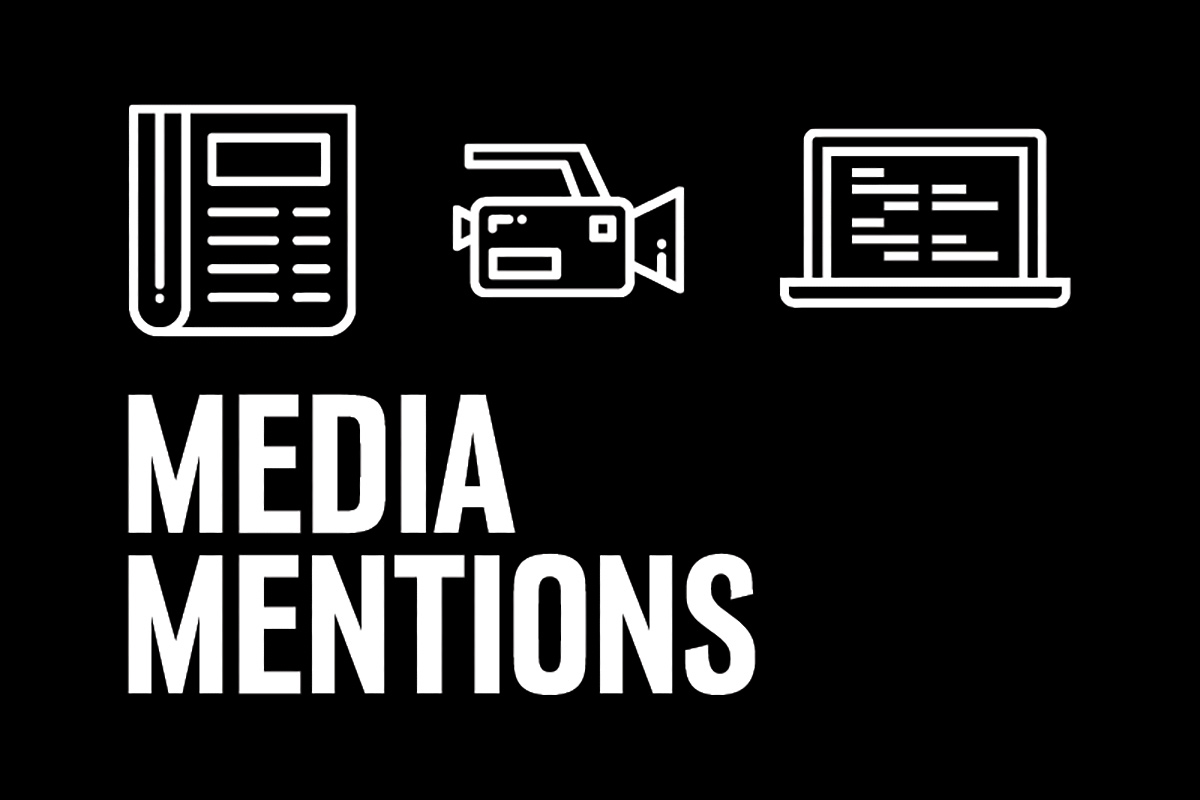 Mavericks are making headlines. Each weekday, University Communications will update this page with the latest batch of UNO media mentions.
Friday, May 29
The Omaha World-Herald published an article on UNO Athletic Director Trev Alberts taking a cautious approach to returning athletes to their normal schedules. Alberts says he will rely on information provided by the governor's office and health authorities to set safety guidelines for athletes. 
---
The Scottsbluff Star-Herald included a statistic from The Center for Public Affairs Research at UNO that says over a 10-year period each person counted in the census brings in about $20,000 in funding for the state. Also, 2.5 persons missed equates to a $50,000 lost over the same period of time. 
---
Whitney Gent, an assistant professor of rhetoric and civic engagement at UNO, argues that Nebraska should not resume evictions next week in an op-ed published to the Omaha World-Herald.
---
According to MENAFN, metal band Megadeth is coming to UNO's Baxter Arena in Omaha, NE on November 2, 2020. The concert tickets for the 2020 tour dates have gone on sale at a discounted price.
---
According to Antelope County News, Lauren Sheridan-Simonsen and David Chochon have been selected to participate in Leadership Nebraska Class XIII. Chochon attended UNO with a football scholarship and named Player of the Year, he also was a member of the Dean's List. 
Thursday, May 28
KETV interviewed Micheala Lucas, the associate director of the NASA Nebraska Space Grant at UNO, in a story on the excitement surrounding the NASA/Space-X rocket launch happening this week (weather permitting). The story talks about how educators use resources thanks to the NASA Nebraska Space grant. Lucas said that every state has a space grant program as a way to "make sure there's a face of NASA in every state."
---
A DS News article included a quote from Samantha Montano, a professor of emergency management at UNO, which was originally featured in a Scientific American article. Montano said other disasters will happen, and COVID just complicates everything. 
---
The Alliance Times-Herald published an article on the study of missing Native American women and children in Nebraska that was conducted by the Nebraska State Patrol, the Nebraska Commission on Indian Affairs, the UNO School of Criminology and Criminal Justice, and Legal Aid of Nebraska. 
---
The Columbus Telegram promoted an upcoming NET Nebraska special program on how COVID-19 has been impacting the mental health of young adults. Nancy Kelley, PhD, from UNO's Grace Abbott School of Social Work will be among the participants in a panel discussion for the program.
---
According to the Scottsbluff Star Herald, Class of 2020: Moving Forward, a NET documentary that reflects on the rapid changes of the school year will air on May 28, 2020, at 8 CST. The documentary will feature Nancy Kelley, a professor at the Grace Abbot School of Social Work at UNO, and multiple student submissions. 
---
The Free Press-Courier featured multiple 2020 Cowanesque Valley High School Graduates compiled into an article. Ashley Willow plans to attend the University of Nebraska at Omaha to study pre-medicine.
---
According to the Omaha World-Herald, UNO hockey announced team awards on Wednesday, May 27. Dean Stewart, senior captain of UNO hockey, took home three different awards, the most prominent being MVP. 
Wednesday, May 27
The Atlantic interviewed Samantha Montano, assistant professor of emergency management and disaster science at UNO, about how emergency managers should communicate revised hurricane plans to an overwhelmed and scared public.  Montano, an emergency management professor at UNO, was interviewed by The American Prospect about FEMA's role in the coronavirus pandemic. 
---
KMTV interviewed Lisa Sample, Ph.D., professor of Criminology and Criminal Justice, on how the sex offender registry is used in connection with a recent homicide case where a man on the registry was killed, allegedly by a neighbor.
---
The Washington County Pilot-Tribune & Enterprise reported on results from the Business Response Survey developed by the state, the Nebraska Chamber of Commerce, UNO, and several other entities. The results may reflect the rise in Washington County's increase in unemployment. 
---
WOWT interviewed Pamela Duncan, Sign Language Interpreter & UNO alumna, about her journey to become a sign language interpreter and how it all started at home for her. 
Tuesday, May 26
The New York Times daily briefing includes an interview with Samantha Montano, PhD, assistant professor of disaster science and emergency management at UNO, who said that disaster relief efforts might suffer from a small supply of volunteers due to the pandemic. 
---
KMTV interviewed Phani Tej Adidam, Ph.D., Chair & Professor of Marketing of Entrepreneurship, on how movie theaters are adapting to challenges presented by COVID-19 and what it means for business.
---
KFOR and the North Platte Post reported on a study of missing persons among the Native American communities in Nebraska completed in collaboration between UNO's School of Criminology and Criminal Justice at UNO, the Nebraska State Patrol, and the Nebraska Commission on Indian Affairs.
---
The Lincoln Journal Star published an article listing the best quotes on the coronavirus and the events that have transpired as a result. "Something very special is happening. Our businesses are doing all they can to keep the economy of Nebraska going," said Catherine Lang, director of the Nebraska Business Development Center at UNO. 
---
Richard Fellman, a former state senator and retired UNO political science professor, wrote an op-ed for the Omaha World-Herald about our history and strengths and how we can move on after this pandemic. 
---
KNEB reported on the NU system announcing reduced online tuition rates for in-state students. The article links UNO, UNL, and UNK for campus-specific information on this decision.
---
The Daily Record reposted an article from the Omaha World-Herald about how the pandemic may impact the number of international students coming to area universities. There are also quotes from Lina Stover, undergraduate admissions director at UNO, who said many things are out of their control.
---
According to The Academic Minute, Janyl Jumadinova, Ph.D., a UNO alumna, has directed a project to develop an automated underwater robotic sensor system that can test the quality of water and compile data.
---
The Omaha World-Herald published an article that recapped the life of Omaha Westside wrestling coach Lou Miloni. Miloni was a four-year starter for football at Omaha University, now UNO, and was inducted into the UNO wrestling and athletics halls of fame.
---
The Lincoln Journal Star reported that 16 of this year's Class Acts graduates in Lincoln plan to attend UNO. Among those, Reece Fuchs, Annie Nguyen, Hailey Condreay, Elizabeth Eltze, Renae J. Busenitz, and Regan Delp are all future Mavericks.
---
The Grand Island Independent published its Youth Notes, a segment that celebrates shines a light on the plans of high school graduates in Grand Island. Calli Carlson is going to be a member of the College of Business Administration Scholars Academy (CBA) at UNO.
---
The Fremont Tribune published an article on a fire that broke out at John C. Fremont Apartments. UNO graduate Brandon Osness was one of the inhabitants of the apartment and he praised a woman who helped evacuate people.
---
According to the Republican Pawnee, Kaitlyn Frey, who plans to attend UNO, has been awarded the Regents and Walter Scott Jr. Scholarships. 
---
According to the Omaha World-Herald, Rachel Weber, a Lincoln East Graduate, is transferring to UNO after playing two seasons of softball at Missouri State. 
---
The Philly Sports Network published a "where are they now" article for 2012 Flyers hockey fans. One of the featured players, Anthony Stolarz, played for UNO for 8 games before moving on to play 20 games with the OHL's London Knights before making the jump to professional hockey. 
Contact Us
If you have a story idea, news tip, or other question, please email the UNO News team at unonews@unomaha.edu.