Happy Birthday, Mavericks!
On Oct. 8, 1908, the Maverick story began with the founding of Omaha University. Now, 112 years later, the University of Nebraska at Omaha celebrates more than a century of being a leading metropolitan university.
It was a brisk October day more than a century ago when a group of influential Omahans put pen to paper and drew up Articles of Incorporation for the creation of a non-sectarian university that would be open and available to all who were willing to put the time and effort into pursuing a college education.
Those same values are held today as UNO promises access to exceptional opportunities, resources, and educational accomplishment, especially for those who are first generation, from underrepresented communities, or have been told that higher education is not right for them.
Each year, on Oct. 8, we celebrate UNO's history as we prepare to continue serving students for decades and centuries to come. 
A Place to Call Home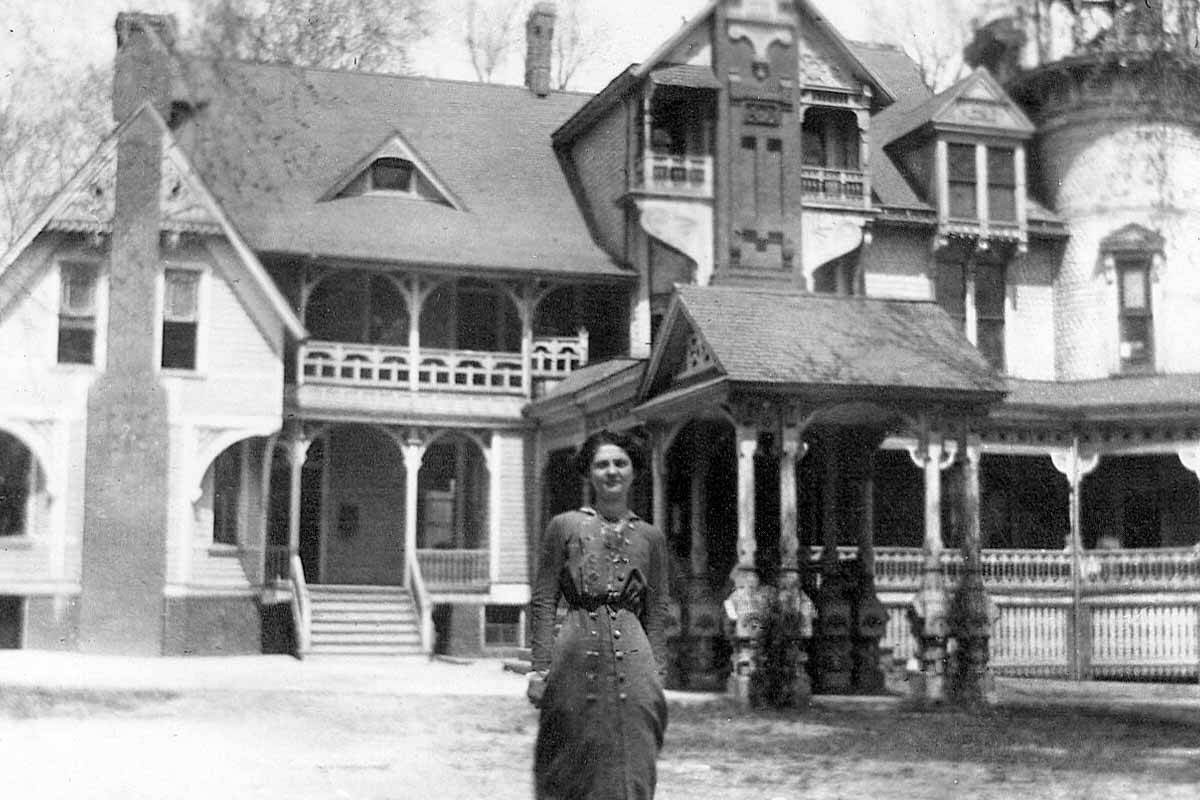 On September 14, 1909, 26 students (19 of them graduates from Omaha High School) gathered for their first day of classes, held in Redick Hall.

Prior to its use as a building for educational purposes, Redick Hall was an unnamed mansion. Its purchase was made possible by Omaha attorney Oak C. Redick.

According to Criss Library: "Redick, a member of the board of trustees offered his 10-acre homestead mansion at 24th and Pratt Streets on flexible terms. Remodeling the grand mansion involved turning bedrooms into classrooms, laboratories, a chapel, and space for students and faculty to eat and socialize. The kitchen housed physics, the garage chemistry. The completion of Joslyn Hall in 1916 relegated the mansion obsolete. It was dismantled and shipped 222 miles to Currie, Minnesota, and recycled as a dance pavilion and cafe on Lake Shetek."


Founding Father
Any new university needs not just students, but a leader to guide the mission of the campus. In 1908, that leader was Daniel Jenkins.
Jenkins would serve 18 years as president, sometimes at no pay as the university struggled to find its financial footing. In 1926 he began to experience mental exhaustion and took a leave of absence from his post. He spent time at Johns Hopkins Hospital then in a private New Jersey sanitarium, where he died from dysentery. He was 61.

More than 700 people, many of them Omaha's most prominent figures, attended his memorial service. They remembered him with glowing praise.

"He will be remembered as long as the university stands," noted his obituary in the Omaha Bee-News, "and it is destined to endure for ages, just because it is well founded. By his act he devoted himself to a work that sapped his vitality, expended his energy, and yet he gave it all because he believed in his work."
Today, UNO's founding father now stands tall on campus, watching over his ever-growing university and family of Mavericks in the form of a statue, which was installed on campus on Oct. 1, 2020, just outside of the Milo Bail Student Center.
The statue is the result of the initiation and generosity of graduates Al and Beverly Thomsen, longtime supporters of UNO.
Learn more about Jenkins on the UNO Alumni Association's website.



Central to Our City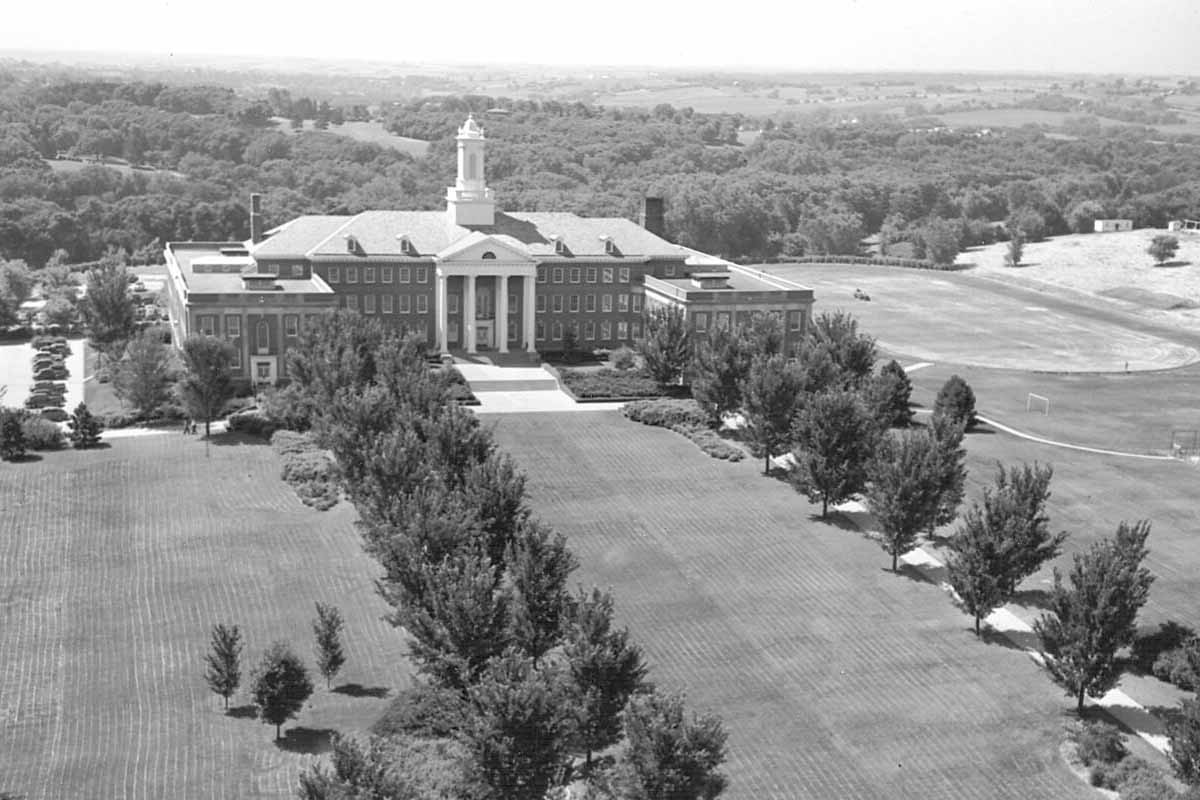 Anyone who is familiar with UNO knows that it is central to the city of Omaha, both figuratively and literally.
Located at 60th and Dodge Streets, the Dodge Campus, as we know it today, got its start with the construction of what most people know as Arts and Sciences Hall. Looking to expand beyond the space provided at 24th and Pratt Streets, the Nebraska Public Works Authority took a proposal to Washington, D.C. in order to help establish funding for the $800,000 project, which works out to be around $13.5 million by today's standards.

Funding was officially approved on October 29, 1936 and construction officially began in May of 1937 much to the consternation of several of the wealthier neighborhoods and many homeowners in the area, although some of that sentiment quickly faded once the building began to take shape.
In fact, it was almost 30 years to the day of the university's founding in 1908 that the new home for Omaha University was completed and ready to welcome a new generation of students.
Learn more about how UNO's Dodge Campus location came to be.
OU Becomes UNO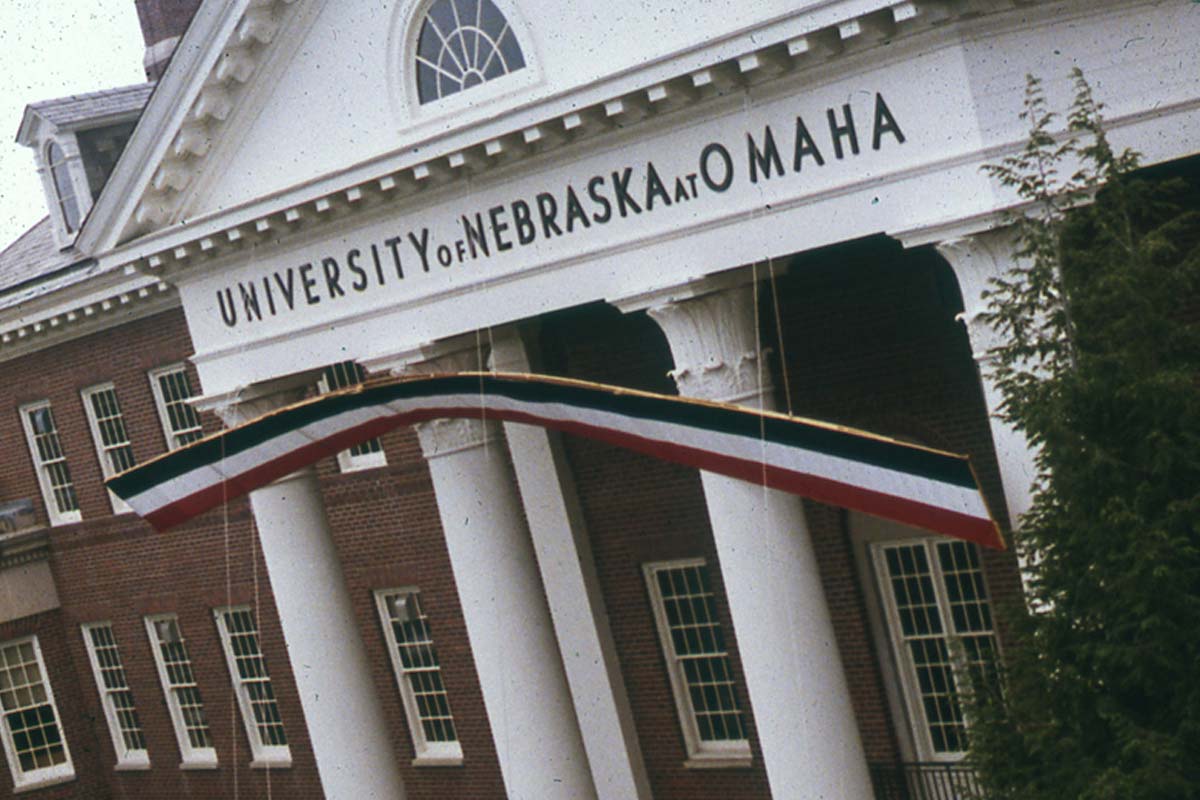 In the 1960s, Omaha University faced a significant budgetary concerns and looked to the University of Nebraska, which at that time included only the Lincoln campus, to help garner statewide tax support to keep the university alive. 
On January 30, 1967, a bill was introduced to the Nebraska Legislature for the merger. Nearly 11 months later, in December 1967, Omahans voted 4-1 to merge the universities.

On July 1, 1968, the Municipal University of Omaha became the University of Nebraska at Omaha (UNO) and officially joined the University of Nebraska (NU) system.
The resultant merger in 1968 profoundly changed higher education in Nebraska. 

One result of the OU merger with NU was a sizeable increase in enrollment at UNO--it increased more than 23 percent from the fall of 1967 to the fall of 1968 with a total of 11,000 students. UNO also gained access to state funding. Now, 52 years later, UNO's enrollment has grown to nearly than 16,000 students, become classified as a Carnegie Doctoral/Research university, and moved to Division I athletics.
Learn more about the OU-NU merger.
Maverick Spirit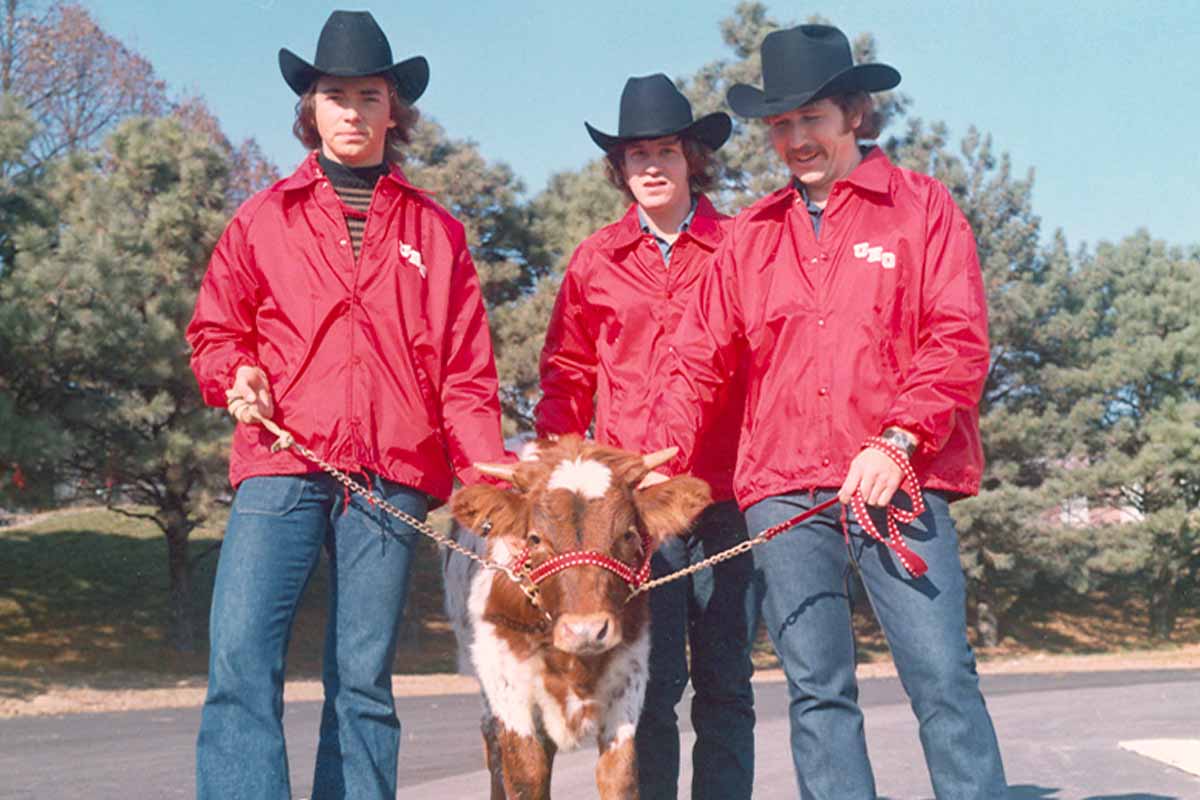 Mavs? Unicorns? Roadrunners?

Fifty-one votes.

That's all it took for the Indians to become the Mavericks — and to avoid becoming the Unicorns.

What's this, you ask?

In the fall of 1971, the University of Nebraska at Omaha decided to ditch its Indians moniker and try on a new mascot. In conjunction with homecoming festivities that year, a student election was held to determine the new nickname.

The final tally:

Mavericks 566
Unicorns 515
Roadrunners 397
Demons 346
Indians 0
The change was announced prior to the newly named Mavs' game against Northern Colorado.

UNO had been known as the Indians from 1939 to 1971, but now claims the Mavericks as the university's longest-reigning mascot, encapsulated by the Maverick Monument, located on the center of Dodge Campus.
Learn more about the history of how UNO became the home of the Mavericks.


A Growing Campus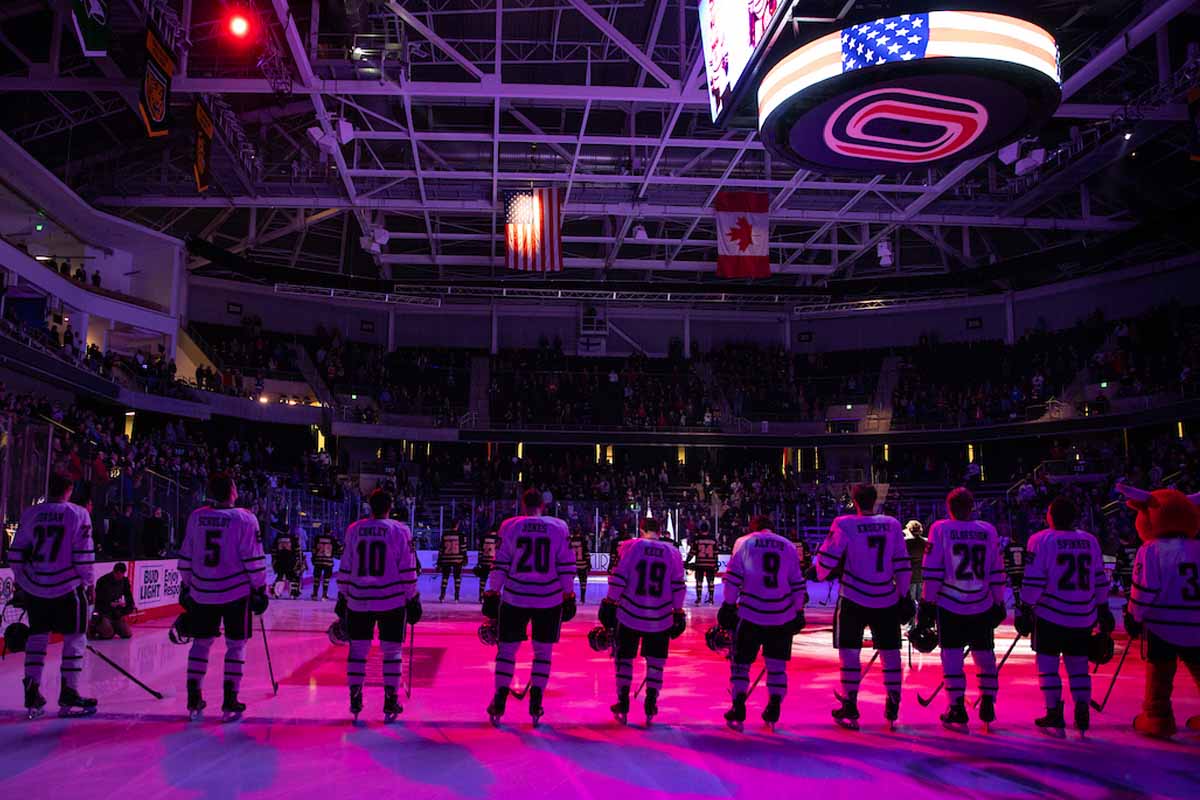 The 1970s and 1980s marked a significant expansion for the UNO campus, obtaining property as far west as it could, which resulted in the creation of current landmarks like the Weber Fine Arts Building, Durham Science Center, University Village, Maverick Village, and the Thompson Alumni Center.
However, it was the late 1990s that truly allowed UNO to flourish, thanks to the availability of the recently shuttered Ak-Sar-Ben race track and coliseum. It was this new opportunity that allowed UNO, with help from the Scott Foundation, to create the Peter Kiewit Institute and, in the following years, a host of on-campus housing opportunities for students, as well as the creation of Mammel Hall to house the growing College of Business Administration.
It was only fitting, then, that in 2016, UNO renamed what was formerly the Pacific Campus into Scott Campus.
Not only was UNO able to expand in its academic buildings and housing, but also in its athletics as well. In 2015, UNO officially opened Baxter Area - the first on-campus arena dedicated to UNO athletics, as well as a new entertainment venue for the city, which has gone on to host concerts from chart-topping musicians, the 2018 U.S. Olympic Curling trials, and even a special visit from then-president Barack Obama.
Baxter Arena has also paved the way for future growth for athletics with a new baseball and softball complex set to open in early 2021. 
Celebrating a Century
In 2008, UNO reached an epic milestone as it celebrated its centennial. 
Over the course of a week, students, faculty, staff, alumni, and community members came together to relive the amazing progress the university had made in that time - and what was on the horizon.
Whether it was a reunion of alumni who benefited from the post-WWII Bootstrappers program, a UNO student art exhibition, the dedication of the newly renovated Health, Physical Education, and Recreation (now Health and Kinesiology) Building, or numerous college open houses, the campus put its best foot forward heading into its second century.
Read more about the celebration and other key UNO milestones in the special Centennial edition of the UNO Magazine. 
Also, check out the UNO Magazine's recent 110-year retrospective.
About the University of Nebraska at Omaha
Located in one of America's best cities to live, work and learn, the University of Nebraska at Omaha (UNO) is Nebraska's premier metropolitan university. With more than 15,000 students enrolled in 200-plus programs of study, UNO is recognized nationally for its online education, graduate education, military friendliness and community engagement efforts. Founded in 1908, UNO has served learners of all backgrounds for more than 100 years and is dedicated to another century of excellence both in the classroom and in the community.
Become a fan of UNO on Facebook and follow UNO's Twitter updates. 
Contact Us
If you have a story idea, news tip, or other question, please email the UNO News team at unonews@unomaha.edu.