Chancellor's March Forum Recap
Chancellor Jeffrey P. Gold, M.D., joined guest Jane Meza, Ph.D., interim executive director of the Office of Health Security, to discuss a wide range of topics at the most recent monthly forum.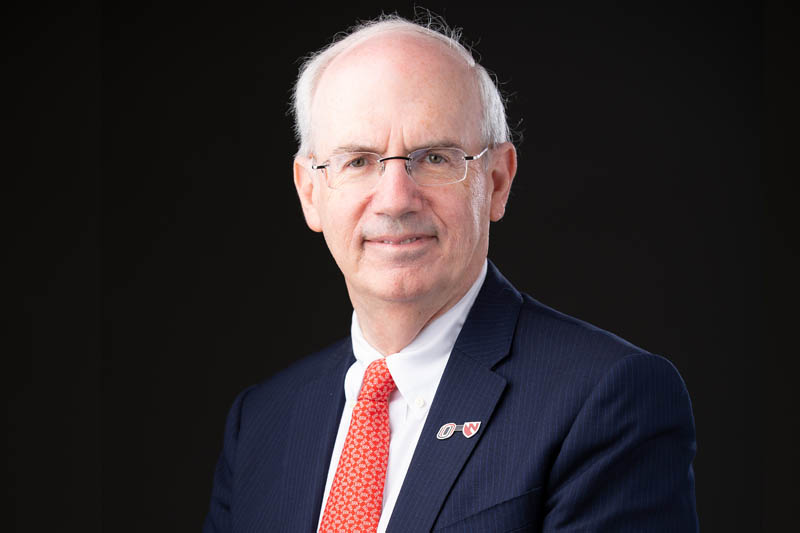 At his monthly Chancellor's Forum, University of Nebraska at Omaha (UNO) Chancellor Jeffrey P. Gold, M.D. addressed a number of important topics, answered pressing questions, and reminded the UNO campus community about the importance of caring oneself and for others.
To begin March's Forum, Chancellor Gold held a moment of silence for the victims of two recent mass shooting incidents in Atlanta, Georgia, and Boulder, Colorado. 
"This senseless loss of life, and all of the implications associated with it is nothing short of tragic and underscores the significance of the tensions that we face across our nation and indeed, even in our own communities," he said.
Chancellor Gold also took time near the end of the forum to call attention to the silent burden that many staff, faculty, and students have been facing as we have crossed the one-year mark since the pandemic started in terms of stress, burnout, and other mental health issues.
"I just want to make sure that all of our students, faculty and staff and the community that we serve know that we have extensive  resources and this area, and we really, really want to be sure that people use those resources to help themselves and others."
If you are in need of mental health resources, please be sure to review this resource list.
In addition to those topics, Chancellor Gold was able to address a variety of other issues with Associate Vice Chancellor Jane Meza, interim executive director of UNO's Office of Health Security. 
Among the topics Chancellor Gold and Associate Vice Chancellor Meza covered included:
Chancellor Gold and Associate Vice Chancellor Meza also addressed a number of questions submitted by the campus community:
---
COVID-19 and Vaccine Updates
In a discussion of COVID-19 transmission rates, Chancellor Gold reported that, globally, there is a spike in COVID-19 cases due to the rise of new variants of the virus. Comparatively, the United States and Nebraska have been relatively flat when it comes to new cases. Hospitalizations have also fallen dramatically in Nebraska, which is a good trend. 
However, due to the rise in variant cases globally as well as the large gap that still needs to be made up to achieve herd immunity in Omaha, in the state, and in the country, there is still a long way to go.
Associate Vice Chancellor Meza indicated that vaccination appointments for UNO employees, which became available at the beginning of March, have been incredibly successful with thousands of employees responding to the call for sign-up information.
"I really want to thank our community, our faculty, our staff, our student workers for really responding and filling up those appointments," she said.
Associate Vice Chancellor Meza also indicated that the UNO Office of Health Security is in close contact with the Douglas County Health Department and that when vaccines become available for the 16-to-49 age range information on how to sign up for a vaccine appointment will be shared with campus.
Information on May Commencement
Chancellor Gold updated campus that, following feedback from UNO students and consultations with a number of university constituencies and the Douglas County Health Department that May Commencement ceremonies will be held safely in person through seven separate ceremonies across two days.
"The message was crystal clear [from students]: We want a safe graduation process and ceremonies, but we'd like to have them in person if we can possibly do it."
Associate Vice Chancellor Meza provided an example of some of the precautions that would be in place for commencement, including social distancing, mask wearing, dedicated pods for guests, closely monitored foot traffic, and more.
Summer and Fall Enrollment
Chancellor Gold provided an update that as of the end of March, the projected summer enrollment numbers had moved into positive territory with a 2.1 percent projected increase in total credit hours compared to last year.
Fall enrollment numbers were still forthcoming with enrollment opening up for current students on Monday, March 29; however, the Chancellor did indicate that application acceptance numbers were trending positively and also favorable to last Fall. 
Budget Updates
Chancellor Gold reported that the projected budget for the final months of the 2020-2021 fiscal year is on balance, which he says is a true accomplishment given the volatility caused by the COVID-19 pandemic.
He also indicated that future funding to support certain areas, in particular students in need, would be coming thanks to the recently passed American Recovery Act; however the exact amount UNO would receive and the guidance for distribution has not been determined yet. 
Nebraska Legislative Updates
Chancellor Gold also provided a positive outlook for current legislative priorities that are before the unicameral during the current legislative session.
The overall University of Nebraska budget appears to be moving forward thanks to a system-wide effort and remarks made before the legislature by NU President Ted Carter and UNO Student Regent, Jabin Moore.
Another bill that is moving forward is LB588, which would provide critically important deferred maintenance dollars that would go to ensuring campus buildings are able to be maintained and upgraded for future use. 
Construction Update
The Durham Science Center renovation project crossed the $20 million mark in terms of private donor commitment and with additional funding from an approved LB588, a proposal for construction should be able to be brought to the University of Nebraska Board of Regents by the end of the semester.
"Kudos to our foundation colleagues; kudos and much gratitude to the private philanthropic sector for getting us to this point it's a, it's been a incredible amount of work to do so," Chancellor Gold stated.
Other updates included that the Strauss Performing Arts Center addition has been delayed by several weeks but will still be on track to finish construction by the end of the semester; the Rod Rhoden addition to Mammel Hall is nearing completion and will have a formal ribbon cutting ceremony in the fall; and the baseball and softball stadiums west of Baxter Arena successfully opened earlier this month, now hosting UNO home games. 
---

Questions
What does vaccine efficacy mean?
Gold: You've probably read in the media. Originally, [Astra Zeneca] said 79% now they're saying 74 percent; that's the COVID-19 infection prevention rate. That's based upon testing symptomatic and asymptomatic individuals and that's the overall infection prevention rate. Now compare that to the 94 and 95% that we saw with the Moderna and Pfizer product back in December. But again, different time different population, different cohort of studies sites in this vaccine. At the end of the day what all vaccines are trying to do is demonstrate that herd im munity can be obtained, hospitalizations are markedly reduced or eliminated, andnd that COVID-related death is markedly reduced or eliminated. 
"So you know if you do the back of the envelope math, would want to roll the dice on getting vaccinated in any age group? Without a doubt."
When do we think we can safely lift mask and social distancing requirements?
Gold: Until we get to herd immunity we really need to wear our masks and Nebraska is not even close. Seroprevalence rates are reported anywhere between 30 and 40 percent … that is nowhere near herd immunity. Herd immunity is estimated right now, at about 83% to 85% of the population needs to be immune.
What will our on-campus capacity be this fall?
Meza: We have talked a lot about it and trying to kind of think about where, where we'll be as a community at that time. The CDC came out with a document a few weeks ago that said, we could safely look at three-foot distance in the classrooms, but using six foot distance for all other common spaces and that is assuming you know mask wearing and all other non-pharmaceutical interventions are still in place. So we're looking at that as a model.
Can COVID-funded administrative leave be used for mental health needs?
The answer is we would have to individualize that depending upon the role the individual plays on campus and the duration of the leave.. but philosophically, the answer needs to be absolutely.
Will staff continue to be able to work remotely?
Gold: It's going to depend on what their role is what their supervisor believes is necessary. And, and their on campus needs. We're going to try to bring as many people back to campus as possible. However, if there are individual reasons that somebody that doesn't can't work from campus we're going to try hard to find ways to work with them.
What is the latest on the Chancellor search?
Gold:  President Carter and I spoke earlier today. He asked me to share that there's likely going to be an announcement of the priority candidate next week if not in the following week, The candidate will then go through a Board of Regents determined process of vetting as we did with president Carter in the Fall of 2019.
What changes will there be with student fees once things return to normal?
We look at fees from a policy perspective, which is governed by the Board of Regents, of course. But we also look at fees from Individual students needs and their concerns, and we try and work very hard to be receptive to student concerns, particularly the stress caused by the pandemic.  I'm very grateful for student government who brought several pandemic related concerns forward about the fees in the fall, and we made some very major changes. We will continue to do so if there's need.
Are there raises planned for faculty and staff?
Gold: The faculty compensation is driven by the AAUP collective bargaining agreement, which has been recently renewed. Staff salary changes will be determined by the board of Regents 2022 and 2023 budget. We don't know definitively what that will be until late Spring, but it was projected to be approximately four and a half percent increase over the next biennium.
If I don't want to get a vaccine is that OK with UNO?
Gold: Sure it's OK., We strongly recommend the vaccines, and from both a safety and efficacy point of view, but these are recommendations. These are not mandates.
About the University of Nebraska at Omaha
Located in one of America's best cities to live, work and learn, the University of Nebraska at Omaha (UNO) is Nebraska's premier metropolitan university. With more than 15,000 students enrolled in 200-plus programs of study, UNO is recognized nationally for its online education, graduate education, military friendliness and community engagement efforts. Founded in 1908, UNO has served learners of all backgrounds for more than 100 years and is dedicated to another century of excellence both in the classroom and in the community.
Follow UNO on Facebook, Twitter, Instagram, LinkedIn, and YouTube. 
Contact Us
If you have a story idea, news tip, or other question, please email the UNO News team at unonews@unomaha.edu.