Chancellor's July Forum Recap
Chancellor Jeffrey P. Gold, M.D., and special guest Doug Ewald, M.B.A., UNO's Vice Chancellor for Business, Finance, and Business Development, provided budget process updates and answered questions from the campus community.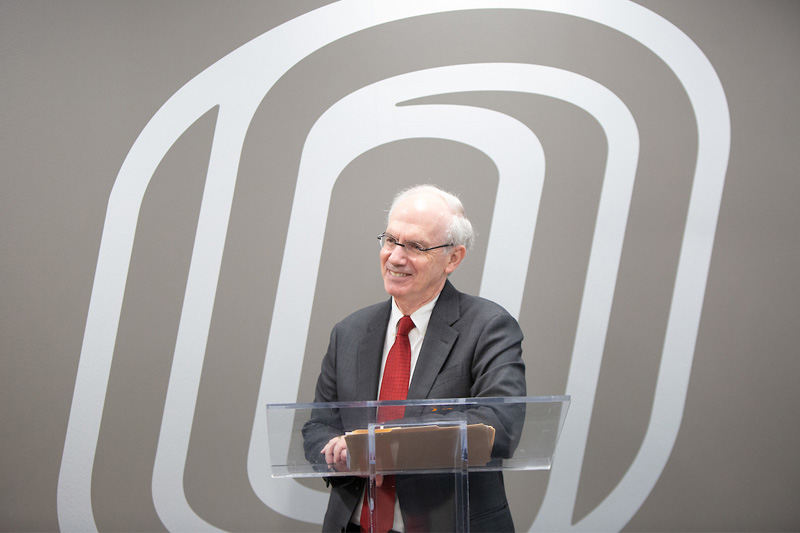 Following a month of significant campus-wide discussion and input on the university's budget, UNO Chancellor Jeffrey P. Gold, M.D., hosted a virtual campus forum on Wednesday, July 22, with special guest Doug Ewald, UNO's Vice Chancellor for Business, Finance, and Business Development.
Topics covered at the July Chancellor's Forum included:


An Update on COVID-19 in Nebraska
The next UNO Chancellor's Forum will be taking place after the start of the Fall 2020 semester on Monday, Aug. 31.
Anyone with questions ahead of the August Chancellors Forum should email them to contact@unomaha.edu.
---

Chancellor Gold and Vice Chancellor Ewald opened the forum wearing UNO-branded face masks and sitting together, more than six feet apart.
Faculty and staff at UNO were notified earlier in the month on how to access their official UNO face masks through their offices. Information on how students will be able to pick up their complementary face masks will be coming soon.
"If there is one thing I want you to remember from our time together today, is when you are with others to wear a mask. Wear a mask. Wear a mask," Chancellor Gold said.
Chancellor Gold also thanked everyone for all their work and commitment to the UNO mission.
"A day doesn't go by that I am not incredibly proud to play a small role and to be part of the great UNO family."

An Update on COVID-19 in Nebraska
Chancellor Gold provided an update on the current trends of COVID-19 both in Nebraska and around the country.
Within Nebraska, there have been a little over 23,000 cases in total with 313 deaths. The current rate of new reported cases has also stayed consistent recently within Nebraska.
"We've certainly not seen the virus go away. We're certainly starting to see a small increase in hospitalization after that has fallen for weeks and weeks on end, day after day. We are certainly not in the ninth inning of this here in The US and I can't even tell you for sure that we're in the fifth inning or the seventh inning of this struggle with the COVID-19 pandemic."
Chancellor Gold also shared that UNO has a robust plan in place if members of the campus community are infected with COVID-19, including following all Douglas County Health Department protocols of testing, contact tracing, and notification of exposed individuals.
However, the best thing for individuals to do to stay protected, and protect others, is wear a mask or other approved face covering when in public settings.
"We all have an ethical, moral responsibility to protect ourselves and our loved ones but also others in our community," Chancellor Gold said. "If we want to get our economy back in shape, if we want to get our kids back in school this fall, wear a mask, wear a mask, wear a mask."

Budget Updates
Both Chancellor Gold and Vice Chancellor Ewald addressed the ongoing budget process that began in March. Following approval by the University of Nebraska Board of Regents on June 26, the NU system has identified the need to cut $43 million over the next three years.
UNO's portion of the budget reductions remains at a little over $6.2 million, or about 3.9 percent of the total budget, which is less than even the most positive initial projections, which ranged from a 5 percent to 10 percent cut.
Chancellor Gold said that this estimate is based on several newly initiated programs and trends that will need to come to fruition including new and existing program growth; positive enrollment numbers and continued funding agreements from private and government sources.
While final enrollment numbers won't be known until September, Chancellor Gold said that current figures place UNO up by more than 1 percent in total head count, which includes a record number of transfer students, an increase in graduate student enrollment, and a strong rate of course completions by students this past spring.
"All of these enrollment numbers are reflective of the fact that every member of our faculty and staff are enrollment officers," Chancellor Gold said. "Where we can be most effective is actually on our re-enrollment number ... students we know, who have been our students before, who we are trying to get back."
Taking these trends into consideration, Chancellor Gold and Vice Chancellor Ewald explained that approximately 63 positions would be impacted with a majority of those being reassignment of funding sources and other positions that will remain unfilled. Only 12 percent, or roughly seven individuals in campus support roles would have their positions eliminated, one of which was reassigned to a new role. All those impacted by these changes have been notified.
Chancellor Gold said exact numbers and final position impacts would be finalized by the end of the month.
"As we move into August and plan for the fall semester, I want people to know that short of something really catastrophic happening, this is as sure as we can be for this year and as sure as we can be for the following biennium."

Diversity Efforts
Chancellor Gold called attention to the positive efforts the UNO community has undertaken in recent months following the death of George Floyd to address systematic racism and have continued discussions on the ways we can all recognize and combat bias and racism in our communities.
This includes the work being done by the newly-created Associate Vice Chancellor for Diversity, Equity, Access and Inclusion, filled by Cecil Hicks, as well as work being done through campus units like Multicultural Affairs, UNO learning communities, University Communications, and UNO Student Government. Chancellor Gold noted that this will be a high priority area for the university in the future.
"This is a time to energize our efforts and to really become focused," Chancellor Gold said.

Planning for Fall 2020
With Friday, July 24, marking one month away from the beginning of the Fall 2020 semester a number of important plans, procedures, and resources are being put in place to ensure students, faculty, staff, and guests can safely and responsibly utilize the UNO campus.
"I am incredibly proud of the work of our leadership who are working so hard to plan for the fall - we call it 'Fall Forward' and the planning is built around several key principals but the first and most important principle is safety. Every decision we are making is built around safety."
Chancellor Gold called attention to the work done by Jane Meza, Ph.D., who was named interim director of the new UNO Office of Health Security last month, and five working groups who have spent the last three months engaged in helping get campus ready for the return of in-person learning, teaching and working.
"The only thing I'm 100 percent on is that we can't predict the future," Chancellor Gold said. "I am confident that we have wonderful expertise and incredible partnerships among and in between our vice chancellors and our public health teams to stay focused on this north star of the health and wellness of the UNO community."

Other items covered during the forum included:
Outside research funding to UNO is up nearly double compared to the last fiscal year at $33.3 million.


An update on fall and winter sports with an announcement likely. coming soon about the postponement of Summit League fall sports until mid-to-late September.


Congratulations to the UNO Women's Basketball team, who were recently recognized by the NCAA for being in the top 10 percent of academic progress among all teams in their sport.


Confirmation on the baseball and softball stadium being on time and on budget for an April opening that would coincide with UNO hosting the Summit League Baseball Tournament and College World Series team practices next summer.


Construction nearing completion on the Biomechanics Research Building and Munroe-Meyer Institute near the Scott Campus, which should open up approximately 100 parking stalls for UNO use once completed.


Construction beginning on the privately-funded addition to the Strauss Performing Arts Center.


Continued philanthropic support on the Durham Science Center renovation project.


Planning in the works with the UNO Alumni Association to transfer ownership of the Thompson Alumni Center over to the university in the near future.


A planned update in early August for parking services to reflect the de-densified nature of campus this fall, including a reduction in parking permit rates.
About the University of Nebraska at Omaha
Located in one of America's best cities to live, work and learn, the University of Nebraska at Omaha (UNO) is Nebraska's premier metropolitan university. With more than 15,000 students enrolled in 200-plus programs of study, UNO is recognized nationally for its online education, graduate education, military friendliness and community engagement efforts. Founded in 1908, UNO has served learners of all backgrounds for more than 100 years and is dedicated to another century of excellence both in the classroom and in the community.
Become a fan of UNO on Facebook and follow UNO's Twitter updates. 
Contact Us
If you have a story idea, news tip, or other question, please email the UNO News team at unonews@unomaha.edu.