Chancellor's June Forum Recap
For his 50th and final Forum, Chancellor Gold was joined by Jane Meza, Ph.D., interim executive director of the UNO Office of Health Security, and Chris Kabourek, vice president for business and finance and CFO for the NU System, to discuss important campus updates.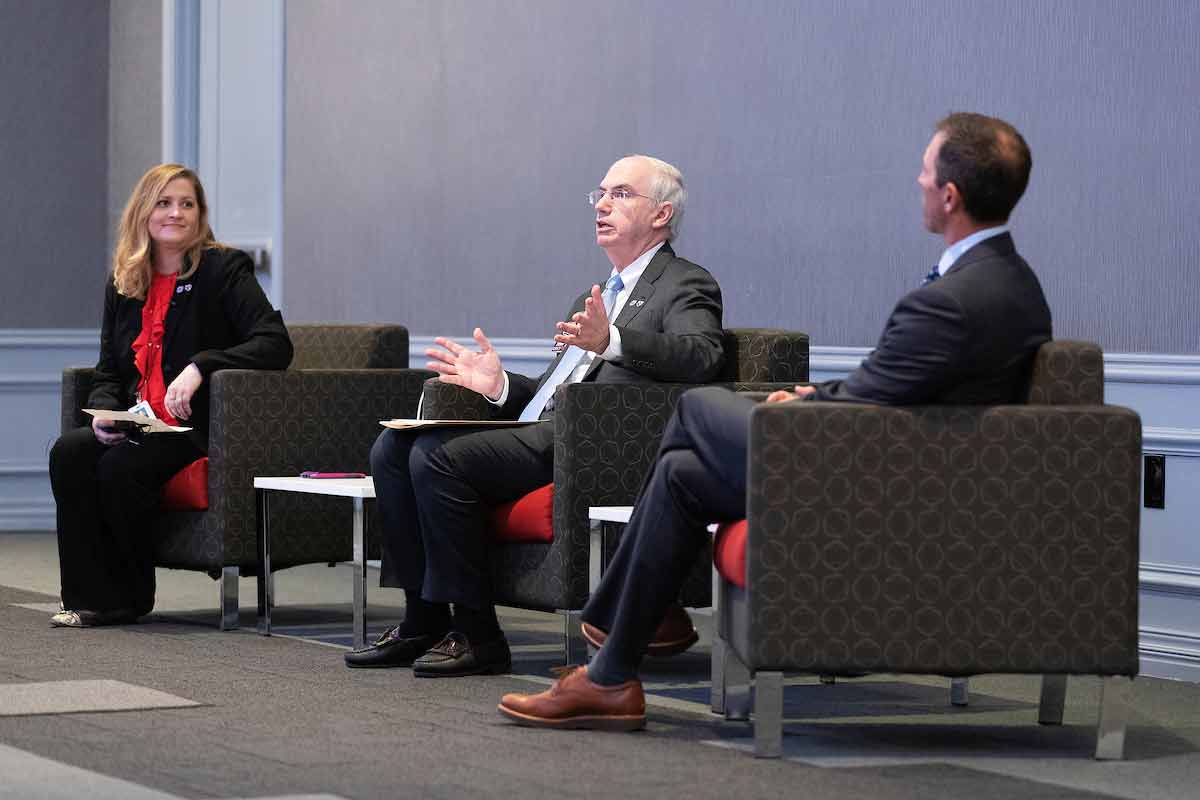 On Tuesday, June 22, UNO Chancellor Jeffrey P. Gold, M.D., provided his 50th and final Chancellor's Forum to provide updates to the campus community. The June Forum was also the first to be held in person, as well as virtually, since March 2020.
"It's so good to be at a town hall meeting where I'm not staring at a computer screen but staring at friends and family," Chancellor Gold stated. "In this case that is the Maverick family."
Joining Chancellor Gold for the Forum were Interim Director of Health Security Jane Meza, Ph.D., and Chris Kabourek, Vice President for Business and Finance and CFO for the NU System.
Interim Director Meza and Chancellor Gold provided high-level COVID-19 updates to open the forum, which included positive data that Nebraska infection rates are at roughly 1.5 cases per 100,000 individuals per day, which is 50 percent of the national average. Additionally, 45 percent of the state, aged 12 and above, are fully vaccinated and roughly 1.5 million vaccinations are being given each day nationally.
"These are all good signs and all moving in the right direction," Chancellor Gold said. "I sleep real well when it comes to the pandemic because I'm very comfortable and confident in our procedures and processes."
Interim Director Meza also provided a recap of recent updates to on-campus COVID-19 guidance including specific changes to masking for fully-vaccinated individuals; international and domestic travel; gatherings and events; the sunsetting of Wellness Welcome Stations and the Scott Conference Center testing location; and more access to UNO's Wellness Center. Details about these updates can be found on the Maverick COVID Response website.
"All of this is good news where we are slowly lessening some of our restrictions, always in a way that keeps our campus safe, and we're really thankful that we have a campus that has been very mindful of our COVID protocols," Interim Director Meza said.
Vice President Kabourek and Chancellor Gold also discussed important budget updates tied to the upcoming Board of Regents meeting happening on Friday and the recent state legislative approval and signing into law of LB588, which will help fund a 40-year deferred maintenance plan for university facilities.
Vice President Kabourek highlighted that the budget being considered Friday is the second year of a three-year budget designed at the start of the pandemic with three themes in mind: supporting students, including freezing tuition through 2021; attracting and retaining talented faculty and staff through merit-based raises of 1.5 percent in 2021 and 3 percent in 2022; and addressing maintenance of facilities.
"There are certainly buildings, probably on this campus, that need some investments and so this is something we've worked on a long time, probably the last year or two with the Chancellors, key members of the legislature, and the Governor on addressing not just a two-year plan but really a very long-term plan," Vice President Kabourek said.
Chancellor Gold also took the time to reflect on his UNO tenure, thanking the audience for their support, welcoming Chancellor-Elect Jo Li to campus, and indicating that he will continue to be an advocate for UNO in his role as Chancellor of UNMC and Executive Vice President and Provost for the NU system.
"I reflect very warmly on my 50 months here," Chancellor Gold said. "It's hard to believe how fast 50 months goes away. I remember when I actually made the first one of these dual logo (UNO/UNMC) pins…I wanted to do something to recognize the bond. And so I took a paperclip, I went to Home Depot and got Gorilla Glue, and I took the two little insignia, and I glued them on the paperclip and held them until the glue set … I actually wore that with great pride for the first year and so I don't see that bond evaporating."


Other updates and topics covered at the June Forum included:
There is continued concern about the spread of the Delta Variant strain of COVID-19, which has higher vaccination breakthrough rates compared to other variants, however the majority of current hospitalizations are those who are not vaccinated.


Clinical trials for vaccinations for 2-to-11 year-olds are in final stages and are likely to begin receiving emergency approval for use soon.


There are no plans for a vaccine mandate or vaccine registry on campus, but individuals are encouraged to get vaccinated if they are able to and haven't yet and may be asked to in order to complete certain internships or pracitums, including the Novavax option, a new, more conventional vaccine which should be going through the FDA approval process soon.


With new COVID-19 guidance, individuals should continue to encourage guests to follow campus policies and pre-screening through the Check COVID app.


Athletic events and attendance at athletic events will continue to follow CDC guidelines and work closely with the Douglas County Health Department on safety plans.


Those with questions about how to handle physical distancing in office spaces should work with the Office of Health Security to determine needs and best practices.


Guidance for classrooms in the Fall continues to be 3-foot physical distancing; however this guidance has not limited access to in-person course modalities for students. Guidance for Spring courses will depend on community trends and how things look in August.


The university is working on ways to identify and protect certain areas of big data as more industries and large institutions are becoming targets of cyberattacks.


UNO student athletes have been successful in competition and in the classroom this year, earning record-high GPAs for the previous semester and ranking among some of the highest in the NCAA.


The second phase of the Strauss Performing Arts Center renovations are now completed with a ribbon cutting happening soon; the Rod Rhoden expansion of Mammel Hall remains on time and on budget; a plan for Kayser Hall to serve has home for the Samuel Bak Academic Learning Center will be going to the Board of Regents for approval this Friday; and plans for renovations to the Durham Science Center are moving forward.
About the University of Nebraska at Omaha
Located in one of America's best cities to live, work and learn, the University of Nebraska at Omaha (UNO) is Nebraska's premier metropolitan university. With more than 15,000 students enrolled in 200-plus programs of study, UNO is recognized nationally for its online education, graduate education, military friendliness and community engagement efforts. Founded in 1908, UNO has served learners of all backgrounds for more than 100 years and is dedicated to another century of excellence both in the classroom and in the community.
Follow UNO on Facebook, Twitter, Instagram, LinkedIn, and YouTube. 
Contact Us
If you have a story idea, news tip, or other question, please email the UNO News team at unonews@unomaha.edu.