Chancellor's May Forum Recap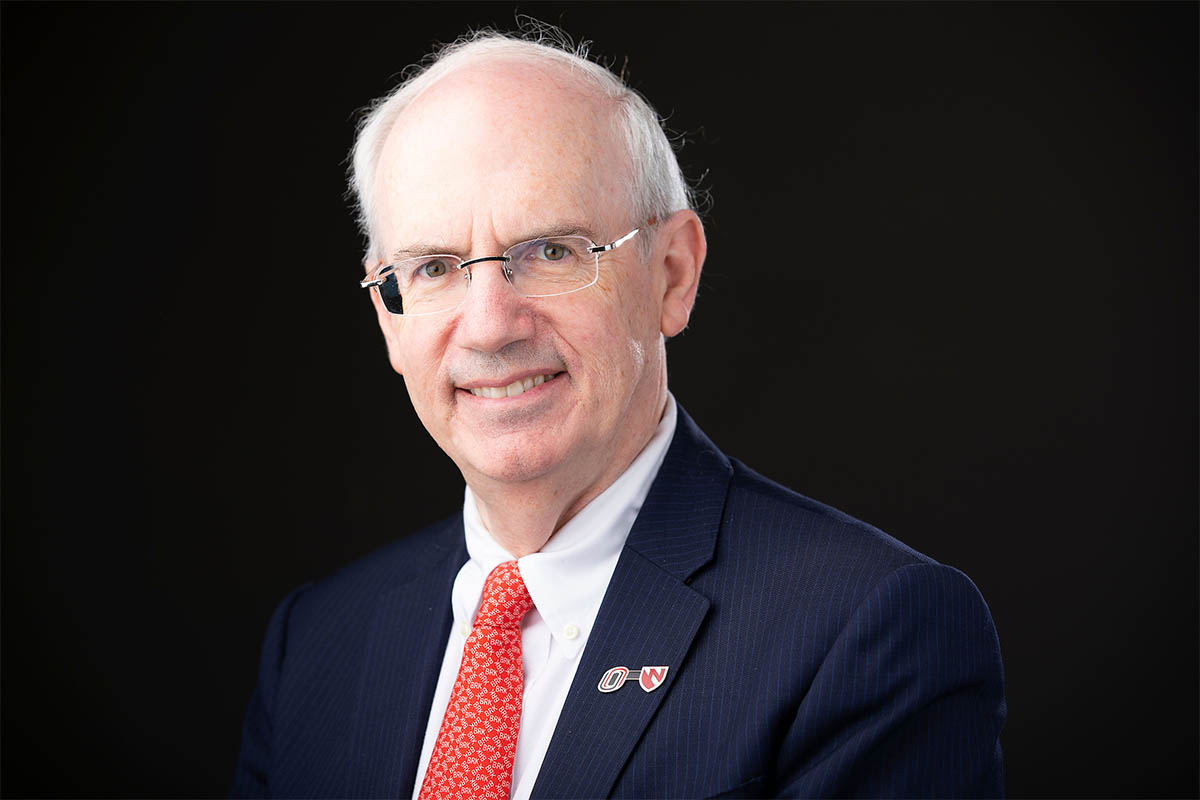 As the University of Nebraska at Omaha (UNO) transitions to summer sessions, with Fall 2020 on the horizon, Chancellor Jeffrey P. Gold, M.D., and special guest Doug Ewald, UNO's Vice Chancellor for Business, Finance and Business Development, spoke about recent campus updates and answered questions from the campus community during a remote all-campus forum on Tuesday, May 19.


The forum touched on the following:

The forum also included:
---

Chancellor Gold began the town hall meeting congratulating our new graduating students and thanking our faculty and staff. He also thanked our student, faculty, and staff leadership for the past year and welcomed the recently elected leaders of our student senate, faculty senate and staff advisory council.

UNO's Student Government, recently elected Senior Jabin Moore to the role of Student Body President/Student Regent; Faculty Senate, which will be led by C. Elliott Ostler from the College of Education; and Staff Advisory Council, which will be led by Vanessa Hatfield-Reeker from the College of Information Science & Technology.

Student Tuition and Scholarship Support
In recent weeks, both UNO and the University of Nebraska system have announced key initiatives designed to support undergraduate and graduate students, in particular those who are Nebraska residents, through tuition reductions and additional scholarship opportunities.
The two tuition-based programs, which support Nebraska residents and some western Iowa residents, include the Nebraska Promise program, which eliminates the tuition requirement for full-time students whose family incomes are less than $60,000, and reducing online tuition rates to allow more affordability and accessibility.
Dr. Gold also highlighted a recent announcement from University of Nebraska System President Ted Carter that Fall 2020 tuition rates will be frozen for the following two years, allowing many students to know exactly what their tuition responsibilities will be throughout their academic programs.
Also discussed was scholarship and grant funding that has been made available through five new UNO Incentives, announced earlier this month, as well as the CARES Act, a federally-funded relief program for students experiencing economic hardship due to COVID-19.
Through all these initiatives, programs, and support mechanisms, Gold said UNO will be positioned to serve as a flexible, affordable option for all students, which will ultimately benefit the entire Nebraska community.
"This is aimed at making the decision to pursue higher education, or completing degrees, more straightforward and build the Nebraska workforce of the future," Gold said. "The single highest likelihood of recruiting and retaining individuals to stay in our city and our state is to hire somebody who grew up in our state."


Planning for Summer and Fall Semesters
Since January, discussions and planning have been ongoing to provide guidance in response to the evolving nature of COVID-19. In the forum, Dr. Gold reiterated that the number one priority then, now, and into the future is the safety and wellbeing of the campus community.
"We are certainly not going to compromise the quality of our educational programs; our research and creative activities; and our community engagement - that is off the table," Gold said. "But we need to do it in a way that optimizes the safety for everybody involved."
Two of the tools that will help guide UNO policy going forward are the recently-announced Higher Education COVID-19 Pandemic Recovery Guide developed by UNMC and the 1-Check COVID app, which was developed by UNO students in partnership with UNMC researchers.
Currently, plans are being developed for a phased return to on-campus learning for Fall 2020, which will include a blend of in-person, remote and online delivery methods that can meet the need of all students, as well as faculty and staff, with more details being shared as they are available.
"The answer is flexibility," Gold said. "We are going to be very responsive and be sure that we are proactive in creating a safe environment for all individuals who want to be a part of our return to campus, but if they want to take more time, if they want to work remotely or study remotely, we are going to provide that opportunity for them to do that."


Budget Outlook for NU, UNO
Much like the nation at large, the state of Nebraska and the NU system are navigating the economic impact of COVID-19 in addition to the physical health impacts.
As a first step, Vice Chancellor Ewald says the university has been able to hold back 3% of its operating budget in order to improve cash-on-hand as the university enters a new fiscal year. Ewald indicated that the savings were accomplished through cost savings through unfilled positions and continued streamlining of back-end operations.
However, Chancellor Gold detailed that President Carter has asked each campus to project anywhere from 5% to 10% reductions in funding, over a multi-year period, due to decreased state support and enrollment, and more. Meanwhile, Carter has continued to meet regularly with legislators to understand the state's fiscal outlook.
"Kudos to President Carter for being just absolutely engaging with the leadership across the campuses, within central administration, with the Board of Regents, with the governor's office and the legislature," Gold said. "And for communicating clearly and setting the stage, but not making any premature decisions."
Chancellor Gold and Vice Chancellor Ewald indicated that the next major milestone for budget planning will come ahead of the June 26 Board of Regents meeting, during which any updates to the previously approved 2020-2021 budget will be made.
"I commit to you total transparency in that process moving forward," Gold said.


Other Updates

Facilities Updates
Chancellor Gold and Vice Chancellor Ewald provided updates indicating that all existing addition and renovation projects on the UNO campus continue to be on time and on budget, including additions to the Strauss Performing Arts Center, Mammel Hall, and Biomechanics Research Building; renovations to Arts and Sciences Hall; and construction on the new baseball and softball complex west of Baxter Arena, which Chancellor Gold announced will be completed in time to host the Summit League Tournament next summer.
All but the renovations to Arts and Sciences Hall are being funded through private donors.
Private funding is also being secured to move forward with renovations to the Durham Science Center. Additional information should be shared in the coming weeks on that project.


Answers to Campus Questions
A number of important questions were also submitted by members of the campus community and answered by Chancellor Gold and Vice Chancellor Ewald, including:


Will facemasks be required on campus?
Yes, in the initial stages of our return to campus, because the science shows they protect others, lower the likelihood of transmission, and help guard the individual wearer as well.


What about those who do not have access to - or refuse to wear - masks?
We have ordered branded UNO masks to provide them to those who need them. We are developing policies for education, training and for those who choose not to wear masks, for whatever reason, but until guidance changes those individuals will need to make alternate plans for taking classes remotely, teaching or working off campus during the early phase of campus return.


How are we protecting vulnerable populations who may live with students, faculty or staff?
We understand that in these cases accommodations for those individuals will need to be made when it comes to taking classes, teaching, or working so they can do so safely. We will make any accommodations we need to ensure that safety.


How can we ensure students that need community service, in-person training or in-person research for their degree are able to do so?
The Higher Education COVID-19 Pandemic Recovery Guide has sections that specifically talk about human subject research, service learning, and internships, which we will use to provide guidance and support to students and faculty who must navigate those situations. Ultimately, any in-person interaction in these capacities is going to need to be able to be done safely.


How are we addressing air flow in older buildings?
As part of our operational planning, all buildings are being looked at for what would be needed - structurally and financially - to make them safe to use. Newer buildings are going to have less issues than older buildings, and that may require changes to how they currently operate, but that is something we would look to implement in order to meet those needs.


Do you think there will be a resurgence of COVID-19 in the fall?
There has never been a pandemic in recent history of any significance that hasn't had at least one resurgence, if not more. However, what we need to consider is how high the resurgence curve will be, how we can see it coming, and how we can put plans in place now to lessen the impact on our community.


What benchmarks will we be looking at to make decisions before and during the fall?
We are going to have monitoring systems in place so that we can keep the campus safe. We will be using measurements like numbers of cases in the county - are they growing or shrinking; what does hospital bed capacity look like; are there verified treatments - or even a vaccine - that would be available. All of those will be factors.
Statistically it's likely that we will have some cases of COVID among our campus population this fall, but the key to determine the cause and isolate it through systematic monitoring and reporting so that those cases remain isolated.
About the University of Nebraska at Omaha
Located in one of America's best cities to live, work and learn, the University of Nebraska at Omaha (UNO) is Nebraska's premier metropolitan university. With more than 15,000 students enrolled in 200-plus programs of study, UNO is recognized nationally for its online education, graduate education, military friendliness and community engagement efforts. Founded in 1908, UNO has served learners of all backgrounds for more than 100 years and is dedicated to another century of excellence both in the classroom and in the community.
Become a fan of UNO on Facebook and follow UNO's Twitter updates. 
Contact Us
If you have a story idea, news tip, or other question, please email the UNO News team at unonews@unomaha.edu.