Chancellor's January Forum Recap
Chancellor Jeffrey P. Gold, M.D., provided updates on enrollment, construction, the legislative session, Coronavirus concerns and more at his forum on Thursday, Jan. 29.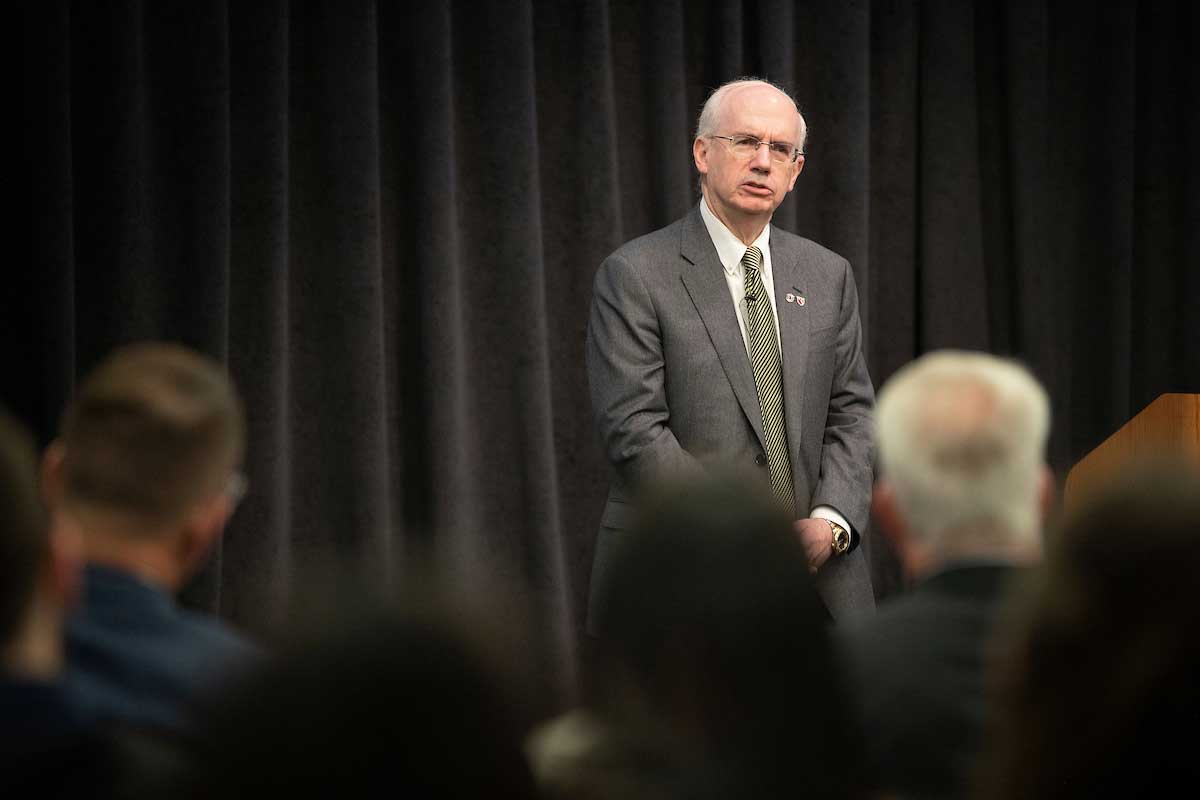 At his first campus forum of 2020, University of Nebraska at Omaha (UNO) Chancellor Jeffrey P. Gold, M.D., spoke on a range of topics including updates on enrollment and construction; regulations for international partnerships; the current Nebraska legislative agenda; concerns surrounding the Coronavirus; and a future visit from University of Nebraska System President Ted Carter.
Disclosure of International Partnerships
Academic Funding and Big Ideas Update
---

2020 Spring Enrollment

Chancellor Gold began the forum with an update on Spring 2020 enrollment figures, which were significantly improved, in terms of both head count and student credit hours, over previous years, especially in the case of graduate student enrollment.
He thanked faculty and staff for the work being done to improve semester-to-semester retention allowing thousands of students to stay on track for graduation.
Later in the forum, Dr. Gold also highlighted improving transfer articulation processes with community colleges across the state and the need to support those relationships in order to continue UNO's mission of educating the future leaders of Nebraska.


Disclosure of International Partnerships

Another issue addressed at the forum, following the arrest of a Harvard faculty member by the federal government, is the importance of disclosing relationships, partnerships and agreements with international entities.

"What this story tells us is that no one is immune from this scrutiny," Dr. Gold said. "While we don't want to limit these opportunities, at the end of the day it comes down to disclosure and doing our due diligence."

More details on how to properly track, report and assess ongoing international partnerships will be shared with campus in the coming weeks.

Nebraska Legislative Agenda

A significant portion of the forum was spent on highlighting the legislative agenda and identifying bills being considered by the unicameral that are officially supported by the University of Nebraska. These include:
It was stated that these are the bills officially supported by the University of Nebraska. Those interested in supporting other bills are encouraged to do so, but not on behalf of the university.

Coronavirus Update

Chancellor Gold also provided an update on the ongoing outbreak of Coronavirus in China and precautions that individuals can take as questions arise about the virus' spread and impacts within the United States.

Gold explained that Nebraska Medicine, who manages the UNO Health Center, stands ready with 24/7 support and test screenings for those who have specific concerns.

The best steps to take, he said, are to "wash your hands" and "wear face masks if you are traveling to large international hubs."

A resource guide on the Coronavirus is also available online.

Construction Update

Also mentioned during the forum was an update ongoing construction projects. These include:
Academic Funding Support and Big Ideas Update

Chancellor Gold provided an update on work being done in the Capital Campaign, which is entering its next stage following feedback provided at the December 2019 Strategic Planning Forum.

Programs that have been identified to begin moving forward with next steps include:
The Samuel Bak Museum and Academic Resource Center
Ted Kooser Center for Health Humanities
STEM TRAIL Center
Business of Healthcare Program
Center for Biomechanical Rehabilitation and Manufacturing

The Security and Intelligence Program
Event Updates

Two upcoming events were highlighted by Chancellor Gold at the forum, including the upcoming UNO Hagel Forum in Global Leadership with special guest former Secretary of State John Kerry, on Feb. 26; and a future visit by NU President Ted Carter to the UNO campus some time in February.

Maverick in the Making

Chancellor Gold also recognized the work of Enrollment Management and University Communications for the new "Maverick in the Making" scholarship effort, which supports future Mavericks currently in high school with a scholarship to attend UNO in the future.
Anyone can nominate a future Maverick in the Making by using this form.

Questions

Several questions were asked both in-person and online, including:
A question about how packages shipped from China through providers like Amazon are kept safe. Chancellor Gold encouraged maintaining general sanitation efforts like washing hands on a regular basis.


A question was asked about what employees can do, during the legislative session, or what should be avoided. Chancellor Gold suggested learning more about the six bills being supported and to identify a key "point of pride" that could be shared if they have an opportunity to meet with their state senator.


A question was also asked about the future of the position, recently vacated by Charlotte Russell, as assistant to the chancellor for equity, access and diversity. Chancellor Gold indicated that the current position description is being evaluated to fully encapsulate the scope of what is required before moving on to an extensive search to find someone to fill that vital role.
In closing, Chancellor Gold wished everyone a happy and healthy new year, adding that whatever he can to help members of the Maverick community out, not to hesitate to reach out.

The next Chancellor's Forum will take place Monday, Feb. 24, at 2 p.m. at the Thompson Alumni Center.
About the University of Nebraska at Omaha
Located in one of America's best cities to live, work and learn, the University of Nebraska at Omaha (UNO) is Nebraska's premier metropolitan university. With more than 15,000 students enrolled in 200-plus programs of study, UNO is recognized nationally for its online education, graduate education, military friendliness and community engagement efforts. Founded in 1908, UNO has served learners of all backgrounds for more than 100 years and is dedicated to another century of excellence both in the classroom and in the community.
Become a fan of UNO on Facebook and follow UNO's Twitter updates. 
Contact Us
If you have a story idea, news tip, or other question, please email the UNO News team at unonews@unomaha.edu.