ISSUED: (Sunday, January 24, 2021 20:44 PM)
SEVERE WEATHER ALERT
Due to severe weather, all classes (including online classes), campus operations, and campus events are cancelled for Monday, Jan. 25, 2021.
More Information
CLOSE

X
Chancellor's November Forum Recap
Chancellor Jeffrey P. Gold, M.D., joined guests Jane Meza, Ph.D., and Cecil Hicks, to provide updates on UNO's COVID-19 response; the chancellor search; campus access and inclusion efforts; and wellness tips for the holidays.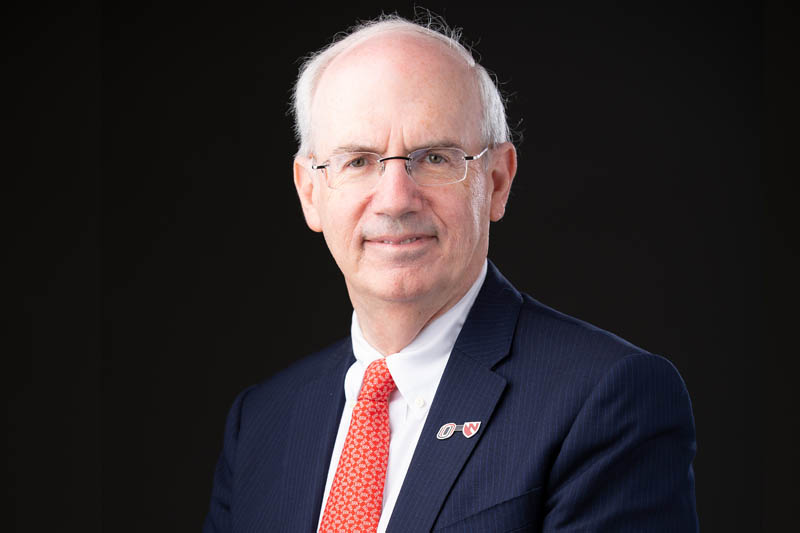 During the November UNO Forum, University of Nebraska at Omaha (UNO) Chancellor Jeffrey P. Gold, M.D., discussed topics that included the continued spread of COVID-19 in Nebraska, promoting wellness over the holidays; campus access and inclusion efforts; ongoing student retention efforts; and many good fielded questions from UNO students, faculty, and staff.
Chancellor Gold was joined virtually by special guests Jane Meza, Ph.D., interim executive director of UNO's Office of Health Security and associate vice chancellor for global engagement, and Cecil Hicks, associate vice chancellor for diversity, equity, access and inclusion (DEAI).
COVID-19 Response
Chancellor Gold began the forum by underscoring the challenges ahead in the state's response to the COVID-19 pandemic: positive cases are on the rise and hospital staff and medical resources are being stretched thin.
"You do not need to be a statistician or an epidemiologist to see that the trends from late October through the month of November have been dramatic, quite rapidly rising with case transmission rates well over 100 cases per 100,000 per day statewide," Dr. Gold said while showing a Nebraska Department of Health and Human Services (DHHS) chart of positive cases.
He did note that although cases are on the rise in the community, UNO's health and safety guidance and policies have made campus a safe place to teach, learn, and work in person in a de-densified setting, with very low test positivity rates.
"Statewide, including all of the rural healthcare coalitions, almost all of the local public health districts, we are seeing extensive use of the capacity of our healthcare systems as well as extensive amounts of testing, transmission rates" Chancellor Gold said. "Having said that, UNO still remains one of the safest places in the city."
Continuing to address the topic of campus health, safety, and wellbeing amid the COVID-19 pandemic, Dr. Gold asked Interim Director Meza to give an overview of recent efforts.
Meza noted the implementation of new campus guidance and policies on Nov. 16, which included restrictions on the size of gatherings allowed on campus, guidance for faculty to allow students flexibility to complete courses online as opposed to in-person, the introduction of Wellness Welcome Stations in high traffic common areas across campus, and the introduction of a COVID-19 testing center for students in Maverick Landing. She said the combined efforts have resulted in a very low amount of campus community spread, noting that when students, faculty, or staff contract the virus, the virus was most likely transmitted from family members, roommates, or from their place of work off-campus.
One of the most important things students, faculty, and staff can do to help the Office of Health Security in its efforts is to fill out and submit a BRT form when they have tested positive or have come into contact with any individual who has tested positive.
"The cases we see on campus tend to be predominantly among the roommates, in housing or among some athletic teams, that is why going forward the testing of students who live on campus is going to be something we really want to focus on," Meza said.
Fostering a Culture of Diversity, Equity, Access, and Inclusion
Later in the forum, Associate Vice Chancellor Hicks provided an overview of the feedback he has received from students, faculty, and staff regarding existing campus DEAI efforts. 
He noted that since moving into his current role this summer, a common refrain he has heard from the campus community is that representation, retention, and campus culture are areas of importance. Mr. Hicks said the university is already hard at work bolstering these areas through new strategic efforts to weave principles of diversity, equity, access, and inclusion into the university's hiring process, as well as offer bias training, microaggression training, and exploring ambassador programs to support retention.
All told, he said, there are more than 280 total efforts in UNePlan – UNO's strategic planning document – dedicated to DEAI efforts.
"The key principles in building a five-year strategic plan are the themes of equity and inclusion and that they touch everything that they do. We will be a university for everyone, successful only when all voices are heard. That's a common theme that I heard when I was able to talk to individuals in our community at UNO."
Supporting Maverick Academic Journeys
Chancellor Gold turned the forum's attention to UNO's efforts to retain first-year students, noting that the COVID-19 and its socioeconomic impacts have served as barriers for many students in their academic journeys.
"What we need to do as a university that cares about the community we serve defines us as a public metropolitan university, a proud member of CUMU. We have to ask the question: What can we do to remove the barriers to allow our students, the future leaders of our community to be successful and to continue that academic journey?" Chancellor Gold said. "Whether it's the reduction of fees which we've done; tuition credits; whether it's ways of facilitating housing; whether it's credits for our bookstores and other educational materials; whether it's better access to parking at lower costs – all of those types of things will be critically important to remove barriers and, very importantly, send a loud and clear message to all of our students, faculty and staff that we care. We know this has been hard and we are trying to help."
An Update on the UNO Chancellor Search
Chancellor Gold also provided an update on the search for UNO's next chancellor, which progressed this past week in the form of listening sessions for student, faculty, and staff groups.
"It's really a very bittersweet moment for me given all of the wonderful relationships," he said. "Needless to say, I'm not going far in my new responsibilities and I look forward to learning more and engaging more fully as the Board of Regents takes action and the search process evolves."
Preparing for a Safe, Healthy Holiday Season
For the second half of the one-hour forum, Chancellor Gold, Interim Director Meza, and Associate Vice Chancellor Hicks fielded questions from viewers. Audience questions primarily focused on COVID-19 vaccines and how to stay safe during the holiday season.
On the vaccination front, Chancellor Gold and Interim Director Meza provided their insights on how the vaccine may be distributed on campus, and what students, faculty, and staff should know about vaccines. Chancellor Gold urged that individuals with questions consult with their healthcare provider to find out what is right for them and noted that "the jury is still out" on whether individuals who have previously tested positive would need to get the vaccine. He also asked the audience to explore the Nebraska DHHS Vaccination Plan for more information.
When preparing for the holiday break this week, Chancellor Gold had clear, direct guidance: avoid social gatherings.
"This is the time to spend the holiday with those you know and love and those that you live with. Use Zoom. Use FaceTime. Use any method you can to connect with your family and loved ones, but please, please don't socially gather, particularly in large groups" Chancellor Gold said. "Whether it's at a virtual tailgate or over the dinner table—anything we can do to reduce the transmission of the virus during these upcoming holidays is going to be critically, critically important."
About the University of Nebraska at Omaha
Located in one of America's best cities to live, work and learn, the University of Nebraska at Omaha (UNO) is Nebraska's premier metropolitan university. With more than 15,000 students enrolled in 200-plus programs of study, UNO is recognized nationally for its online education, graduate education, military friendliness and community engagement efforts. Founded in 1908, UNO has served learners of all backgrounds for more than 100 years and is dedicated to another century of excellence both in the classroom and in the community.
Become a fan of UNO on Facebook and follow UNO's Twitter updates. 
Contact Us
If you have a story idea, news tip, or other question, please email the UNO News team at unonews@unomaha.edu.