Early Alert Pilot Program to Expand This Summer
Designed to identify students at risk of falling behind in their academic journey, developers of the Early Alert Pilot program will be reaching out to departments and units to be part of its next phase.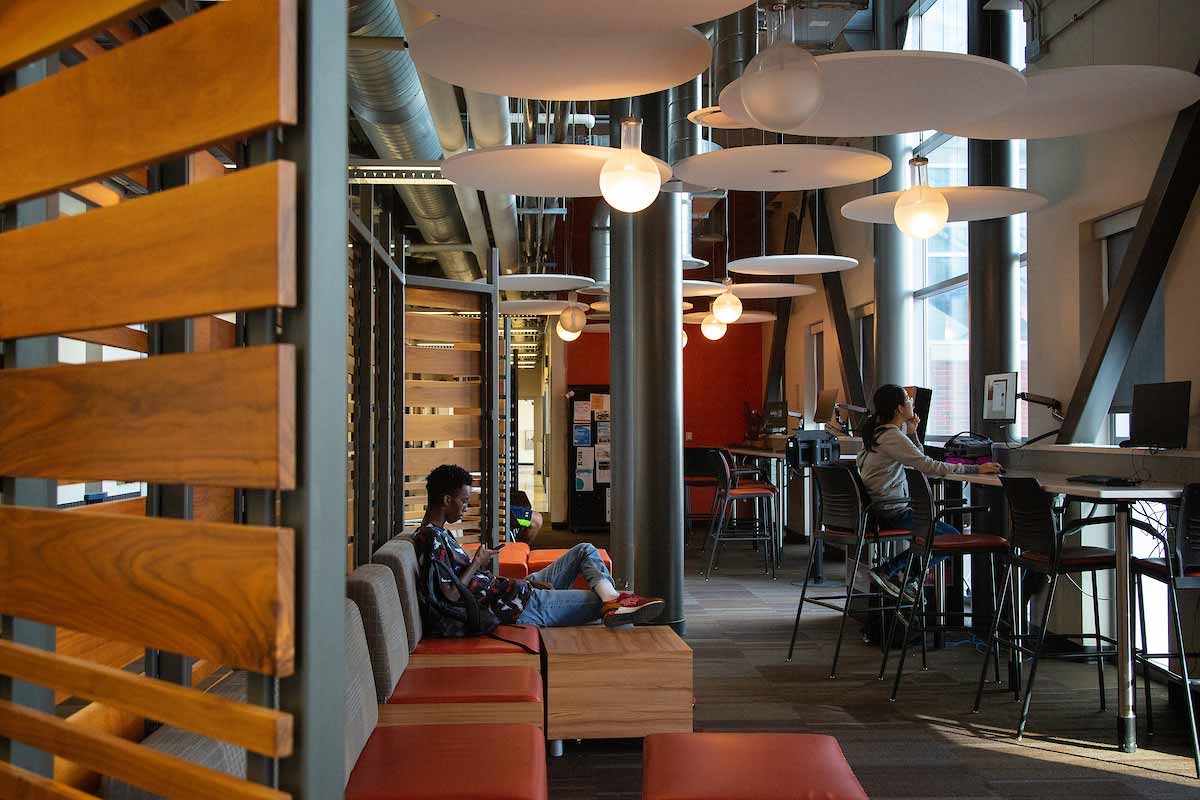 The University of Nebraska at Omaha (UNO) is continuing to make headway on enhancing retention efforts thanks to work being done with a series of new early alert systems that will soon be expanding in scope.
This Early Alert Pilot program, led by a campuswide committee, recently finished its first phase and is beginning work to scale up efforts for expansion in the 2021-2022 academic year.
Currently, the program utilizes data from systems such as UNO's learning management software, Canvas; students information system, PeopleSoft; and other indicators such as survey results and faculty flags to determine if a particular student may need support to ensure they complete their coursework, and thereby graduation, on time.
The first phase of the project included several hundred students enrolled in the Colleges of Arts and Sciences, Public Affairs and Community Service, and Business Administration taking courses English Composition I and II and Public Speaking. Out of these students, more than 100 received some sort of intervention thanks to the Early Alert system. During the pilot, faculty were able to flag students directly for staff supporting this pilot project and staff were able to identify students in need.
Based on the information collected in the first phase of the pilot, as well as feedback from the May 2021 Strategic Planning Forum, work is now underway to build out technical requirements. This includes adding new means of communication, such as texting or automated messaging, to help scale up the system for additional fundamental skills courses (such as Math) offered by UNO.
Ben Smith, Ph.D., chair of the Department of Economics, will serve as lead of the steering committee as they work with Information Technology Services (ITS) to begin the scale up starting later this month.
"We have identified the courses for this next phase and will be reaching out to a number of course faculty and coordinators in the coming weeks to ask for their help," he said. "If you are interested in how you, as a faculty or staff member, can help with the effort and we have not yet reached out to your unit, please be patient as we continue this phased approach.
About Early Alert
The Early Alert Pilot is the evolution of a project that manifested out of the Completion Imperative and recommendations following work from Student Success in 2019. The recommendations noted many early alert processes are happening within departments, colleges, and learning communities that highlighted a need for strategic approach and systems.
Additionally, national research has shown a majority of students who received early alerts and nudges found them to be very or extremely useful, and nearly all found it somewhat helpful. Listening sessions were conducted throughout 2020, which led to the current Early Alert Pilot with a focus on students at the early stages of their academic career but are not associated with a dedicated learning community.
UNO pilot programs will have dedicated advisors to provide these helpful interventions based on selected key performance indicators (KPIs) to direct and assist the identified students to help them continue to pursue a degree at UNO. This may take the form of directed services such as tutoring, established UNO services like the writing or math centers, or it may be more focused on areas such as financial aid or connecting students to faculty.
Additionally, dedicated advisors from colleges within the pilot group will reach out to students who are not currently in a learning community but have been identified as potentially needing assistance.
Early Alert Taskforce
Executive Committee
Sacha Kopp, Senior Vice Chancellor, Academic Affairs
Dan Shipp, Vice Chancellor, Student Success
Bret Blackman, Chief Information Officer and VPIT
Steering Committee
Sarah Edwards, Assistant Vice Chancellor for Curriculum & Programs
Sammi Kaiser, Senior Director, Academic Advising Academic & Career Development Center
Omar Correa, Associate Vice Chancellor, Enrolment Management
Kristina Cammarano, Assistant Vice Chancellor for Student Success
Lina Stover, Director of Admissions
Marty Habrock, Director, Financial Support & Scholarships
Eric Wolford, Director, Undergrad Student Enrolment Services
Rachel Tomcak, Assistant Dean for Student Success (CAS)
Annesha Mitra, Director of Advising (CBA)
Christine Billings, Director, Division of Continuing Studies (CPACS)
Dusten Chrichton, Director, Thompson Learning Center
Jaci Lindburg, Assistant VP, IT Strategy and Learning Technology (Director UNO Digital Learning)
Jesse Clark, Director, Administrative Information Services (ITS)
Janeth Cano, Enrollment Project Coordinator
Rick Murch-Shafer, Assistant Director, Academic Technologies
Jonathan Acosta, Assistant Director, Academic Advising
Data and Oversight
Hank Robinson, Director of the Office of Institutional Effectiveness
Matt Schill, Director, University Registrar
Drew Nielsen, Compliance Officer
Thomas Walker, Director, Business Systems Intelligence
Jason Buzzell, ITS Academic Affairs Liaison, Faculty Platforms
Early Success Coordinators
Patty Edwards (CBA)
Katie Hansen (CPACS)
Tori Robinson (CAS)
Dusten Chrichton (Thompson Learning Center)
Aaron Krueger (Success Academy Young Scholars)
Faculty Leads
Maggie Christensen (English)
Cameron Logsdon (Public Speaking)
Michael Matthews (Math)
About the University of Nebraska at Omaha
Located in one of America's best cities to live, work and learn, the University of Nebraska at Omaha (UNO) is Nebraska's premier metropolitan university. With more than 15,000 students enrolled in 200-plus programs of study, UNO is recognized nationally for its online education, graduate education, military friendliness and community engagement efforts. Founded in 1908, UNO has served learners of all backgrounds for more than 100 years and is dedicated to another century of excellence both in the classroom and in the community.
Follow UNO on Facebook, Twitter, Instagram, TikTok, LinkedIn, and YouTube.