Student Commencement Stories: August, December 2020
Learn more about these amazing UNO graduates. Once a Maverick, always a Maverick.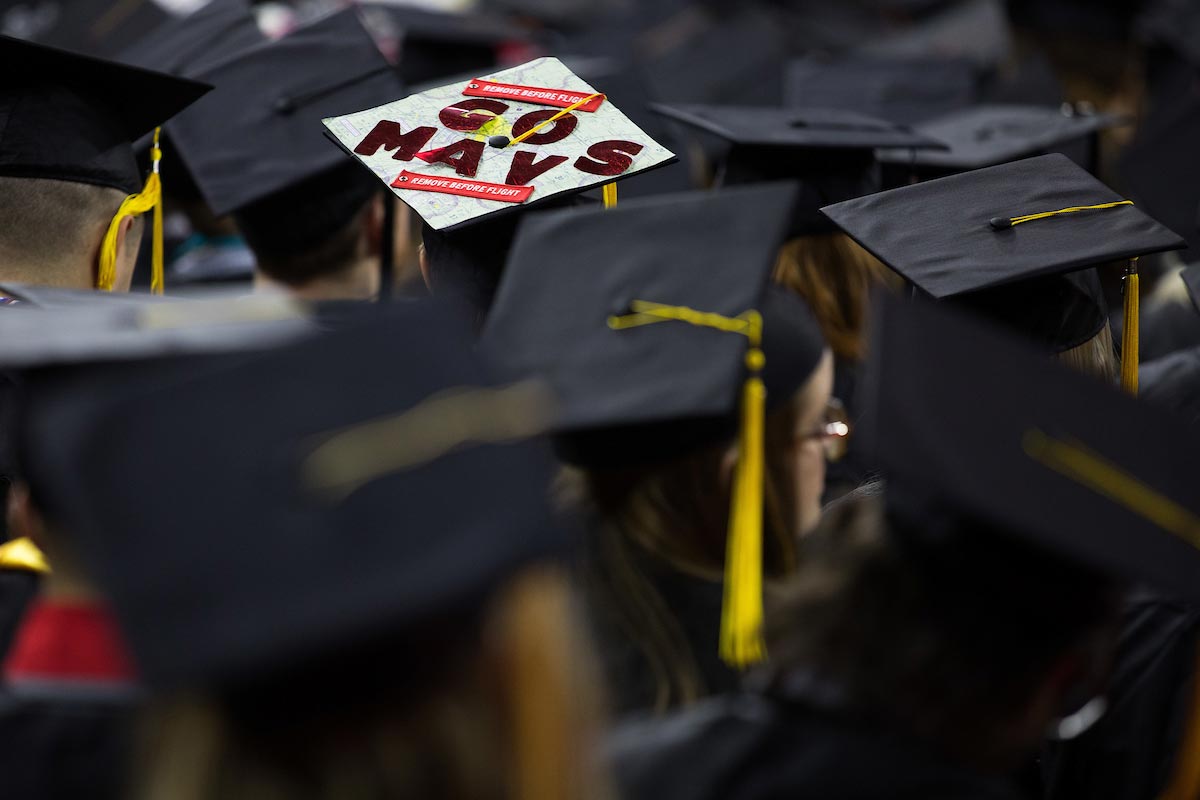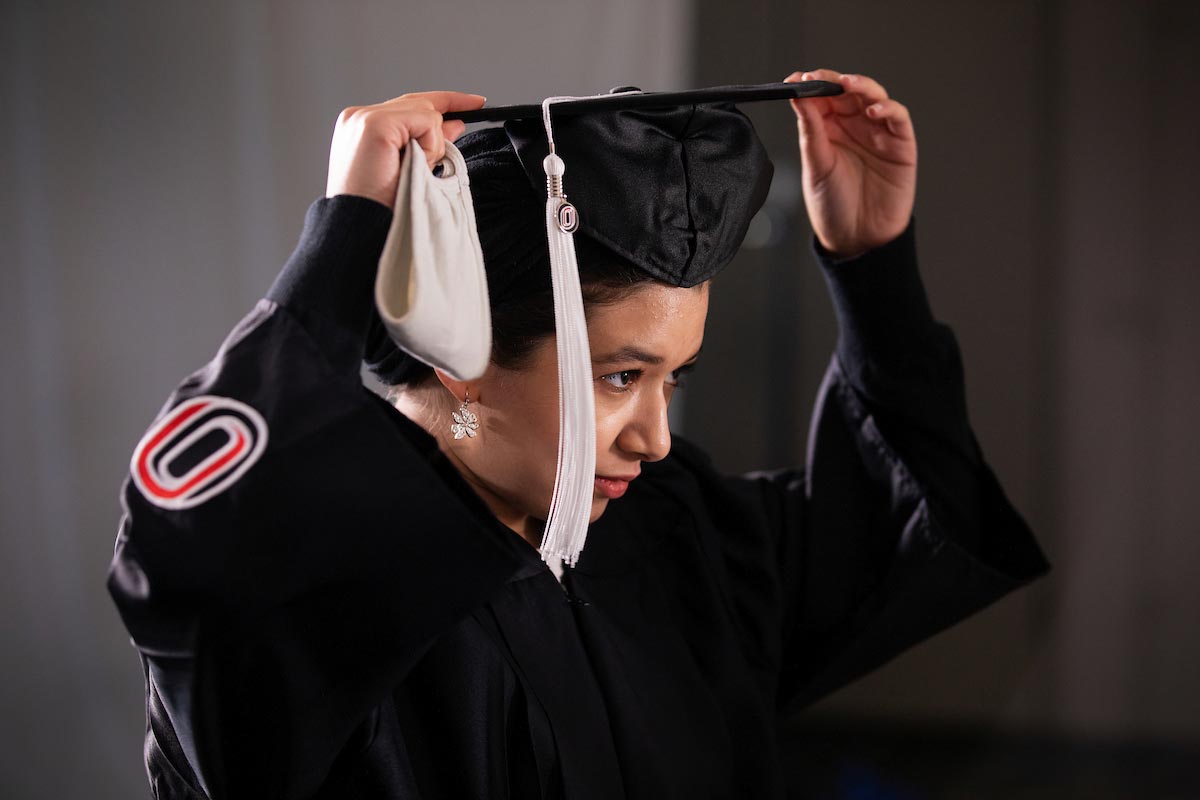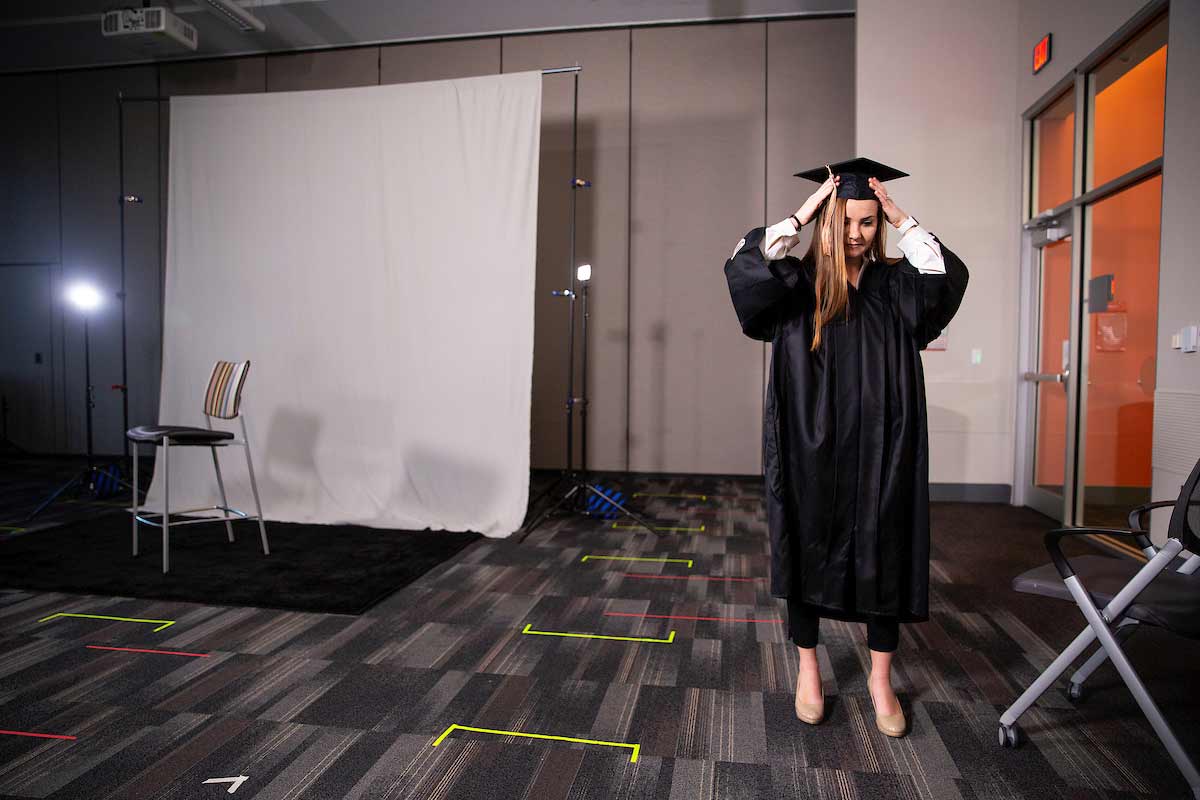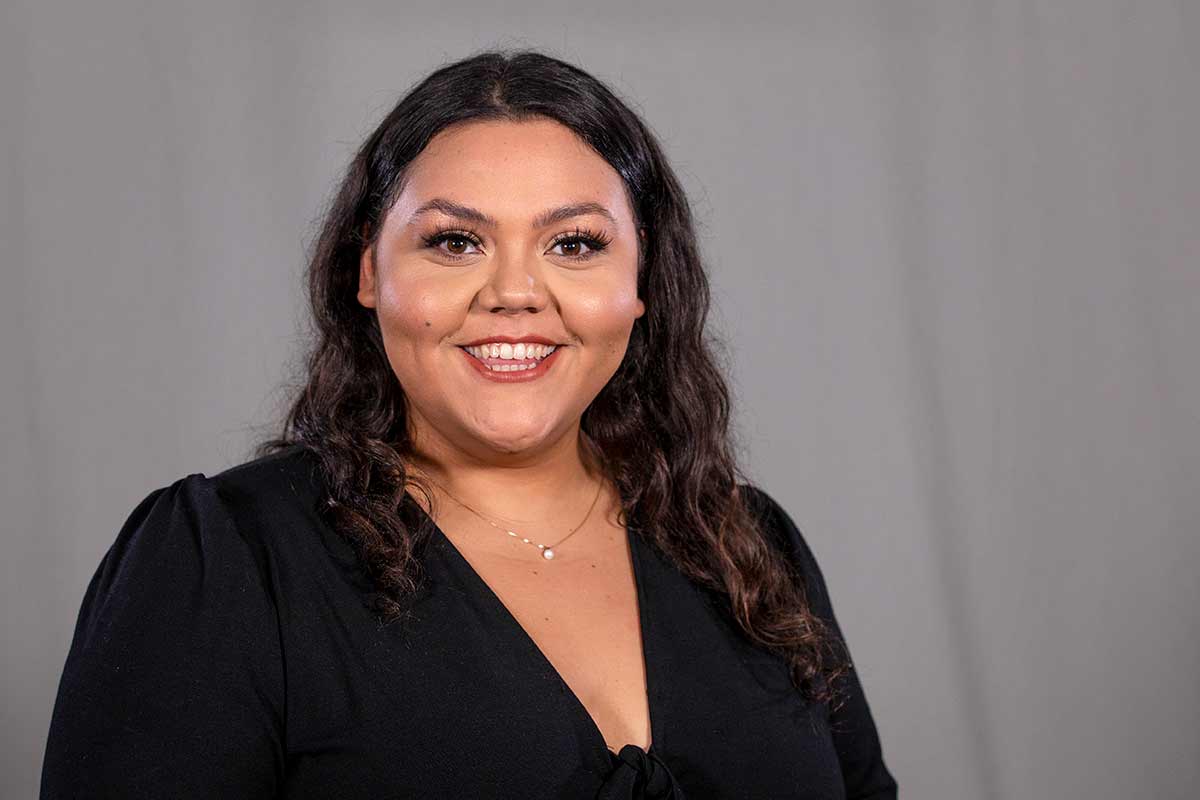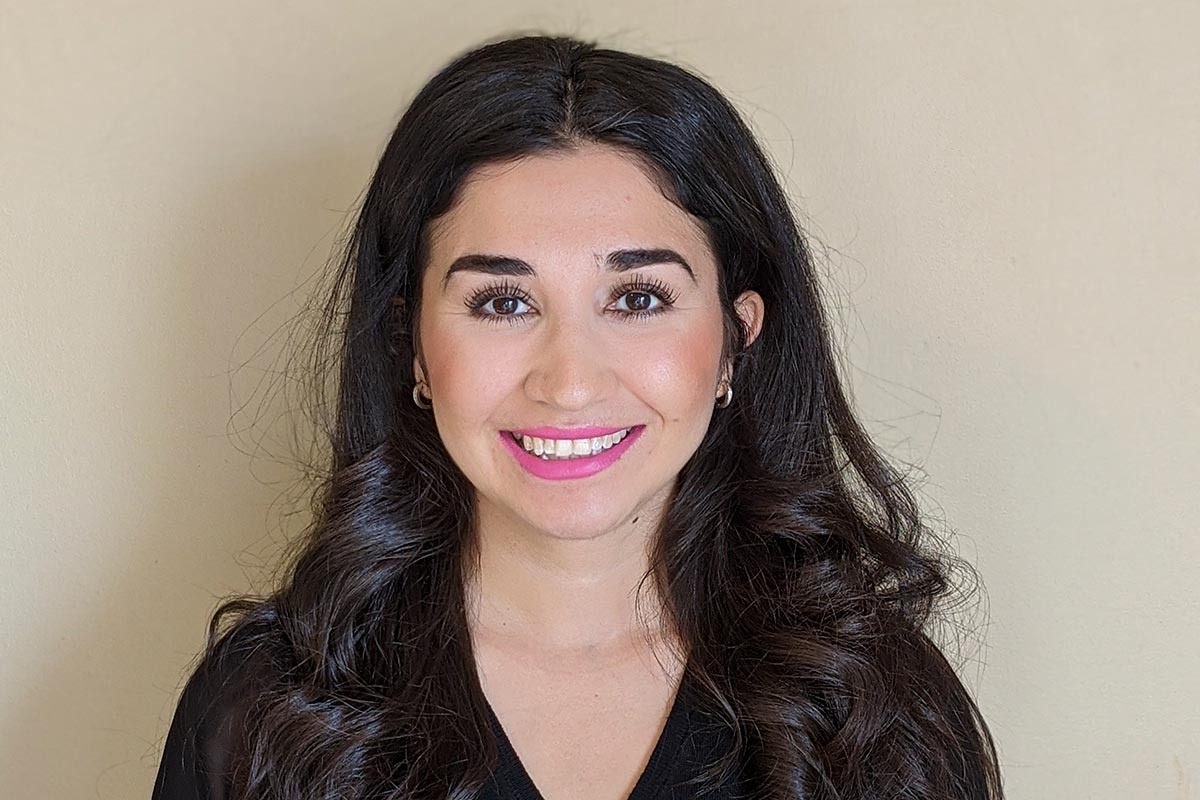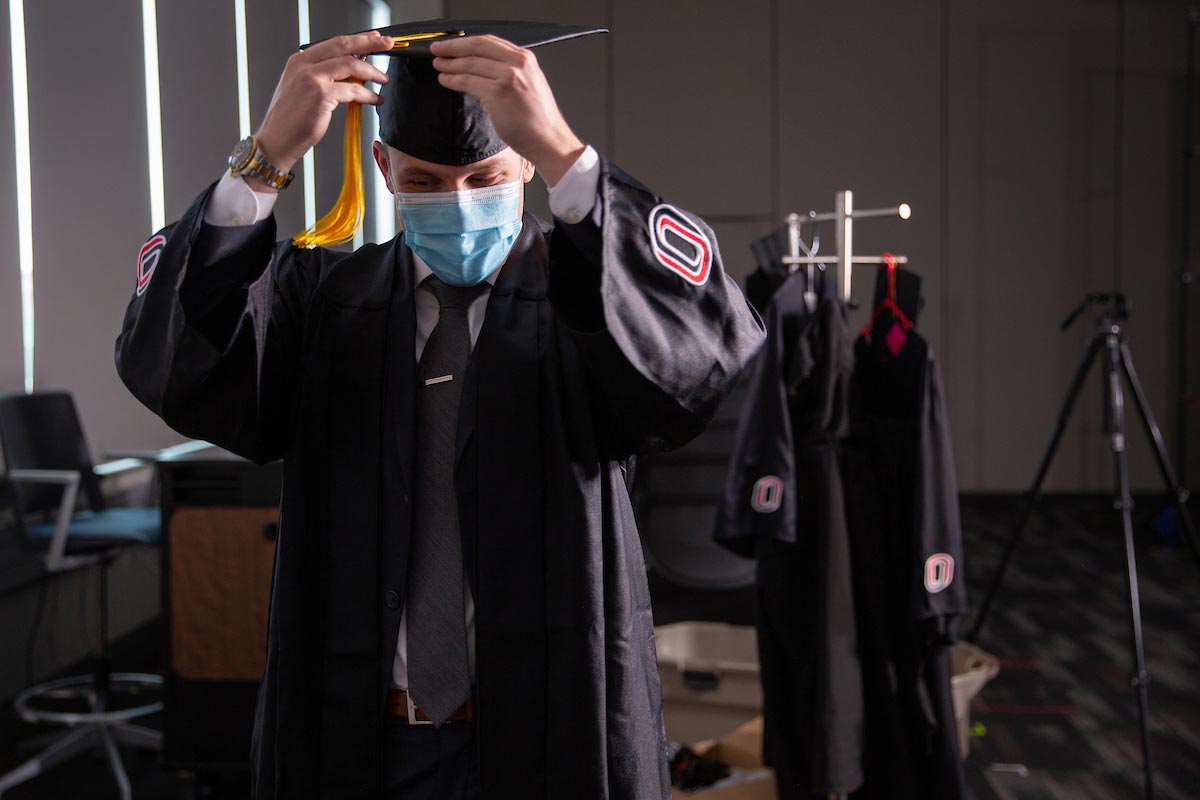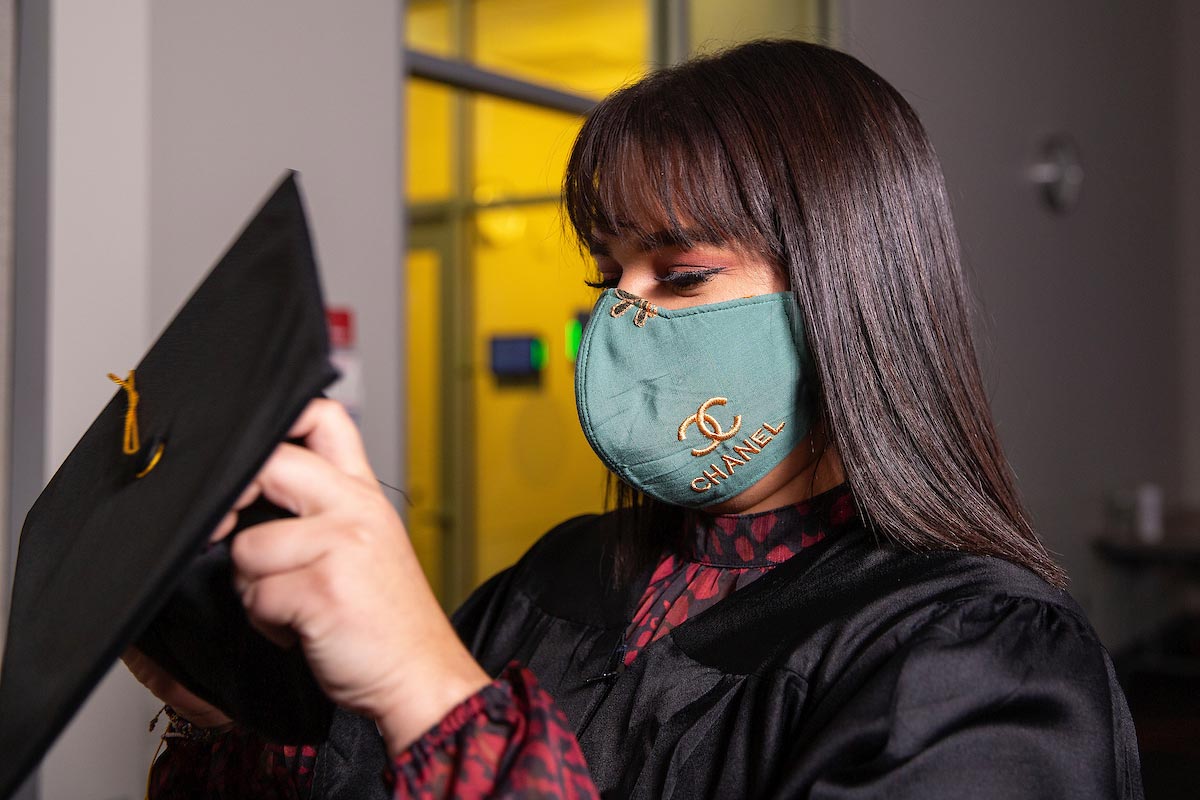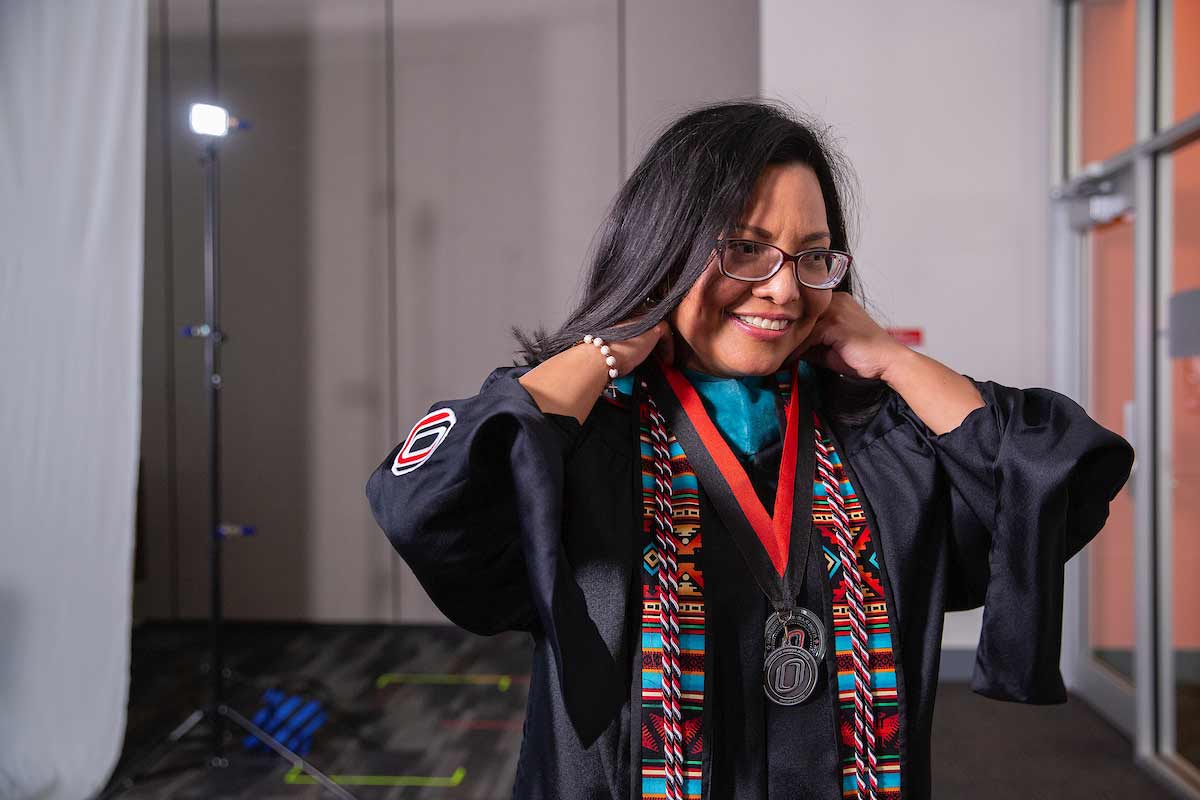 Friday, Dec. 18, marked the end of a successful journey for more than 1,100 Mavericks as they make the transition from UNO student to UNO alumni.
Each of our members of the Class of 2020 is a true Maverick in their own way. From the metro area to locations around the world, from certificate programs to terminal degrees, or from first-generation to multi-generation, our students carved their own path to reach their educational goals. Yet, they all have one thing in common: they are all Mavericks, and once a Maverick, always a Maverick.
Interested in learning more about other recent UNO alumni? View our previous Student Commencement Stories and check out our "I Am the R.O.I." series, featuring seven Mavericks whose return on investment from thier UNO education has gone far beyond earning their degree.

Browse by Graduate
---
Ruya Abubaker
College of Arts and Sciences
Leaving hometown comforts to attend a university can be difficult for many college students, but traversing thousands of miles to live and learn in a different country in a new language presents its own unique set of challenges.

For Saudi Arabia native Ruya Abubaker, the support system she found at the University of Nebraska at Omaha in the form of clubs, a network of fellow international students, and caring faculty made campus a home away from home. It's an experience this recent international studies graduate will look back on fondly for years to come.

"A lot of the clubs I joined were very diverse, so I never felt out of place; like I was the only international student," Abubaker said. "That idea of knowing I'm not the only international student was very comforting."

Shortly after beginning her academic career at UNO, a friend connected her with a "buddy program" through International Affairs. Through the program, she was paired with a recent international student and shown where to find resources to be successful at UNO and have a memorable experience in Omaha. She also got involved with UNO's Muslim Student Association, becoming its secretary.

"It was exciting. I was really happy to do that because I'm an international student myself. I know how hard it can be in a foreign country."

Abubaker's journey to UNO was also different compared to that of many other international students.

Her parents both attended courses at UNO before returning to Saudi Arabia. Abubaker's younger sister, Turfah, had struggled with an illness that had kept her from attending school in Saudi Arabia. At the recommendation of a family doctor, the family returned to Omaha where she could receive the care she needed and attend school. Sadly, Turfah passed away in October 2017 during Ruya's freshman year at UNO.

"I told most of my professors at the time and they showed so much compassion and understanding of my unfortunate loss of my little sister," Abubaker said.

She credits supportive faculty members who rallied around her and kept her on track toward graduation, whether it was through the loss of her sister, through her own health issues, or other obstacles she experienced in the years that followed.

"The best advice I can give is to communicate and say what you're struggling with," Abubaker said. "If it's something going on at home or family abroad, if it's mental health, communication is the key to getting help. People don't know what you're going through if you don't tell them."


---
Paige Faber
College of Business Administration
To say Paige Faber studied at the University of Nebraska at Omaha would be an understatement. The Aurora, Neb., native immersed herself in everything UNO had to offer inside of the classroom, on campus, and in the city of Omaha.

"I didn't want to go where everyone else was going," Faber, the business administration graduate said. "From Aurora, most people went to Lincoln; my older sister went to [Nebraska] Wesleyan. I said, 'I've got to be different,' so I looked into Omaha. I really liked the big city…it just felt right."

While at UNO, Farber was truly engaged: She was involved in Housing Council and choir. She studied abroad for a semester in Argentina. She worked for the Academic and Career Development Center (ACDC). She became hooked on UNO Hockey after attending one game. She worked with a local business to develop a marketing strategy through a marketing management course.

Then, when the COVID-19 pandemic led to the cancellation of a highly-anticipated internship, she found an internship with local company Fat Brain Toys, which she parlayed into a full-time job while she continues her UNO education and pursues a master's degree in international business in the College of Business Administration.

For Faber, making the most out of a college experience means taking advantage of every opportunity. Even if other students don't have the bandwidth to jump in with both feet like she did, slowly wading into all that UNO has to offer can be a lifechanging experience.

"I would tell students to find something you're really passionate about. Just be totally all-in," she said. "I know you'll feel pressure to do everything, and that's not always possible, so just find what you really love and enjoy and make the most of it."


---
Chloe Romero
College of Communication, Fine Arts, and Media
Some students make steps on their academic journeys. Others, like Chloe Romero, make trust falls. Not only did she complete her journey, earning a degree, but the winding path she took to receiving her diploma was the experience of a lifetime.

"I had really no clue what I was getting into coming to the Midwest," the 25-year-old Los Angeles native said. "I took a leap of faith and trusted my instincts and it did not lead me wrong. It has made me the woman that I am today."

Romero's journey began in California as a passionate high school speech and debate competitor. The desire to continue to be a member of the small but highly engaged community is what led her to compete at the community college level.

Wanting to stretch out her competitive career at a higher level with the nationally-renowned UNO MavForensics team, she packed her bags and drove three days from the west coast to Omaha. Once she arrived, she was short on funds and a support system, which she had to build up both from scratch with guidance from UNO faculty, staff, and fellow students.

"Those moments where you feel so helpless and you feel so low and you don't know how to crawl out—it's the people around you who really help you get to that next chapter of your life – that next phase. I am here today because of the people in those moments."

Not only did she succeed as a competitor as she had hoped, reaching the finals and quarterfinals at the 2018 and 2019 American Forensics Association National Individual Events Tournament (AFA-NIET), she became involved at the UNO Admissions office and various housing committees, finding the social network that she craved.

While she contemplates the next adventure, Romero will embark on with her bachelor's degree in communication studies from UNO's College of Fine Arts and Media, she has some advice for other students preparing to take their own trust fall: take the first step.

"There are so many opportunities. As a young person, you have to take advantage and you have to put yourself out there. You have to take a chance and you never know who you might meet. You never know what opportunities will be presented to you all because you went to that one meeting for that club, or that one game and you sat to your new boss. Anything can happen so you have to make the most of it."


---
Karla Carlson
College of Education, Health, and Human Sciences
When students enter Karla Carlson's classroom, they will gain more than an educator – they will have a voice.

Karla Carlson considers her journey to be different than others. She has been the difficult, inattentive, underperforming student. She has lived on her own at a young age. She has been a teen mother. She is the daughter of undocumented immigrants. She has dropped out of school.

Through the power of positivity she earned a GED, got married, grew her family, enrolled in college, and earned a degree in elementary education from UNO's College of Education, Health, and Human Sciences at the age of 33.

"I think it's important for people to know people like me because I have never met anyone that has had a similar story to mine," Carlson said.

She knows that understanding the turbulence in young people's lives can impact in-class performance. Carlson made it her life's calling to support the students just like her and help them stay on track toward a bright future.

"I can relate to students rather than be judgmental of why they can't complete assignments, or why they are behaving the way they are," Carlson said. "I have compassion and I know what could be going on at home and have more patience and say, 'This is what they are struggling with, what can I do to uplift them in our classroom.'"

Being a non-traditional student with a young family, keeping up with coursework often meant studying began long after children were put to bed, or sending late night emails with questions to UNO professors who were always patient and understanding.

"I felt like all of the teachers were very culturally responsive," Carlson said. "Things are very sensitive right now and I think everyone is aware of that. They try to uplift you and make you feel like you belong. I never felt targeted or belittled, which is something I have felt in the past."


---
Jake Ferrin
College of Information Science & Technology
College of Engineering (UNL)
Jake Ferrin was an academic nomad in the early days of his time at UNO. He bounced around from engineering to physics and to business before finding his scholarly home and subject matter he was passionate about in the College of Information Science and Technology's IT Innovation program.

The rigorous program, marked by a brutally honest classroom feedback session on one of his projects, taught the first-generation student a valuable lesson.

"This experience taught me to lean into failure, which surprised me, considering I grew up hearing the old adage that Michael Jordan missed more shots than he made," Ferrin said. "Point being, success is only found in failure."

In IS&T, he found an ecosystem that embraced calculated risks and experimentation. He credits his professors for pushing him to be a better student, calling them "The Avengers" of IT innovation.

Now, the student who spent his early years at UNO in search of a place to put down his roots found a full-time job at Kiewit managing software development and has plans to pursue a doctoral degree in the future.

"Maybe I'll be the CEO," he said. "Who knows."


---
Estela Melgar
College of Public Affairs and Community Service
Estela Melgar's experience at the University of Nebraska at Omaha was about more than earning a degree – it was about setting an example.

The Army Reserve veteran, first-generation student, and daughter of immigrant parents wanted to prove that a brighter future is possible not just for her siblings, but for the high school students in her hometown of South Sioux City, Neb., who she says are sometimes hesitant about higher education.

Now, as a college graduate herself, with a bachelor's degree in criminology and criminal justice from UNO's College of Public Affairs and Community Service there is a swelling sense of pride being able to serve as that role model.

"Being a first-generation student – it means everything to me," she said. "It leaves a path for my sisters and to those students back in high school who didn't think it was possible, but I'm here now and doing it – doing it for them."

Melgar recalls being unable to understand her homework in elementary school because it was in a language she did not understand – a stark contrast to the student who would go above and beyond to be a resource for others working the Milo Bail Student Center MavIGATION Station.

Her involvement with UNO Military and Veteran Services, support from advisors, and building bonds with professors aided in her transformation.

"It made me come out of my shell. My first semester here was kind of rough. I didn't go out, and once I actually started getting involved in these organizations, it opened me up out of my shell, I was able to talk to people, meet more people, and build my network."

Melgar's next journey? A move to Austin, Tex., where she will work as a youth development coach for at-risk youth. She doesn't plan on leaving her Maverick Spirit in Omaha, though.

"Maverick Spirit – it means family, a place here I know I am loved and cared for and a place that I feel safe," she said.


---
Yuriko Doku
Graduate College
College of Public Affairs and Community Service
Yuriko Doku has accumulated her fair share of titles in her 17 years at the University of Nebraska at Omaha: international studies student, economics graduate student, assistant director of UNO's Office of Latino/Latin American Studies (OLLAS), Staff Advisory Council community engagement committee chair, NU System KUDOS award winner. Add another label to her list: the proud owner of a master's degree in public administration.

The Colombia native has come a long way since moving to the U.S. in 2003 and enrolling in courses at UNO to improve her English.

"For me UNO is a family," Doku said. "Being able to study, to work as a student, and to find great opportunities professionally, made me stay here."
Driven by the belief that education and community can have a positive impact in the world, she continues to give back to UNO as much as it has given her.

"Everything I have learned in this master's degree program, I have been applying to my job at OLLAS," she said.
About the University of Nebraska at Omaha
Located in one of America's best cities to live, work and learn, the University of Nebraska at Omaha (UNO) is Nebraska's premier metropolitan university. With more than 15,000 students enrolled in 200-plus programs of study, UNO is recognized nationally for its online education, graduate education, military friendliness and community engagement efforts. Founded in 1908, UNO has served learners of all backgrounds for more than 100 years and is dedicated to another century of excellence both in the classroom and in the community.
Follow UNO on Facebook, Twitter (X), Instagram, TikTok, LinkedIn, and YouTube.