Native American Flute Provides Purpose, Passion for UNO Senior
Jacob Walker, a religious studies major, has found a powerful connection to his heritage - and his faith - through a simple, but powerful musical instrument.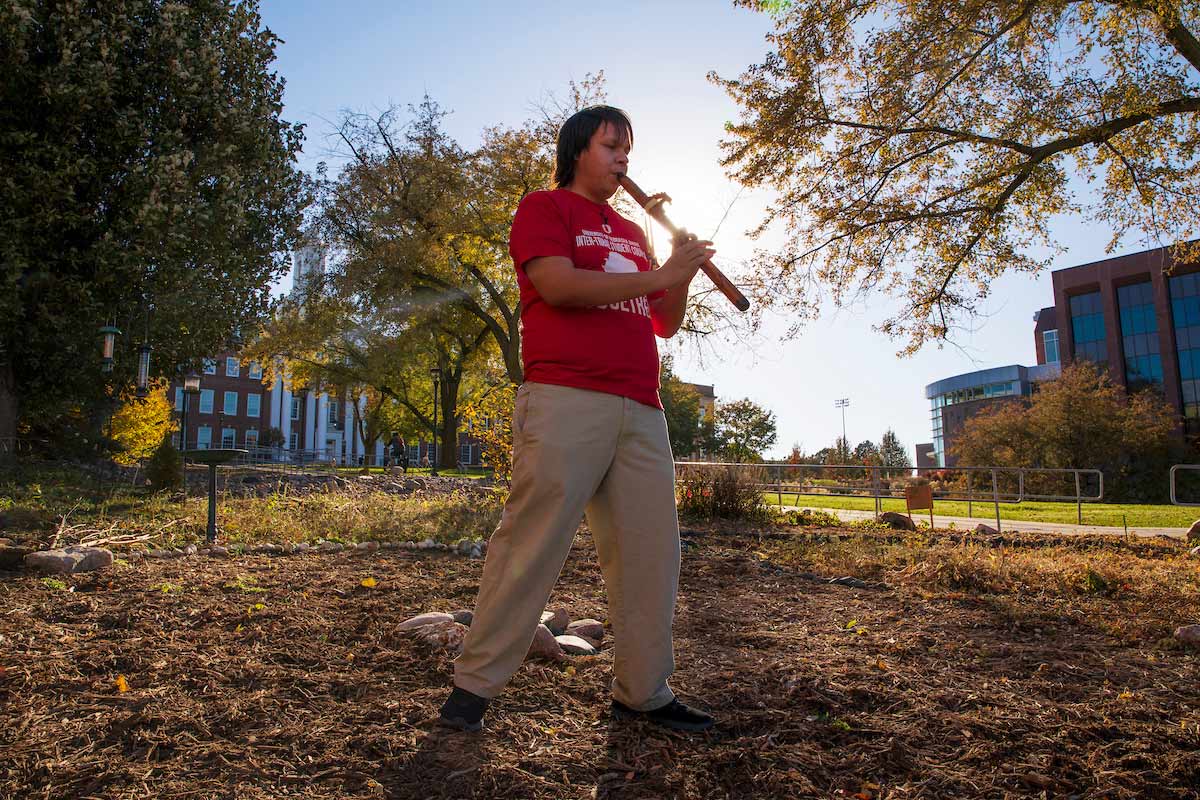 Jacob Walker playing his Native American flute in the UNO Native Garden.
Jacob Walker stood in the UNO Native Garden on a recent November afternoon playing his Native American flute, filling the outdoor space near Kayser Hall with a melody.
His lungs powered the flute as his fingers moved to cover one of its delicate holes and then the next. A bird flew in to eat at the garden's long cylindrical feeders. The warm evening sun was beginning its descent as prayer bundles, attached to strings, swayed.

Flash back to several years earlier, as Walker waited for the start of mass at the St. Augustine Indian Mission in Winnebago, Nebraska, and listened to Rev. Dave Korth play the Native American flute. He found comfort in it, and inspiration.
Walker said Rev. Korth encouraged students and tribal members to take up their cultural ways.
"He would play the Native American flute before mass would begin. And I would hear that melody of the flute. You know, it inspired me; it influenced me," said Walker, a UNO senior religious studies major.
On Christmas night of 2017, Walker's mother called him to her room. She presented Walker with a gift, a handcrafted wooden Native American flute. She had had it made with his Winnebago heritage in mind.
The Winnebago Tribe, of which Walker is a member, has 12 clans. The flute was made with the symbolism of Walker's clan, the Eagle Clan.
"Part of my playing with this flute helps remind me of that heritage, helps remind me of where I come from," Walker said.
When Walker came to UNO, he met Cindy Krafka, who is Sicangu Lakota, at the Office of Multicultural Affairs, who welcomed him. He described Krafka as a grandmother (a reference to a respected elder) and when they met he felt like he had known her his whole life. She helped him feel at home.
But Krafka wasn't the only one to keep Walker grounded during his time at UNO.
"Jacob's flute keeps him centered. It is his gift" Krafka said. "When he told me he played the flute and was self-taught, I was amazed. His flute brought a peaceful feeling whenever he played it. He would bring it into the Office of Multicultural Affairs, and when he played, everyone was quiet and there was a feeling of peace in the office. His music takes you to an ancient place and I feel like I am sitting with my ancestors when he plays. I feel connected to everything and everyone."
Walker, too, recognizes the power of the Native American flute's music. For a simple instrument, powered by the strength of one's breath, he said, it can fill a room. It can return distracted people back to a moment of focus and give them a bit of peace.
Walker came to UNO to study religion. And once he graduates, he will go to seminary with the goal of becoming a Catholic priest.
UNO made him a coherent student, a scholar, he said, with the ability to better articulate his thoughts and to better express the points he wants to make. He said he has been able to take these skills to all areas of his life. He feels prepared for perhaps entering a new academic field in seminary school or for what challenges may come in the future.
Krafka is confident in Walker as well.
"Jacob is all heart. He is one of the kindest, most honorable men I know. He is always willing to listen to people and shares his good heart with anyone he comes into contact with," she said.
Walker's big heart and peaceful music have made a home at UNO. It took Walker time to adjust to Omaha's constant motion and traffic, its concrete, its sounds, and its population. But adjustment grew to fondness.
"What I love the most about the University of Nebraska at Omaha is that even if you are among people who are complete strangers, that strangely, you know, there is that sense of connection, there's that sense of community here, among students," he said.
About the University of Nebraska at Omaha
Located in one of America's best cities to live, work and learn, the University of Nebraska at Omaha (UNO) is Nebraska's premier metropolitan university. With more than 15,000 students enrolled in 200-plus programs of study, UNO is recognized nationally for its online education, graduate education, military friendliness and community engagement efforts. Founded in 1908, UNO has served learners of all backgrounds for more than 100 years and is dedicated to another century of excellence both in the classroom and in the community.
Follow UNO on Facebook, Twitter (X), Instagram, TikTok, LinkedIn, and YouTube.