Adams Recognized as AMHCA Emerging Professional of the Year
published: 2020/11/19
contact: Brandon Bartling - University Communications
email: unonews@unomaha.edu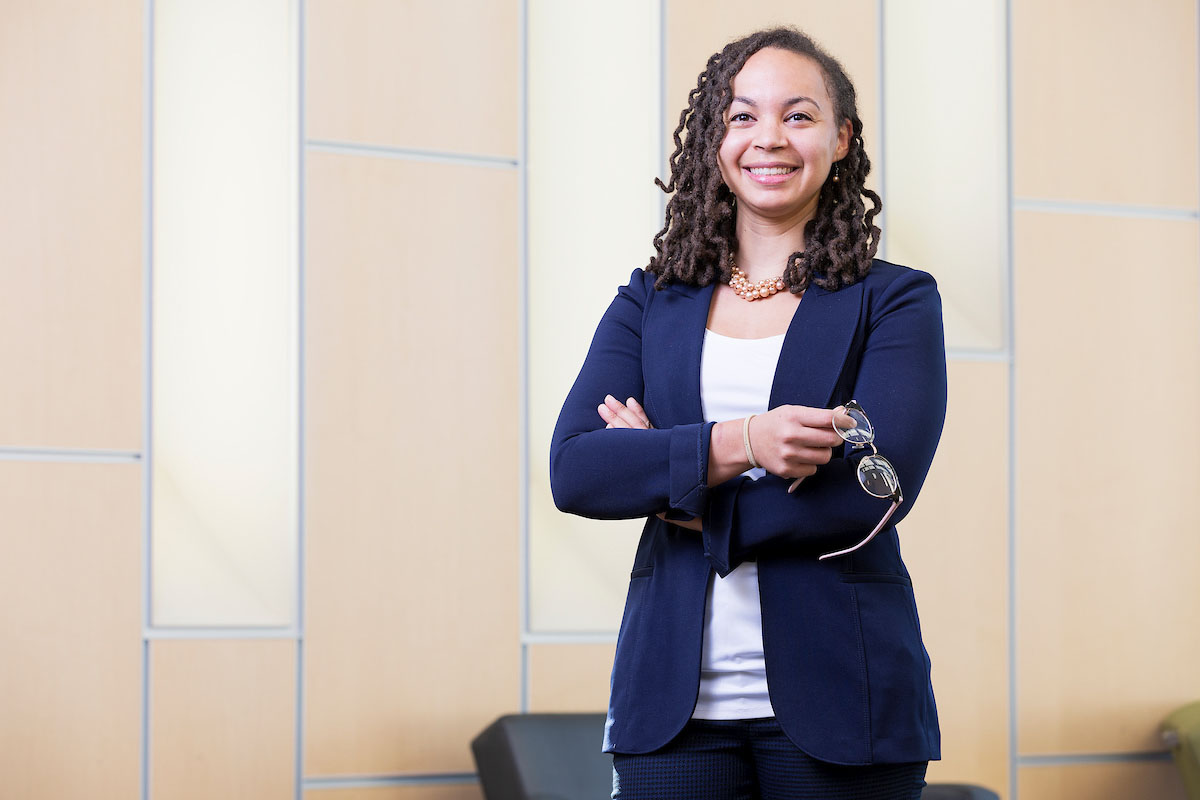 Charmayne Adams, PhD, LIMHP, is an assistant professor of Counseling within the College of Education, Health, and Human Sciences (CEHHS) at the University of Nebraska at Omaha (UNO).
One of UNO's own has been nationally recognized as an emerging professional in the field of clinical mental health counseling.
The American Mental Health Counselors Association (AMHCA) recognized Charmayne Adams, Ph.D., LIMHP, with the Emerging Professional Award. Adams is an assistant professor of Counseling within the College of Education, Health, and Human Sciences (CEHHS) at the University of Nebraska at Omaha (UNO).
The recognition is awarded annually to those in mental health counseling who are nominated and deemed by the AMCHA to have embodied the values of the profession and show potential for future contributions to the field.
Now in her second year at UNO, Adams has worked in mental health for the past 11 years, previously working in various settings from residential treatment facilities and homecare to correctional facilities, inpatient psychiatric hospitals, and private practice.
"Even though I have been in the field of mental health in some capacity for a while, I am still relatively new to the field of academia and to the increased service it entails such as committee work, nominated positions, and elected positions," she said. "It feels great to know that people I respect see a future for me in the field of counseling as a practitioner and as a leader. I will strive to live up to those expectations as a continue my journey in this profession."
Adams entered the field driven by her interest in how individuals adapt to a variety of situations; particularly crisis and trauma. Her research examines how people adapt to some of the most extreme situations they might encounter. "I sincerely hope my work will help prepare the next generation of counselors to feel competent in supporting clients while they are at their most vulnerable, and continue to push the boundaries of how the field of counseling supports people with a history of trauma or that are in crisis."
True to her passion, Adams now teaches courses in crisis and trauma in addition to working with students gaining their first clinical experience through their practicum. She also hopes that her impact stretches beyond research, theories, and practice. "I went through my entire education, kindergarten to Ph.D., without ever having a professor or counselor that looked like me," she said. "I hope that I can be a model for other multiracial women, that there is a place for them in the field of counseling."
CEHHS Dean Nancy Edick congratulated Adams on the recognition and recognized the impact she has already had in her short time at UNO. "It's so exciting to support our early career faculty members here in the college. Although Dr. Adams has been with us just over a year, she has made tremendous impact on her students and department as well as the Omaha community, and this emerging leader award is a recognition of those achievements. Over the summer, Dr. Adams reimagined the required course, Multicultural Counseling, so students could practice advocacy skills, an essential disposition in the Counseling field. During the pandemic, Dr. Adams has been interviewed by several local news outlets about mental health and COVID.
"The faculty, graduate students, and alumni of the Department of Counseling are known for their work throughout the community—such as partnerships with UNMC's BHECN internship program and managing the UNO Community Counseling Clinic at Roskens Hall—and we are so fortunate to have Dr. Adams on the team."
Adams was nominated for the recognition by a previous professor from her Ph.D. program, a colleague who she had worked with on various projects, and the chair of an AMHCA committee on which she serves.
She feels incredibly honored and humbled to be recognized by an organization that has had such a profound impact on her career. "It seems incredible to be recognized for my service to the field and for my potential to continue to make an impact. I really am surprised and so grateful for this recognition."
About the University of Nebraska at Omaha
Located in one of America's best cities to live, work and learn, the University of Nebraska at Omaha (UNO) is Nebraska's premier metropolitan university. With more than 15,000 students enrolled in 200-plus programs of study, UNO is recognized nationally for its online education, graduate education, military friendliness and community engagement efforts. Founded in 1908, UNO has served learners of all backgrounds for more than 100 years and is dedicated to another century of excellence both in the classroom and in the community.
Follow UNO on Facebook, Twitter (X), Instagram, TikTok, LinkedIn, and YouTube.