USSTRATCOM Renews Strategic Leadership Fellows Program with UNO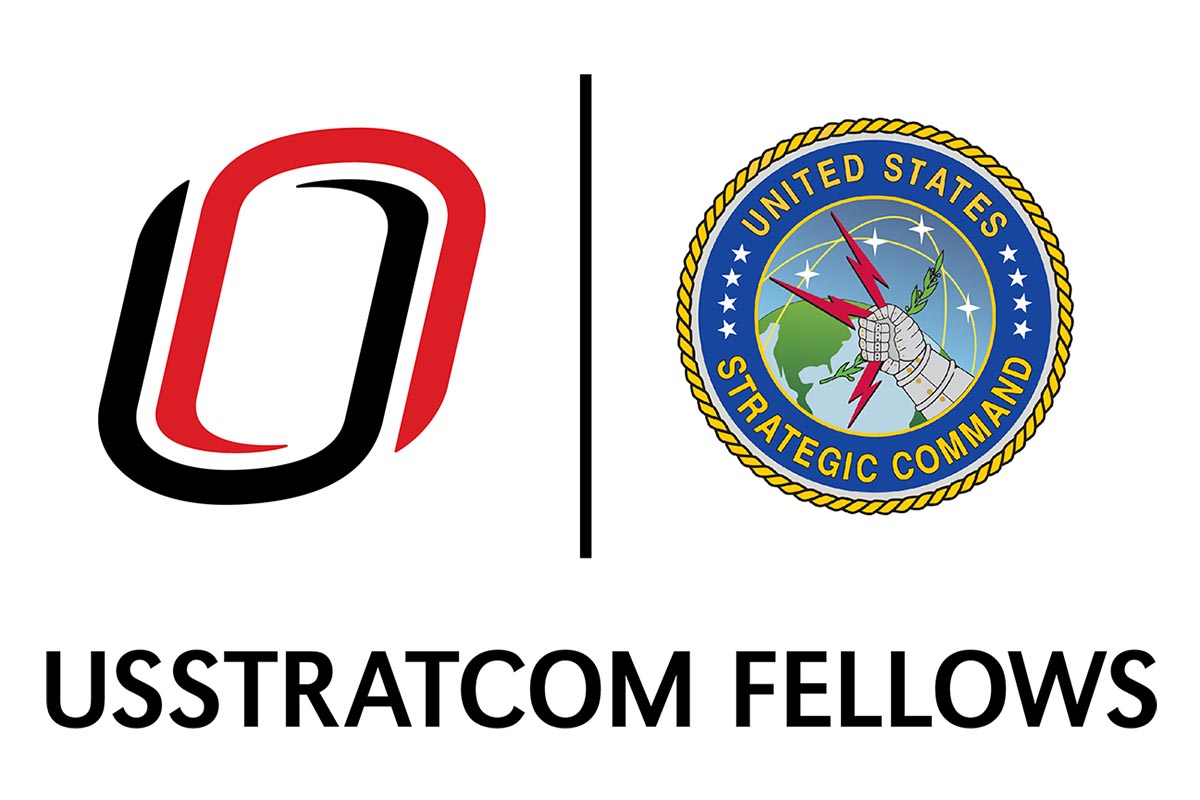 A key program that connects U.S. Strategic Command and the University of Nebraska at Omaha (UNO) has been renewed.
Since 2014, The University of Nebraska system and USSTRATCOM have conducted the Strategic Leadership Fellows Program. This graduate-level program is designed to develop a combat ready force by broadening mission awareness, cultivating leadership skills, and focusing on 21st century strategic deterrence. Program participants are charged with scholarly research and writing, and learn mission-oriented skills from University of Nebraska faculty, USSTRATCOM mentors, and industry leaders.
According to Donald Duralia, USSTRATCOM Chief of Organizational Development, "Not only is this program a key component of the University of Nebraska – USSTRATCOM partnership, it's custom-tailored to target skills needed by the Command. It's an exciting, collaborative program that helps USSTRATCOM deliver strategic deterrence for the United States and our global security partners."
The contract was awarded for one year with the option of extending on an annual basis for four years. Ten civilian leaders from USSTRATCOM will be selected to participate in the cohort-based program each year. Much like UNO's Executive MBA, students in the Strategic Leadership Fellows Program will receive executive-level, concierge-style support services to maximize their time and to keep focused on their coursework.
"The importance of the skills and relationships developed through this program cannot be overstated," said U.S. Navy Adm. Charles "Chas" Richard, commander of USSTRATCOM. "Our partnership with the University of Nebraska is an essential tool for USSTRATCOM and we're grateful for the opportunities provided to our civilian leaders and our command as a whole. This custom-tailored program targets key skills needed by USSTRATCOM and challenges our workforce to anticipate the challenges of the future," he added.
Michelle Trawick, Ph.D., dean of the College of Business Administration (CBA), is proud to continue this important partnership. "It is both a privilege and an honor to be hosting STRATCOM's civilian leaders in the Executive MBA Suite within Mammel Hall," she said. "The Strategic Leadership Fellows Program is a terrific example of the professional development programming available in the College of Business Administration."
Fellows complete a rigorous 13-week program focused on increasing mission awareness, increasing students' breadth of skills, and strengthening core competencies related to strategic deterrence, preparing them to better handle diverse issues of national security. This comprehensive program is focused on building competencies including:
Forging 21st century strategic deterrence
Leader decision-making
Creative problem-solving
Collaboration in virtual environments
Team dynamics
Innovation and resilience to threats
"The Executive MBA (EMBA) Program is excited to welcome the Strategic Leadership Fellows Program into our fold of executive-level leadership development programming," Melanie Krings, director of UNO's Executive MBA program said. "During a time when leaders must possess vital skillsets like critical thinking and problem-solving, collaboration, and change management, we are in a unique position to bridge the best of both programs to provide USSTRATCOM civilian leaders with a rigorous educational experience. Faculty from across the University of Nebraska system will challenge each cohort to think differently about the opportunities and challenges around them and to apply the enhanced skillsets and tools right back into their duties at for immediate impact."
The next cohort is set to begin in Spring 2021.
Since the inception of the Strategic Leadership Fellows Program, NSRI has played a key role, bringing critical expertise and programming in areas such as wargames. NSRI has been a key component of USSTRATCOM's partnership with the University of Nebraska System thanks to its ability to deliver world-class research on issues critical to USSTRATCOM and as a partner in the initial design and implementation of this important UNO leadership program.
"We are pleased that UNO and our institute can continue to serve USSTRATCOM through this academic program, which helps individual participants move toward their career goals while expanding the workforce capabilities of the command," said Lt. Gen. (Ret.) Bob Hinson, NSRI founding executive director. "Workforce development is a critical aspect of our national security, and it is programs like these that the university can and should be providing to our Department of Defense partners."
About the University of Nebraska at Omaha
Located in one of America's best cities to live, work and learn, the University of Nebraska at Omaha (UNO) is Nebraska's premier metropolitan university. With more than 15,000 students enrolled in 200-plus programs of study, UNO is recognized nationally for its online education, graduate education, military friendliness and community engagement efforts. Founded in 1908, UNO has served learners of all backgrounds for more than 100 years and is dedicated to another century of excellence both in the classroom and in the community.
Follow UNO on Facebook, Twitter (X), Instagram, TikTok, LinkedIn, and YouTube.