Math and Service Learning Collide Through Research, Course Funded by NSF Grant
published: 2020/10/09
contact: Brandon Bartling - University Communications
email: unonews@unomaha.edu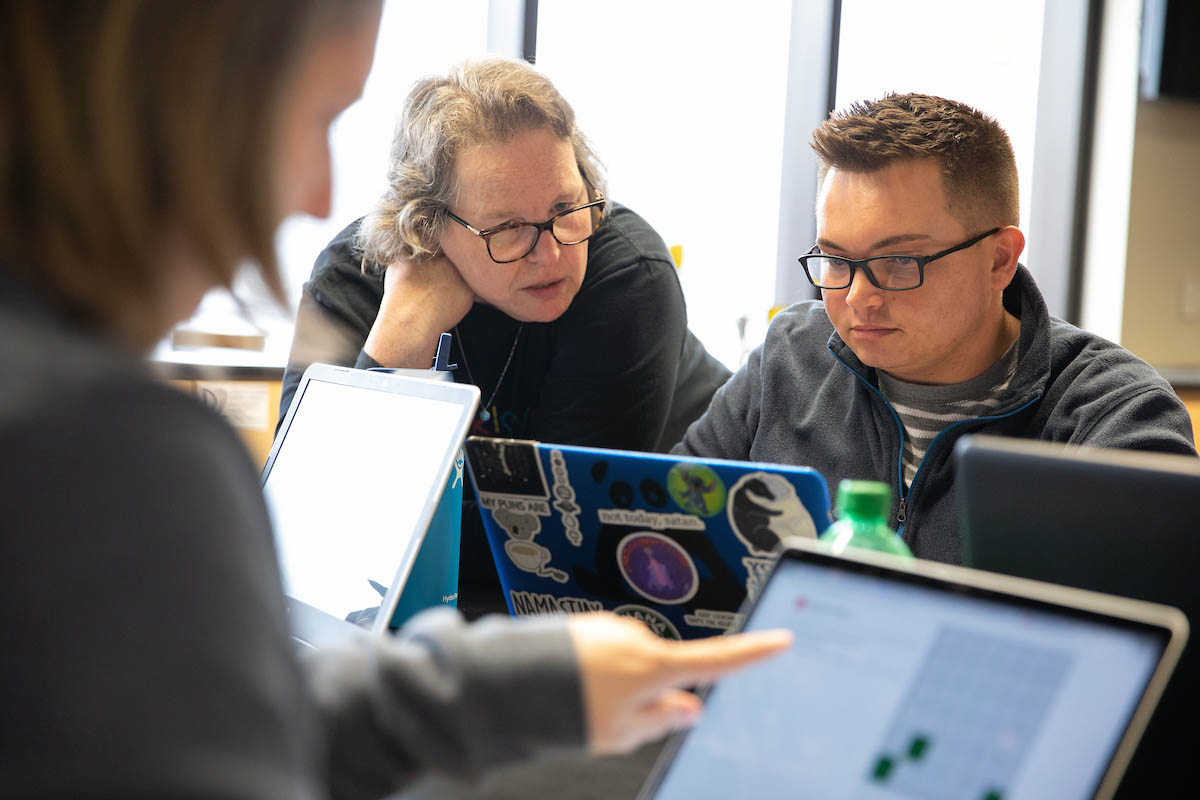 Betty Love, Ph.D., professor of mathematics, works with students during a lesson to her Introduction to Mathematical and Computational Thinking course, which was developed as a new mathematics general education course through NSF funding in 2018. Now, Love and a team of faculty are poised to innovate within general education math curriculum once again.
UNO students will soon solve real-world problems for nonprofit organizations in the Omaha community, all while exploring data analysis and visualization, thanks to an innovative new course made possible by funding from the National Science Foundation (NSF).
"Undergraduate Service Learning Experiences with Data (U-SLED): Mathematics in the Community" is a new interdisciplinary course that combines community engagement with data literacy and mathematics education. The NSF-funded project will research and implement STAT 1100, "Data Literacy and Visualization," a general education quantitative literacy course that pairs students with nonprofit organizations in the Omaha community.
Students will use data to answer authentic questions for these community partners, strengthening organizational capacity to meet their missions while preparing students with critical workforce skills such as data literacy and collaboration.
Michelle Friend, Ph.D., assistant professor of teacher education, leads the project.
"Many students in general education math courses have 'math anxiety' and a history of terrible experiences with math courses," she said. "Innovation in these courses at UNO helps people see that math can be fun and interesting, provide applicable valuable skills in many settings, and can lead to great career opportunities. This course, specifically, provides students with an opportunity to apply what they're learning immediately and solve authentic problems for a local non-profit."
In the course this semester, students are providing analysis to Wellbeing Partners, a local nonprofit working to eliminate health disparities.
Students will work to understand relationships between demographic variables and how often families run out of food each month. By utilizing U.S. Census data and statistics on food deserts, students will learn to analyze and visualize these relationships and glean insights to keep local families healthy, not hungry.
Through a prior NSF grant, Friend and Betty Love, Ph.D., professor of mathematics, brought together an interdisciplinary team of faculty from the mathematics, teacher education, and computer science departments to combine math with art and computer programming.
The course, MATH 1120, requires students to write computer programs and use mathematical concepts to create art. The success of this course led to expanded general education requirements for quantitative literacy and the U-SLED project through this latest NSF grant.
Friend believes these types of courses help bridge the gap between theory and application for students who may otherwise be averse to mathematics concepts.
"All math teachers know to expect and dread the question, 'When am I ever going to use this?' These innovative courses help students connect concepts to real-world applications, like art or how much money they need to save for retirement. In STAT 1100, the answer to 'why do I have to learn this?' is not just 'for the test.'"
Joining Friend and Love in U-SLED is a team of researchers including Julie Dierberger, Ph.D., Paul Sather Distinguished Director of UNO's Service Learning Academy, as well as Mahbubul Majumder, Ph.D., and Becky Brusky, from UNO's Mathematics Department.
Dierberger said the partnership came about as a result of ongoing collaboration with building partners from UNO's Barbara Weitz Community Engagement Center (CEC). Wellbeing Partners is among those who call the CEC home, and ongoing discussions with the Service Learning Academy led to the discovery of a unique opportunity.
"Service learning courses are really a win-win for everyone—students are more engaged and the community partner receives a positive project impact," she said. "Just like students are making the data come to life in this course, student learning comes to life through their experiences with the partner organization who will be able to use the outputs to improve our community."
This material is based upon work supported by the National Science Foundation under Grant No. NSF #2021512. Any opinions, findings, and conclusions or recommendations expressed in this material are those of the author(s) and do not necessarily reflect the views of the National Science Foundation.
About the University of Nebraska at Omaha
Located in one of America's best cities to live, work and learn, the University of Nebraska at Omaha (UNO) is Nebraska's premier metropolitan university. With more than 15,000 students enrolled in 200-plus programs of study, UNO is recognized nationally for its online education, graduate education, military friendliness and community engagement efforts. Founded in 1908, UNO has served learners of all backgrounds for more than 100 years and is dedicated to another century of excellence both in the classroom and in the community.
Follow UNO on Facebook, Twitter, Instagram, TikTok, LinkedIn, and YouTube.