Stay Informed on COVID With 'PRAM' Dashboard
Developed by UNMC, the Pandemic Recovery Acceleration Model (PRAM) is designed to assess the regional and statewide impact of the COVID-19 pandemic and help local leaders make informed decisions about key pandemic response measures.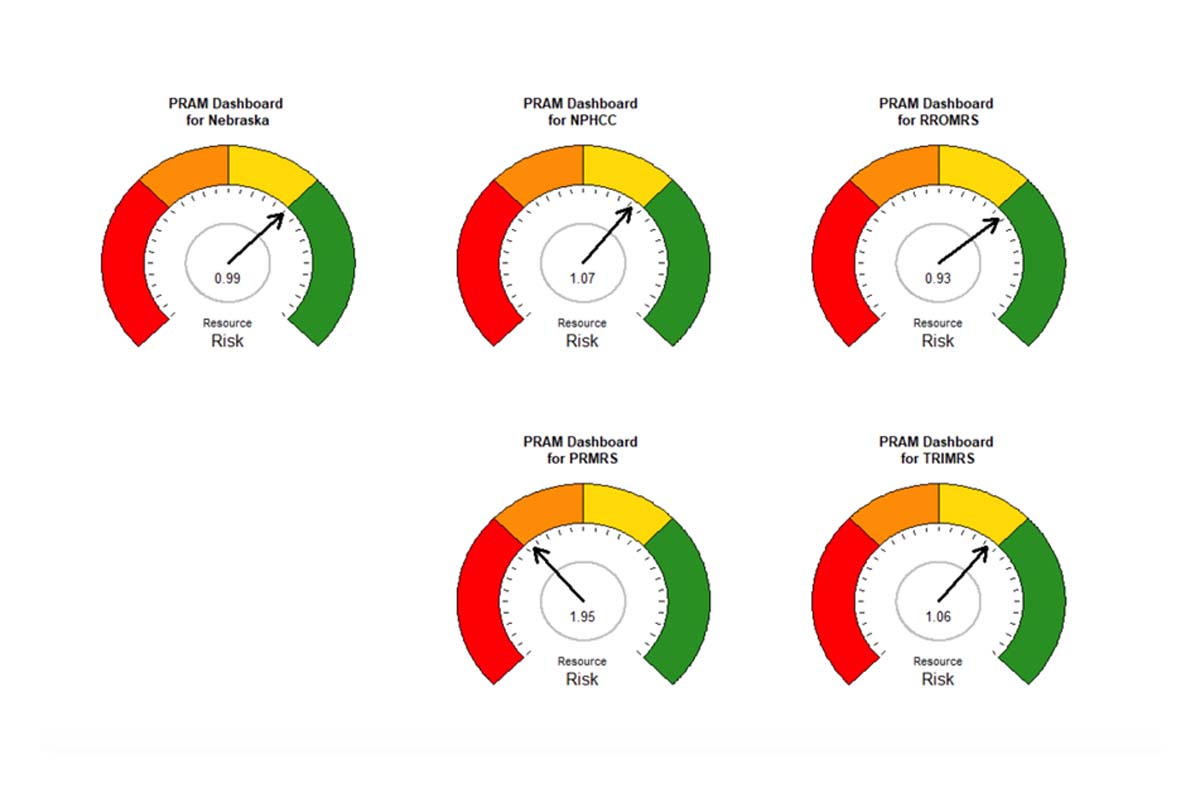 The PRAM model developed by UNMC provides a daily risk assessment for COVID-19 recovery based on a variety of key factors like rate of infection, number of cases, and availability of hospital beds.
Earlier this summer, the University of Nebraska Medical Center developed an innovative data-driven model that could be used by local and state leaders to help to guide decision-making as it relates to COVID-19.
The Pandemic Recovery Acceleration Model (PRAM) provides daily assessments of the regional specific impact of COVID-19 and availability of medical resources across Nebraska, helping officials make real-time decisions about appropriate resources and recovery steps for their communities.
---
---
PRAM is updated daily and allows health officials, public officials and university leaders to capture a real time snapshot of how COVID-19 is affecting the community, a region or the state by using six parameters describing the pandemic impact.
The PRAM then graphically illustrates the current pandemic status and in an innovative way, also provides analysis of the rate of acceleration or deceleration of change for the key parameters over a fourteen-day interval, provided at given point in time.
PRAM breaks the state into six unique regions, each with their own reports. In each case, readings below 1.0 indicate managable risk. Anything higher is then classified by low, medium, or high risk to that community's recovery from COVID-19.
"The PRAM is not a predictive model", UNO and UNMC Chancellor Jeffrey P. Gold, M.D., said. "It's a statement of where we are and the acceleration of change at any time," he said. "It allows for accurate and timely data sharing and critically important health care decision making based on evolving best practices."

This graphic way to illustrate current COVID-19 community impact was developed collaboratively by Dr. Gold and Chris Wichman, Ph.D., of the UNMC Department of Biostatistics and Ali S. Khan, M.D., M.P.H., dean of the UNMC College of Public Health. They worked closely with leaders of the UNMC Global Center for Health Security (GCHS), including Ken Bayles, Ph.D., Chris Kratochvil, M.D., James Lawler, M.D., M.P.H., John Martin Lowe, Ph.D. and Shelly Schwedhelm, M.S.N., R.N.

About the University of Nebraska at Omaha
Located in one of America's best cities to live, work and learn, the University of Nebraska at Omaha (UNO) is Nebraska's premier metropolitan university. With more than 15,000 students enrolled in 200-plus programs of study, UNO is recognized nationally for its online education, graduate education, military friendliness and community engagement efforts. Founded in 1908, UNO has served learners of all backgrounds for more than 100 years and is dedicated to another century of excellence both in the classroom and in the community.
Follow UNO on Facebook, Twitter, Instagram, TikTok, LinkedIn, and YouTube.