NBDC Seeks to Lessen the Impact of COVID-19 On Businesses
As the COVID-19 pandemic impacts Nebraska businesses, the Nebraska Business Development Center has been offering assistance.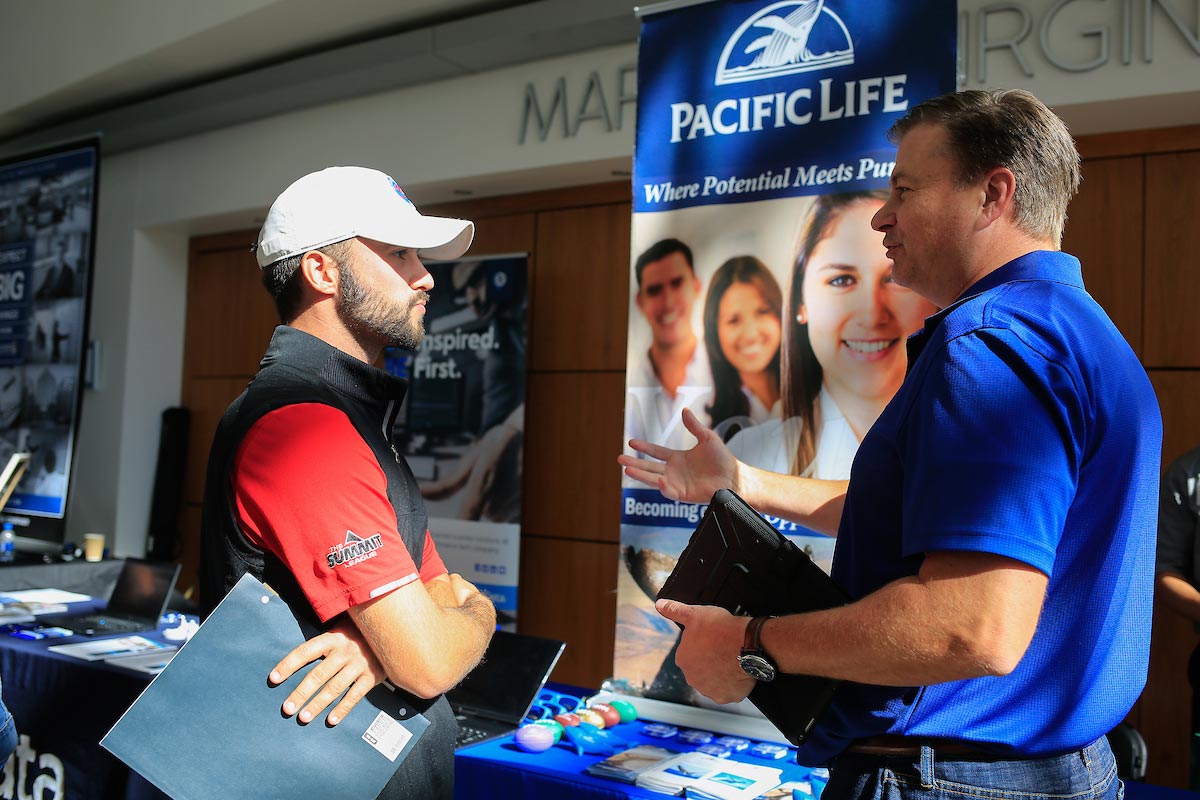 Hui Ru Ng might not have boarded a flight to Nebraska if not for Tommy Lee.
Ru (as her friends call her) was raised in Malaysia and dreamed of traveling to the U.S. to enroll at a college that was equally affordable and reputable. She also dreamed of seeing the sun-swept landscape exhibited in the since-canceled TV show "Tommy Lee Goes to College," which chronicled the former Mötley Crüe drummer's uninspired attempt to assimilate at Nebraska's land grant institution.
Ru ultimately chose the University of Nebraska at Omaha and boarded an airplane for the first time.
"Back home, it's summer all year," she said. "When I got to the airport, I was like, 'Oh, this isn't what I thought.' But I grew to love this place because of the people. I will never forget how Nebraskans supported me."
After completing her undergraduate degree, Ru applied to be a graduate assistant at the Nebraska Business Development Center located at UNO. Oluwaseun Olaore (Seun, as his friends call him) applied around the same time.
A project director back home in Nigeria, Olaore foresaw a professional ceiling unless he had an advanced degree.
Ru and Seun's two years with the NBDC coincided with a 100-year flood and a COVID-19 pandemic. Suddenly the vulnerabilities of the Midwestern economy were tested like never before.
"This whole experience actually made me realize that I want to start a small business," said Ru after having experienced a frightening two-part course on the financial realities of small-business ownership in times of crisis. "You get inspired by clients, see their innovation and passion."
Seun too came away from this experience reaffirmed in his commitment to the industry.
"I've been able to help business owners figure out a way around these problems," he said. "This hasn't scared me away. It has strengthened me."
Since its founding in 1977, NBDC has operated with a statewide mission out of its office in UNO's College of Business Administration. For nearly four decades, Robert Bernier shepherded the center as its director.
"My opinion is that small business is more important to Nebraska, more important to our communities than anything," said Catherine Lang, assistant dean of the UNO College of Business Administration who took over as NBDC state director for Bernier in 2016. "Nebraska small-business owners are innovative, resilient and tenacious. They care about their community."
With Lang's guidance, NBDC has assisted more than 8,500 clients — everything from fire-rated window providers to monarch butterfly habitat conservers — and helped them obtain in excess of $590 million in government contracts. All told, NBDC had a $1.9 billion impact on Nebraska's economy over just the last four years, either directly creating or saving nearly 6,000 jobs.
If the NBDC is a tent, there are five support poles beneath: the Small Business Development Center, the Procurement Technical Assistance Center, Innovation and Technology Assistance, Professional and Organizational Development, and NU Connections.
There are centers in Chadron, Grand Island, Kearney, Lincoln, McCook, Norfolk, North Platte, Omaha, Scottsbluff and Wayne.
As Lang puts it, "We are kind of campus agnostic. We serve the entire state."
One-on-one discussions are confidential and available free of charge. Proposals are tailored to the client.
"We work with them to develop their business plan," Lang said. "That way they're 100 percent intimately knowledgeable about financials, market research, everything."
Located in UNO's Mammel Hall, the center can tap into the university's student body and faculty.
"There's a nice little symbiotic relationship between the academic world and the business world," said UNO economics professor Christopher Decker.
Bernier deserves a lion's share of the credit for the success of the graduate assistant program, Lang contends.
At any given time, Ru juggles a dozen clients on the innovation and technology side of the operation, helping them identify which grants to pursue. Olaore works with the small-business development center to help companies flesh out business plans, construct financial projections and apply for loans.
"They hire a lot of international students in the office," Ru said, mentioning that three continents are currently represented by graduate assistants. "We have great diversity."
When the pandemic arrived, NBDC was prepared.
"We had to be ready," Lang said. "Businesses all over the state are contacting us for help — clients who are trying to navigate this whole CARES act, SBA loans, unemployment insurance, IRS rules."
The inspired work has left an impact on those providing it.
"These people are so passionate," Ru said. "You learn a lot from them."
Lang loves how interconnected the NBDC is, that resources are available no matter where a company sprouts from. And indeed, there is an irony almost poetic about salt-of-the-earth Nebraskans turning to students born thousands of miles away for guidance through the all-encompassing storm.
"I know we're just a sliver of the entire ecosystem of Nebraska," Lang said. "But I'm so very proud. We are always going to do the best we can."
About the University of Nebraska at Omaha
Located in one of America's best cities to live, work and learn, the University of Nebraska at Omaha (UNO) is Nebraska's premier metropolitan university. With more than 15,000 students enrolled in 200-plus programs of study, UNO is recognized nationally for its online education, graduate education, military friendliness and community engagement efforts. Founded in 1908, UNO has served learners of all backgrounds for more than 100 years and is dedicated to another century of excellence both in the classroom and in the community.
Follow UNO on Facebook, Twitter (X), Instagram, TikTok, LinkedIn, and YouTube.