Gretna Graduate Awarded 'Maverick in the Making' Scholarship
With a passion for community service and academics, Gretna's Cole Dostal is ready to fly high - literally - as an incoming Aviation student.
published: 2020/07/13
contact: Jessica Hilt - University Communications
email: unonews@unomaha.edu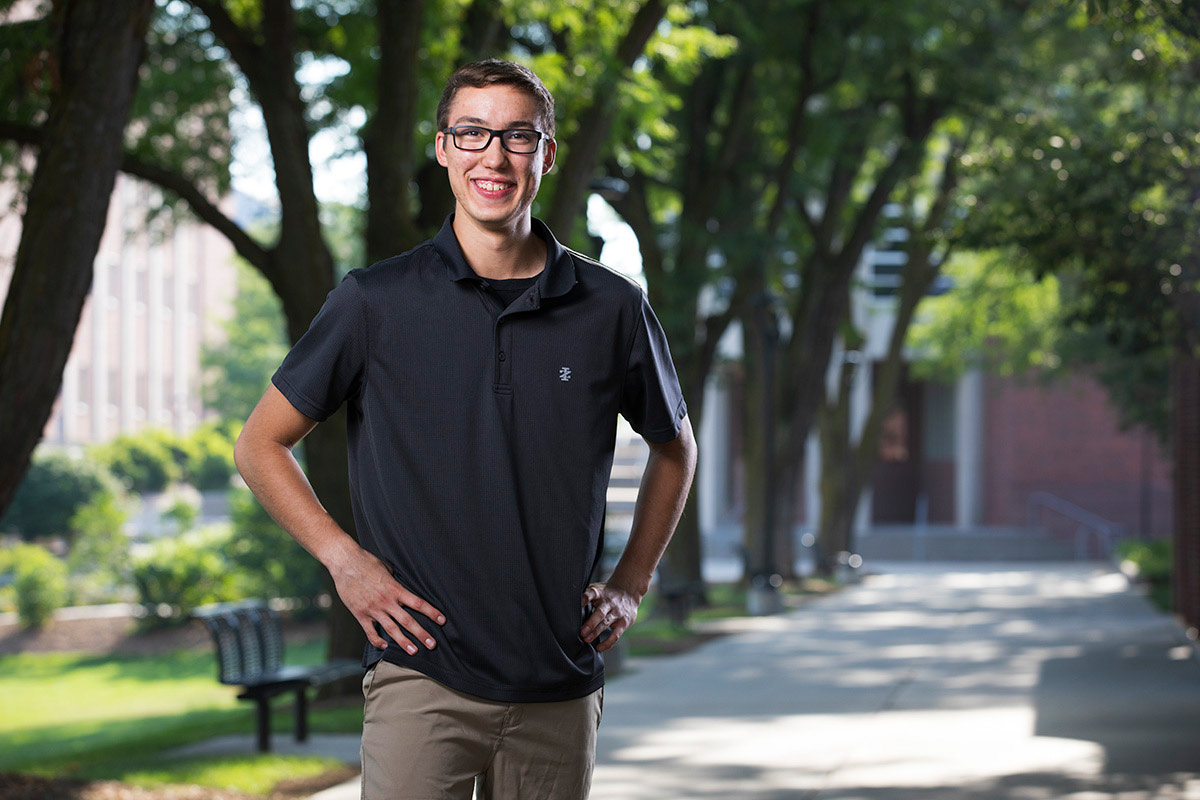 Cole Dostal was selected as a "Maverick in the Making" - earning a $4,000 scholarship to attend UNO.
A bright mind with a passion to volunteer and a love of the skies, Cole Dostal is a recent Gretna High School graduate and July's recipient of the Maverick in the Making Scholarship.

Maverick in the Making recognizes high school seniors who are making a difference in their communities by awarding them a scholarship to UNO for $4,000. Dostal is the sixth recipient of the scholarship, which launched in 2019.

Dostal, who plans to attend UNO's Aviation Institute this fall, keeps himself busy by putting in a lot of work to help others. Recently, he served as an aide in a handicapped classroom while also helping the elderly at a local retirement community in his hometown of Gretna. Not only does he volunteer locally, but Dostal has also done work with the Make-A-Wish Foundation and regularly attends his church's youth group activities.

"Just giving back to the community and showing people that you care is really what is big for me," Dostal said.

During his senior year of high school, Dostal stood out for his commitment to his education and after-school activities. This meant balancing playing for the varsity soccer team, while working as a member of one of Gretna High School's service groups, being recognized as a member of National Honor Society, earning 40 college credits and graduating Summa Cum Laude.

Already on a bright path to UNO, Dostal also spent a lot of the time in the sky during his senior year. He took flying lessons and even made his first solo flight.

"He has very good work ethic, personal drive and focus," his grandmother, Lee Dostal, said. "He makes sure he gets any job done to his specifications."

When asked what made him choose UNO over other institutions, Dostal was excited to learn more about flying through the Aviation Institute.

"Just being a part of a local community of people that enjoy aviation and the same interests as me is really something that pushed me towards UNO," Dostal said.

What does he look forward to at UNO the most?

Dostal mentioned joining several clubs, whether they're service-based clubs that help him continue to give back to the community or academic clubs that will help him further his education. He also said he is excited to have a true "college experience."

Have your own future Maverick you would like to nominate? UNO is accepting submissions for the next Maverick in the Making year-round.
Nominate Your Maverick in the Making
A Maverick is an independent thinker—someone who isn't afraid to go against the grain and explore without the fear of failing. At UNO, our Mavericks are asking questions and making change all across the world. Nominate your Maverick in the Making today and give them the chance to start big! You can also learn about past recipients of the scholarship.
About the University of Nebraska at Omaha
Located in one of America's best cities to live, work and learn, the University of Nebraska at Omaha (UNO) is Nebraska's premier metropolitan university. With more than 15,000 students enrolled in 200-plus programs of study, UNO is recognized nationally for its online education, graduate education, military friendliness and community engagement efforts. Founded in 1908, UNO has served learners of all backgrounds for more than 100 years and is dedicated to another century of excellence both in the classroom and in the community.
Follow UNO on Facebook, Twitter (X), Instagram, TikTok, LinkedIn, and YouTube.