UNO Archives Preserve Queer History to Make Future More Inclusive
The Queer Omaha Archives were launched at the UNO Criss Library in 2016 and continue to stand as Nebraska's only LGBTQIA2S+ archive.
published: 2020/06/11
contact: Amy Schindler - Archives and Special Collections
email: unoasc@unomaha.edu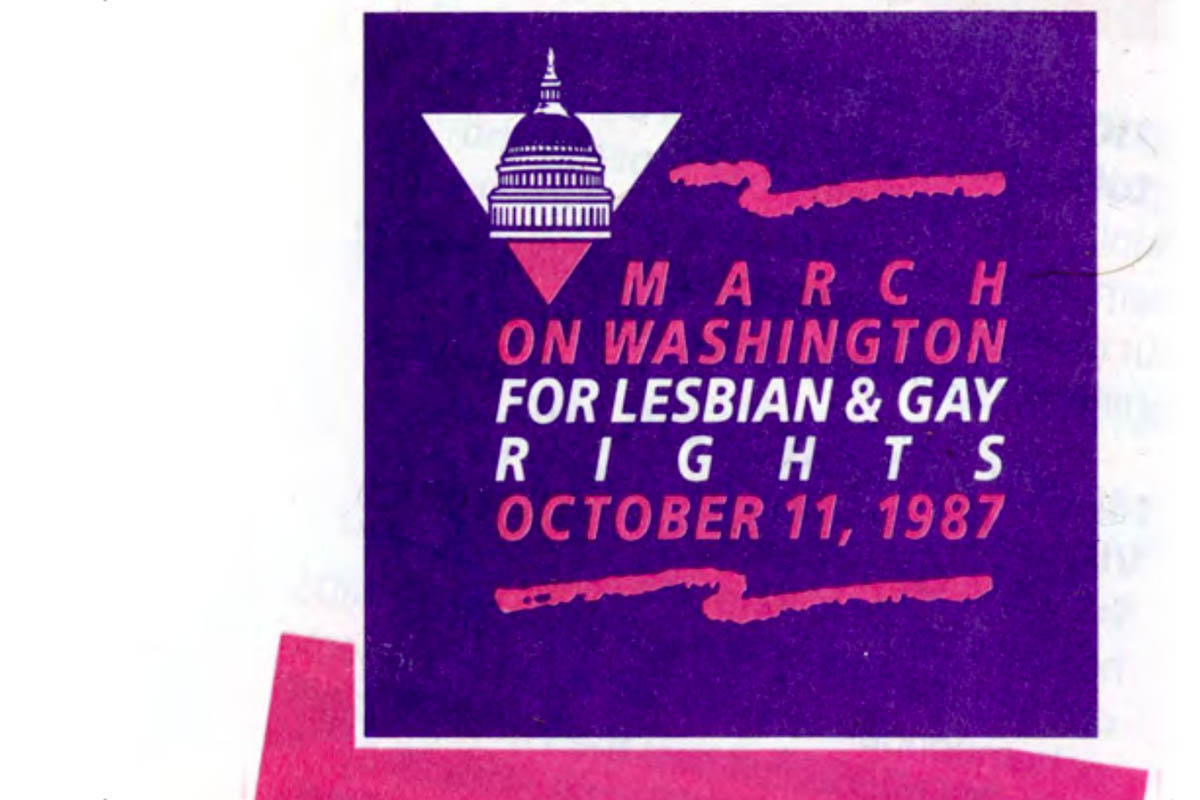 A brochure for the March On Washington For Lesbian Gay Rights, Oct. 11, 1987. This is one of the hundreds of documents collected as part of UNO's Queer Omaha Archives.
While the world celebrates June as Pride Month, UNO's commitment to recognizing and supporting the LGBTQIAS2+ (Lesbian, Gay, Bisexual, Transgender, Queer and/or Questioning, Intersex, Asexual, Two-Spirit, and beyond) community is a year-round effort.
Just one of the ways UNO has led the way in this effort is the Queer Omaha Archives, a project launched in 2016 through the UNO Libraries Archives and Special Collections; it remains Nebraska's only LGBTQIAS2+ archive.
"While much has changed in the past decade when it comes to acceptance and recognition of queer communities, there remains a wealth of historical information that is only now truly being given the opportunity to be shared," said Amy Schindler, director of UNO Libraries Archives and Special Collections. "This archive is here to protect those stories, documents, photos, videos, and so on in a way that can serve as a student and community resource."
Dozens of individuals have donated over 80 cubic feet of archival material, 3 GB of records, and over 3,000 books. Among the resources available through the Queer Omaha Archives, which can be accessed online as well as in person, include issues of "The New Voice of Nebraska," a Lincoln and Omaha-based magazine for the queer community 1984 to 1999; posters designed by LGBTQIAS2+ student groups from 1995-2015; and photographs collected from 1974-2002 by the Metropolitan Community Church of Omaha.
However, probably the most unique collection within the Queer Omaha Archives is the "LGBTQ+ Oral History Collection," which features interviews from queer individuals with ties to Nebraska. Currently, there are nearly 50 interviews that have been collected since the archives launched in 2016 with the hope that more individuals will participate in the coming months and years.
"It is one thing to read about a person, or historical events, but to hear someone tell their own story makes a huge difference in creating shared understanding," Schindler said. "The depth of these interviews and what they say about the queer experience in Nebraska is truly a great treasure for us to have at UNO."
Students, in particular, have made use of the archives since they launched. Not only are classes in sociology, history, English and philosophy utilizing the archives for projects, but members of UNO's Queer and Trans Services Student Agency have used the archives to learn more about their organization's history.
Even during social distancing and remote learning, Schindler says the archive stands ready to support the campus and community. She says anyone interested in supporting the Archives can do so through donations of items, contributing to the oral history collection, or financial support.
"In this time of activism, unrest, and continuing violence against the Black community, communities of color, Indigenous populations, and the LGBTQ+ community, we are working to be better allies, to learn, be an even more responsible repository, and celebrate what makes us unique to find ways to move forward."
About the University of Nebraska at Omaha
Located in one of America's best cities to live, work and learn, the University of Nebraska at Omaha (UNO) is Nebraska's premier metropolitan university. With more than 15,000 students enrolled in 200-plus programs of study, UNO is recognized nationally for its online education, graduate education, military friendliness and community engagement efforts. Founded in 1908, UNO has served learners of all backgrounds for more than 100 years and is dedicated to another century of excellence both in the classroom and in the community.
Follow UNO on Facebook, Twitter (X), Instagram, TikTok, LinkedIn, and YouTube.