Omaha South Graduate Awarded 'Maverick in the Making' Scholarship
Giving back is the name of the game for recent Omaha South High School graduate Alma Barrera.
published: 2020/06/15
contact: Jessica Hilt - University Communications
email: unonews@unomaha.edu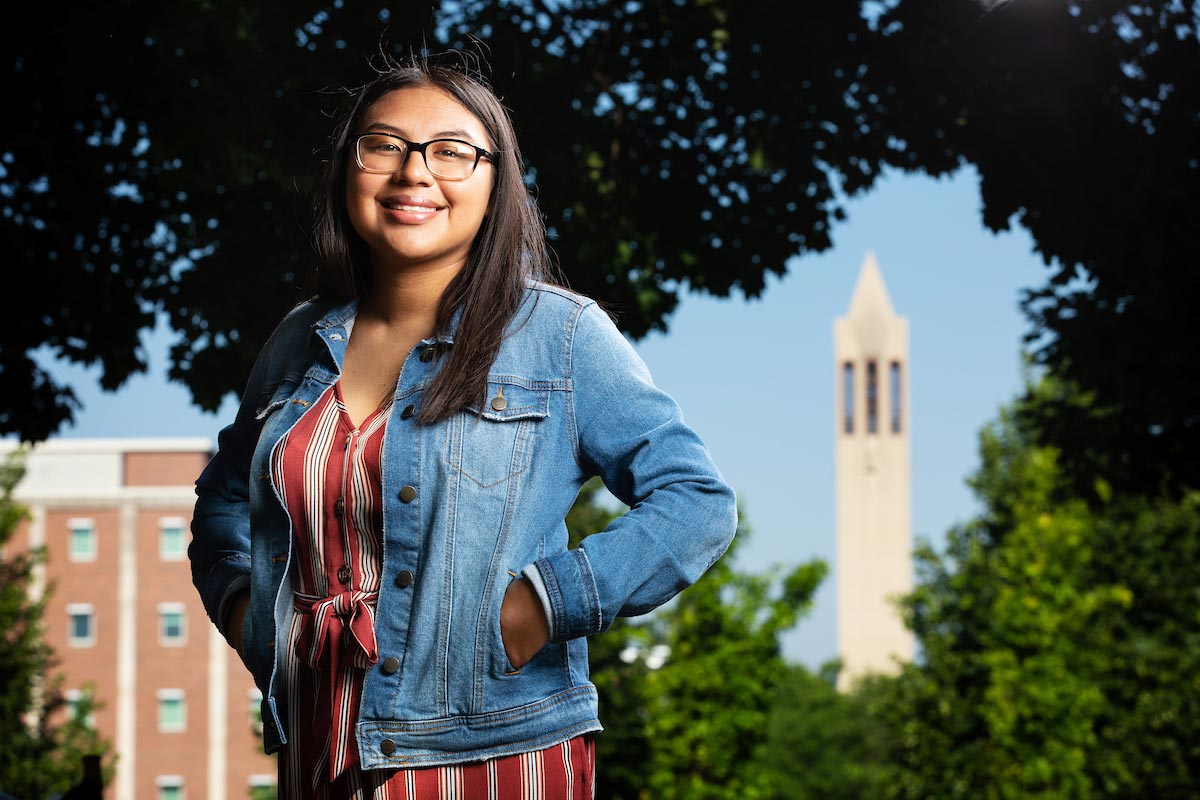 Alma Barrera was selected as a "Maverick in the Making" - earning a $4,000 scholarship to attend UNO.
Giving back is the name of the game for recent Omaha South High School graduate Alma Barrera.
Once a student in the UNO/OPS Middle College Program, Barrera's hard work, and selflessness quickly caught the eye of campus faculty and staff. Not only did she participate in several of UNO's volunteer service days, but Barrera also helped form the campus volunteer club as well as host food and toy drives for families in need. If you think all of that makes her sound busy, she was able to do it all while maintaining a 4.0 GPA and earning 17 college credits.
"I just do volunteering for fun," Barrera said. "But now I can see just how far volunteering can get you."
Maverick in the Making recognizes high school seniors who are making a difference in their communities by awarding them a scholarship to UNO for $4,000. Barrera is the fifth recipient of the scholarship, which launched in 2019.
Barrera says she plans to study pre-med while she is at UNO while also pursuing degrees in biology and business. Her dream is to become a pediatrician and open a clinic similar to One World so she can continue giving back to her community.
"I volunteered for a couple of months at One World and that's where I started getting an interest in the medical field."
Barrera recalled her days volunteering at the clinic, saying: "The doctors were always so nice to the patients, it just made me want to give back more."
"She is a strong person. She is smart, she is dedicated, she is caring. She is selfless," said Heather McLaughlin, director of the OPS Middle College Program. "I mean, she does everything for everybody else. Alma just embodies everything that a successful college student is."
Have your own future Maverick you would like to nominate? UNO is accepting submissions for the next Maverick in the Making year-round.


Nominate Your Maverick in the Making
A Maverick is an independent thinker—someone who isn't afraid to go against the grain and explore without the fear of failing. At UNO, our Mavericks are asking questions and making change all across the world. Nominate your Maverick in the Making today and give them the chance to start big! You can also learn about past recipients of the scholarship.
About the University of Nebraska at Omaha
Located in one of America's best cities to live, work and learn, the University of Nebraska at Omaha (UNO) is Nebraska's premier metropolitan university. With more than 15,000 students enrolled in 200-plus programs of study, UNO is recognized nationally for its online education, graduate education, military friendliness and community engagement efforts. Founded in 1908, UNO has served learners of all backgrounds for more than 100 years and is dedicated to another century of excellence both in the classroom and in the community.
Follow UNO on Facebook, Twitter (X), Instagram, TikTok, LinkedIn, and YouTube.