Social Work Student, Professor Earn Fulbright Awards
published: 2020/04/10
contact: Charley Steed - University Communications
email: unonews@unomaha.edu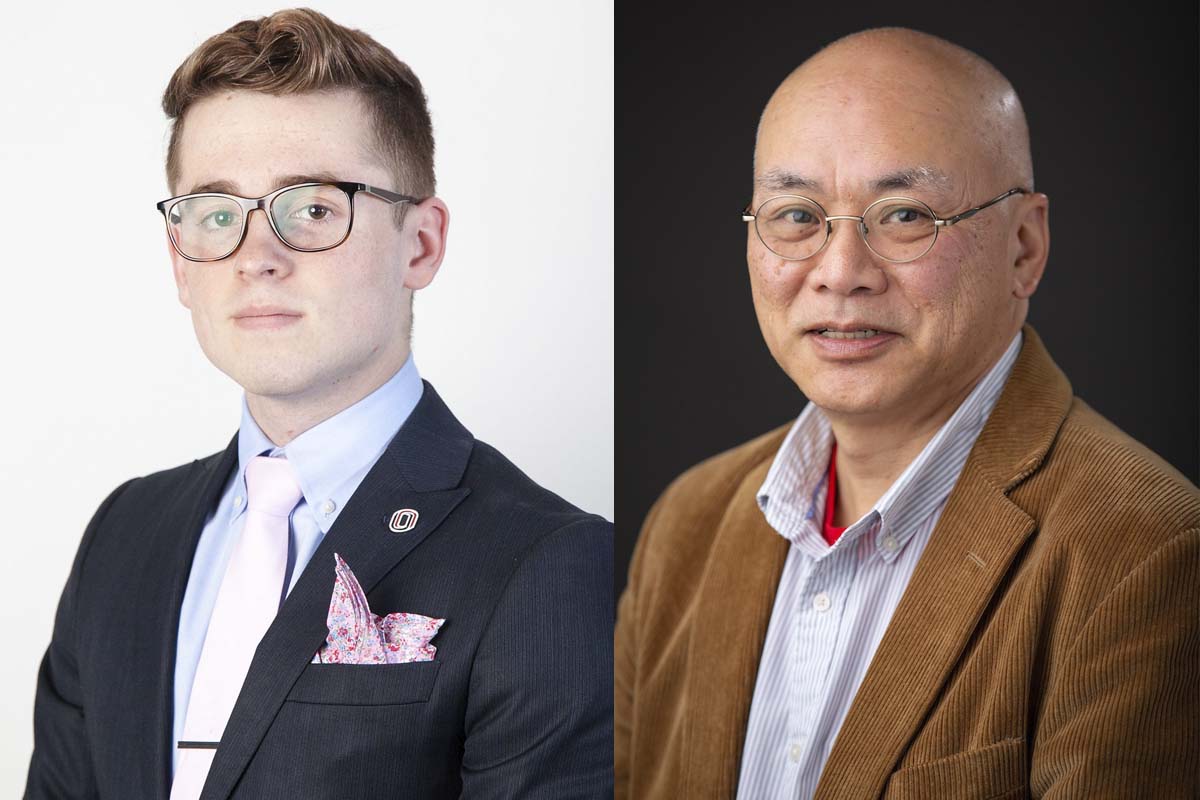 Dalton Meister (left) and Peter Szto, both from the Grace Abbott School of Social Work, were recently named recipients of a prestigious Fulbright scholarship.
A student and faculty member from UNO's Grace Abbott School of Social Work have been named recipients of prestigious Fulbright awards that will allow them to pursue their passions for helping others and build a shared, global focus on health and wellness.
Dalton Meister, a junior social work major, and Peter Szto, Ph.D., a professor of social work, were awarded funding to conduct international research with ties to China. Despite COVID-19 putting a hold on international travel for the immediate future, both are looking forward to the opportunities and resources that come with being a Fulbright Scholar.
"With faculty like Peter, whose work has brought new dimensions to global social work to expand our understanding of mental health, and students like Dalton, who take every opportunity to enhance their undergraduate experience, it is clear why such a well-known, global organization like the Fulbright Program would select these two excellent representatives of UNO's social work program," Amanda Randall, Ph.D., professor and director of the Grace Abbott School of Social Work, said.


Dalton Meister
Meister, who has minors in medical humanities; human rights studies; holocaust and genocide studies; and international studies, as well as serving as a senator for UNO Student Government, earned one of the first Canada-Mitacs Globalink Research Internships for his Fulbright.
The award supports researchers from British Columbia who are developing a resource map of schools and locations in Hong Kong that provide social work education and support. It's a cause that spoke to Meister personally.
"As a student at UNO, I've had the opportunity to participate in a wonderful social work program that takes students abroad to China and using photography as a means for social change," he explained. "Having previous experiences with Hong Kong, I thought [this project] would be a wonderful way to reconnect with those experiences."
Meister credits his faculty mentors in the Grace Abbott School of Social Work and the Office of National Scholarships and Fellowships with his success in achieving the scholarship.
"For each and every part of my education and my scholarship, they've mentored me, they've guided me and I wouldn't be the person I am today or have as rich of an education as I've had without all their guidance."
It is precisely because of the global impacts of illnesses like COVID-19 that he knows a global perspective of social work is key.
While his specific project is currently on hold due to restrictions tied to the pandemic, Meister said that he still plans to collaborate with faculty on the project in some way and hopefully pursue the project in earnest next summer.


Peter Szto
Szto was recently named the recipient of a Fulbright Distinguished Chair in the Social Sciences. The award will take him to China to develop a social work curriculum a focused on an indigenous-based mental health.
While the exact schedule of his time in China is on hold due to COVID-19, Szto will spent approximately 10 months in a country in need of mental health support.
"The central government understands that social work is a strategic solution to address citizens' mental health needs," he said. "What's missing is a model of care and curriculum to train a mental health work force."
Szto, who himself is the son of Chinese immigrants, has spent much of his academic career focused on social welfare development in China, including mass internal migrations from rural to urban spaces and the stigma around mental illness.
"The topic of mental health is pretty much cloaked in stigma and taboo, and thus, under-developed from a service delivery and educational perspective," he said. "An indigenous approach is appropriate to avoid problems associated with Western imperialism or colonialism."
Szto said that being chosen as a recipient for a Fulbright award is a "deep honor" and that he hopes " to make a significant contribution to China in terms of social work education and mental health."
---
The Fulbright Program is the flagship international educational exchange program sponsored by the U.S. government and is designed to increase mutual understanding between the people of the United States and the people of other countries.
Recipients of Fulbright grants are selected on the basis of academic or professional achievement, as well as demonstrated leadership potential in their fields. The program operates in over 160 countries worldwide. Since its inception in 1946, the Fulbright Program has provided more than 380,000 participants—chosen for their academic merit and leadership potential — with the opportunity to exchange ideas and contribute to finding solutions to shared international concerns.
The Fulbright U.S. Student Program is administered at UNO through the Office of National Fellowships and Scholarships. Email unoonsf@unomaha.edu to express interest in learning more about such opportunities.
For more information about the Fulbright Program, visit http://eca.state.gov/fulbright.
About the University of Nebraska at Omaha
Located in one of America's best cities to live, work and learn, the University of Nebraska at Omaha (UNO) is Nebraska's premier metropolitan university. With more than 15,000 students enrolled in 200-plus programs of study, UNO is recognized nationally for its online education, graduate education, military friendliness and community engagement efforts. Founded in 1908, UNO has served learners of all backgrounds for more than 100 years and is dedicated to another century of excellence both in the classroom and in the community.
Follow UNO on Facebook, Twitter (X), Instagram, TikTok, LinkedIn, and YouTube.