Lui Receives Prestigious Goldwater Scholarship
The molecular-and-biomedical-biology major and Scott Scholar is the only student from Nebraska to receive the award this year and is just the fourth Maverick in history to earn the honor.
published: 2020/04/10
contact: Charley Steed - University Communications
email: unonews@unomaha.edu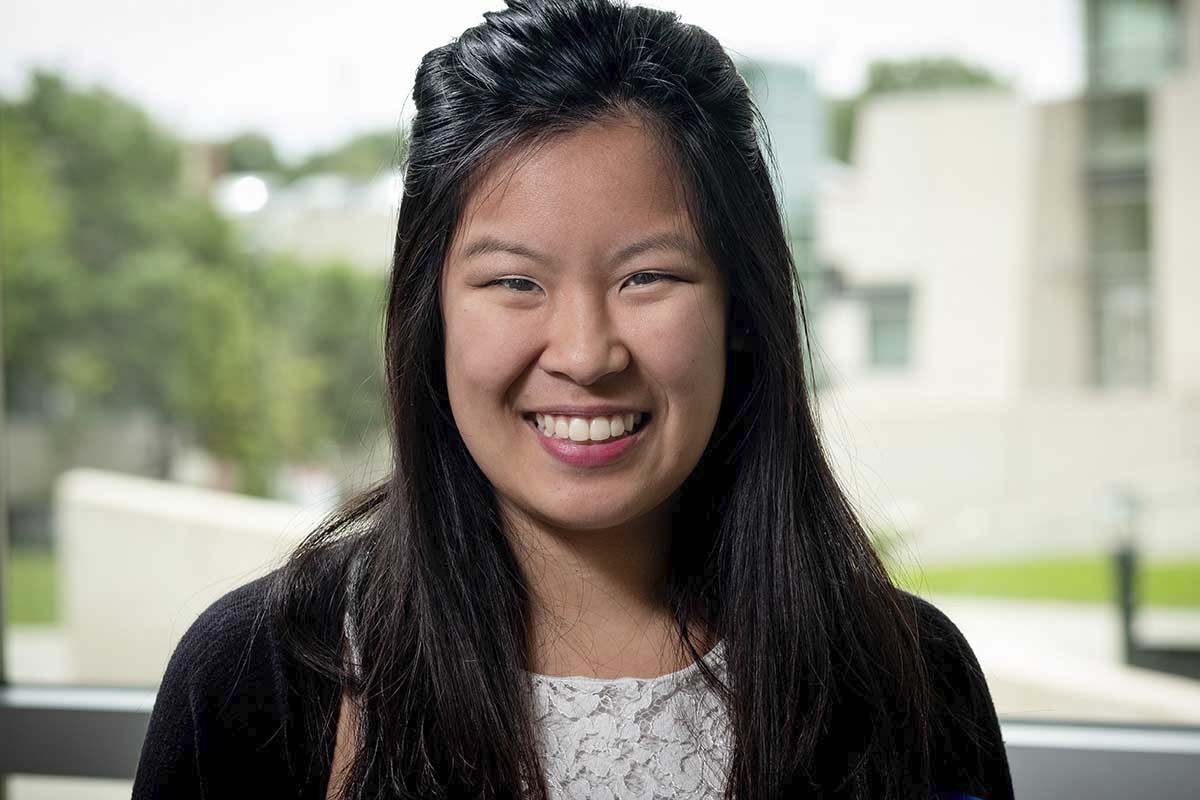 As a Goldwater Scholar, LeeAnna Lui has been selected as one of the top college students in the country in the fields of natural science, engineering and mathematics.
For more than 30 years, the Barry Goldwater Scholarship Fund has recognized hundreds of college students who are poised to make a significant impact in the fields of natural science, mathematics and engineering.
This year, among the just under 400 students recognized nationally, only one student from the state of Nebraska was selected as a Goldwater Scholar: UNO junior LeeAnna Lui.
"I was just in complete shock," the molecular and biomedical biology major said. "It's just a huge honor to be recognized."
While there may not be any publications to her name, yet, the Omaha native's commitment to the future of medical science - and her community - is perfectly clear. Not only is Lui a Scott Scholar and INBRE Scholar, meaning she has helped conduct research in medical labs both at UNO and UNMC, but she has served as engagement director for UNO's Chi Omega chapter, is president of the Mavericks Club for Bioinformatics, a mentor for Big Brothers Big Sisters and a volunteer at Nebraska Medicine's Mutli-Organ Transplant Clinic.
Paul Davis, Ph.D., an associate professor in the Department of Biology, has served as one of Lui's mentors as director of the Molecular Parasitology Lab at UNO. In the lab she works with toxoplasma gondii, hoping to contribute to the development of treatments and, ultimately, a vaccine for the parasite.
"LeeAnna is well-liked, and perhaps more importantly, valued and trusted in our lab and among her classmates as bright, courageous, focused, determined, and willing to do hard things," Davis said. "With next-generation sequencing and gene editing technologies more available than ever before, LeeAnna's work in bioinformatics and genetic manipulation has positioned her very well to make considerable impacts in the future of this field."
Lui is just the fourth Maverick in history to receive a Goldwater Scholarship, following in the footsteps of alumni who have gone on to pursue graduate work at the Carle Illinois College of Medicine and Harvard.
She credits the support of faculty mentors like Davis; Kate Cooper, Ph.D., assistant professor of interdisciplinary informatics; Paul Fey, Ph.D., from UNMC, who worked with Lui over the summer through the INBRE program; and Lucy Morrison, Ph.D., director of UNO's Office of National Scholarships and Fellowships, for helping push her to apply.
"I looked at the application and I said 'I'm not qualified for this'," she said. "But Dr. Morrison pushed me; she encouraged me about it and with her guidance - a lot of it - I applied and I got it."
For Morrison, LeeAnna's competitiveness for the award was never in question.
"It was clear from LeeAnna's achievements and personal story that she is extremely high-achieving and successful," Morrison said. "I am thrilled to watch her continue the tradition of Goldwater scholars from UNO."
Because of her Scott Scholarship, Lui said that she won't receive much in the way of financial benefit from the Goldwater Scholarship, yet being among the students who are selected each year has opened up a world of connections and opportunities for her future academic and professional career.
She says while the specifics aren't quite in place yet, she hopes to pursue a joint M.D./Ph.D. program so she can experience the research side of medicine as well as the clinical side. It's a balance of perspectives that she says is vital to fighting pandemics like COVID-19.
"You see things like this in a movie and then you realize it can actually happen," she said. "But you also see what we're trying to do to stop it, the research being done for it. A lot of times people may argue that a Ph.D. doesn't do much because they are just in a lab and not with patients, but if you can come up with a vaccine - that makes a huge difference, and that's what we're all working toward."
About the University of Nebraska at Omaha
Located in one of America's best cities to live, work and learn, the University of Nebraska at Omaha (UNO) is Nebraska's premier metropolitan university. With more than 15,000 students enrolled in 200-plus programs of study, UNO is recognized nationally for its online education, graduate education, military friendliness and community engagement efforts. Founded in 1908, UNO has served learners of all backgrounds for more than 100 years and is dedicated to another century of excellence both in the classroom and in the community.
Follow UNO on Facebook, Twitter (X), Instagram, TikTok, LinkedIn, and YouTube.