How To Be Productive When Working From Home
The thought of working from home when that's not something you're used to can be great, but after doing that for a while, it's easy to find how distracting working from home can actually be.
published: 2020/04/15
contact: Jessica Hilt - University Communications
email: unonews@unomaha.edu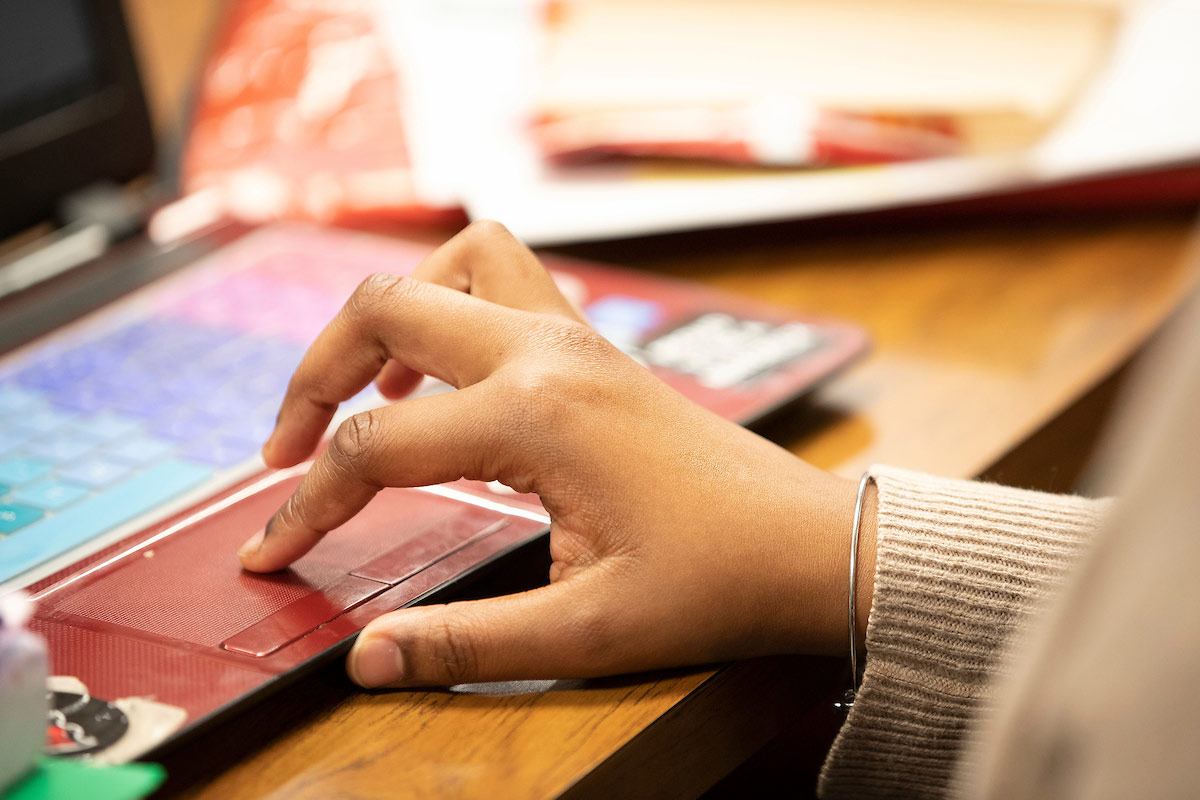 For some, the thought of working from home when that's not something you're used to can be great. Wear sweatpants all day, work from the comfort of your couch while watching TV; but after doing that for a while, it's easy to find how distracting working from home can actually be.
So, what is a good way to stay productive while you're not in an office setting?
Erica Rose is a full-time faculty and program coordinator for UNO's Library Science degree, program housed in the College of Education, and she is no stranger to working from home. The fully online Library Science program has allowed her to call home "the office" for the past two years.
"Like many of my colleagues, I am a working mother and have had to learn strategies for managing working from home around the business of parenting," Rose explains. "Current circumstances have put a whole new spin on this."
Here is how Rose was able to get a system down and how her tips can help others be successful while working from home:
1. Build in Focused Work Time
For many of us, business hours tend to be filled with a constant barrage of work that comes in "sideways" (unplanned fires that must be put out). Phone calls, emails, meetings, discussion posts, etc. require our immediate attention. This makes it very hard to tackle work that requires significant concentration while also addressing the needs of a roommate, spouse, or child.
Dedicating an hour or two early in the morning or late at night, when the house is quiet, allows for progress on focused work projects (because no one is asking for snacks at 11 P.M.).
Tip: Don't check your email during focus time. Once you jump down that rabbit hole, it's hard to crawl back out.
2. Shift to An Emphasis on Tasks Rather Than Hours
A traditional office work-day includes time spent in casual conversation with colleagues, grabbing lunch, and spending at least an hour trying to figure out why the printer isn't working.
Working from home removes some of these day-to-day occurrences, which means it may be possible to accomplish more in fewer hours. Focusing on tasks that need to be completed, rather than tracking hours, might be a more effective way to approach the day. Along with this, understand that it isn't feasible to plan for 10-15 major projects in a day. It is far more realistic (and easier on your sanity) to target 3-4 things that have to get done each day.
3. Maintain Morning Rituals in Preparing for the Day
Working in pajamas, from the couch is tempting at first. But after a while, this uber-casual style can have a direct impact on mental acuity, productivity, and sense of well-being. There is a lot of science that ties productivity and professionalism to the simple act of getting up and getting dressed. There's also something to be said for the importance of rituals and routine in our lives.
Rose says that, in full disclosure, she has "a rather strained relationship" with early mornings, but it's worth the noticeable difference in her quality of work when she "faces 6 A.M. like a boss" and gets herself together.
4. Set Expectations With Coworkers, Colleagues, and Students
Working from home should not mean that we are always working or always on call. Most people understand and even support this, provided that they know what they can expect from us. Letting people know that you are unavailable during certain hours is reasonable.
Rose tells all of her students that Sundays are a technology-free day for her. Part of this is to protect herself and her family, but another part of this is modeling healthy boundaries around time and technology for her students.
5. Create a Dedicated Work Space
Again, that couch is lovely at first. However, the inevitable back pain and popcorn crumbs will quickly lessen the appeal. Whether it is a corner of the kitchen, a nook in the bedroom or a fancy home office with a door that locks, carving out a dedicated workspace feeds a feeling of stability, eliminates distractions, and puts important boundaries around work and home life.
6. Avoid Boundless Screen Time Without Breaks
"Zoom" has practically become a verb for many of us and email is even more voracious than it was before. It is important to take screen breaks. Numerous virtual meetings can be incredibly draining and extensive time in front of the screen can have physical ramifications.
Take breaks (and don't use your breaks to check social media on your phone). Spread out meetings if you can instead of running them back to back.
7. Choose the Right Chair: "Any ol' Chair" Won't Cut It
Back to the couch comment again: lumbar support is really important and back pain is wretched. Investing in a decent chair for your workspace is money you won't regret spending.
Finally, to wrap up her words of wisdom, Rose says to "Give grace to yourself and others. Negotiating these circumstances is requiring everyone to learn new things. Do what you can and remember we're all doing our best."
About the University of Nebraska at Omaha
Located in one of America's best cities to live, work and learn, the University of Nebraska at Omaha (UNO) is Nebraska's premier metropolitan university. With more than 15,000 students enrolled in 200-plus programs of study, UNO is recognized nationally for its online education, graduate education, military friendliness and community engagement efforts. Founded in 1908, UNO has served learners of all backgrounds for more than 100 years and is dedicated to another century of excellence both in the classroom and in the community.
Follow UNO on Facebook, Twitter (X), Instagram, TikTok, LinkedIn, and YouTube.