Student Commencement Stories: December 2019
As the newest members of the UNO Alumni community, more than 900 students earned their degrees at the 2019 December Commencement Ceremonies at Baxter Arena on Friday, Dec. 20.
WATCH: UNO Celebrates Commencement
These students join the ranks of hundreds of thousands of UNO alumni from the university's 110-year history including educators, professional athletes, four-star generals, senators, actors, business owners and beyond who have continued to break barriers and carve out their own Maverick story.
These are just a few stories from the Maverick class of 2019.
Interested in more exciting stories from recent UNO alumni? Check out the "I Am the R.O.I." series featuring seven Mavericks whose whose return on investment from their UNO education goes far beyond career opportunities.
View by graduate
---
Ali Al-Ghaithi
College of Arts and Sciences
New experiences and unending support were two of the biggest factors that drew Mathematics major Ali Al-Ghaithi to the University of Nebraska at Omaha (UNO). Coming halfway across the world from Sohar, Oman, Ghaithi knew UNO would open doors for him.
"I had the option to change to a different school, but I did find myself happy at UNO while in the English program." Ghaithi says, "I was amazed by the programs and the beautiful buildings UNO has. I felt so welcomed and that's all it took for UNO to win my heart."
Once receiving a study abroad scholarship from Oman, Ghaithi traveled to the U.S. and made himself home at UNO. During his time on campus, he's kept himself busy both academically and extracurricularly. Not only did he explore several different classes before deciding on his Mathematics major, but he also dedicated free time to being a Global Diplomat for UNO as well as a member for the Maverick Venture Fund, an on-campus group that invests seed capital into startups founded by UNO students and alumni.
Though Ghaithi will walk across the stage in December, he has no plans to stop now. He will soon be back to get his Master's in Mathematics and Data Science. "I didn't know what I would be doing with my math degree when I started…but taking different classes at UNO made me realize that I want to be a data scientist because everyone uses data so I could work anywhere."
Ghaithi encourages new Mavericks to talk to UNO faculty and staff because they can find you opportunities that will help you a lot in the future. He also says taking a different variety of courses can help you learn new things you would never expect.
"At UNO, I didn't find only knowledge but a new family that made me dream big and supported me to be a better version of myself. UNO helped me to realize that I can do more."
---
Ugo Tritz
College of Business Administration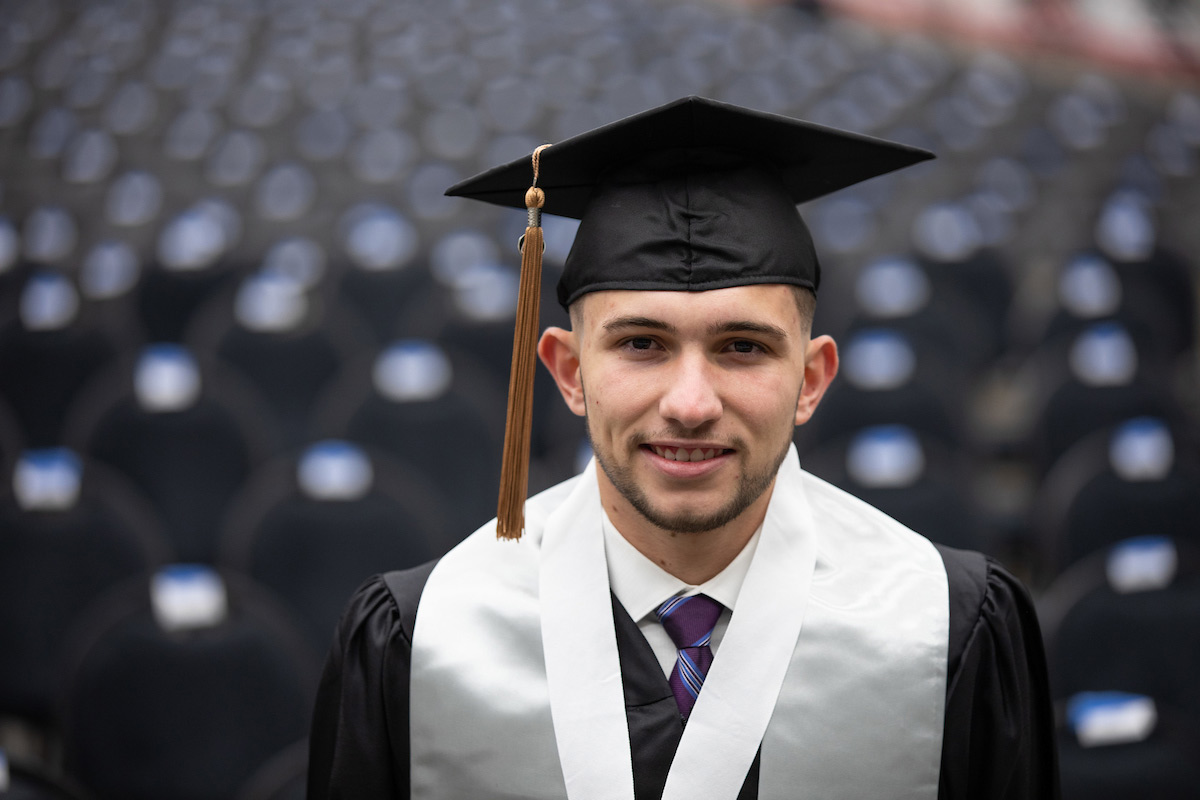 If it weren't for checking his email "Spam" filter and seeing a message from former head coach Jason Mims, Ugo Tritz may have never stepped foot onto Caniglia Field and quickly become a fan favorite as goalkeeper of the Omaha Mavericks men's soccer team.
The Metz, France, native found his way to Omaha - nearly 5,000 miles away - in 2016 and made his presence felt each season. "I go. You go. We all go for Ugo." was a common chant heard from the stands any time Tritz was on the pitch.
Tritz appeared in six games in his first two years and 23 games in his junior and senior years. In that time, Tritz earned accolades and off the field. However, it wasn't always easy for the Marketing and International Business major.
"In the first semester, when my English wasn't the greatest and I had to write papers and spend more time than others studying, I had the chance to have an incredible group of friends who helped me get through the first semester, and without them it would have definitely been harder," he says.
Now, four years after visiting a city in the United States he had never heard of before, Tritz calls Omaha his home and is even putting his major to good use interning for the Greater Omaha Chamber of Commerce.
"I've had the chance to touch a little bit of everything here," Tritz explains. "Between social media posts, web editing, graphic design, even creating some swag! I learned a lot from the team here in the Marketing Department, they are amazing, experienced people."
Tritz has plans to return to UNO to earn an MBA and stay involved with Omaha Athletics as long as he can. No matter where he goes in life, he says he will always be a Maverick.
"I love UNO because I love the community around it. Students, teachers, employees or even our fans, sometimes following us across the country. They made me feel at home for the past four years and I will always be forever grateful for the lifelong relationships I made here in Omaha."
---

Brianna Price
College of Communication, Fine Arts and Media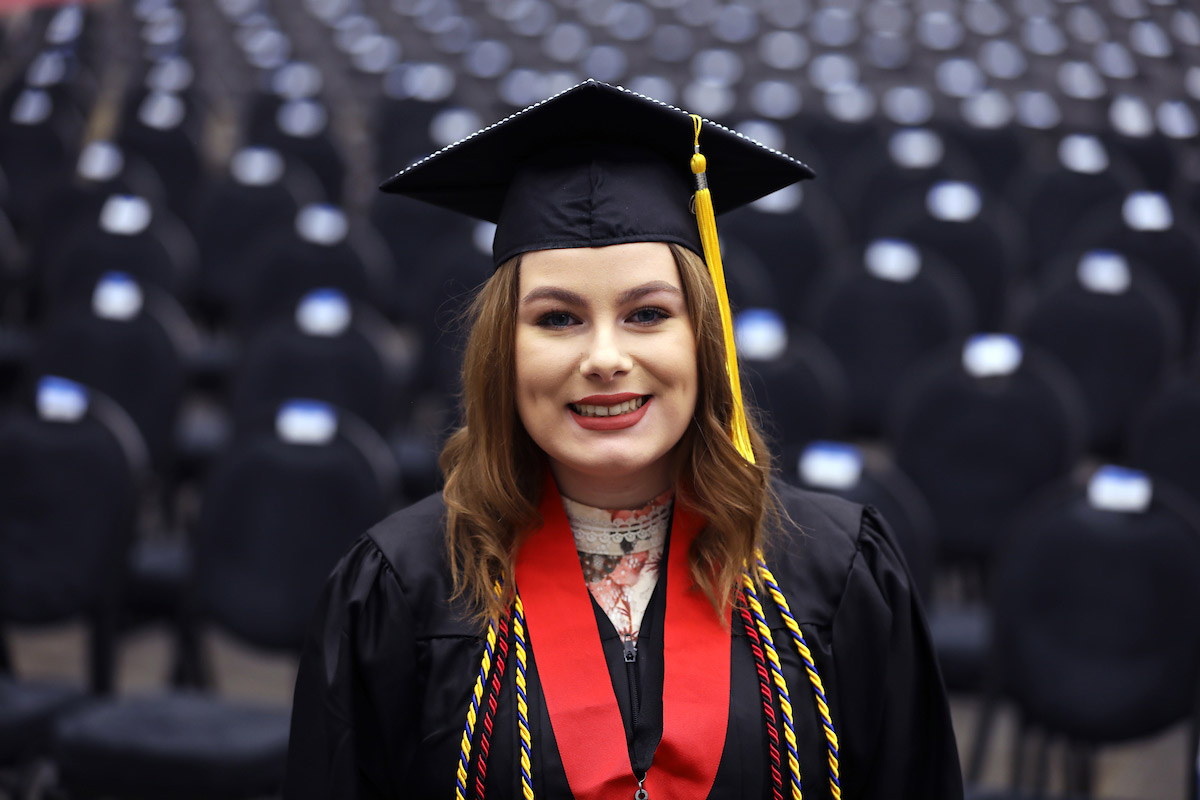 Brianna Price says she has her mom to thank for what she calls the 'best accident' in finding the University of Nebraska at Omaha, despite the Dayton, Minn., native initially looking elsewhere for her college career.
"It was in February of my senior year that I was taking my final road trip to visit [Wyoming and Montana] when my Mom suggested I look at Nebraska," she says. "Of course my response was, "but what's in Nebraska?"
That thought quickly vanished when she drove past UNO's campus.
"I thought UNO's campus was beautiful and ... as someone who enjoys a lot of stimulation and things to do, it became quickly apparent that I'd likely enjoy Omaha a lot."
Not only did Price find her home in Omaha, but the public relations major quickly became engrained in campus life, finding friends in the Zeta Tau Alpha sorority; joining the Public Relations Student Society of America and Ad Club; and helping develop programing for Maverick Productions.
"Through these organizations, I felt a sense of belonging that helped foster my leadership and collaboration abilities," she says. "The reward of uplifting organizations through media compelled me to study Journalism and Media Communication, where I could combine my love for writing with my interest in using media as a tool to bring people together."
Price also found her calling as a global citizen - studying abroad in Belgium and working closely with international students through UNO's Education Abroad program and with UNO's International Student Buddy Program.
"I gained a lot of intercultural competencies from it and a strong interest in intercultural communication, which has inspired me to pursue work in global contexts."
Price hopes to travel internationally again now that she has her degree - interning in Germany or pursuing a work visa in Ireland to begin her public relations career. Yet, she says that Omaha - and UNO - will always have a special place in her heart.
"As I moved away for the first time and sought independence, UNO was there to push me out of my comfort zone but also provide me community and friendships that will last a lifetime. I don't think I would have found this sense of belonging right out of high school anywhere else, and for that reason I'm so thankful I got my education here."
---
Nick Spencer
College of Communication, Fine Arts and Media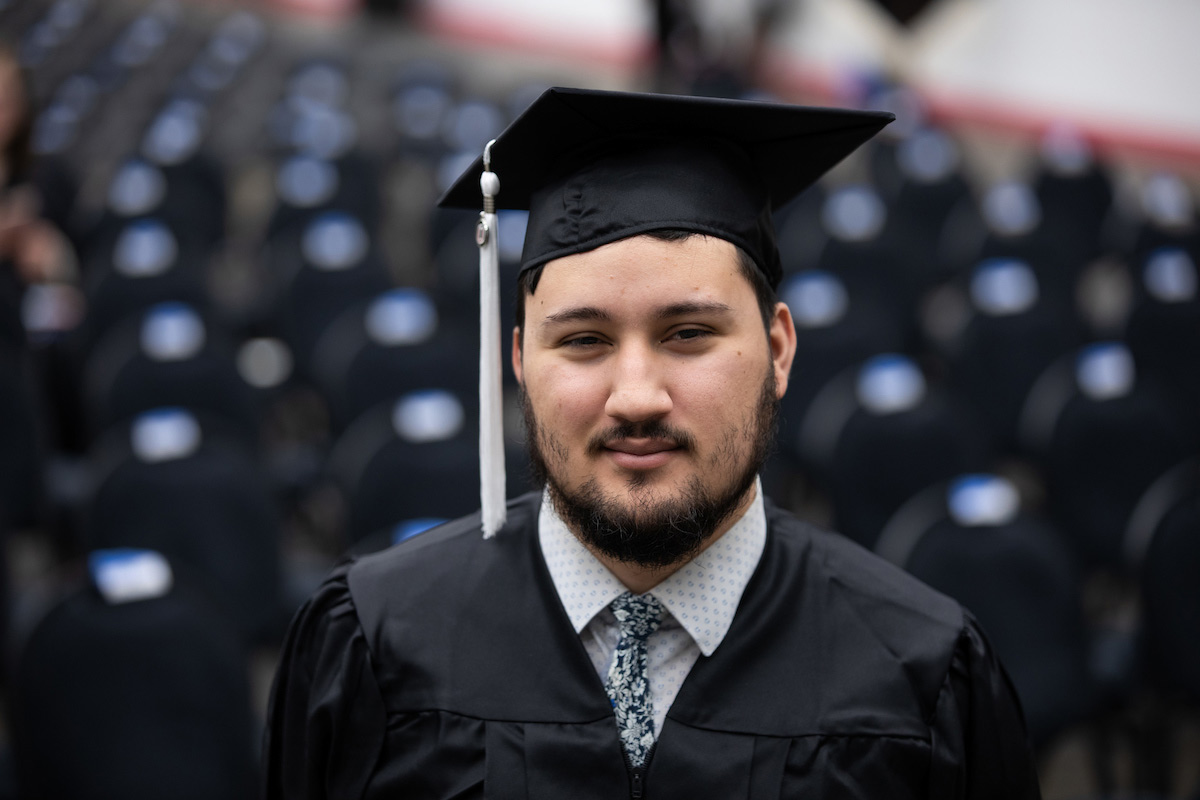 Innovation and Maverick Spirit are not just core UNO values, they are also at the heart of Nick Spencer's story as he is set to move from UNO student to UNO alumnus.

A first-generation student from Papillion, Neb., Spencer was drawn to UNO because of the university's affordability and it's music technology program. In fact, Spencer was involved in College Possible throughout his high school and college career.

"I truly appreciated all the help that they gave me throughout the last six years of high school and college and I will always be thankful for what they do for low-income students," he says.

Spencer is also helping make things possible for future Mavericks, as well. In 2018, he worked with Seth Schafer, assistant professor of music technology, to develop a FUSE grant that created a new, technology-based performance ensemble at UNO called TAPEnsemble, or Technology-Assisted Performance Ensemble.

"It is required for all music students to participate in a performance-based ensemble," he says. "I noticed that some of the other tech students either played non-traditional instruments or didn't come from a classical background. After taking a digital synthesis class, I thought that the idea of combining music tech and academic ensembles would be interesting."

Not only has TAPEnsemble provided performances at the Strauss Performing Arts Center, but now it is included in the School of Music curriculum as a course that involves students in developing their own compositions.

After graduating, Spencer hopes to continue pushing the boundaries of audio technology and composition techniques, whether that's through performing or continuing education opportunities. Either way, he says UNO's faculty has helped make it all possible.

"UNO has been amazing to me. Every professor I've had has shown a genuine interest in my personal growth and I couldn't be more thankful for the work that they do."
---
Anna Edet
College of Education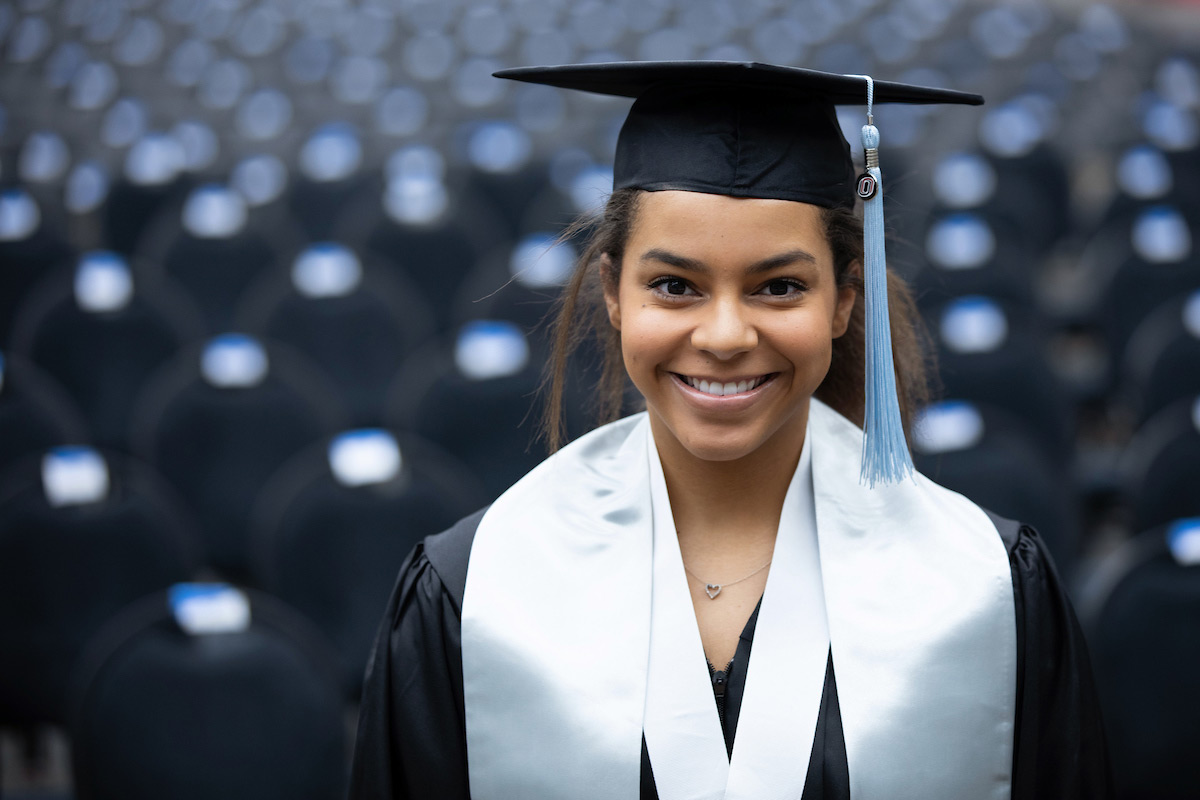 The life of a collegiate student athlete isn't easy, but Anna Edet wouldn't change a single aspect of her time as a Maverick.

Edet, an Elkhorn, Neb., native, not only competed each of her four-year years as a member of the University of Nebraska at Omaha (UNO) Track and Field team, but set the school record for weight throw twice - once as a junior and once as a senior - as well as setting the school record in the hammer throw.

"Growing up in Omaha, I always knew that the University provided a great education at a great cost. Then, as I got older and sports became a big part of my life, I got the opportunity to talk with the Track/Field coaches. As soon as I met the coaches and got an idea of what being a Mav was like, there was no doubt in my mind that I would be a Mav."

Her competitiveness also translated to the classroom, where she took full advantage of the ability to explore different academic programs before ultimately pursuing a degree in Kinesiology.

"It was terrifying all the while thrilling," she says. "I was taking different courses that allowed me to step outside of my comfort zone, connecting with professors, balancing the student athlete lifestyle, and trying to find my core group of people ... When I declared my major, I finally felt like what I was doing was something that I could take with me for the rest of my life."

Edet also spent her time at UNO committed to the City of Omaha and State of Nebraska, volunteering at local athletic clubs, visiting Children's Hospital, trips to local nursing homes and helping collect donations for flood relief.

Now that she's earned her degree, Edet plans to pursue Dental School and says that as she continues Maverick path, wherever it may take her, UNO will always be home.

"I can confidently say that I've loved my time at UNO. I love the value UNO puts on academics, engagement, and inclusiveness. This University is extremely diverse and really takes on what's necessary to make everyone feel comfortable." 
---
Ashley Tomjack
College of Education and Graduate College
As an elementary school principal within Ralston Public Schools, Ashley Tomjack was looking to better understand the demands of educational leadership and develop her leadership skills. This desire led her to pursue her Doctorate in Educational Administration from UNO's College of Education.
Tomjack earned her master's degree through the CADRE Project at UNO, an accelerated master's program that helps newly-certified teachers enter education as effective educators and leaders. "CADRE introduced me to the hands-on, people-first culture within the College of Education at UNO," she said. This culture of support throughout her studies and career, as well as a desire to further expand her personal and professional spheres, brought her back to UNO to pursue her doctorate.
The hybrid nature of the program allowed her to complete studies on her own time through online coursework while also engaging in educational experiences on-campus and in the community. Students in the doctoral program are able to visit schools around the Omaha area to learn from other administrators first-hand — experiences that Tomjack said were some of her favorites.
"Each of those experiences helped me expand my view of the educational opportunities available to students in the Omaha area," she said. "Learning from the real experiences of leaders in those schools helped me better understand the demands of educational leadership and consider the type of leader I would like to be."
Her time as a graduate student at UNO also provided her with opportunities to network and advance her career thanks in part to the university's close ties with schools across the greater Omaha area. "The level of collaboration found between the university and the greater community can't be understated," she said. Tomjack was able to shift from an elementary teacher to an administrative intern before transitioning to her current role as an elementary principal.
"As I made each of these transitions, my professors at UNO were there to provide guidance as I navigated new professional terrain," she said. "They were instrumental in helping me reflect on my experiences and consider how I can best be of service to my community within the context of each role."
Moving forward, she plans to apply lessons learned and skills developed through the doctoral program in her current role. Whatever the future holds, she is confident that the education and support she has received from UNO's College of Education will empower her to be an effective educator and impactful leader.
---
Shafiq Jahish
College of Information Science & Technology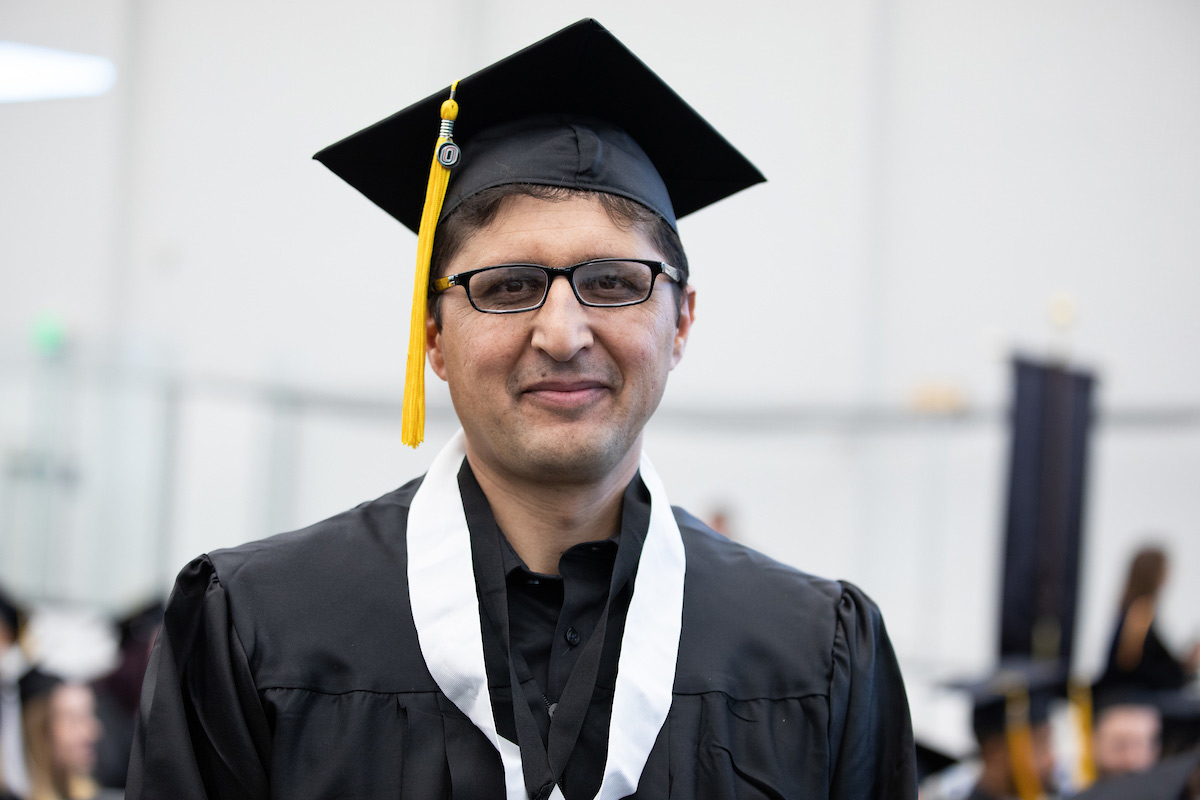 Diversity and flexibility are the name of the game for Management in Information Systems major Shafiq Jahish. Coming all the way from Afghanistan in 2014, he spent his first few years in higher education at Metro Community College (MCC) before transferring to the University of Nebraska at Omaha (UNO).

"I found out about UNO when I was in Afghanistan because UNO has a center for Afghan Studies. When I came to the U.S., I visited the center and heard a lot of great things about it." recalls Jahish. "UNO is close to my home and work, had different fields of studies and is affordable which is why I chose to come here after graduating from MCC."

Not only has Jahish been juggling a full-time job and the workload from school, but he also raises five children and constantly has to find the balance between all three.

"I have a full time job and took care of the kids while attending school so it was hard, but it has been a great time and I'm glad that I was able to be successful and graduate as an honor student with such a busy schedule."

Though he's getting ready to graduate, Jahish is looking forward to the days where he can come home right after work and see his family instead of going right to class. "I have a very rewarding job right now working for a nonprofit agency in Omaha where I assist refugees and immigrants who come to the U.S. just like me and help them figure out life in their new communities."

He plans to stay at his job and hopefully, someday, come back to UNO to get his Master's degree. "UNO is a great place to study…it's a home for me. The faculty is very helpful, it's affordable and they have a lot of resources for students to succeed. I will love this place forever."
---
Cassie Weidner
College of Public Affairs and Community Service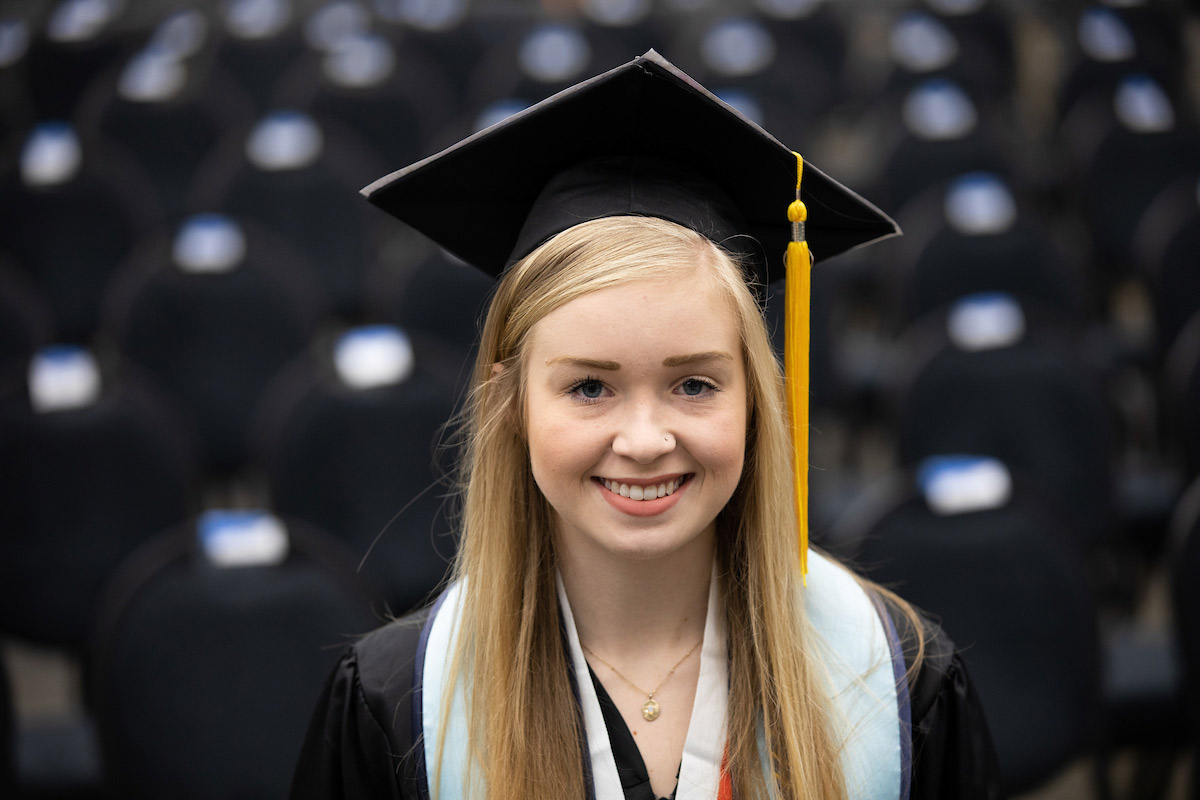 Trying to find the balance between 'familiarity' and the 'college experience' were two huge factors for Criminal Justice major Cassie Weidner. After touring the University of Nebraska at Omaha, the scales just seemed to level out.

"As I was graduating high school and looking at colleges, a friend of mine told me that I was going to be the 'one that stays home' and not 'experience college life,'" Cassie recalled. "However, when I toured UNO, I didn't feel like I was on 69th and Dodge … I felt like I was on a college campus and it was a completely different environment."

Once Weidner was accepted to UNO's criminal justice program, her college career took off. She moved into on-campus housing freshman year and got a head start on learning what it was like to be living on your own. She also joined the Alpha Xi Delta sorority and fell in love with the mission and her sorority sisters. Most importantly, she says her classes have been a major stepping stone to prepare Cassie for what lies ahead: law school.

"UNO has given me several courses with a variety of structures that will help to inform me of what law school will be like. It also gave me a great opportunity to learn how I can take advantage of all the things that universities have to offer like the Writing Center, coordinating internships, consulting with advisors and more."

Of course, graduates are never short on advice and Cassie is no acceptation. When it comes to navigating college and UNO, she assures "you will find what you're looking for." Programs, rankings and price are always a given, but from Greek Life to study spaces to athletics and social events, Cassie assures that every UNO student will fit right in.

"UNO is a well-rounded university with great professors, amazing students and it has everything that someone would look for in a university. Whatever it is that you look for, you will most likely find it at UNO."
---
Lentorious Jefferson
College of Public Affairs and Community Service and Graduate College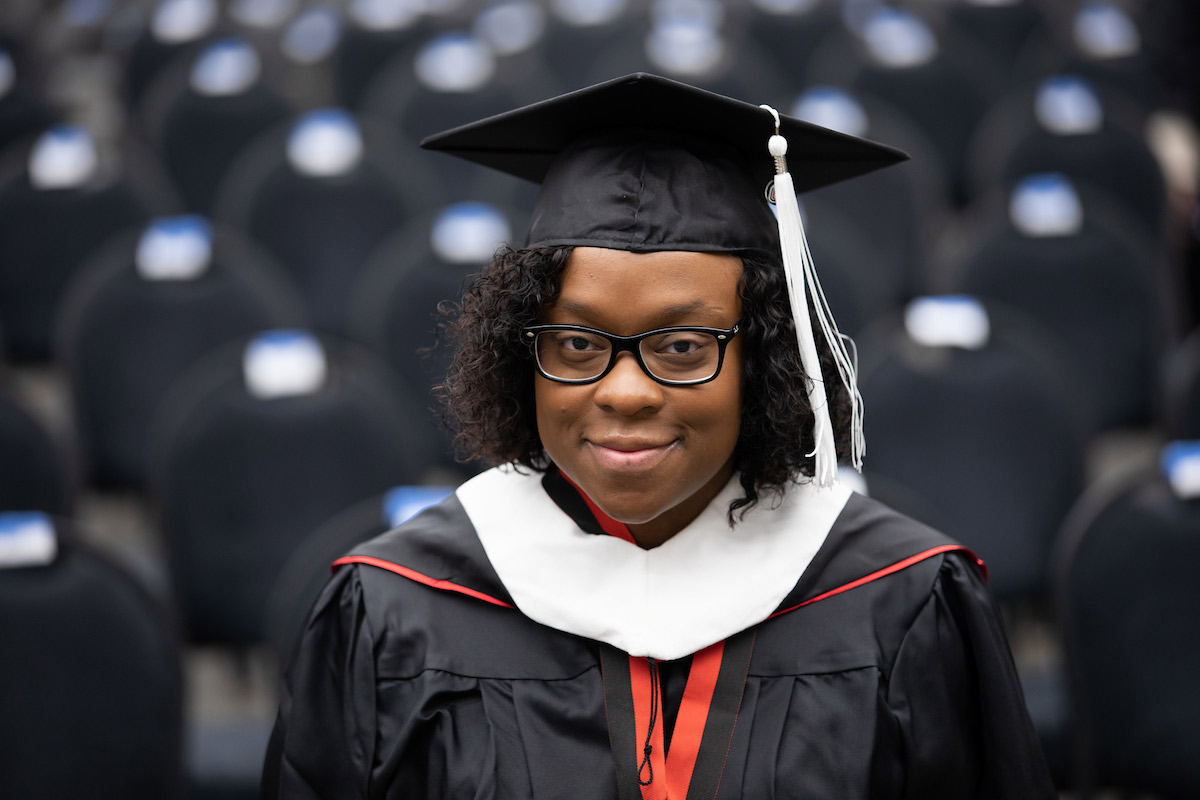 Lentorious Jefferson's passion for the older population was sparked through her work as a certified nursing assistant in a skilled nursing facility.
"The friendships she formed with residents, and a conversation with [Gerontology Professor and Chair] Dr. Julie Masters, inspired her to pursue a career in aging and to enroll in our master's program," said Chris Kelly, graduate chair of UNO's Department of Gerontology.

"My desire has always been to advocate for, protect, and serve the geriatric population," Jefferson says. This passion led her to pursue a master's degree in social gerontology through the Department of Gerontology within UNO's College of Public Affairs and Community Service. She gained the knowledge and skills needed to realize this passion by earning her master's degree entirely through online courses while balancing full-time work obligations and living in Lincoln.

"The gerontology master's program has prepared me to advocate for older adults by understanding the importance of programs and services available to older adults and understanding normal and abnormal age-related changes," she says.

Jefferson plans to advocate for older adults through her employment as a Medicaid Waiver Level of Care Specialist and is considering continuing her education and pursuing her doctoral degree.
"The gerontology master's program has prepared me to serve the geriatric population by expanding my knowledge on the many issues and opportunities facing the fastest growing population in the country," she says.

As part of her practicum experience, Jefferson chose to work with Aging Partners in Lincoln to broaden her understanding of aging programs in the public sector. This led to one of her favorite memories in the program in which older adults took part in a flash mob at Gateway Mall in Lincoln. "It was amazing to see the reactions and break the stereotypes about physical activity and older adults."

"My hope is that I continue to build relationships advocating, protecting, and serving older Nebraskans."
About the University of Nebraska at Omaha
Located in one of America's best cities to live, work and learn, the University of Nebraska at Omaha (UNO) is Nebraska's premier metropolitan university. With more than 15,000 students enrolled in 200-plus programs of study, UNO is recognized nationally for its online education, graduate education, military friendliness and community engagement efforts. Founded in 1908, UNO has served learners of all backgrounds for more than 100 years and is dedicated to another century of excellence both in the classroom and in the community.
Become a fan of UNO on Facebook and follow UNO's Twitter updates. 
Contact Us
If you have a story idea, news tip, or other question, please email the UNO News team at unonews@unomaha.edu.